If you are reading this post today, then you are probably looking for the best gaming desk for your apartment. A lot of gamers have hurriedly jumped into purchasing a gaming desk in the past without due consultation, and the result was definitely not good. If you are one of those, then permit me to welcome you especially to this post. You are in the right place and will surely get all the information you need to go for the right product this time around. Although gaming desk designs keep improving yearly, the basic features remain intact. If you are an avid gamer, then you probably know the most important features to check out for before purchasing a gaming desk. However, if you are just coming up, you may need help, and that is exactly what we will be doing in this post. Helping you through the basic and advanced expectations of a gaming desk. Let us start with what your overall expectations should be.
Construction Material
The materials used in the construction of a gaming desk should be one of the first things you consider before purchasing it. Unfortunately, a lot of gamers are carried away with the beauty and attractiveness of a desk, while neglecting this very important consideration. If you have previously been in a situation where your desk got damaged after a few months of usage, then you will understand why it is important to consider the desk's construction material. Fortunately, you are here again and this is the time to make the right choice.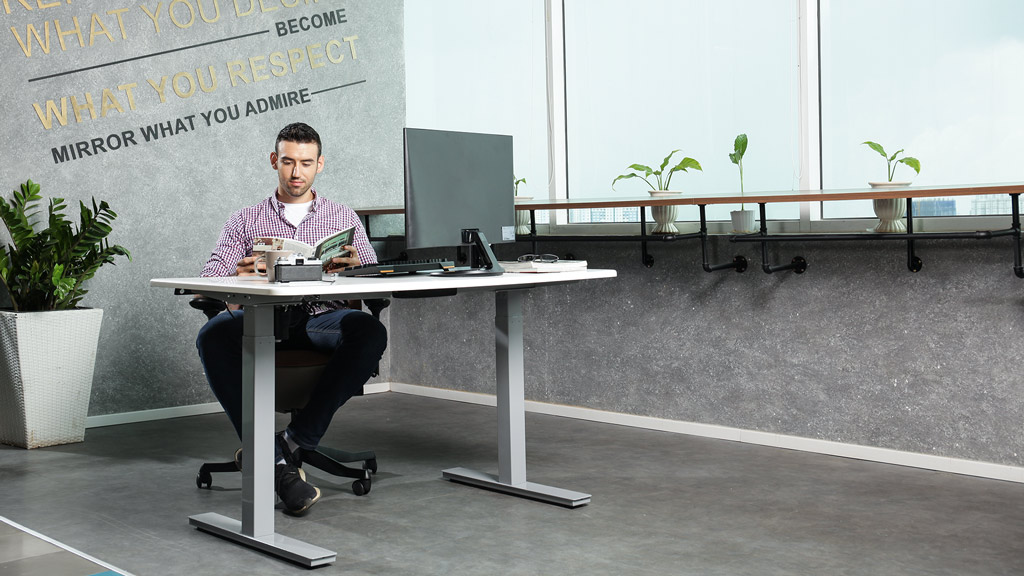 While a lot of gamers tend to prefer wood construction due to its ease of use, maintenance, and safety, gaming desks constructed from other materials like glass, steel, PVC, etc. are also good as long as they are well constructed. Many at times, tables that are constructed professionally, and from solid materials still end up going bad. This can happen due to the inability of the user to maintain the product. No matter the kind of material you plan to purchase, you should know how to care for it, as well as the maintenance practice required to make it last longer.
Space Consideration
Now that you know the kind of material you want your gaming desk to be made of, the next step is to consider the space where you will be installing it. Whether you are buying the desk online or offline, you can make efforts to know if the desk will be ideal for your room or not. Manufacturers usually specify the dimensions of their gaming desk and all you need to do is to get a tape and measure the space which you intend allocating to the desk. You also need to take note that a lot of gaming desks are expansible and it is the dimensions at the maximum expansible area that you should use in confirming the space within your room.
Moving away from dimensions, space where you intend installing the desk has to be the most ideal for it. You need to consider the availability of wall outlets, ventilation, extra space, obstruction, and others. If you have just one wall outlet, you could easily purchase extension sockets for more plugs. How about ventilation? You know how much the heat can get to you when playing your favorite game.
Overall Design
When we talk about the overall design of a gaming desk, it encompasses the materials used, size, shape, and colors. We have already discussed materials, so this paragraph focuses on size and shape. Some people love to buy bulk items. If they want to purchase a fridge, they want the biggest. The same goes for all other appliances in their home. If you are of the same mindset, there are a host of options for you. However, rather than purchasing a desk which will take a sizable area of your room whether it is in use or not, it will be better for you to go with a desk that can be made compact when not in use.
If on the other hand, you have a room in which you have to manage the space within, there are a lot of options for you as well. You can try out the L-shaped desks which are designed to maximize the corners of a room. There are also desks that are built into the wall. These types of desks are the best for managing the space within a room. There are other designs that you can go for as well depending on the space you have at your disposal.
Cost
Cost is an important consideration when it basically comes to purchasing anything. If you don't carry out proper cost evaluation, you may end up being unable to purchase that item you have long dreamed of. Just as gaming desk comes in various shapes and design, so do the prices. Luckily enough, a lot of them are not overly expensive. You can get a pretty decent gaming desk for a few hundred dollars. It all depends on what you want.
Funny enough, a lot of people feel gaming desks are ordinary tables and so, do not need to spend much on it. As a result, they go on to purchase a desk that is below par in all standards. This is a very sad thing to do because you will be putting your overall health in jeopardy. Playing games put you in a strenuous position for an extended period of time. At times, a lot of gamers change positions until they have exhausted all the positions their body can possibly accommodate in one gaming session. This now results in pains and aches across various areas of the body. Cost is important, but you should put your overall health and wellbeing ahead of it. If you need to spend more to purchase an ideal gaming desk and chair, please do!
Features
There are a host of features you can enjoy your gaming desk and most times, more features amount to more cost. Nevertheless, the features help you enjoy the gaming desk to the fullest. One feature which comes in handy a lot of time is compactness. Desks that can be folded are best for rooms that are not spacious. You will be able to enjoy your full gaming experience on the desk even though your room would have originally been unable to contain it.
Another feature which you may want your desk to have is the ability to convert it to a standing desk. Playing a game while standing sounds awkward, but believe me, if you spend extended hours of time on your gaming desk, you may have no other option but to try the "standing" position. Other features that you can enjoy from a gaming desk include multiple holes on the desk for proper cable management, multiple shelves for housing accessories, built-in headphone stand, and many more. The list is inexhaustible. You just have to decide what features are the most important and go for gaming desks that have those features.
Ergonomics
Ergonomics in the context of this post is basically how much your gaming environment makes you comfortable and efficient. This brings some important questions to mind:
How comfortable can I be playing my favorite games on this gaming desk?

Will my arms and back ache me after certain hours?

Can the desk be adjusted when I need to change posture?

How much space will be left in my room after installing the gaming desk?

How many shelves do I need to store most of my gaming accessories?

How much does the gaming desk blend with the overall design of my room?

Can I comfortably use most ergonomic chairs with the desk?
These are only but a few questions you can ask yourself in order to determine if a certain gaming desk is the best for you or not. You don't want to purchase a gaming desk only to find out that it restricts movement within your room, or that it doesn't have a certain feature which makes you more comfortable. Even if you are given the option of returning the desk, there is no point putting yourself through such stress. Simply ask yourself these important questions and you can be one step closer to getting the best gaming desk for your apartment.
Maintenance Culture for Gaming Desks
A lot of people neglect maintenance when it comes to household equipment. This is because most of these appliances are still able to last long even through poor usage. Just like other furniture in most homes, a gaming desk has the ability to last a long period of time, but you can ultimately increase its lifetime by carrying out periodic maintenance. You can also increase its lifetime by acknowledge the material used in the construction of the desk, and taking the necessary care or precaution when using it. Just as we have hinted above, the major materials used in the construction of gaming desks include wood, glass, and metal.
Wooden Gaming Desks
If you intend purchasing a gaming desk made of wood, you should keep all sharp objects away from the desk. You also need to avoid dragging items with rough bottoms and edges across the desk. Installing it in a dry area of your room will be your best choice to avoid the desk going bad due to moisture. However, if you are sure that the desk is made from solid wood, you may install it in a cool area and be confident that the desk will resist the negative effect of moisture. As for maintenance, wiping it with a soft damp cloth once every week should be sufficient. Don't forget to shift the gadgets on the desk when wiping.
Glass Gaming Desks
Back in the days, people try to avoid home appliances made with glass due to the ease at which it can crack, and the danger it poses if it breaks. Apart from that, people usually take extreme care when it comes to the use of anything that has glass in it, and that is still the case today. With the evolution of tempered glass, you can now handle glass made products more freely than as you would before. They are quite tougher than the conventional glasses, can withstand cracks, shocks, scratches, and other effects of improper use. Tempered glass gaming desks are as good as their wooden counterparts, and also look elegant as well. Unlike wood, tempered glass gaming desks can be installed in a dry or moist environment. They are resistant to scratch to a certain level and will last as long, or longer than wood. For maintenance, all you need do is mix vinegar and water in a 50/50 solution and wipe the desk. Then you can go ahead and use a soft damp cloth to wipe the desk one more time. This should be done once or twice a week.
Metal Gaming desk
Only a few people fancy purchasing metal gaming desk and this is probably due to the weight. Nevertheless, a well-crafted metal gaming desk can be light and still maintain all the features of an ideal gaming desk. If you would prefer purchasing a metal gaming desk, then you must already know that moisture is not a friend of metal. Just like wood, you must install your metal gaming desk in a dry environment. Although most metal gaming desks come in a glossy finish; not only for beautification, but also to serve as protection from moisture. This doesn't mean you shouldn't protect the desk from moisture, as it can cause the glossy finish to wear off quicker than expected. Maintenance for metal gaming desks simply involves wiping the desk with moist clothing, as well as lubricating the joints and other moving areas.
Conclusion
Don't be in a haste to purchase a gaming desk, especially if you have purchased one before that turned out bad. You need to consider a whole lot of factors which we have discussed in this post. Whether you prefer a wooden gaming desk, glass, or metal, ensure all your necessary requirements are met. It may be difficult to get all the features you need in one desk, but you should try to get one with most.
The Autonomous gaming desk is one of such desks designed with most of the features and requirements we have already discussed above. It is compact enough to fit into most rooms so you don't have to worry about space. It also has the ability to adjust to various postures. Feel free to take a standing position if your back is already getting sore. The Autonomous desk can be made to stand with you. You definitely have a lot to enjoy with this desk and its beauty will surely get your guests talking
Sort by

Top comments

This week

This month
Important Things to Look out for before buying a Gaming Desk