Companies have started paying serious attention to workplace air quality ever since the pandemic has hit the world. As an office worker, you must consider how to improve air quality at work too. Therefore, it is better to run tests that can help you judge whether your work environment is safe or not.
This testing becomes more important when working indoors because air is trapped in an enclosed environment; thus, the chances of interacting with pollutants become higher.
We know that you would wonder how you can check the indoor air quality of your workspace; that's why we are here to help you. We have shared the details about the tools that will help you judge your air quality. We have also discussed the right ways to use these tools to make the procedures easier for you to follow.
In addition to this, as you'll read further, you will find that we have shared some little tips that can help you assure your indoor environment is clean. So, without any delay, let's have a look at all these details one by one. 
Which Tools Are Used for Testing Workplace Air Quality?
The following tools are a must-have if you wish to judge the air quality of your indoor workplace. It is vital to calibrate all the monitors that you are using for indoor air quality monitoring. 
1. Air Quality Monitor
The workplace air quality monitoring is a useful device to get a real-time measurement of the temperature and humidity in your workplace. It is vital to keep a check on humidity because its value helps you judge whether there are any chances of mold development in your workplace. 
2. Carbon Monoxide Detector
Since carbon monoxide is a colorless gas, it is difficult to track it otherwise. There are higher chances of having CO when you have a workstation at home because your kitchen is often closer to your workspace, and chances of having CO as a by-product are higher there. 
3. Radon Gas Detector
Radon is a radioactive gas that occurs naturally due to the radioactive decay of Uranium. Since it is commonly found in soil and water, having them as a contaminant in your home is common. You can test its presence using a charcoal detector that senses the presence of any radioactive element in your environment. 
4. Moisture Meter
Since mold development is very common, especially in places with higher humidity levels, a moisture meter will also come in handy. Therefore, it is better to use it to judge whether the humidity levels are too high. 
Once you know the instruments, the final step that is left is to learn how you are supposed to go about workplace air quality testing. 
How to Arrange an Indoor Workplace Air Quality Testing?
It is usually better to hire a professional in this regard; however, if you have the right instruments and know how to calibrate them, you can use them and run the tests yourself.
The testing is more like a survey of recorded data, this can be a 15-minutes recording session, or you can expand it to several days. If you wish to get more detailed results, it is better to increase your pool of data by taking recordings over several days.
We would recommend that you take readings twice a day, once in the morning and again at night, to get an idea of the level of moisture, temperature, humidity, harmful gases, and other variables in your workplace. These are a few things that you should consider before planning your workstation setup so that you know that your workplace is safe and secure.
Knowing all the readings will help you evaluate the potential causes of the contaminants and then make the changes as required. Nevertheless, there are some changes that will always help you; that's why we have shared them below. 
The Products That Will Help You Boost Workplace Air Quality
Following are the products that will help improve the indoor air quality in the workplace: 
1. Autonomous x Airdog Air Purifier
The Autonomous x Airdog Air Purifier is a home air purifier that is great for purifying the air quality of indoor workplaces. Since its management is pretty simple, you can install it for any sized office. Nevertheless, a large room air purifier would be better in all cases, as it is known for trapping bacteria as small as 14-nanometer. Thus, you will have a clean and pure indoor office environment. 
2. Plants
You must be aware of how plants have the ability to purify your environment. There are certain plants that absorb chemicals and harmful gases even. So, adding such indoor office plants can help you a lot in improving your workplace air quality. 
3. Dehumidifier
You must be aware that too much humidity is not good for an indoor workplace as that can lead to the development of mold and might even result in bacterial accumulation that is not good for your health. So, installing a dehumidifier in your indoor workplace can help a lot. This will also keep your work from home equipment clean and tidy. 
4. Thermostat
A thermostat helps in circulating air in any indoor place. So, installing it and updating it to circulate mode can help you a lot in maintaining a constant airflow in your indoor workplace. 
Final Words
We hope that today's discussion will help you a lot in maintaining the air quality in the workplace health and safety and help you have a healthy and safe office space to work in. So try following our guidelines to have a better experience at your workplace with better workplace air quality. We look forward to you doing something great with your workplace.
Video ads for product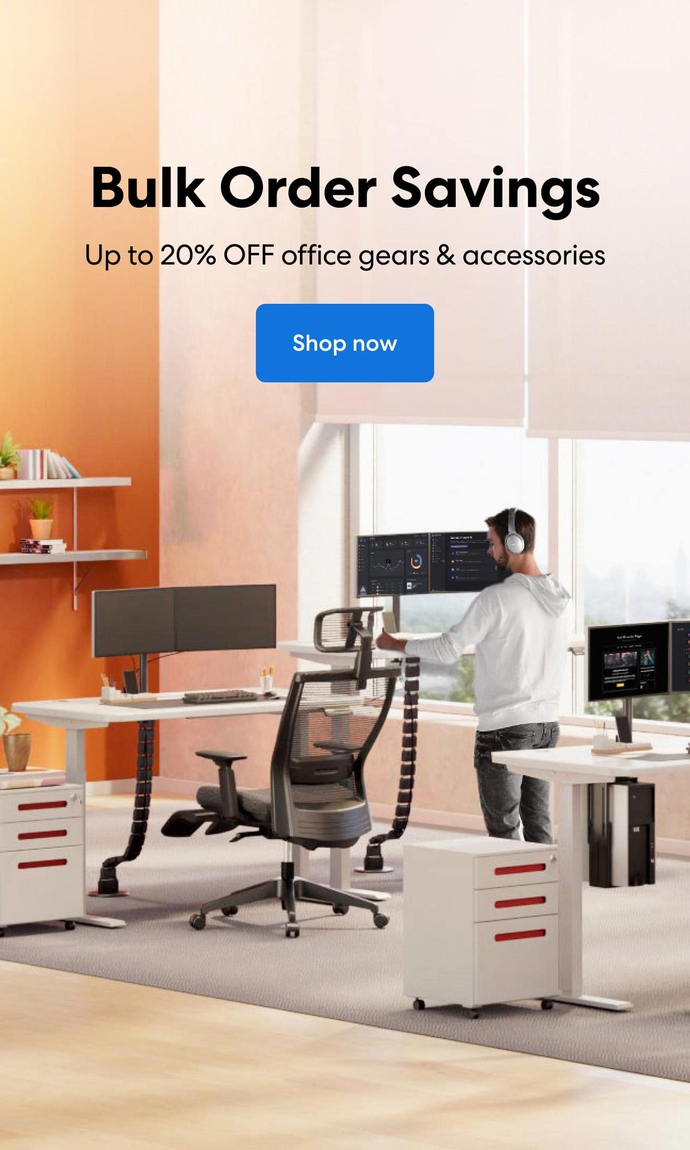 Subcribe newsletter and get $100 OFF.
Receive product updates, special offers, ergo tips, and inspiration form our team.