Workplace Inspiration
Easy and Interesting Ideas to Make a Closet Home Office

Autonomous
|
Sep 29, 2022
1,047 Views
Empty closets aren't just for hide and seek or hideous hoarded stuff you are not ready to throw out, but for people with limited home space or a certain expectation with home décor, an empty closet can be a blessing in disguise. After all, it's not unordinary anymore to see office setups in unexpected places, so we are pretty sure a cloffice (closet office) won't surprise you much, either.
After all, modern ergonomic workstations are about space utilization and finding that perfect quiet, private work corner where you can work for hours and then shut it off to maintain a work-life balance at home. Many remote workers complain about the loss of work-life balance while working remotely, but as they learn to practice and implement proper work-from-home tips and tricks, they will find WFH a blessing. And having a proper office setup is one of the biggest keys to enjoying this blessing. But trouble arises when you don't have enough space, so in this article, we will discuss a unique and useful closet home office that will be popular in 2022 for all the right reasons.
Getting by without a desk when struck with sudden transformation to work from home is indeed what we all imagined but saving yourself some money by not buying a desk is the worst decision you could ever make. Not only is your physical health compromised in the absence of a proper workstation, but you will also find it hard to focus on work and reach your maximum potential. So, if your reason not to buy a desk was limited space, we have the best home office closet organization ideas to create a fully functional modern small home office setup even in a limited space. Let's explore some interesting closet home office ideas with us!
Office Furniture
That is the essence of a proper and productive office setup, whether you have a closet to work with or an entire room on its own. For a closet office setup, we recommend you get a compact desk with an ergonomic chair (no compromise on that). A small desk will match the dimensions of your closet. A folding desk is also a great idea if you are planning a hideaway office setup. A mounted floating desk also works well for people who want to cover their office with closet doors. Either way, ensure your desk is enough to fit your desk accessories and home office essentials, along with some space to spare.
Storage
When it's a closet, what are your storage options? Sure, there will be plenty of space for storage in a closet, but after you build your setup with computer accessories, there should be some space for files, work documents, and accessories that you use once in a while. Having a desk filled with stuff all day long is not productive for the mind and unhealthy for your work performance too. Search for various home office closet storage ideas such as tiny shelves, filing cabinets, basket storage, and desk drawers to find the most suitable one for you.
Use Space Dividers
If you open the closet door to make room for a chair, you could look for a way to establish your office apart from the rest of your room. Using curtains or room separators that you could slide to the side as needed would be a wonderful closet home office idea.
Work Smart
Working smart rather than working hard will always benefit you. And this is what you need to do to make the most of closet space. Opt for smart home devices which offer multiple features. A lighting setup with installed fans or dimmable options so you can control the light intensity throughout the day. Pick a desk with built-in storage, so you don't need to invest in separate storage accessories.
Be Open with Colors
Who would have guessed that a magnificent cobalt blue workplace was concealed behind those blush pink closet doors? Strip lights and dull neutral hues are typically used in offices, but you can be as daring and creative as you like at your home office. Decorate using hues that will make you feel energized and inspired and express your flair.
Close Your Office
One thing that helps strike a healthy work-life balance for remote employees is shutting down their office when the work hours end. This doesn't mean you have to pack everything away and spend an hour the next day before the work begins but have a separate space dedicated to working. And thankfully, with a closet office, it is much easier to achieve that.
If your office is in a room or area of your home that you frequently frequent while not working, such as your kitchen or bedroom, adding doors is always a good idea. You don't want to be preparing supper or reading for bedtime while looking at your to-do lists.
LED Lights
A place where you spend 1/3rd of your day should be a source of interest with pleasing aesthetics, not some dump that makes you want to run away as soon as possible. This is why decorating your office is highly recommended for office workers. But what better way to achieve pleasing looks than fancy and smart lights?
LED light strips placed beneath shelves or cupboards are a fantastic way to illuminate your closet home office without installing a visible light fixture. Likely, you won't be able to plug in light strips or your laptop in your closet because there aren't any electrical outlets. However, you might be able to connect to a nearby wall outlet using a power strip and an extension cord. However, we advise hiring an electrician to install outlets and light fixtures in your new workspace if you want a well-lit closet office. Small work areas benefit greatly from the illumination that recessed can lights provide, and they complement nearly any sort of décor.
Walk In Closet Office
If you are blessed with a big home but still wouldn't like your office setup to be in the way of everyone, then a walk-in closet makes for a wonderful office space. This doesn't mean you will be required to throw away all your clothes outside to make enough room, but with the right approach, both things can go hand in hand. These large areas frequently provide enough room to combine your workspace and garment storage.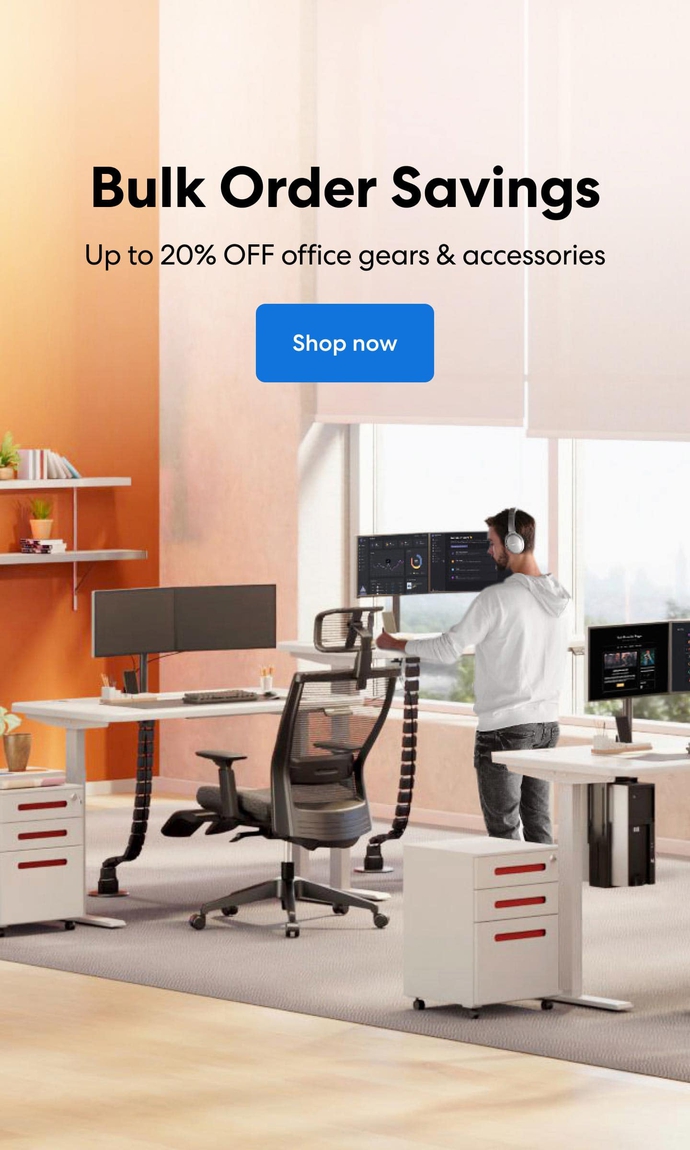 Subcribe newsletter and get $100 OFF.
Receive product updates, special offers, ergo tips, and inspiration form our team.