Smart Products
KERDOM Office Chair Reviews for All Ergonomic Seekers

Autonomous
|
Jun 7, 2022
5,195 Views
Regardless of whether you work remotely or in the workplace, the ideal office chair for yourself is the one that you do not even notice throughout the day. However, the KERDOM office chair enables you to be active and feel valued as you go through your daily chores, finishing the workday in peace rather than with lumbar pain or nerve impingement.
The valued KERDOM ergonomic office chairs are made with ergonomic characteristics to keep you pleasant even if you have to sit for lengthy periods of time. These ergonomically designed chairs have three basic characteristics: supporting, highly adaptable, and pleasant. In the perfect scenario, you would be able to adjust the elevation and inclination of your armchair to find the ideal sitting posture.
However, if you're on a limited budget, you should look for a chair with adjustable armrests and height. We evaluated bestselling chairs and reduced the category based on convenience of use, convenience, and value to build our list of the finest KERDOM ergonomic desk chair reviews on the market.
List of The Best KERDOM Ergonomic Office Chair Reviews
It's not as easy as sitting at a computer to choose the finest office chair. You must evaluate back support, blood circulation, and materials for optimal comfort experiences, particularly if you work remotely 24 hours a day, seven days a week. As a result, we researched several of the best office chairs available today. Our choice of the best KERDOM office chair reviews is as follows.
1. KERDOM Swivel Desk Mesh Chair
The ergonomic S-shaped curvature design of this contemporary customizable large back ergonomic chair makes it very comfortable. It is much easier to relax the muscles as well as release tension. Although if you remain seated for a long period, you will not become fatigued. Because of its distinctive and well-thought-out construction, this proficiently and effectively is among the best ergonomic desk chairs reviewed. This is the most effective chair for back problems. It also looks great and should appeal to even the pickiest of customers.
2. KERDOM Office Chair
The KERDOM office chair's perforated back has remarkable elasticity, ideal for the waistline and spinal curve. It is available in a Classic hue, and the seat's simplistic design adds a touch of style to the workplace. You can use it in a variety of settings. This armchair is designed to conform to the user's lumbar area, even though they move about, ensuring that lower spine comfort is never compromised. It was created to be beneficial because it lowers stress and maintains blood pressure.
3. KERDOM Comfy Swivel Task Chair
The KERDOM comfy swivel task chair is the company's most consumer-friendly chair, according to the company. Your body requires movement, and this armchair makes it simple to do so. Customers can lift their arms and toss the armchair underneath the desktop to save room. You can tuck the compact desk armchair away in a small space. The ergonomic design of this KERDOM office chair has three support areas (back, buttocks, and wrists) and enough waist support. The chair's height may be modified to accommodate a variety of purposes. It has a lot of stability, so it won't fall over even if you're lying down.
4. KERDOM Breathable Mesh Desk Chair
KERDOM office seats are built with a human-centered ergonomic design that provides pleasant assistance to help you maintain a neutral stance while working for long periods. It's easier to ease muscle weariness and redistribute strain. This KERDOM breathable mesh desk chair is also extremely comfortable. Unlike some of the other desk chairs, the armrests could be readily modified to fit practically any sitting style or posture. Furthermore, the chair's backrest instantly adapts to your vertebrae and simulates natural body movement.
5. Ergonomic Chair by KERDOM: Breathable Mesh Cushion
The KERDOM ergonomic mesh chair offers four areas of assistance (neck, back, hips, and wrists) and correct lumbar support. It's simple to adapt to varied requirements. The superior mesh cloth backrest, as well as cushion are both flexible. Unlike ordinary seats, it keeps your back or buttocks moisture-free and allows you to remain seated in the chair pleasantly for extended periods. This seat's wheels may turn in any orientation. It's nice and supple, so it won't make any noise or damage your floor. It also works with any surface, including wood, carpeting, etc.
6. Ergonomic Chair by KERDOM
Lumbar Support: We've gone through some computer seats over the years. Often the wheels become trapped when rolling the armchair; hence they invariably break. The padding of the KERDOM ergonomic chair with lumbar support is also constantly compact, which might be awkward at times. Alternatively, the poor material utilized in several seats can warm you up after a few hours, but this chair keeps you cool throughout the day. The wheels of this armchair, on the other hand, do not get trapped as you roll it. The padding is comfortable and robust. The back is ventilated and constructed ergonomically. This chair is ideal for people with lower spinal concerns who find that most seats cause them great pain. It is comforting in all the correct places. It is comfortable to sit in for long periods.
Conclusion

KERDOM office chairs offer immense support to the user's natural spinal curvature. These ergonomically designed chairs support the inherent 'S' curvature of the spine, which lowers the strain on the back and hip and avoids slumping. The curvature in the armchair can be aligned with the curvature in the customer's spine for the strongest assistance with a customizable backrest.
The movable back support of these chairs provides more customized placement for the individual because they can alter the backrest to complement their original spine position more precisely. Using this feature across the day enables the backrest to support your arms and shoulders and reduce the stress on your lumbar discs and tissues.
Remember that you can now get your hands on the KERDOM office chairs from Autonomous at a discounted price. The brand now offers an Employee Purchase Program through which you can easily purchase ergonomic accessories and office furniture.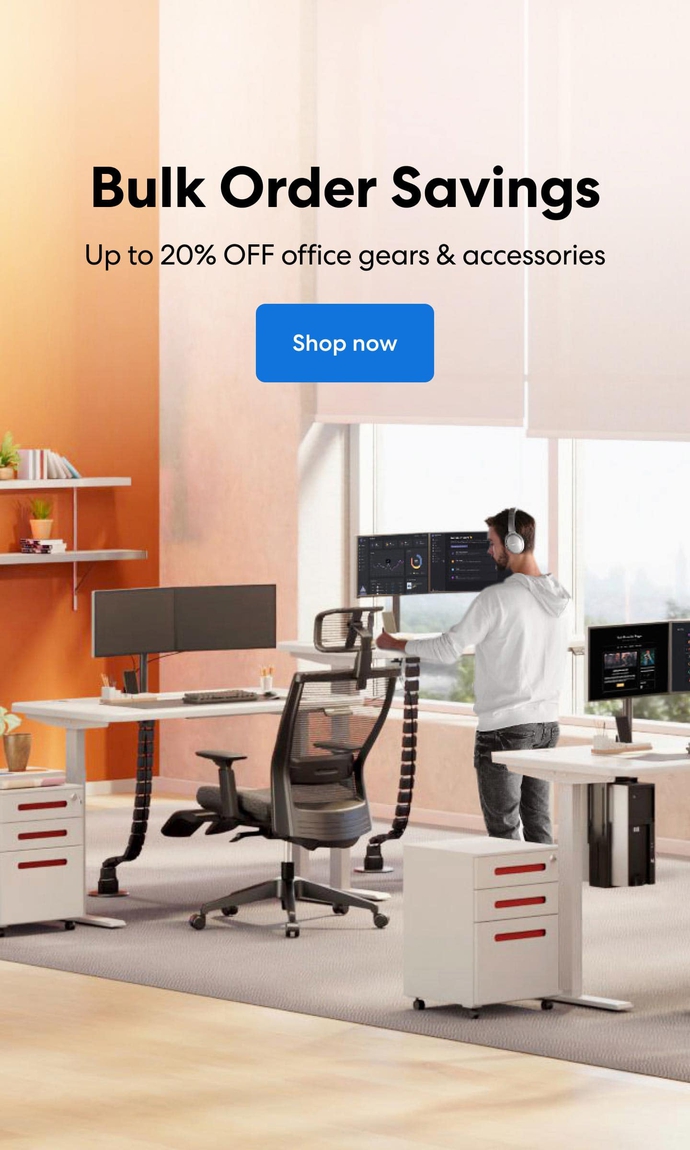 Subcribe newsletter and get $100 OFF.
Receive product updates, special offers, ergo tips, and inspiration form our team.