You might be addicted to these little videos that people post of how they have set up their workspaces. Their desk is laid out with all the modern and minimal trimmings that make it seem like something from Vogue magazine. What stands out the most for you, is the L-shaped office desk. 
It's a busy day at the office. Since the COVID-19 pandemic has struck, you have been working from home. At first, this was amazing because there was less travel time, no traffic, and you can wear your slippers while you work - what more could you wish for? You know the answer to that. 
You have been sharing a workspace with your 5-year old son, who has been designing some futuristic automobiles in bright colors. It is time for you to have your desk, you deserve it after all. Your child will appreciate having the whole table for him and his crayons. It has been your dream to get yourself a corner computer desk, you know, the ones shaped like an "L." 
Seven Benefits of Using an L-Shaped Office Desk
It is the dawn of the age of working from home. There are some mixed feelings over the topic as some people have to try and balance their home life with work life, and this is not always as easy as it seems. No amount of comfy clothes can make your concentration better if your workspace is cluttered with your loved one's belongings like mugs, crayons, mobile phone wireless chargers, cereal bowls, and whatnot. 
Here are a few benefits that you can look forward to when you purchase your L-shaped desk. 
Work-Life Balance
Creating an office space for yourself is important for a good work-life balance. You might be working from home, but at least you have a designated workspace to keep your stationary separate from your children's. An L-shaped office desk might just be what you are looking for! 
Saving Space
Many people are living within apartments, so there is minimal space to deal with. An L-shaped desk for a home office is the most logical use of space while still having enough surface area for everything you need to work with. 
Not only that, but you will also be able to fit two people at one desk, comfortably. You might even be able to fit two L-shaped office desks alongside each other, and this can make a "U" shape that can make any office space look like a professional designed it. 
Better Organizing
Some people have complicated jobs that have many different documents they have to refer to. Corner office desks will greatly improve your workflow because you will have more space to layout said documents. 
Instead of having all the papers piled on top of one another, you can lay them out neatly on one side of the L-shaped computer desk, while you work on the other side. This will optimize your workflow, you will appreciate the feedback you get from your colleagues. 
Multi-Tasking
These days it is quite common to find people working not only one job but two or even three jobs simultaneously. This can be a struggle for those who are working from home because their space is limited. To improve your job-juggling capabilities, we recommend a corner office desk. 
You will be able to fit more than one monitor on each side of the desk, or you could divide the desk between the different jobs. The first job is on the left, the second on the right. That way, the switch between the two will be much smoother, and you will not have to pack the one away to make space for the other. 
Better Posture
Posture is a concern for everyone who works at a desk for most of the day. It is important to get up and stretch now and then, but it is more important to make sure you are taking the necessary measures to correct your posture while you are working at your desk. 
Many people do not realize that your posture is not solely reliant on the chair you are sitting on, but the desk plays a part too. Using a mouse for your computer means you need some elbow support, and an L-shaped computer desk will give you just that. 
You could be right-handed or left-handed, either elbow has the support it needs, and this, in turn, will facilitate better posture whilst reducing back pain. 
Less Moving Around
There is nothing worse than having your workflow disrupted simply because you had to get up to fetch documents laid out on a different table. A corner office desk is great because everything is at an arm's reach. No more breaking concentration to fetch a pen or stapler. 
Perfect for Gamers
With the rise of the pandemic, working from home is not the only reason you might want your desk. Online gaming reached an all-time high worldwide, and one of the best desk designs for gaming is an L-shaped office desk. This can keep your gaming software safe from being packed away when your spouse wants their living room back.  
Gaming equipment can be quite extensive, and you will need as much space for all the monitors, consoles, and controllers. Not to mention enough space to move your body around while you play (that is inevitable). L-shaped desks offer enough space for everything, and you might even be able to have a snack or two on one side. 
Recommended L-Shaped Office Desks
It's all very well to know the benefit of using an L-shaped computer desk, but which ones should you get? There are so many different designs, and some of them are pretty futuristic, so it can be slightly overwhelming for some to make a decision. 
To avoid buying one that does not suit your needs, we have compiled a list of our recommended L-shaped office desks so that you can easily see which one is better for the kind of office space you want to set up.  
1. SmartDesk Corner
This is one of the desks we were speaking of that has that futuristic feel to it. Being a smart desk, it is powered by a motor that is silent as opposed to noisy and intrusive to your working environment. This L-shaped standing desk option would make a great fit for your working requirements. 
This corner standing desk might seem strange to you, why would you want to adjust the height of your desk? All the tall people reading this right now must be beaming from ear to ear. You finally can sit comfortably at your desk. Even for those who are shorter than the rest, you no longer have to sit with your feet dangling in the air so that your chair is the right height for the desk.
This is one for the gamers. Although many different L-shaped office desks would be perfect for all types of gamers, there is nothing quite like the autonomous L-shaped smart desk. 
This is not a standing desk per se, but you can make the tabletop higher or lower, according to your preferences. If you like to sit low in your chair, then you can simply utilize the built-in motor that will lower the table's surface. 
This L-shaped gaming desk is ideal because it has a sleek design, with no trimmings that will get in the way. Not only that but there are cable organizers, so no more messy gaming areas. 
For those who find it hard to fit into the typical desks, and you find yourself in the weirdest positions, trying to squeeze your legs in, and having to tilt the monitor upwards just so you can see the screen properly, a height-adjustable desk might be the best option for you. You can make the tabletop of these desks higher, or lower to fit the length of your body.  
2. Black L-Shaped Standing Desk
This black L-shaped standing desk is a sleek design. It can add that corporate and professional feel to your work-from-home office which is just what you need to keep your work at its best rating. You can easily slip into the routine you need with this desk. 
Not only does this desk have that professional feel to it, but you can even adjust the height to the point that you do not need a chair anymore. This L-shaped office desk can help those frustrated legs that are itching for some blood flow because you can stand up while you work. Make sure that you practice the correct way of standing. The idea is to improve your health, not ruin your posture.  
You might be concerned that the L-shaped standing desk might not fit into your home or office space. The picture shows the L-shape on the one side and that does not fit the room it is needed for. Before you look for another, bear in mind that the "L" in the shape of the desk can also change sides, so you can make it fit just about any room! 
This desk comes in two choices of color, either black or white. The frame of the desk has three, so you can choose the design to suit the color scheme of your office.  
3. Hillsdale L-Shaped Desk and Chair Set by Red Barrel Studio
Nothing beats a good ergonomic chair. At the same time, there is nothing worse than back pain. Just like the concept of feng shui where the layout of a room has an impact on the mood you are in, an ergonomic design for a corner computer desk can greatly improve your mood because it will reduce the pain from sitting incorrectly for too long.  
Red Barrel Studio has made an ergonomic desk that will ensure you have a much less painful day at work so that you can get the best out of your abilities at work and still have fun spending time with your family after work 
This L-shaped office desk is also equipped with ample storage, which is quite considerate for those who have minimal shelving and want to keep their workspace tidy. There are two open shelves, one drawer, one large cabinet, and one small. There is a lot to work with which makes it a great investment for your office.  
The next best thing about this desk is that you also get a chair included in the price! This chair facilitates the ease of working due to its back support – your spine will love you for it.
4. Green Forest L-Shaped Desk
You will find many reviews about this white L-shaped desk. We love the design on this one, and so do many of the people who have purchased it. The shelf can be moved, as well as the shelf where the computer goes, making it a versatile desk that can fit almost any space.  
If you look closely at the picture, the corner section comes away, and you are then left with two smaller desks, which is quite handy. That way, you could divide the desk in two when your colleagues come over for work collaboration.  
Not only is it easy to set up, but it also doesn't take much time at all. Cleaning the surface is even easier, because the desktop is waterproof, so it simply needs a spritz of cleaning solution and a wipe with a cloth.
Final Thoughts
Your health should be your greatest concern, which often starts with making sure you are keeping your body aligned and in good posture. Getting yourself a good L-shaped office desk for your office might be the best gift you have ever bought yourself. What are you waiting for? There is work to be done, and desks to be bought.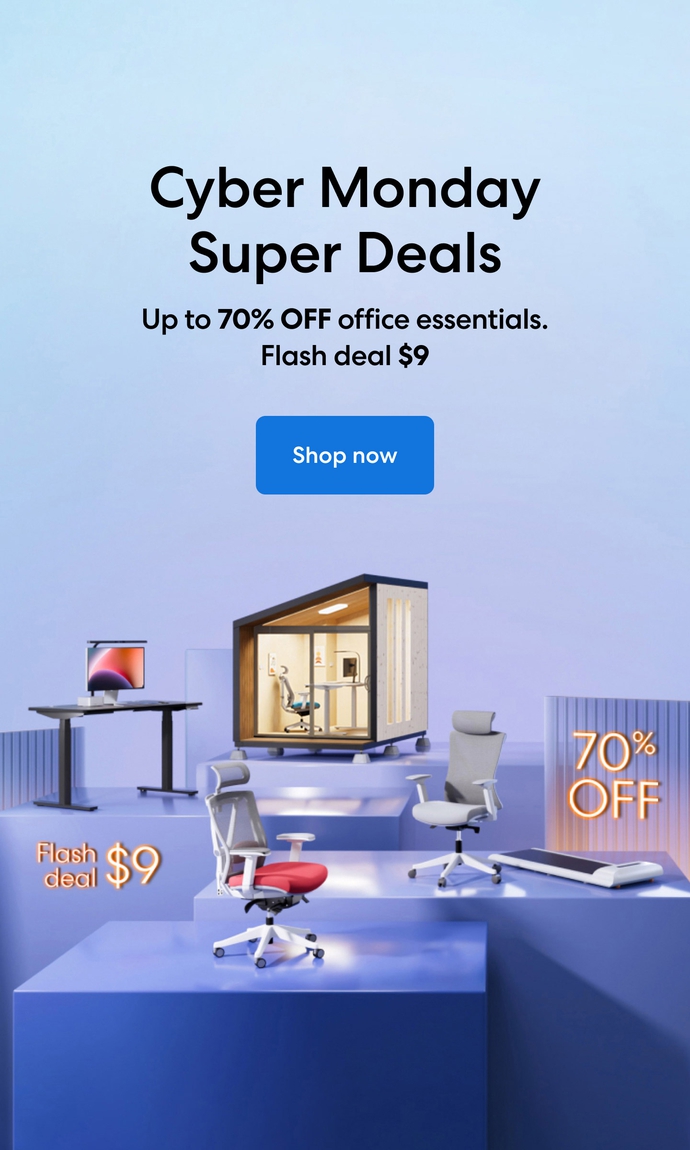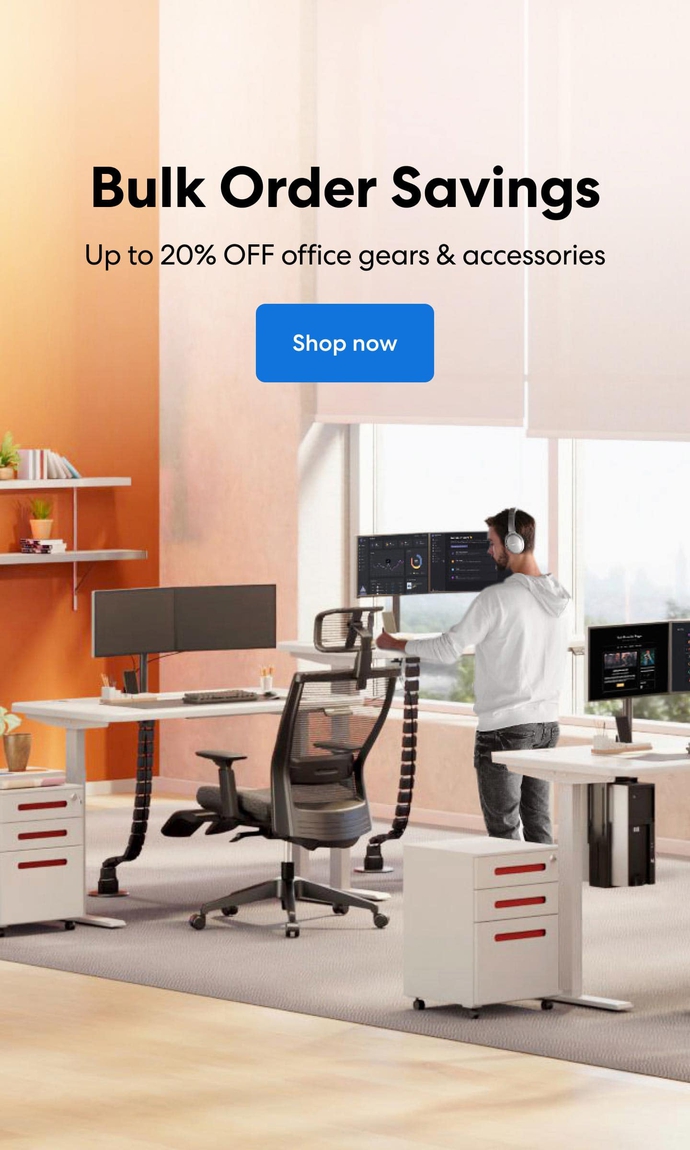 Subcribe newsletter and get $100 OFF.
Receive product updates, special offers, ergo tips, and inspiration form our team.