Smart Products
What is The Best LED Desk Light for an RGB Desk Setup?
2,677 Views
It's amazing how much fun you can have with an incredible gaming machine and a dedicated play space. Even if you've upgraded your PC to the max, does your gaming area still need improvement? It should have a beer fridge, a foot massaging chair, and a fancy gaming console. As part of our efforts to improve the gaming experience, we are constantly looking for new ways to make it more exciting. It turns out there are several cool pieces of LED desk light equipment that you can add to your system to improve it even further. 
What is The RGB Desk Setup?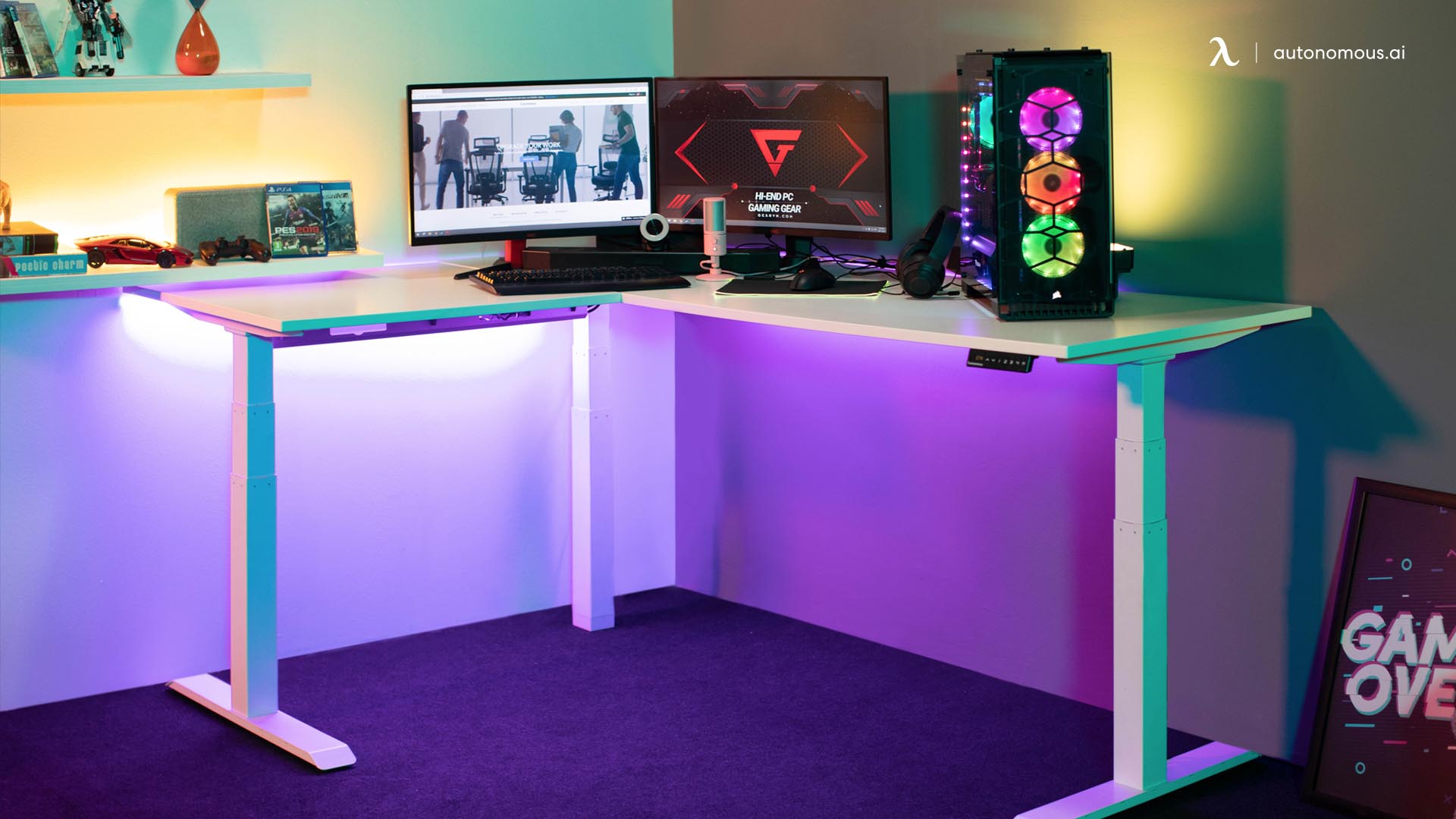 Nowadays, the focus isn't solely on practicality! The design and versatility of the LED light for the desk are both dependent on aesthetics. Can it charge your phone while you are working, for example, or can the light be adjusted? Several of the LED office desk lamp models below have LEDs built-in, while others require that you purchase bulbs separately. Take a look at our best smart light bulbs if you want something which fits onto your standing desk. You can use them to control or automate your home without having to use your hands. 
List of 10 LED Desk Light for RGB Desk Setup
Do you need a new desk-LED desk light to brighten up your home office or to help you with your homeschooling? Take some time to find the best one for you before picking up the first one you see. Wireless charging and automatically adjusting tones have changed the way lamps are made.
We've researched the market to find the best LED desk lamp models it has to offer if you don't know where to start. So, find the best LED office lamp right now, regardless of whether you want the latest technology or you're on a budget.
1. Autonomous LED lamp
Unlike most similar LED desk lamp products on the market, this flicker-free, Ultra-wide LED desk lamp, provides 200% more light coverage. An adjustable gooseneck mechanism and a 360-degree rotating head enable the desk lamp to lean to any angle. So if you don't care about cycling through a few color temperatures or light intensities every time, don't. You can select a setting for our lamp, and it will stay that way even when it is switched off.
2. Night light projector from Ocean Wave
A beautiful ocean wave appears on your walls and ceiling when you use the Ocean Wave Night Light Projector. You can step up your RGB lighting game now with 8 projection light modes, 3 colors, and 8 different types of projection. This RGB desk lamp that plays music can also provide fantastic RGB lighting effects.
The wireless remote control provided with the projector makes it easy to control the lights and music. As well as an auto-turn-off timer, the projector will turn off after 1, 2, or 4 hours. You can match this LED desk lamp either with white or black peripherals and PC cases, as it comes in both colors.
3. Franklin Iron Works Turnbuckle LED Desk Lamp
It combines traditional and modern design elements. Integrated LED desk lighting and USB charging ports complement the industrial, rustic styling. Its oil-rubbed bronze finish is inspired by hand-forged ironwork and is super lightweight.
You can adjust the arm to a position from 16 to 25 inches high and tilt the lampshade up or down. Although neither the arm nor head swivel on these standing desk accessories, you can adjust the arm to the position from 16 to 25 inches high.
4. Octagon Portable Desk Light
Octagon Portable Desk Light's octagonal base makes it the most unusual of the LED desk lighting options we considered, especially in walnut wood. Our research also showed that we found this lamp was one of the few cordless lamps (and therefore portable ones) that had positive reviews. While it is slim (only three and a half inches wide) and has four brightness levels, it doesn't produce as much light as the other lamps we tested.
5. IKEA Hektar
LED desk lamps from IKEA include the Hektar lamp. In addition to wireless charging and a USB port, this tall architect-style lamp is finished in brushed metal. In our tests, it held its position less reliably at certain angles because it is more top-heavy than other lamps. However, the lamp would be perfect for a home office if you didn't plan to use it at a 90-degree angle. There's also a 7-inch base. It's a tall lamp (27 inches at its tallest) with a tall, tall stem.
6. Slimline Modern Swing Arm Desk Table Lamp
Besides providing an AC outlet and a USB port, the lamp comes with a large base that's handy for charging when you don't want to go under your desk. However, the lamp's base is too tall: 2 inches tall when compared to the other lamps' 11.2 to 1-inch bases. It's totally suitable for home office lighting setup. We found the LED desk light was less versatile because it isn't height-adjustable (though it does swivel, as its name implies). Due to its ports, it could make a great bedside or end table lamp. With a warm color temperature, it has a high brightness setting.
7. OTUS Architect Desk Lamp
You can wave your hand above the OTUS Architect Desk Lamp to turn it on or off, and it also has 12 brightness levels and three color settings. The stand is smaller in real life, but it flattens out easily, and it looks like a sturdy, tall stand. With the top-mounted buttons, we also had difficulty adjusting the color and brightness of the lamp. It shouldn't be so difficult to use a lamp.
8. LONRISWAY Wood RGB Desk Lamp
The lamp has 16 color modes and 3 brightness levels with 16 different colors available. It also offers four modes of lighting, static, hopping, color mixing, and colorful breathing patterns. In contrast to a normal LED desk light, this RGB desk lamp has a unique ellipse shape that makes it appear much smaller. Clean and modern gaming setups are easier to maintain this way.
However, despite its extreme brightness, the LED lighting strip inside this lamp has a diffuser that will not harm your eyes. By diffusing the light, the lamp also looks better since the individual LEDs are not visible.
9. Walmart's Mainstays 3.5 Watt LED Desk Lamp
Walmart's Mainstays 3.5 Watt LED Desk Lamp costs about $15 as of this writing and is among the least expensive LEDs we identified. Additionally, it has a built-in USB port. It is, however, tiny and probably best suited just to a small desk setup or the desk of a student. Unlike the other lights we tested, this one had a very high level of brightness and seemed to be less expensive in terms of feel and appearance.
10. Yescom WiFi Smart LED Light Kit
This LED desk light kit can include 11 hexagonal light blocks and a tabletop base. A wall mounting base is also included in the kit. You can either mount them on the wall or use them to build structures on the table-top base. Because of its built-in control, this product is one of the easiest to use RGB desk lamps on this list as it has flexible controls.
With Google Home and Amazon Alexa, the lighting can either be controlLED with voice commands or via a mobile app. Smart LED Light Kit offers 19 LEDs per light block, a variety of 16 million colors, and 3 lighting modes to brighten any gaming setup.
Keep up with Autonomous news
Stay informed, stay inspired with our new blogs.
WRITTEN BYAutonomous
We build office products to help you work smarter.