Smart Products
List of Home Office Computer Desks for 2023 (20 Options)

Autonomous
|
Oct 11, 2021
1,773 Views
Working from home has become a regular occurrence for most employees, especially since the pandemic's beginning. Some items are essential to the workspace, such as ergonomic chairs, cable trays, and, most importantly, a home office computer desk. 
You see, having an organized workspace is essential if you want to boost productivity and elevate mood. Since your office is at home, it would be a good idea to make sure it's comfortable, vibrant, and neatly arranged. 
One of the most critical items in any workplace is an ergonomic computer desk. Why an ergonomic computer desk, you ask? Well, ergonomics is vital in the workplace and something that most people forget to incorporate. 
Injuries such as back, neck, wrist, and shoulder pain are all ailments caused by lousy office ergonomics. On today's list, you can find some of the best computer desks for your home office.
Top 20 Home Office Computer Desks in 2022
1.  Autonomous SmartDesk Core
Stylish, modern, ergonomic, and convenient are words used to describe the Autonomous SmartDesk. This adjustable desk for the home office can fit perfectly into any size workspace.  
Its height can be determined at the press of a button, and you can configure the programming switch to your preferences. 
The SmartDesk Core comes in at a great price and has a two-year warranty. Perfect for people who want to add ergonomics to their home office.
2.  Autonomous SmartDesk Pro
The SmartDesk Pro is the upgraded version of the Core. With more height adjustment and a significantly larger worktop, this table comes with a seven-year warranty. 
Its steel frame is sturdy and made from high-quality metal, and can support up to 310lb. You can store up to three monitors on the regular size SmartDesk Pro. 
Autonomous has upgraded to the dual electric motor, so the ergonomic computer desk is quieter at only 40dB. If you are a bigger person or need more space, it comes in an XL option too.
3.  Autonomous SmartDesk Corner
This is another best computer desk for the office from the Autonomous collection. The SmartDesk Corner is from someone who wants to fill a corner in their office. It can serve either right or left-handed corners because of its adjustable worktop. 
Height can be adjusted by pressing one of the four programmable LED buttons. A traditional standing desk is more restricted and offers less space. 
In contrast, the SmartDesk Corner can support up to 3 monitors and your CPU. It can also allow two people to work at the same time while remaining stable. 
The solid steel frame keeps the ergonomic computer desk sturdy and supports up to 400lbs. New whisper-quiet triple motors have been installed to provide you with smooth height adjustment. 
When you purchase this epic desk from Autonomous, you are going to receive a five-year warranty. These desks are guaranteed to last you a lifetime and fit into your ergonomic criteria perfectly.
4. Everywhere Rectangular
The Rectangular desk is probably the most minimalistic table you have ever seen. It is modern with unmatched versatility, exceptional strength, and simplistic line work.  
These best computer desks for offices are made with 66% recycled materials and could pair with an eco-friendly ergonomic office chair. Perfect for the environmentally conscious individual. 
5. West Elm Industrial Storage
Made from the highly sought-after mango wood, the West Elm is a sturdy and stable desk. The stylish metal legs keep the heavy worktop in place while the set of deep drawers store your documents. 
Since each piece of mango wood is harvested sustainably, variants of the desk have different looks.  
That is a unique aspect that gives you a personalized workstation to stand out from the crowd. 
6. Article Culla
The Article Culla is an ideal piece of modern office furniture for someone looking for a stylish but simple table. 
It has a smooth wood surface with some drawers for storage. The angular legs give the desk an attractive look while still maintaining the structure. 
There are two variants to choose from; they come in veneered or solid Walnut MDF. It is for someone who needs storage for their stationery or art utensils. 
7. CB2 Drommen Desk
An architectural piece of artwork is what some people call this home executive computer desk. Its sleek design was brought to life by Jannis Ellenberg and is made from sustainable acacia wood.  
The grain pattern on the top is visually appealing, and there is a large selection of deep drawers. 
8. Bluedot Swish Console
Bluedot Swish Console is a fancy piece of office equipment that gives the buyer a well-rounded and simplistic table.  
It has a unique sliding top that acts as a foundation of support for your essential peripherals. You can lift the lid off to reveal a versatile storage unit that keeps your office equipment safe. 
A bit on the expensive side, this home office computer desk is not for everyone. On the other hand, its unique design makes it stand out from the crowd. 
9. Floyd Table
This table blurs the lines between living and office use. It provides a well-rounded top that can act as a home office desk for dual monitors or dining room tables.  
The Floyd table is made from solid birch plywood, and it's covered with birch veneer for protection. 
There is plenty of storage space available in the attached drawers. Removal of the drawer is easy, providing more legroom if you need it.  
Two people can use it simultaneously, so it is better suited for a traditional workspace. It is the perfect home executive computer desk for someone with ample office space. 
10. Fully Jarvis Bamboo
The Fully Jarvis Bamboo is another excellent standing desk that is easily adjustable. It's a flexible piece of furniture that has a host of personalization features. 
There are dynamic LED programmable buttons that assist in bringing the table to the correct height. Purchasing an adjustable workstation like this home office computer desk changes the game for you and gives you the option of sitting or standing. 
Its finish includes a water-based polyurethane and UV-cured coating. That makes this home executive computer desk attractive, functional, and excellent for the home office. 
11.  APT2B Whittaker
The APT2B Whittaker desk blurs the lines between classic and contemporary. 
It has an attractive design and is constructed from high-quality material. Each model boasts a clean, sharp outline supported by a solid Ash frame.  
Walnut stains have been used to bring out the original characteristics of the wood. The desktop is covered in a lacquered MDF, which can protect your work surface for years to come.
12. Bluelounge StudioDesk
A StudioDesk is perfect for someone looking for an answer to unwanted clutter.  
This home office computer desk has a minimalistic design that accommodates a clutter-free workspace. There are four drawers where files can be stored and a convenient cable management system. 
It's supported by solid birch legs that hold up an MDF and PB board tabletop. The Bluelounge StudioDesk can fit into a more extensive contemporary office. 
13. Joybird Gaia
The mid-century look of the Joybird Gaia is the perfect embodiment of character. It has an outstanding balance between glass, metal, and wood. Each table that comes out of the factory is made using sustainably sourced wood.  
It's a simple desk that doesn't offer much but gets the job done. Place it anywhere in the office to enjoy its minimalistic vibrant character. 
14. DWR Celine Desk
Designed by Nazanin Kamali, the Celine Desk has combined bespoke furniture design and artistic direction. 
It has a simple design that incorporates a high-tier grain pattern, exacting line work, and a single cubby. Assembling the Celine only takes a few minutes due to its basic craftsmanship. 
Be aware that this desk costs quite a bit, coming in at $1000. Other options on the market are more value for money.  
15. Artifex Desk
This minimalist's dream come true is constructed with a walnut table top with dark stains. Below it is supported by steel legs that have soft feet to adjust the level for uneven surfaces. 
While the top of the desk has a few additional features, such as storage for dongles, it is best used as a standalone unit.  
If you want to take your workplace to the next level, adding an ErgoChair Pro to this desk is a great idea. Perfect for someone who wants a classy but sturdy desk in their home office. 
16. Bluedot Walk in The Park
This company designs savvy office desks that shine quality. It has robust cumbersome legs, beveled edges, and a wide wooden tabletop that is sleek in style. 
One of the most oversized tables on this list provides you with plenty of space to work and store stationary.   
The solid mahogany core is covered in either white oak veneer or walnut to keep cuts, scratches, and stains at bay. It's an excellent investment for someone who wants to spoil themselves. 
17. Modern Digs Hayes Desk
This classic home office computer desk design is simplistic but has more modern principles that make it diverse. The open space of its nostalgic silhouettes, subtle linework and modern materials make it a favorite amongst reviewers. 
On the side are stitched suede leather, a complete set of drawers, and a matte lacquer steel frame that exudes bespoke luxury—another one for an individual with cash to splurge. 
18. Tribe Design Computer Desk
This attractive piece of minimalistic furniture is simplistic and modern while still providing a traditional feel. It has sturdy metal legs that keep the top firmly in place. Under the legs are adjustable gel pads, which help keep the table level on uneven ground. 
The Tribe Design computer desk is an affordable home office computer desk. Its tabletop is made from thick laminated MDF, which is scratch resistant and waterproof. If you have a tiny workplace, this would be the best desk for you. 
19. Herman Miller Eames
This chair combines the genius of Ray and Charles Eames to give you a timeless piece of furniture.  
It sells at $2000, which is out of most people's budget, but if you are looking for Mondrian-inspired detail, this could be the one for you.There are, however, many customizable options like tabletop size and drawer configuration to suit your ideal criteria. 
20. Ikea IDASEN
Ikea is a Swedish brand that is synonymous with its easy to assemble home office furniture. Let's not forget it makes great standing desks too. The IDASEN from Ikea has an excellent veneer look with modern design elements. 
It has a simplistic outline embodying everything you have come to love about Ikea. The worktop surface has scratch and stain-resistant qualities. Height is adjustable, and it boasts robust metal legs which support up to 270 lbs. 
This home office computer desk is for someone who likes to keep the office neat because it has a great cable management system and multiple drawer storage. 
Preparation
Building the office of your dreams takes time and effort. You need to be diligent in the creation process and not rush any of the steps. Considering all the things you need is the first step to creating the office you desire. 
When you combine various tools and equipment available, you can make an office with a perfect home office computer desk that increases your productivity. There are many online retailers where you can find the office furniture you need to become more successful. 
What Are the Best Items to Add to My Home Office
Studies have been done that show people who are happy in the workplace tend to perform better. Remember, your home is your sanctuary, so be sure to make it pleasant and keep it clean. That way, you can help prevent mental clutter that slows your work progress. 
A home executive computer desk is not the only thing that is going to make your office stylish. Adding something, like an ergonomic chair or desk lamp, can make a world of difference to workers. 
Another great item to add to your workspace is a speaker. It is often overlooked and can be an essential part of your work routine. Whether it be a portable speaker or a more extensive sound system, either one is going to get you bouncing. 
Conclusion
Start by looking online for desk setup ideas, and you can indeed find many great motivational sites. With that being said, you need to remember to keep your home office computer desk inspiring and fill it with desk decorations that make you happy. 
It's time to take charge of your future and build the home office you have always wanted. Start today by beginning to design your office layout.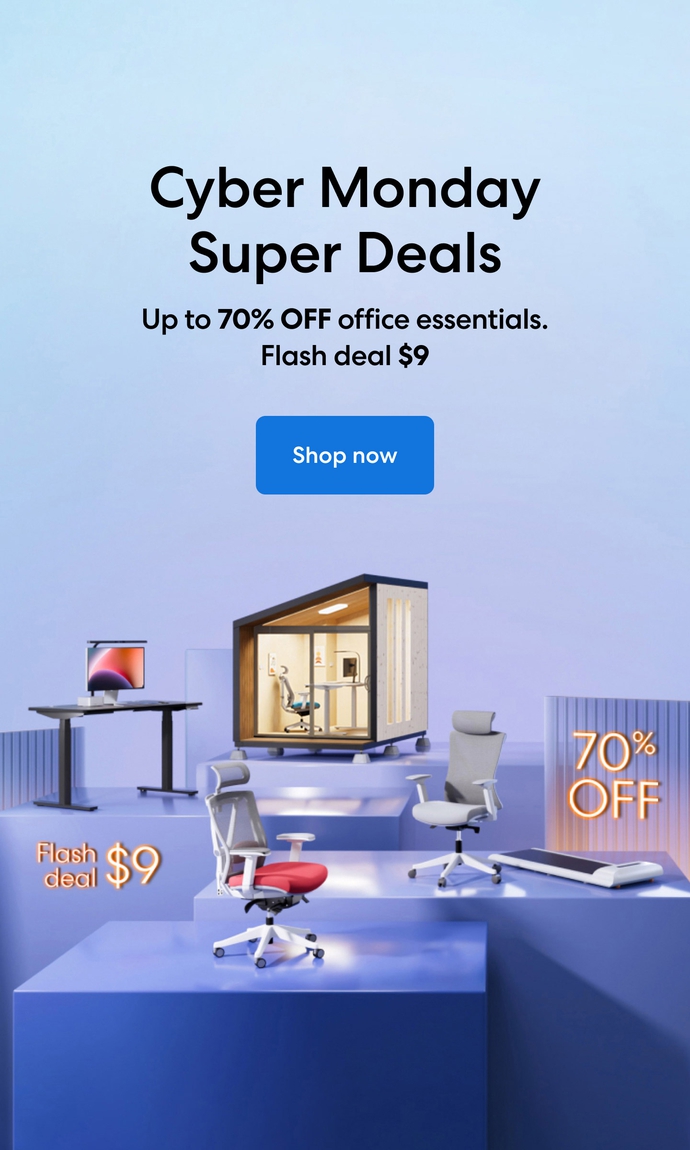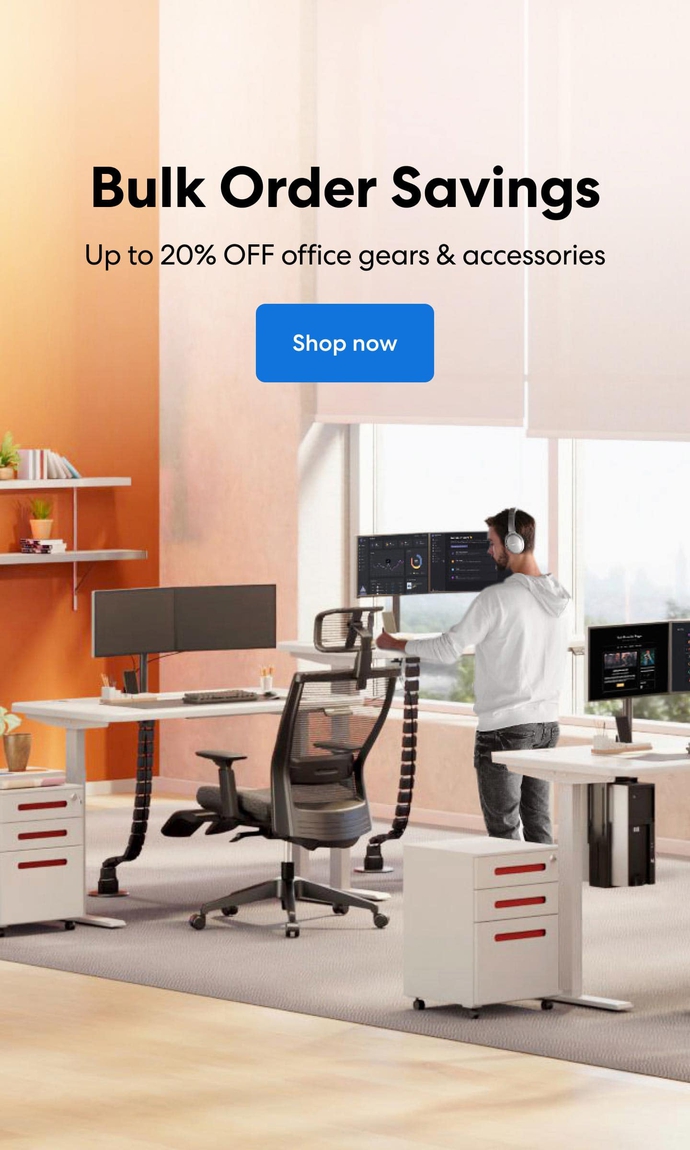 Subcribe newsletter and get $100 OFF.
Receive product updates, special offers, ergo tips, and inspiration form our team.