Smart Products
Lumbar Support Task Chairs: 8 Best Options (2023 Review)

Autonomous
|
Aug 8, 2021
1,652 Views
This comprehensive list of lumbar support task chairs will help you find the best option to keep your whole back supported as you keep up with your daily obligations.
It is quite complicated to find a good office chair that helps you remain supported throughout the day. Although the availability of these devices has improved over the years, poor chair ergonomics and a bad sitting posture are among the main causes of lower back pain, which is the most common ailment among office workers.
Some people wonder if sitting cross-legged is bad for their bodies without thinking of other reasons that may be causing them to feel these ailments on a daily basis. However, including the reasons mentioned above (poor chair ergonomics and a bad sitting posture), there are other reasons that may cause you this pain, such as diseases. This fact is why it is so important for you to visit a physician to discard any possible reason.
You can start by equipping your office with the right ergonomic furniture. This way, you can help yourself be comfortable throughout the day and reduce the effects of staying seated for too long.
For today's article, we'll help you find the best lumbar support for office chair for the reasons mentioned above. This way, it will be easier for you to find relief and work comfortably throughout the day.
What to evaluate before purchasing a lumbar support computer chair
Before we start listing all the options we reviewed, it is worth mentioning the factors that people must take into account so that you can find relief once you've acquired the right ergonomic chair. We also include factors that you should consider before purchasing a chair.
Adjustability
First up, let's begin by saying that it is quite important for the chair to contain intuitive and adjustable features. As we're talking about the lumbar area here, it is quite important for you to consider chairs that let you adjust the lumbar support's height and depth.
You should be able to modify its position, as the whole backrest needs to follow the natural curve of your spine. This way, you can reduce the amount of pressure that your back receives as you remain seated throughout your workday.
Consider how you sit on the chair while you're completing your tasks
Are you adopting a comfortable position as you're sitting on your chair and working on your tasks? It is quite common for people to slouch or lean towards the desk, for instance. Adopting a comfortable posture is another crucial factor you must take into account while purchasing a new ergonomic chair.
It is quite challenging to change your sitting habits, but it's not impossible. Although what is recommended is to find a lumbar support office chair that allows you to sit comfortably in any position you like.
Use a lumbar support task chair to relieve your backache!
Here we list some of the best lumbar support computer chairs that you can add to your workstation. Considering the factors we mentioned above, these chairs should help you feel relief during those long hours of work.
1.  ErgoChair Recline
The first lumbar support task chair option we have is the ErgoChair Recline, by Autonomous. It is one of their greatest creations, which means you'll be able to enjoy a wholly adjustable chair that keeps your body supported and comfortable even if you spend prolonged periods seated. It is the perfect replacement for your old computer chair. It features breathable material with a reclinable backrest for utmost comfort.
You can pay a bit more and decide to add a couple of extra features (a headrest and a leg rest) if you want to be even more comfortable!
2.  ErgoChair Pro
Next up, we have the ErgoChair Pro. This lumbar support computer chair is even more adjustable and breathable than the previous one, which means that your body will remain fresh and comfortable even during those hot summer days. All of the important features are adjustable on this chair, and the best part is that it is made of eco-friendly materials.
3.  ErgoChair Plus
The ErgoChair Plus is the enhanced version of the previous model. It emphasizes movement, but it's also hugely comfortable. You can choose between two options for the padding, naked TPE or mesh, a breathable material. As the last but not least important factor, this lumbar support computer chair can carry up to 300 lbs.
4.   ErgoStool
If you want an affordable lumbar support task chair option, such as a sitting stool, here we have the best option for you. Although it doesn't contain as many features as an ergonomic chair would, it is the perfect companion whenever you're having a break or would like to continue working while being completely free to move. In addition, this ergonomic stool is appropriate for all surfaces.
5.  Liberty by Humanscale
The fifth lumbar support task chair option on the list comes from Humanscale. Although it features a simple design, it is capable of keeping your back well-supported for a considerable amount of time. It is fully adjustable, of course, but the important part is that it'll focus more on the lower back area than other options.
6.  Cosm by Herman Miller
Herman Miller is a well-renowned ergonomic chair manufacturer. This lumbar support task chair model, in particular, is highly recommendable for tasking as it allows you to adjust the important aspects, such as the armrest and seat height. You will be free to move as you please, despite being a high back office chair.
7.  Freedom by Humanscale
If you were looking for something more "executive," Freedom by Humanscale is your call. Its aesthetics are impressive, but its adjustability and comfort are on another level. It doesn't matter how much you move with the chair. It will continue to provide enough support to the areas that are most affected by a bad sitting posture.
8.  Vera by Eurotech
Last but not least, we have Vera by EuroTech. It is more affordable than most of the lumbar support task chair options mentioned above, despite not including an adjustable lumbar support system. It doesn't mean it is bad for such a purpose. It is actually quite comfortable and resistant enough for you to use it for a long time. It is an ergonomic chair that honors its price.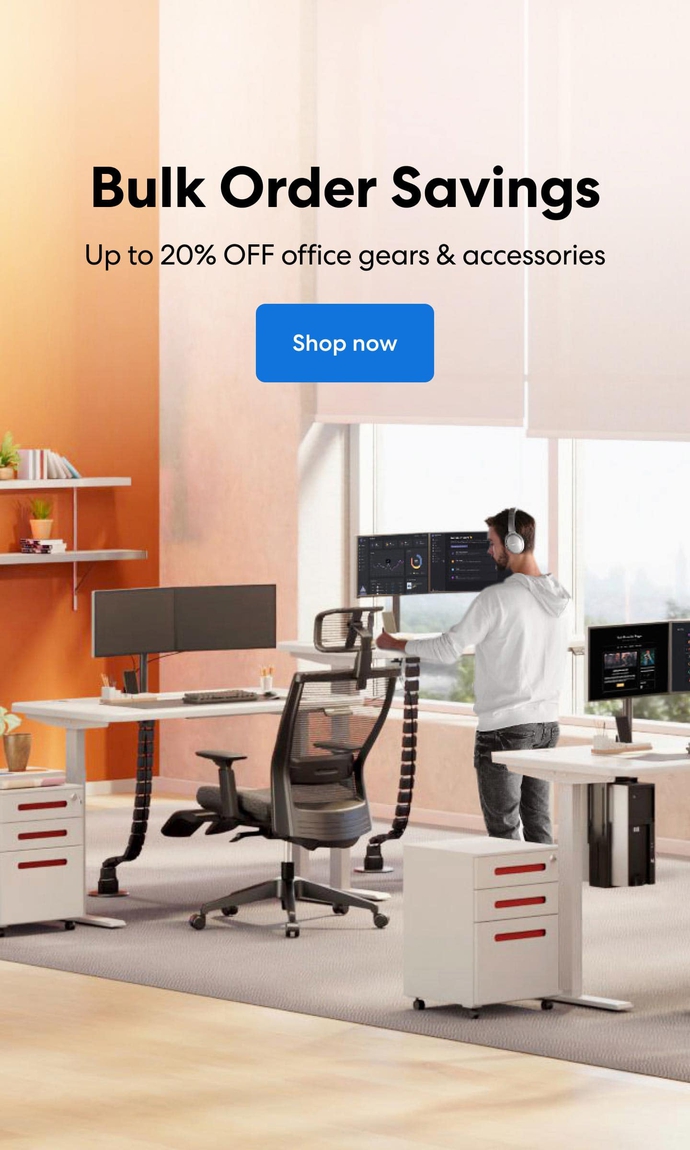 Subcribe newsletter and get $100 OFF.
Receive product updates, special offers, ergo tips, and inspiration form our team.