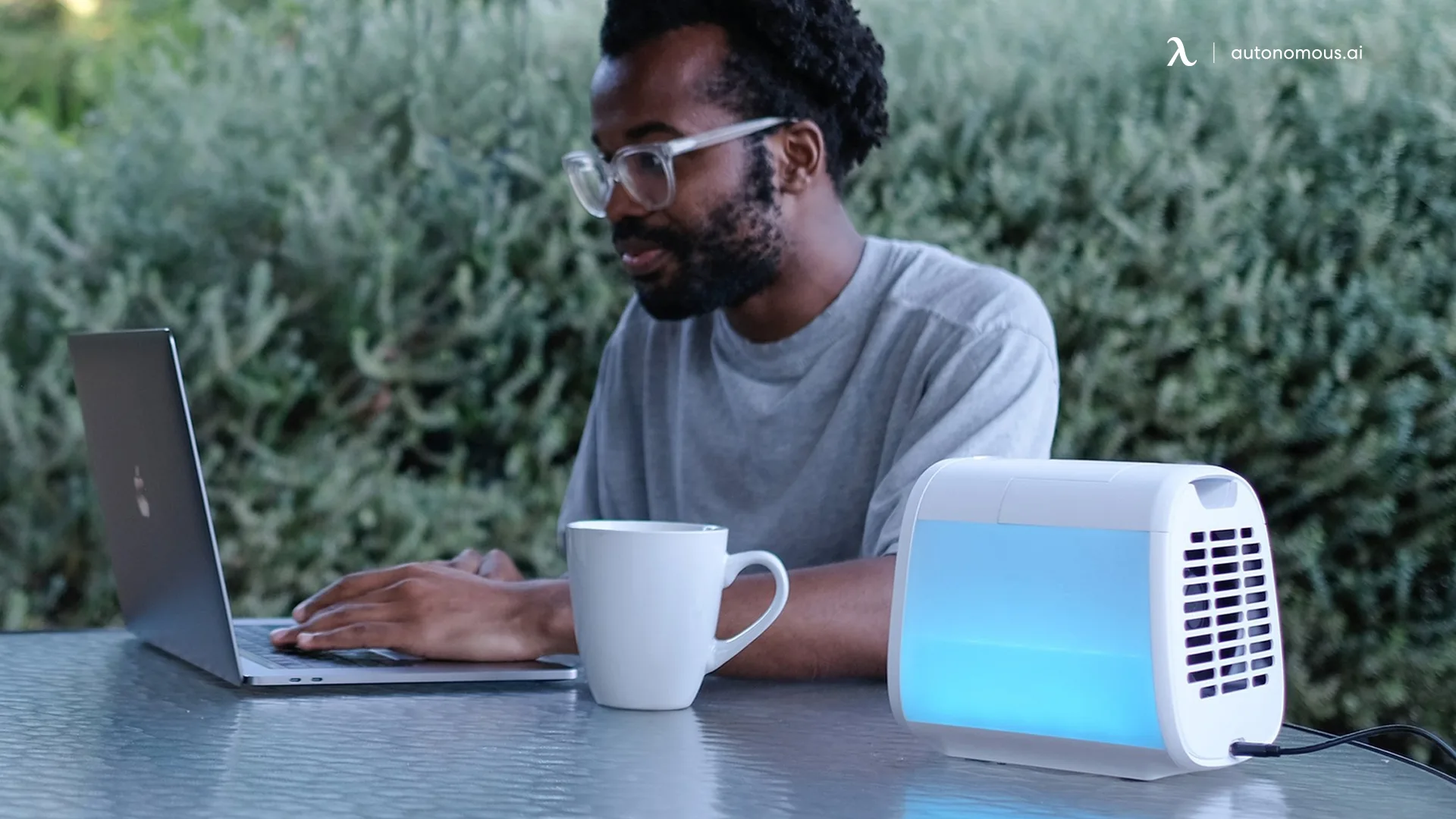 Smart Products
Mini Air Cooler for Room: Top Choices & Buying Guide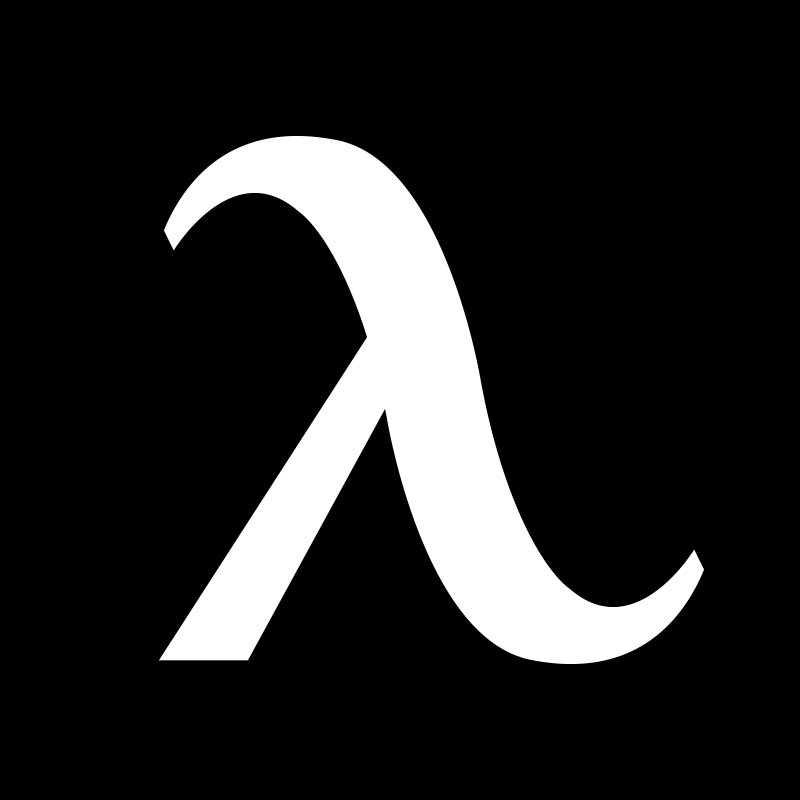 Autonomous
 | 
May 1, 2022
When it is very hot during the summer, the only thought that comes to mind is how to cool down your home. Most people are normally not concerned about their energy bills until they arrive in the mail. You then realize that it was not just the initial price of your AC unit that was high, but the cost of operating it. How about if we told you there was a way to stay cool and save money simultaneously? In other words, it is a mini air cooler for a room that comes in the form of a mini air conditioner. Even though you cannot keep your whole house cool with these devices, they are perfect for small spaces – but first, know the difference between air purifiers and humidifiers.
How Do Mini Air Coolers Work?
Personal air conditioners are evaporative air coolers, or swamp coolers, which remove warm air from your room and send it through a loop of cool water. This is how a portable air cooler for the room works to reduce the amount of heat. Compared to mini evaporative air coolers, mini evaporative air coolers are less expensive but don't work well in humid conditions.
On the other hand, air conditioners work by absorbing heat with refrigerant fluid. The air conditioning system blows cold air into the room to decrease humidity and temperature. A lot of energy must be used for this process, resulting in a skyrocketing electric bill.
A tiny portable air conditioner can be an excellent choice for small rooms and offices where you spend a lot of time. Also, no wall holes need to be drilled or hoses must be installed! Below are our recommendations for the best air coolers for your home. We've broken it down into two sections:
You can find small cooling units for your desktop in personal space coolers

Coolers that are small and portable (larger-sized yet compact coolers)
Also, check out our mini air cooler buying guide, which tells you to select the perfect mini air cooler for your needs.
Benefits of Tiny Portable Air Conditioner
Maintain a cool environment while reducing costs
You wouldn't want to waste your money cooling your whole house, would you? By using a mini air conditioner instead, you can conserve energy by focusing on your area.
Portable products
You can use personal air coolers (desktop-sized ones) as mini air conditioners for cars, whether you are going camping or you want to convert them into personal air conditioners.
Space isn't a problem
Compact and light, these units are ideal for travel. A couple of seconds is all it takes to move them. They take up little space.
Easy to use and plug-and-play
If you want an AC unit mounted on your window, you must follow all building codes and regulations and arrange for a special installation. Personal air coolers can be used irrespective of any restrictions, and a filling of the water tank is all you need to do (no drilling, ducts, or hoses) is all you have to do. Need help finding one? Choose from our best mini portable air cooler options given below.
Autonomous Air Cooler Products
Summer days in your workspace could be made much better with a mini air cooler for a room. Here are the top air cooler products from Autonomous.
1. Portable Evaporative Air Cooler from evaCHILL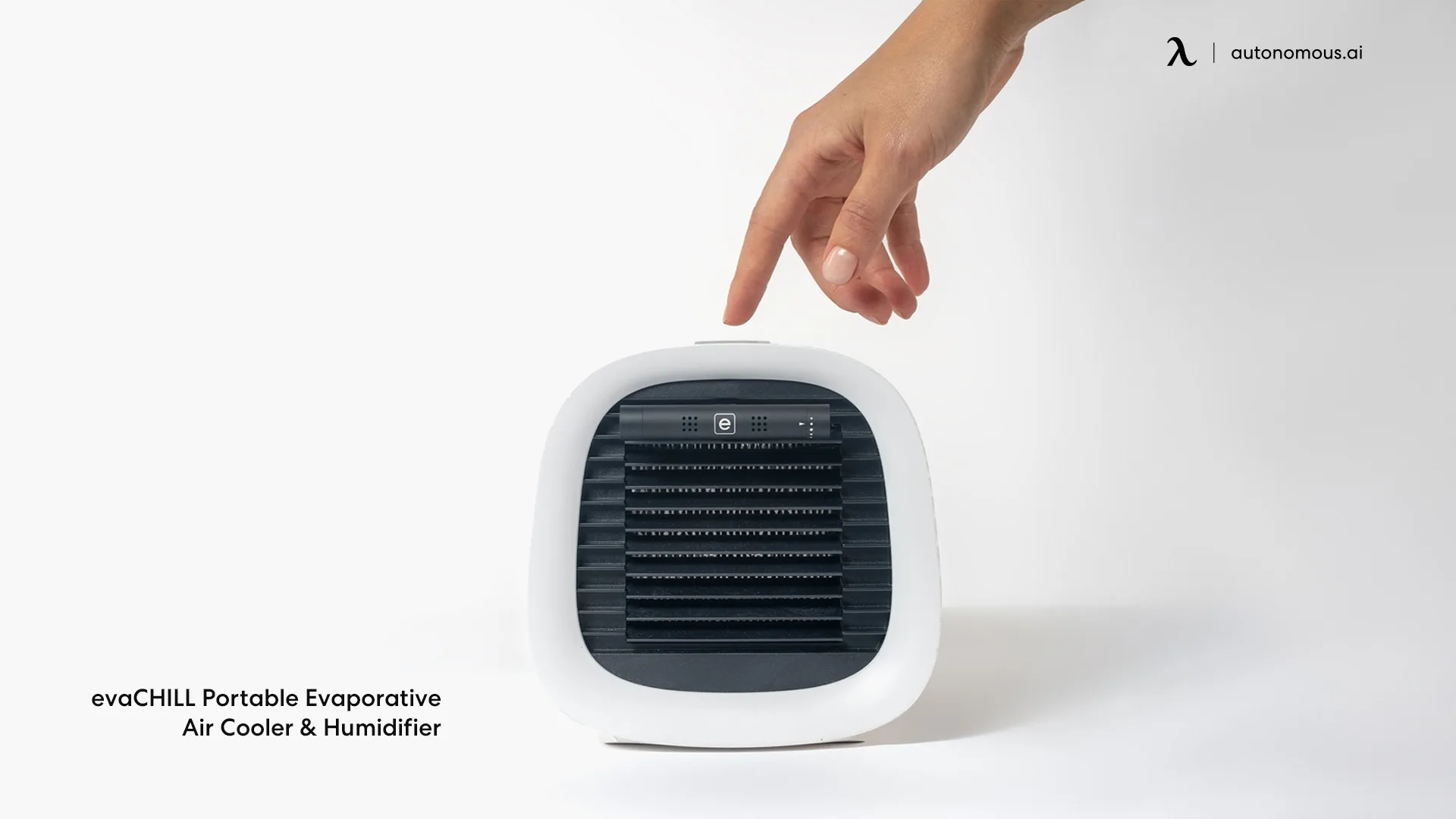 The evaCHILL Portable Evaporative Air Cooler has a handle that makes it easy to carry. Take it anywhere you want to stay cool. Despite its lightweight construction, the extended tank provides you with up to 9 hours of cooling. Various power sources are available, including power banks, laptops, and power outlets.
Cools the air and removes dust particles for healthier breathing. You do not need to buy several devices like a humidifier and an air conditioner. A new evaporative material, Eva Breeze, contains no organic materials, so it cannot harbor disease-causing bacteria. It uses biodegradable evaporative pads and no freon-like liquids. You can choose a similar Evapolar evaSMART Personal Evaporative Air Cooler.
2. Yuki Air Conditioner
PLA, a biodegradable material produced from renewable resources, is the material of Yuki, which is low energy consumption and biodegradable. Yuki uses ice from the freezer to cool and absorb moisture from the air: you can freeze it as a pack or use any bottle you like. It consists of just printed parts and a USB fan, making this the powerful and quietest air purifier.
3. Portable Evaporative Air Cooler from evaLIGHTplus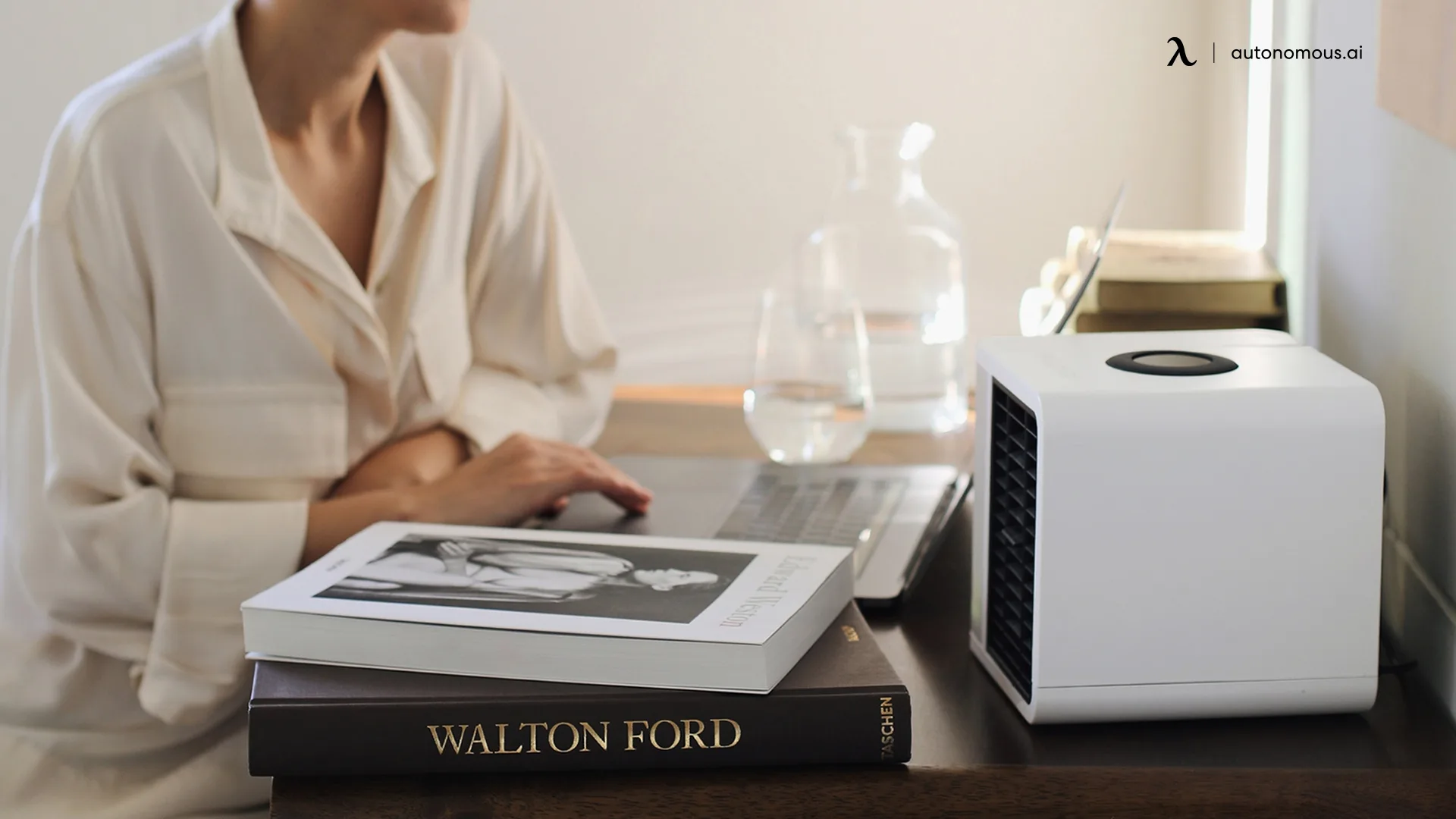 A best-seller among evaporative USB mini portable air conditioners, the evaLIGHTplus Portable Evaporative Air Cooler features a removable water tank and enhanced leak-proof systems. Using the control wheel, you can adjust device lighting precisely according to your mood.
The evaLIGHT PLUS cooler by Evapolar is an evaporative cooler that humidifies, purifies, and chills the air. evaLIGHT PLUS personal air conditioners can be easily transported and sit conveniently on any desk.
4. Eva Ultrasonic Humidifier from Stadler Form
Apps are available for controlling all humidifier functions. An easy-to-use remote control is included in Eva's remote sensor. This mini air cooler for rooms maintains the desired humidity quietly and efficiently with Adaptive Humidity Technology in auto mode.
5. APH260 Air Purifier from Airthereal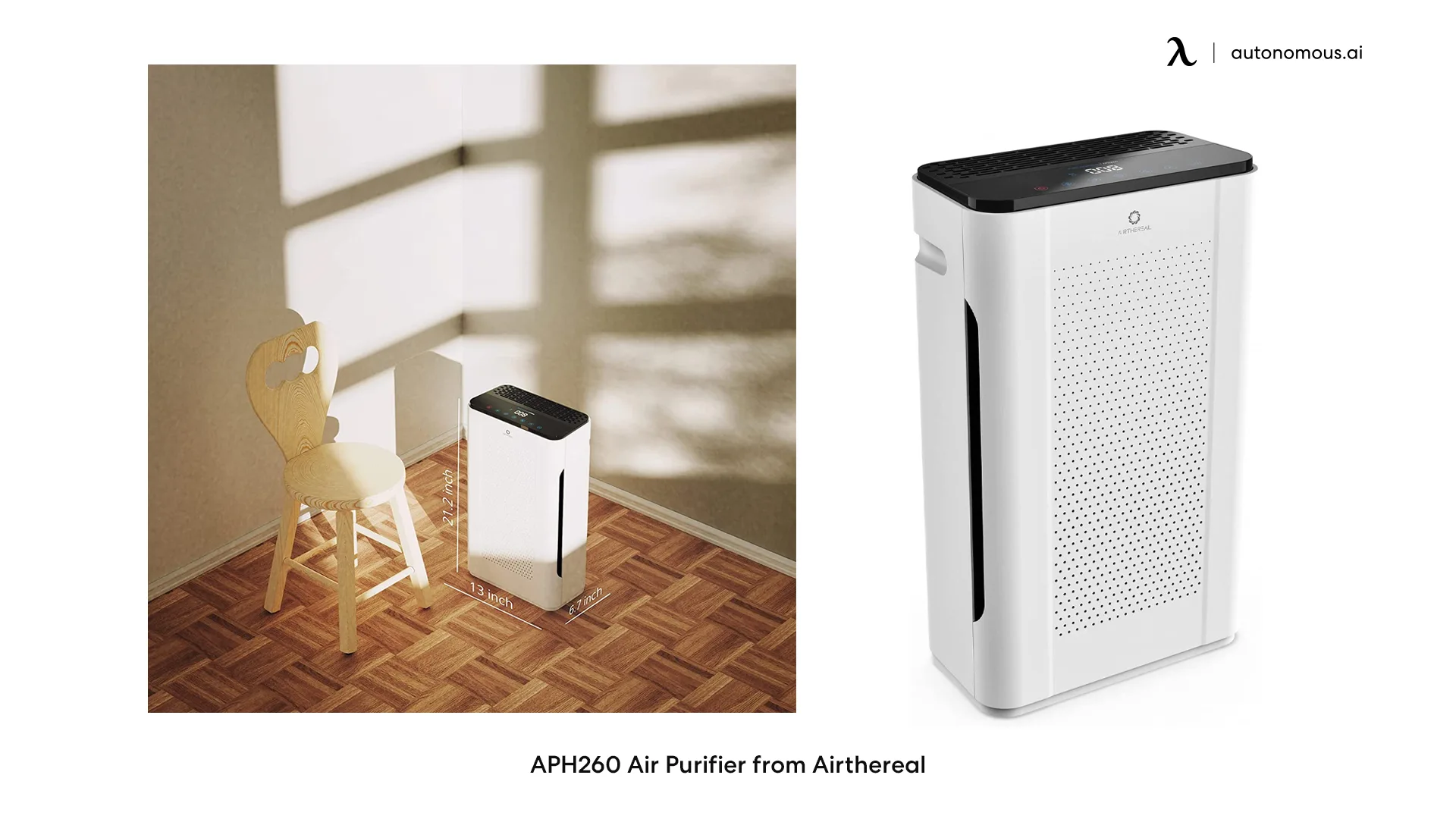 Despite removing fine particles as small as 0.3 microns, the APH260 air purifier removes 99.97% of them. Kill airborne bacteria and mold in your filter by activating the UV light. As much as 335 ft2 of air can be purified and recirculated by APH260.
99.97% of airborne particles as small as the three filtration stages filter out 0.3 microns. Automatically measure the air quality with Airthereal's smart control. If germs knock on your door, you can turn on the UV light and anion function to help eliminate them.
6. Ben Humidifier & Aroma Diffuser from Stadler Form
Ben produces a completely safe and remarkably realistic flame effect with the Amber Light feature. This mini air cooler for rooms creates an extra-fine mist that is distributed evenly throughout the room. The strength can be changed smoothly from subtle flames with a delicate scent to a blazing fire.
Hey, you have special pricing through your company.
Get exclusive rewards
for your first Autonomous blog subscription.
WRITTEN BYAutonomous
We build office products to help you work smarter.
Coming at You Live from Autonomous' Social Media!