Workplace Inspiration
Minimalism You've Been Waiting For Japandi Style Desk Set Up

Autonomous
|
Apr 13, 2021
6,785 Views
Minimalism has been in style for quite a while now. From documentaries to blogs, people are eager to relinquish themselves of material possessions and declutter. With the advantages of minimalism being so widespread, it is no wonder the Japandi style desk setup is so popular.
Styles, like the Japandi style, are taking over office interior design because of how comfortable, practical, and beautiful they are. If you're searching for ways to incorporate it into your life, be it at home or office, a good place to start is at your work desk.
What is the Japandi Style?
If you're wondering where the style comes from, then you'll be surprised to know that it is a hybrid of Japanese and Scandinavian styles and aesthetics. The two seemingly different styles compliment each other more than you would think. The final look is minimal, warm, calming, and functional.
The style is not by any means new. The Japandi style started over 150 years ago. When Japan lifted its closed border policy, the Danish were among the first to visit in search of inspiration. Their appreciation for what they saw in Japanese design can be seen even today.
It isn't just the Danish who was inspired, but the Japanese as well! You will still see Danish designs being highly sought after in Japan. Not to mention, Japan's 'wabi Sabi and Denmark's 'hygge' have one important feature in common - simplicity.
The Japandi style is the culmination of a long history of mutual appreciation. With elements from both cultures, designs, and aesthetics is born the Japandi style.
What are the Main Characteristics of the Style?
The Japandi style is based on simplicity and minimalism. So, it is no wonder that most of its key elements and characteristics are based on minimalism like a minimalist desk setup. Before you jump into incorporating it onto your Japandi style desk setup, you'll need to understand the elements.
The key elements of Japandi are:
Clean Lines
Functional and minimal furniture
Decluttered space
Contrasting colors
Only functional accessories
Even with one of its key elements being contrasting colors, the style is all about creating warmth and peace in the environment. So, whether it is your desk space or your bedroom, the Japandi style will envelop you in a calm and controlled space.
An environment that is minimalistic and warm is important for any desk space. Not only does it mean that you have more space to work in, but you're going to be seated at a desk that boosts cleanliness. If you're looking for a calm and collected mind, then the best desk setup with Japandi style is going to help you immensely. You'll find yourself being more productive and energetic through your workday with a safe office space setup. Monday mornings won't seem so chaotic anymore.
How to Incorporate the Style to Your Work Desk
Understanding the elements of the Japandi style desk setup is one thing, but incorporating them into your spaces is a whole other task. If you're just doing your desk space, you don't have any walls to worry about. However, you'll still have to be uber picky with your Japandi desk accessories and lighting.
Here are some ways you can embrace the Japandi style into your desk space!
Desk Color and Material
When choosing a desk for the best desk setup with Japandi style, it is best to keep in mind the color of the walls and floor your office is in. If you're getting a home office standing desk for your office space or L-shaped smartdesk for a small room desk setup then you'll have multiple options to choose from. Whether you're going for something intensely dark or light, you have lots of options.
If you're creating your desk space in a pre-designed office space, you'll probably have white or beige walls. The white or beige palette is very popular in one sect of the Japandi camp. You can opt for bamboo or white smartdesk and stick to a basic theme. The wood desk also keys into the natural element of the Japandi style.
Chair Color
If you've chosen to go with a simple white, beige, or light wood-colored desk, you'll do something contrasting or complimentary for the chair you choose. If you want to choose an ergonomic one for your Japandi style desk setup, Kinn Chair may be an option, but if you want any chairs with older style, you can look further for 1970s design. There are so many color options with the Japandi style that you'll be left confused at the end.
However, for a desk space in an office, a simpler neutral palette with a rich accent is the better option. Not only is this a cleaner option, but it is also simpler to find the right accessories and furniture.
Lighting
Having a desk lamp or an overhead light fixture isn't just necessary to keep to the Japandi style desk setup; it is also good practice. The added light while doing your work makes it easier on your eyes. You'll feel less strain and have a beautiful desk accessory to boot.
When choosing a desk lamp or lighting fixture, look for clean lines. You don't want something that will command the space in the room. Pick one that complements the other furniture and Japandi desk accessories you have chosen. The light needs to contrast the space, not overpower it.
Make Statements
When it comes to accessories, the Japandi style dictates that they must make a statement. While still remaining useful, your accessories need to make a statement about the space you've just entered. A common way to do this is to use a plant. This isn't the end-all to Japandi styled desk space, but it does bring the room together.
Other statement accessories to consider are vases, rugs, or throw pillows for your chair. These items will work well with the Japandi style while sticking to the principle of simplicity and minimalism. While picking accessories, remember that it isn't about picking the most expensive item but one that works the best. There are several cheaper home office furniture alternatives to pricey items that work better!
Keep it Clean
The essential part of the Japandi style desk setup is keeping the space clean and decluttered. In an effort to keep every space as decluttered as possible, you are encouraged to only keep what you truly require. Throwaway documents from three years ago, store any stray items in their place, and keep your plants healthy and happy.
The key to mastering the Japandi style at your desk is to create a space that you are comfortable in, and comfort starts with decluttering.
Endnotes
The Japandi style has really taken off in the last few years. From bedrooms to office spaces, the style has infiltrated and settled. The core principle of minimalism and simplicity are direct contrasts to the capitalist and materialistic world we live in. Despite the world, the Japandi style teaches us that simplicity is best.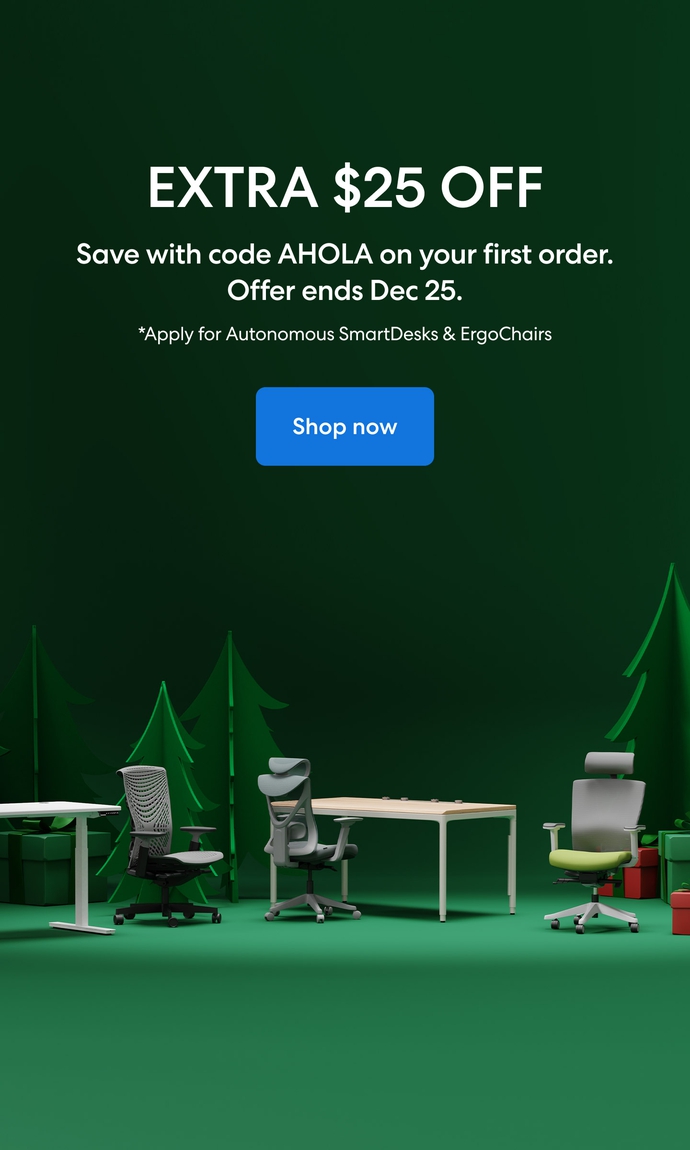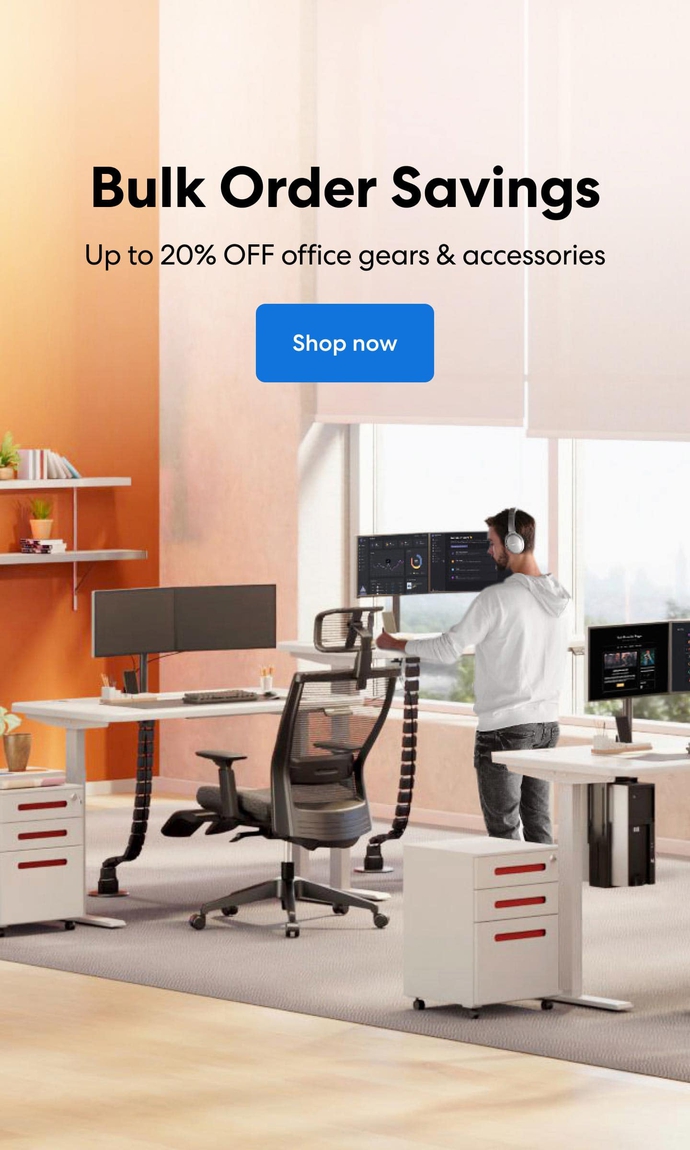 Subcribe newsletter and get $100 OFF.
Receive product updates, special offers, ergo tips, and inspiration form our team.