Open spaces, bright colors, minimalism, and natural lighting have replaced the boring rows of cubicles that once made up the office environment. With the hybrid work model making way for changes in the office space, more and more people are adopting a new office space design. 
The transition from closed to open, modern office layouts have significantly impacted employees' mood, creativity, and productivity in contemporary office environments compared to the endless rows of cubicles that once plagued offices. 
These modern office spaces are not just airy places where people work, but they are also works of architectural design and art that have significantly impacted the clients who visit them. 
If you wonder how to implement this modern trend in your office space, here is everything you need to know. 
What Your Office Space Should Include
The contemporary office space doesn't just look good, but it is also meant to be functional, promoting creativity and a sense of calm. It is no secret that a cluttered or "busy" office design can raise workers' stress levels who spend most of their day in them. 
When implementing the modern office design in your workspace, be sure to keep the following in mind. 
1. Productivity
Most business leaders wish to cultivate collaboration, creativity, and communication in their workforce. If your new office design is a hybrid one, then design elements become even more important to promote these qualities in your team, whether in the office or at home.  
While there are several ways to make these qualities a part of your team's everyday practices, office design is one of the most effective. 
Splashes of bright colors incorporated into your modern office space can help to promote creativity, and the placement of desks and chairs can help employees communicate and collaborate better. 
2. Focus and Concentration
While communication and collaboration are essential qualities to promote, too much can have the opposite effect. If employees do not have the opportunity to think and work independently in a space that is free from distraction, it could be counterproductive. 
Having a flexible workspace can help you achieve this. Set up an area where teams can meet to communicate and collaborate and make new office spaces available for those who need to work independently. 
3. Minimalism for Lower Stress and Anxiety Levels
Cluttered work areas can cause stress in office workers because it signals to the brain that there is still work to be done. Minimizing clutter in excess furniture, paperwork, and office equipment can help reduce stress levels and boost productivity in employees. 
Another thing to keep in mind is industrial design elements, such as sharp corners, metal elements, and stone, that can create stress if not used correctly in office design. The material should not make a space look busy. 
4. Professionalism to Impress Clients
If your business involves working with clients regularly, you may want to pay special attention to your office design. While it may not be possible to perfect every area of your new office space, particular focus should be on those areas exposed to clients. 
Separating employee and visitor or client spaces can help your work environment function to increase employee productivity and cultivate respect in clients. 
A professional, modern office space tells clients that you take your business seriously, and they may be more inclined to trust you with their business. Design is just as important as maintenance in this regard. Spaces should be just as clean as they are appealing. 
5. A "Homely" Feel
By making your modern office space comfortable, you can promote productivity in employees. Including recreational areas such as a break room, or other elements such as a ping pong table can help employees feel more comfortable in their environment and focus their efforts on their job. 
This also helps generate a culture of communication and collaboration, promoting communication over work-related issues over a cup of coffee or a game of ping pong. Engaging in these activities can help employees relieve stress and tension, which boosts their productivity. 
How to Achieve a Modern Office Design
There are three main components of a modern workspace. They are: 
1. Office Furniture
Furniture is one of the essential elements of any office setup. Great care must be taken in choosing furniture for your new office space, especially if you are furnishing a hybrid office. 
In past decades, the understanding of ergonomics in office furniture design was limited. However, office workers and employers alike have begun to take ergonomics more seriously over the past decade. 
Sitting in a chair that does not provide the proper support and adjustability could leave employees sore, uncomfortable, and injured, which is the opposite of what the modern office design aims to achieve. 
Autonomous has a range of wholesale office furniture that can be bought in bulk for your new office space setup. Before getting to that, it is essential first to understand what is meant by "ergonomic". 
The Ergonomic Office Chair
Here are a few things to look out for when choosing an ergonomic office chair for your new office space:
Adjustability. Ergonomic chairs must be fully adjustable to allow employees to sit comfortably with their arms at right angles to the desk.
Lumbar support. The spine has an S-shaped curve. If not supported correctly, back pain can occur from hours of strain to the lower back muscles.
Arm support. This type of ergonomic support has been a topic of much debate. However, studies have shown that adjustable arm support can relieve strain to the neck, shoulder, arm, and back muscles.
Headrest. The muscles of the neck work to support the head while it is held upright. A chair with a headrest allows you to rest your head, thereby preventing strain to the neck and shoulder muscles. 
Ergonomic Office Chairs from Autonomous
If you are looking for a modern chair, the ErgoChair Pro makes the perfect addition to any modern office layout. It includes everything you could want, from an ergonomic chair and more. 
One of Autonomous' best ergonomic chairs is the ErgoChair Pro. These wholesale office chairs offer superior mechanisms that allow the user to adjust them to fit any body type, providing optimal support and comfort for long hours at the office. 
Autonomous ergonomic office chairs are available in various colors, allowing them to fit in perfectly with any modern office design. When choosing modern office chairs for your employees, consider their well-being and the overall aesthetic appeal of the chairs. 
With Autonomous office chairs, you never have to compromise well-being for looks, or vice versa, because these office chairs look as good as they feel. The chairs offer superior arm, lumbar, head, and even leg support. 
Every chair has a seat tilt function that allows you to adjust your position. Another big plus is the adjustable back tilt tension, which affects the level of resistance provided as you recline in your chair. 
The seat depth of these ergonomic chairs can also be adjusted, as can the width and depth of the armrests. These ensure that your arms are always fully supported. There is no reason not to choose an Autonomous office chair for your new office space with a contemporary appeal. 
Ergonomic Standing Desks
Standing desks are essential for maintaining healthy habits while working long hours in the contemporary office space. A sedentary lifestyle can lead to several health issues, such as:
Lower back pain

Increased blood sugar levels

Weight gain

Heart disease

Lowered productivity

Depression and anxiety

A reduction in lifespan 
The last thing you want is an unproductive team, so encouraging the alternation between sitting and standing throughout the workday in your new office space can help to reduce the risk of health issues related to a sedentary lifestyle. 
Autonomous Standing Desks
Autonomous knows how important ergonomic furniture is to maintaining good health, which is why it has developed electric standing desks like the SmartDesk Core and the SmartDesk Corner to encourage workers to adopt a more active lifestyle in your new office design. 
These bulk office desks have ergonomic features that allow you to adjust the desk to your exact height.  
The most prominent feature of Autonomous SmartDesks is its whisper-quiet dual motors, which can carry a load of up to 300 pounds, allowing you to store all your office equipment and gadgets within arm's reach. 
You can switch from sitting to standing with the simple push of a button, saving time and effort in your modern workspace. The best part? Autonomous standing desks are modern and minimalistic and are sure to add value and functionality to your modern office space. 
2. Technology
Technology plays a big part in new office space design, so be sure to keep these in mind when setting up your modern office space. 
Accessibility
Modern and new office spaces are built to allow workers to work more fluidly, which means that they should move to any part of the office and be able to access the internet from there. 
This involves adding a solid Wi-Fi signal that covers every area of your modern workspace, so employees are never offline during their workday. Wireless gadgets and tech equipment are also an excellent idea for a modern office setup because it reduces clutter and gives employees more accessibility. 
Wireless chargers are an example of this. It allows an employee to charge a device no matter where they are in the new office design, so they are never tied down to one space the entire day. 
Collaborative Tools
As you may have already seen, encouraging the collaboration of workers in your organization is essential, and technology can help you do just this. Previously, whiteboards were sufficient for brainstorming ideas, but today, there are many options to get your team to work well together. 
Hybrid teams may benefit from communication tools such as the Autonomous Jam tool that promotes team collaboration with employees working from home and office. 
Devices
Good communication and collaboration cannot be possible if all kinds of devices are not supported in the workplace. Every employee is different and has unique preferences, so it is essential to support many devices to cater to these differences. 
Some employees may work better on a desktop computer, while others may be more productive with a laptop or tablet device. Whatever the case may be, it is essential to determine the technological needs of your employees, so you can cater to them adequately. 
3. Employees
Neglecting the needs of your employees could be counterproductive, causing your employees not only to be less productive, but also less happy in their roles. As already discussed, it is vital to consider their ergonomic needs, and purchase furniture that does not cause injury. 
Here are a few other essential factors to consider. 
Freedom to Move
In contrast to older work models where employees were confined to a cubicle all day, the modern office space design focuses on freeing space, so employees can move around throughout the day, and collaborate with other team members. 
Promoting movement throughout the day can help employees remain active, which further improves their wellness and mood. Being able to talk to team members can also have a positive effect on employees. 
Encourage and Teach Employees to Work Differently
The world as we know it is changing rapidly. Workers are no longer required to be in the office every day of the week. These changes may be overwhelming for some who are used to their nine to five jobs stuck behind a desk. 
Put effort into educating team members every time changes are made and listen to their concerns. Special care should be taken when training new staff, so they may understand how and why they are required to follow the work model you set out. 
Final Thoughts
Over the past few years, there has been a rapid change in the way organizations function. Thanks to the pandemic, more businesses have switched to a hybrid work environment, encouraging changes to the office setup. 
Adopting the modern new office space trend can help to cultivate creativity, collaboration, and communication in employees, and boost their overall mood and productivity.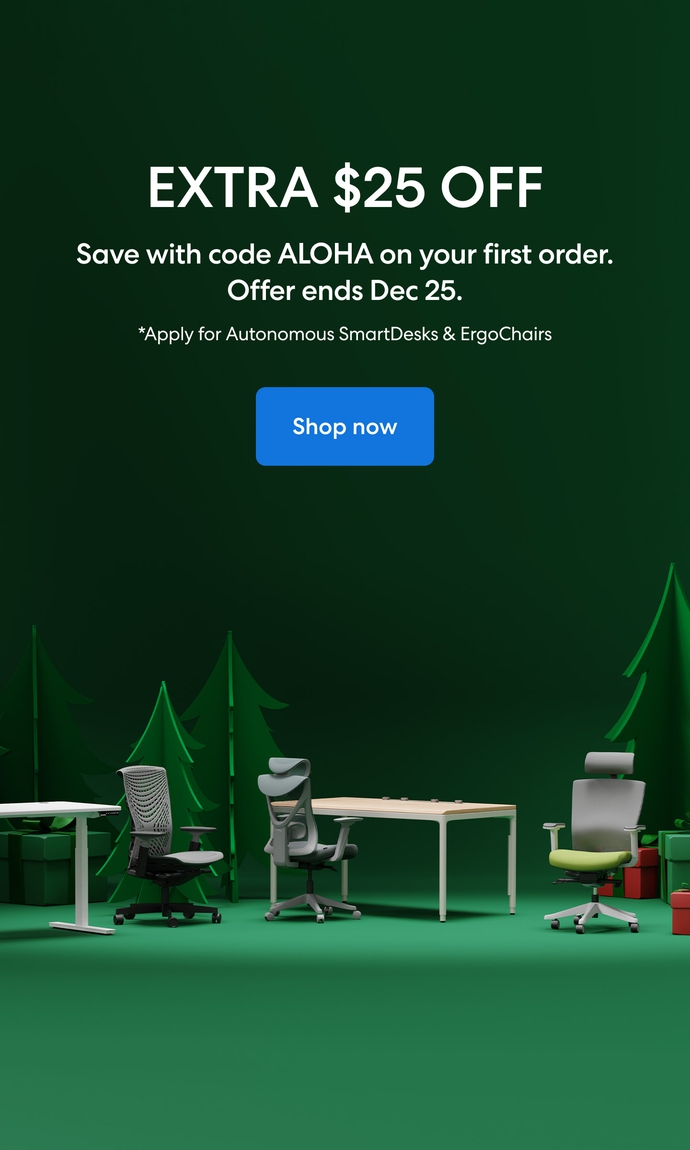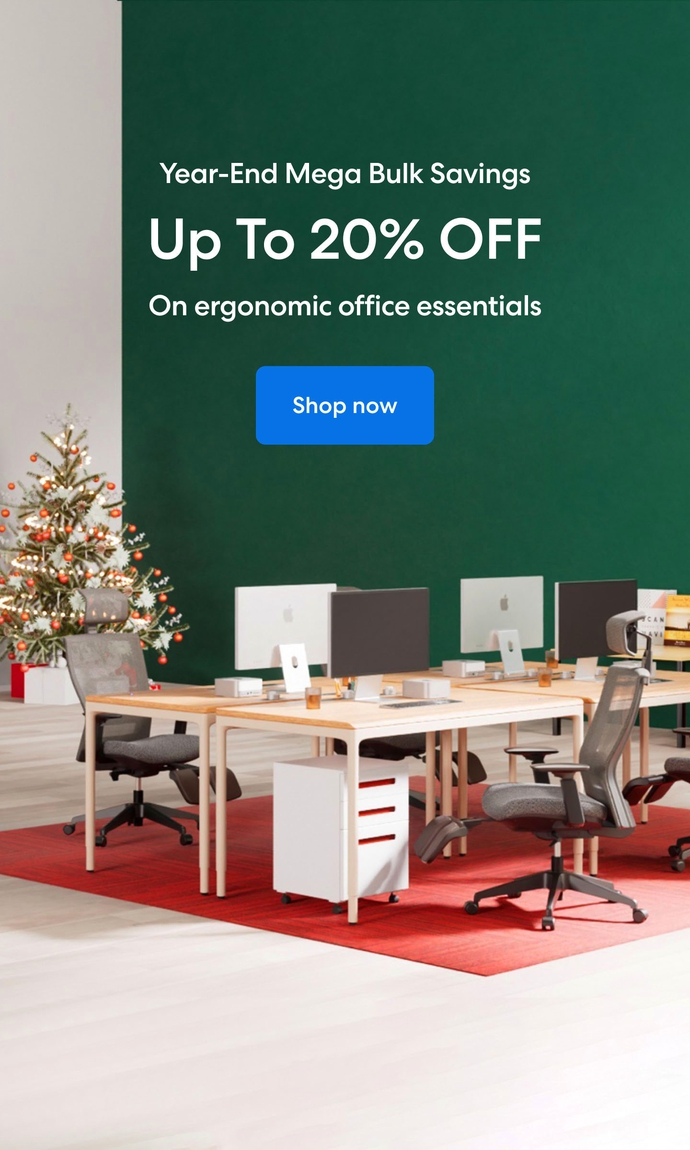 Subcribe newsletter and get $100 OFF.
Receive product updates, special offers, ergo tips, and inspiration form our team.