Smart Products
Most Popular Computer Monitor Accessories to Consider

Autonomous
|
Mar 2, 2022
1,652 Views
Attention to all the folks who spend more than 6 hours each day in front of the computer. Whether it's for work purposes, gaming and stuff, or you are just loving the videos on YouTube. Spending time in front of the screen and sticking to a single chair promotes a sedentary lifestyle which is extremely harmful to health. And if you are not working efficiently, you are only spending more minutes than needed sticking to unhealthy habits.
Computer monitor accessories and work desk accessories help make a workstation ergonomic and user-friendly. With the right gaming monitor accessories, one can even enjoy gaming better and save them some time and negative effects of gaming.
But when it comes to choosing the right PC monitor accessories, it is a tough call considering the tones of accessories available in the market. While you might be making a list to buy vs. what to skip, here we have mentioned the best computer monitor accessories for a modern desk setup.
1. Monitor Arm
A monitor arm or often known as a useful monitor arm accessory, can help you create a large setup even in a limited space. This is because of the versatility of the monitor mounts that help you hold screens above the desk, making it easier for the user to use multiple screens at once. Monitor stand accessories also help set the screen to an ergonomic level, preventing issues like neck strain.
The best thing about monitor mount accessories is that they come in different settings; from single monitor arm to dual monitor arm, you can easily create a screen set up with various settings.
2. Wrist Rest
People who work with keyboards and mice for a substantial portion of their day know the pain of repetitive strain injury and similar wrist-related issues. This constant strain can cause them to develop long-term wrist injuries and lower their working rate. An ergonomic wrist rest is a useful solution to keep your wrists at a safe working level.
We recommend the ergonomic wrist rest by delta hub because of its versatility and unique design. The wrist rest comes in separate designs for both right and left hands, so you can freely move the hand and enjoy the smooth gliding action of the mouse.
3. Ergonomic Keyboard for PC
Ergonomic keyboards are especially useful for programmers and coders who spend most of the time tapping on the keys, hence developing soreness in their fingers and a feeling of tiredness in their wrists. Ergonomic keyboards are designed to be extra sensitive to touch. Hence they respond quickly, and one has to apply minimum possible force.
This Matias programmable Ergo Pro keyboard for PC is our top pick for people who love to do comprehensive and complex coding. The keyboard has various adjustments to be used by the day, and it also comes with attached wrist rest for maximum comfort.
4. Ergonomic Split Mechanical Keyboard
This Cloud Nine ergonomic split mechanical keyboard is designed to conform to your safest typing angle regardless of the keyboard design and normal keyboards. The cloud nine keyboards allow various ways to fit and match your perfect typing posture perfectly. The unique thing about this keyboard is that it can be split into two parts that can move 6.5 inches apart.
This splitting option allows you to place your arms hence aligning shoulders in the most ergonomic posture. The 7 degrees palm rest provides the most comfortable resting pad for your wrists hence eliminating any hint of strain-related injury in the workplace.
5. Standing Desk Converters
People who are a bit into ergonomics know that the ideal way of working in front of the screen is to switch between sitting and standing frequently. Alternating the positions while working allows one to remain alert, regulates blood sugar, and keeps the heart healthy.
Since standing desks are common and popular in an ergonomic setting, many people also opt for an ergonomic standing desk converter due to its versatility. Standing desk converters are a helpful desk accessory that can be placed on the top of your existing desk. They are portable, versatile and lightweight. They also don't cost you a lot compared to a standing desk itself.
6. Motorized Standing Desk Converter
This motorized standing desk converter by mount is a quick ergonomic fix to your workstation. The versatile standing desk converter is an ergonomic solution that can gladly be paired with any table. The generous desktop space allows you to work with even dual monitors if you use a monitor arm.
The desk converter also allows you to tilt and rotate the screen at the safest possible angles, and the two platforms ensure you get enough space you're your desktop, keyboard, mouse and other computer monitor accessories.
7. Lumbar Support
This is one of the necessary computer monitor accessories. The natural inward bend of the lower back needs to be supported to maintain the perfect posture and prevent any back-related injury. Lumbar support is specially made for the lower backfills in the gap between the lumbar spine and the seat. In the office chair, it's natural to slouch and lean forward and hence modern ergonomic chairs come with built-in lumbar support.
But if you are not blessed with such a chair, you can easily purchase a separate heated lumbar support. This thermal control lumbar support from autonomous provides you with different massage levels while conforming to the natural curve of your spine. The vibrating massage will make your work time a pleasant experience, and the breathable fabric ensures you don't feel a hint of sweat.
8. Desk Pad
Using your mouse for the entire day can damage the surface of your table. Desk pads might be tiny, but they are highly useful for your work desk. They provide a smooth interface between you and your desks. Prevent your wrists and arm from any natural strain and keep your desk scratches free. Desk pads also improve the aesthetics of your work desk effortlessly.
9. Under Desk Stand
Are you tired of working in a congested environment? Organize your workspace with the help of an under-desk stand. It offers a place for almost anything on your desk and comes with three USB charging outlets. This desk stand is especially useful for gamers as they can easily solve the issue of hanging cables, messy headphones and keep their expensive gaming accessories safe until the next use.
Video ads for product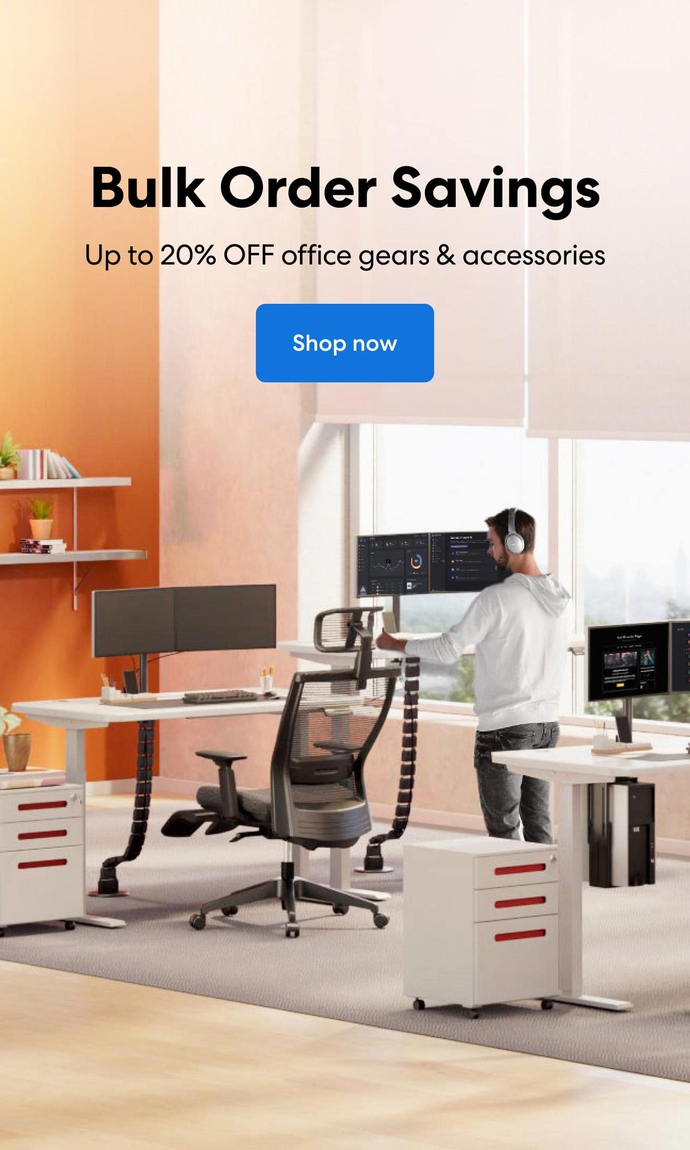 Subcribe newsletter and get $100 OFF.
Receive product updates, special offers, ergo tips, and inspiration form our team.