Smart Products
Most Powered Standing Desk For Ergonomic Workstation

Autonomous
|
Apr 25, 2021
2,194 Views
The assets that are used in a workstation determine the trajectory of productivity in the place. They are often overlooked, and therefore you must be aware of the current developments that have happened in the industry.
There are many market leaders that have come up with electric desks that are open to personalization. You can adjust them as per your own will and then enjoy the benefits. If you are not aware of these desks, you have come to the right place. This article will walk you through the best, most powered standing desks for ergonomic workstations.
1.  Smart Desk Core
The Smart Desk Core is a fantastic product by Autonomous. The company has constantly been treading ahead in terms of innovative work desks, and this product is a live example of that. The desk is best in class and comes packed with various exciting features.
It looks incredibly aesthetic in all the settings, and therefore, you do not have to worry about a protruding element in your existing environment. It also gives you the option to change between the sitting and standing mode so that you do not have to restrict yourself to a single position.
Along with the great looks, the product is built to last so that you do not have to make these purchases again and again. The frame is robust and is created to hold a much higher amount of weight than regular work desks do.
It also comes with a thirty day trial period so that you can first try the product and then purchase it ultimately. Even after your purchase, the company gives you a five year warranty period so that you never have to worry about your desk.
2.  Smart Desk Pro
The Smart Desk Pro  is a powerhouse of energy that is equipped with a dual motor system. It works very smoothly and is very quick in its movements. Smart Desk 2 Premium comes with multiple height adjustments that you can use to your benefit.
Even if you are not comfortable with the presets, you have the option to mold them according to your own free will. The desk is super sturdy, so you do not have to worry about them in terms of the weight they can hold. The built in motors are of high quality so that you can align the height as many times as you want.
Another fascinating thing about this desk is that you do not need any professional for its installation. The entire process takes around fifteen to twenty minutes, and the instructions are clearly defined.
Autonomous is always focused on providing the maximum benefit to their customers. They have also added a 30 day trial period along with a gigantic warranty of seven years in case the product has some malfunctioning. You can visit the website for their pricing plans and also check more such powered adjustable desks there.
3.  L-Shaped Smart Desk
Do you ever feel that the space on your desk is not enough? Are you tired of making room for objects by continuously shifting other things off the table? If yes, Autonomous has got you covered with their stellar L-shaped Smart Desk.
They have incorporated a triple motor system in the table to ensure a seamless experience for all their customers. You can easily place this desk in any corner of your office and then enjoy the powerful ride that these powered sit stand desks offer. You can shift the settings from sitting to standing at the convenience of a single click so that you can arrange the desk without much thought.
This desk will provide you enough room for all your essentials while maintaining its minimalistic look. It also comes with a month-long trial period so that you can remove the element of risk from your mind. Autonomous is known for its quality offerings and extended durability. This is the primary reason for the five year warranty that they offer so that their consumers do not have to give much thought before purchasing their products. If you liked this product, you can go and explore more powered electric standing desks.
4.  Smart Desk - DIY Desk
If you are always keen to build your personalized furniture rather than purchasing it, smart desks might have been out of bounds for you. However, Autonomous went one step ahead and created a product just so that people can craft their desks while incorporating the same stellar quality.
The Smart Desk - DIY Desk from Autonomous gives you the independence of creating your own desk in the easiest way possible. Be it the inclusion of the motor or even putting up the frame, every step is clearly specified so that the consumers can have a glitch free experience. They have also set up a dedicated helpline so that their patrons can connect with them without thinking twice.
The components of the desk are made up of high quality raw material in the same way as all their products. The fixtures do not require finesse, and you will be able to set the entire thing up in a couple of hours. The warranty and trial period have their designated place, and therefore this product comes forth as one of their best offerings.
The DIY desk is also priced less as compared to all their other products. So even if you are on a strict budget, a smart desk is attainable.
Final Words
We have selected these products after conducting extensive research so that your work can be reduced. It would be best if you can check Autonomous' to know more about their products and offerings. You will also learn more about their payment plans which are superbly furnished too.
A smart desk may seem like an extravagant element, but once you start using it, you will be wholly satisfied with the comfort and quirks. You can also check this post to know more about the benefits that come along with desks with dual motor standing desks. To more productive days at the office!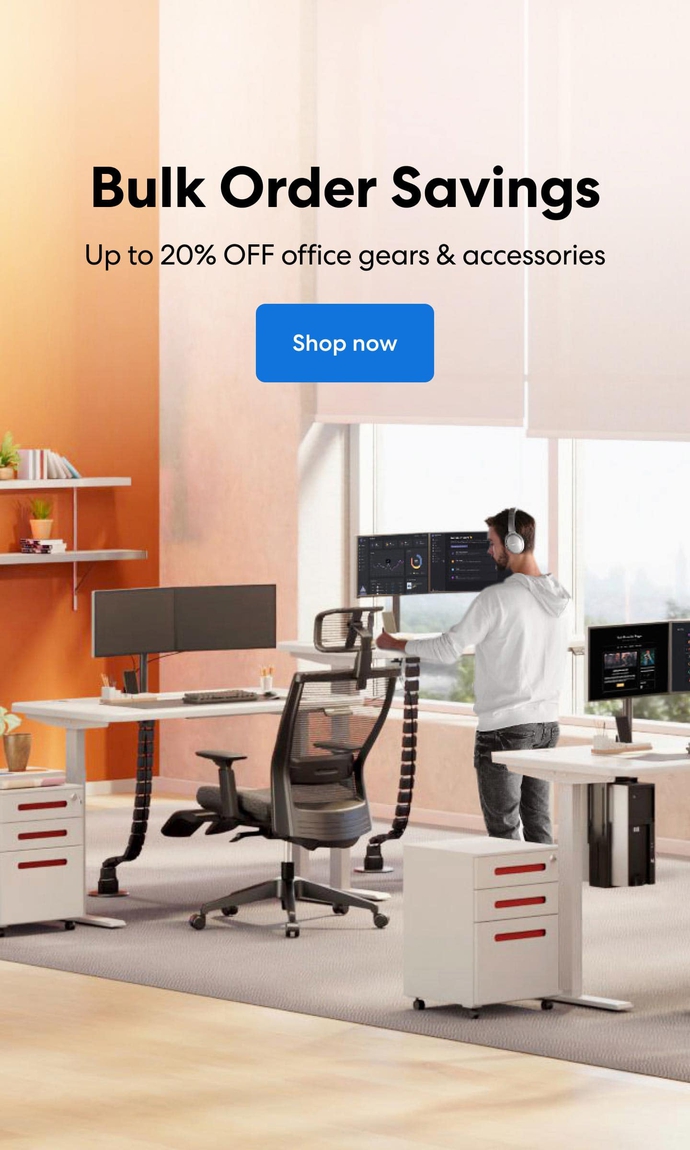 Subcribe newsletter and get $100 OFF.
Receive product updates, special offers, ergo tips, and inspiration form our team.