Smart Products
Mount-It! Standing Desks: 4 Best for Your Sit-Stand Workstation

Autonomous
|
Dec 27, 2021
1,478 Views
There are many ways to design office setups since everything depends on what you want for your workspace and what you want its aesthetic to be. However, it's always a good thing for office workers to have ergonomic products at their workplace.  
Those products are extremely helpful for people and increase their productivity in the long run, so it's an excellent investment for all kinds of workers.  
You can find tons of ergonomic chairs and desks out there, but that makes it too difficult for some people to choose the right option for them. We want to help you with that, so you can read this page to know more about Mount-It! desks!  
We don't mean Mount-It! products are the only ones you can get on the market, but they are of excellent quality, which makes them a worth-considering alternative for you. This article focuses on desks from that company, so you can dive into our page if you are interested in chairs or other office items. 
What Is a Mount-It! Standing Desk?
Well, logically, Mount-It! standing desks are simply desks designed by this company. Mount-It! has put an effort to help office employees worldwide, and it does that by offering some of the best products you can find online. All the desks from this company have ergonomic features that aim to address issues, such as back and neck pain. 
Speaking more about standing desks, they are some of the essentials of an office. These products, as their name suggests, allow you to work while standing. The standing position is the ideal posture for people to work since it keeps your spine straight.  
Don't worry if you still want to work while sitting, though. These products allow you to adjust them any time you want to, so you can switch between sitting and standing at all times, which is highly beneficial for your back and overall health.  
People also call them height-adjustable desks since that's their flagship feature. However, they can include other functions such as monitoring stands, shelves, or cup holders. Many people recommend mixing these desks with ergonomic chairs. Doing that gives you the ultimate experience while working, but you need to invest some money to get those items.  
Mount-It! not only offers you the standard standing desk. You can also get a Mount-It! electric standing desk frame, Mount-It! sit-stand desks or desk converter with the company. There are many types of desks on the market, so it's up to you to choose which one suits your office better.  
Types of Mount-It! Standing Desks
As we mentioned before, you can choose from a variety of Mount-It! Standing desks. We recommend you spend all the time you need to pick the best one for you. What most people do is analyze their priorities and needs and see which type of desk addresses their needs. 
Here are the main types of office desks you can find with Mount-It!: 
Electric Standing Desk
Electric standing desks offer you top-notch technology when it comes to adjusting your desk and feeling better while working. The most important feature about this type of desk is that they are electric-powered. Therefore, they have a built-in electric motor that keeps running the whole thing.  
These desks are excellent for people who want to constantly switch from sitting to standing since they can make that change in a few seconds. Another of the benefits you can find with these products is avoiding the noise that many desks make when switching from sitting to standing. Mount-It! sit-stand desks are really good that you can consider.
Standing Desk Converter
One of the reasons people get desk converters is they are more affordable than a regular standing desk. Apart from that, they follow the same function since you can put them on top of a standard desk to turn it into a standing one.  
The reason they are more inexpensive is, naturally, that they are considerably less stylish. In a nutshell, desk converters are little extensions to your actual desk, so some prefer saving a little more money to get a new standing desk. Nonetheless, converters also offer some benefits.  
One of them is you can take them anywhere you want to with no problem. Thanks to that, you are not going to have any problem if you move out to another office or city. Additionally, these desks often include a monitor stand and additional features that would be more expensive with a monitor standing desk.  
Wall Mount Desk
Wall mount desks are not as common as other types of desks, but they are still useful for the ones who get them. These desks are attached to a specific wall, so they don't take that much space from you. However, you can't move from there.  
These are excellent if you don't need that much space to work and are not planning on moving to another office. However, most people should get standard standing desks, standing desk converters, or mobile desks. Wall mount desks are more inexpensive than other alternatives on the market, though.  
Mobile Standing Desk
Unlike the last type of desk we mentioned, mobile standing desks are perfect for people who move a lot while working. When we say moving, we mean going to another cubicle or choosing a different space to work. Mobile standing desks tend to have castors or wheels to make it easier for you to move them.  
People tend to mix them with ergonomic chairs with casters. Apart from having wheels, these desks are not that different from a standard office desk. Nonetheless, as it happens with wall mount desks, they are good for specific situations.  
What Are the Four Best Mount-It! Standing Desks?
Buying monitor standing desks only brings you the benefits we told you they give you if you pick products of decent quality. The problem with that is that not everyone knows which brands are better or what products to avoid when looking for office items.  
You don't have to keep looking, though. This page includes the four best monitor standing desks you can find on Mount-It! Choosing any of the alternatives listed below is a bold option, so don't hesitate to pick any of them to receive all the benefits Mount-It! standing desks have to offer.  
1. Mount-It! Electric Desk Converter
The first option on this list and one of the Best Mount-It! standing desks you can find on the market is the Mount-It! Electric Monitor Riser. This Mount-It! standing desk converter gives you all the benefits we told you about before, and it even takes a step further from that.  
Many people consider this the flagship product from Mount-It! The first thing you need to know about this desk converter is that it can convert any table into a standing desk in a few seconds. Additionally, it gives you all the space you need to work comfortably without hurting your back.  
However, the features this converter offers don't end there since it also has a monitor riser that enables the screen display to have full tilt and smooth rotation. Since it's a converter and not a full desk, it only holds up to 44lbs, but that's more than enough for many office workers.  
The designers of this product took into account the technological implications today's products must-have, so it includes a slot for tablets and smartphones. Forget about cable trays when getting this electric desk converter since it features excellent cable management regardless of how many cables you need to organize.  
2. Mount-It! Electric Standing Desk
Mount-It! offers some of the most inexpensive products you can find when looking for ergonomic desks, but that doesn't mean its products don't have the features you need to work in the best way possible. Mount-It! standing desk offers a black finish that not only looks stylish but also is eco-friendly and sturdy.  
Its reinforced crossbar and aluminum columns make sure the desk's table is level and stable, which prevents you from getting distracted from that. One of the best features of this Mount-It! adjustable desk is its memory control panel.  
This panel allows you to switch from sitting to standing in a matter of seconds and in the smoothest way possible. However, you don't have to set how high or low you want the desk to be at all times since you can preset standard positions through the control panel and then let the Mount-It! adjustable desk do everything by itself.  
As we mentioned before, Mount-It! Electric Standing Desk is affordable, and if you haven't saved enough money yet, you can still take advantage of its fast and free shipping. The Mount-It! adjustable desk has a 10-year warranty and a 30-day risk-free return policy.  
3. Mount-It! Heavy Duty Mobile Desk
The Mount-It! Heavy Duty Mobile Desk is way different from the other options shown on this list, and that's due to its design and the features it offers. 
People can use this product for many things, so you can have it as a rolling desk, a workstation, or even a podium. Its castors allow you to move it anytime you want to. 
This minimalist desk doesn't give you as much space as a regular desk would give you, but it pays off in being the most resistant alternative on the market and giving you an extra shelf you can use to store files or office equipment. However, all those features don't make the desk forget about ergonomics.  
You can rest assured you are working in the healthiest position for the human body while working with this Mount-It! standing desk. Its users can also change the angle of the desk's top to fit the needs of the person at the moment. Most people get this option for presentations and speeches.  
4. Electric Mobile Standing Desk
Yes, there are many types of office desks available for you, but some of them share the same features. That's the case with Mount-It! Electric Mobile Standing Desk, which is an electric-powered desk and also a mobile one. 
Being the last product on this list doesn't make it a bad one, but it does have some disadvantages you should know of. One of them is its size, which is not as big as others on the market. Fortunately, you can forget about those things when seeing the benefits this item has to offer.  
One of them is the ability to move the desk from place to place and adjust it smoothly without making any sound. The Mount-It! standing desk's control pad also features programmable features and a time function you can use to remind you of different things throughout the day.  
Are Standing Desks Better than Converters?
Many people get into the standing desk vs. converter debate and spend hours arguing over which one is better. However, the truth is that there's not a better option between the two of them since, while both products move toward the same goal, they are useful in specific situations.  
Someone looking for a desk converter wouldn't have its needs met when getting a Mount-It! standing desk, and the same happens backwards. Considering that, we recommend that, instead of wondering which product is better than the other, you analyze which one is best for you and get that one.  
Conclusion
There are tons of standing desks and desk converters available for you on the market. Regardless of the one that you choose, you are going to receive a unique design with special benefits. Nonetheless, that only applies when you get a desk of decent quality, so spend all the time you need looking for a great one.  
You can also get other office items to boost your Mount-It! dual monitor stand up workstation. 
We recommend you only go for the desks we mentioned before or for an Autonomous one. Autonomous products are off-the-charts in quality, so you can buy any of the desks it has in its stock and enjoy the fundamental perks every desk should give you.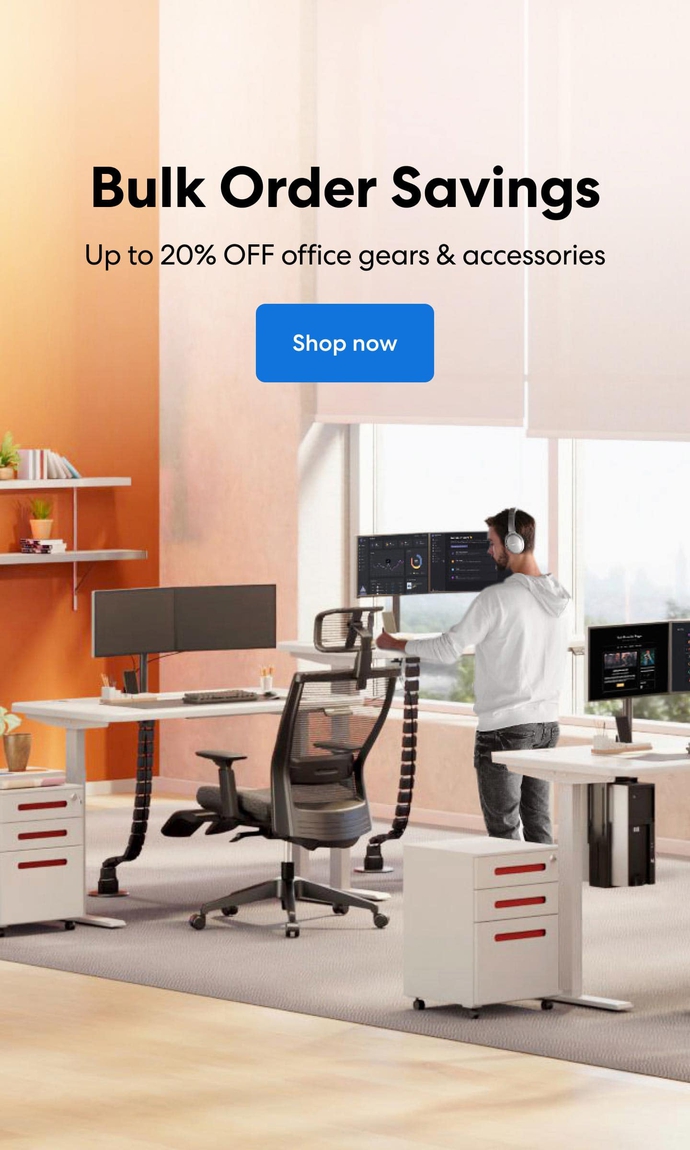 Subcribe newsletter and get $100 OFF.
Receive product updates, special offers, ergo tips, and inspiration form our team.