You have a lot to think about when starting up a business venture. It is undoubtedly time-consuming when considering how the bigger picture plays out. As a result, we tend to forget about or overlook the more minor daily details that could make a difference. Skipping those smaller details could interrupt or delay business. After sorting out your business plan, you need to fill an empty office with these must-have office supplies.     
These are supplies that need to be stocked up; they help you with everything- make your work-life comfortable, and get all jobs done. Still wondering what you're missing out on – we've collated the ultimate business supplies checklist down below!   
1. Furniture
Whether it is a dedicated office or a home office, you need places to sit. Today, you can find various office furniture styles and can even get wholesale office furniture. Furniture can be tailored to specific preferences and help employees to be more productive. It is one of the most important must-have office supplies in a workspace. If you haven't already chosen your office furniture, it's easy to personalize your office supplies list.
It's easier to invest in essential office desk supplies. You could mix up leftovers and new furniture for a unique look. You could even spend smartly if budget is your constraint. 
2. Décor and dividers
Privacy is essential, but budget and space restraints can get in the way. You can use room dividers or those cubicles with separators. It depends a lot on how you work. For example, you can invest in visual aids, whiteboards, or even a whole conferencing system for brainstorming.
You could create a welcoming atmosphere that suits those who work long hours. This needn't be an afterthought; it is possible to work in the décor to plan the office layout. Or you could paint the walls a soothing color.          
3. Chairs
You do need to be seated for a long time. So, only the best ergonomic office chair will work. Ergonomic seats keep you comfortable and make you productive. It is, no doubt, one of the must-have office supplies. Think of items like the Autonomous ErgoChair, that are both affordable and support your body. You may think that an ordinary chair should suffice and it goes to the top of your office equipment list.
Ergonomic chairs now come in all shapes, sizes, fits, and colors. If you're worried about how one style of a chair can fit many people, ergonomic chairs can be custom fit right from the monitor arm, the seat, and backrest.  
Some ergonomic chairs tend to be bigger, bulkier than regular office chairs. This is because they have a more robust frame and more padding for comfort and support. If your office is short on space, you can look for slimmer, compact ergo-chairs that offer support without taking up too much space.    
4. Desks
Consider the same ergonomics principles when purchasing desks. This term refers to getting adequate support and efficiency from your desk. To begin with, desks need to be of an appropriate height to accommodate the average adult. So, when seated, they don't develop those cricks in their back, necks, wrists, or shoulders.     
Many offices prefer sit-stand convertible desks like the Autonomous SmartDesk or a standing desk. A sit-stand comes with a height adjustment panel that lets you change the desk height. So, employees can go from sitting to standing as they like.
A standing desk is taller and may not have height adjustment but still lets one stand while working. Both options are better than sitting in a chair for too long. If your business calls for employees to do a lot of sitting, consider giving them one alternative option.         
5. Lighting
Never compromise on lighting in your home or professional offices. It is a necessary item in your must-have office supplies collection for your office. Lighting that's appropriately planned can make offices look brighter and keep you feeling active or energized. It prevents hurting your eyes too. If you don't want to deal with migraines, headaches, strained eyes, or squint because you're using dim lighting, fix the lights.
You could use overhead lights that sit above the desks or cubicles. Then some options can be placed on desktops too. These offer closer, personalized lighting that can be customized as the daylight increases or decreases. The type of light you also install matters; for instance, there are several advantages of LED desk lamp over fluorescent ones.       
6. Storage
The furniture you have should hold all your other necessary office supplies – papers, files, documents, stationery, extra cables or devices, etc. So, when setting up an office checklist, ensure that you add those desks that feature spacious desk drawers for essentials. These are the backup you need if your office doesn't have the space for oversized closets or file cabinets.    
If you have office space, you need to get organized with the standing desk accessories. Things like organizers, storage modules, storage bins, and filing cabinets are a smart investment to keep the place tidy and give easier access to tools and supplies.     
7. Technology
Setting up the layout with cables, devices, and internet connection is a critical part of a small business. Those must-have office supplies help everyone move faster whether employees are working in the office or at home. Your office will need suitable laptops, PCs and smartphones.
Such devices are essential for storing data, carrying it to client meetings, etc. Additionally, you need to have a mouse, keyboards to use with those laptops and PCs. Communication tools like phones, smartphones, and software help get your branding out and have to be optimally placed.
Software is for managing tasks, business needs, scheduling appointments, and customer payments. Software like the hybrid working app from Autonomous ensures a better flexible workspace. All these devices and software will rely on the internet. Ensure that you have suitable space for broadband routers, quality cables, and modems.
Conclusion
So, that's our list of the absolute must-have office supplies and equipment for any workstation. In many cases, you may be lucky enough to get office spaces with pre-fitted lighting, cables, or even furniture. Other times, you have to renovate a nook in your home to use as a home office. Regardless of where you work, getting all the essential tools and equipment goes a long way in making you more productive.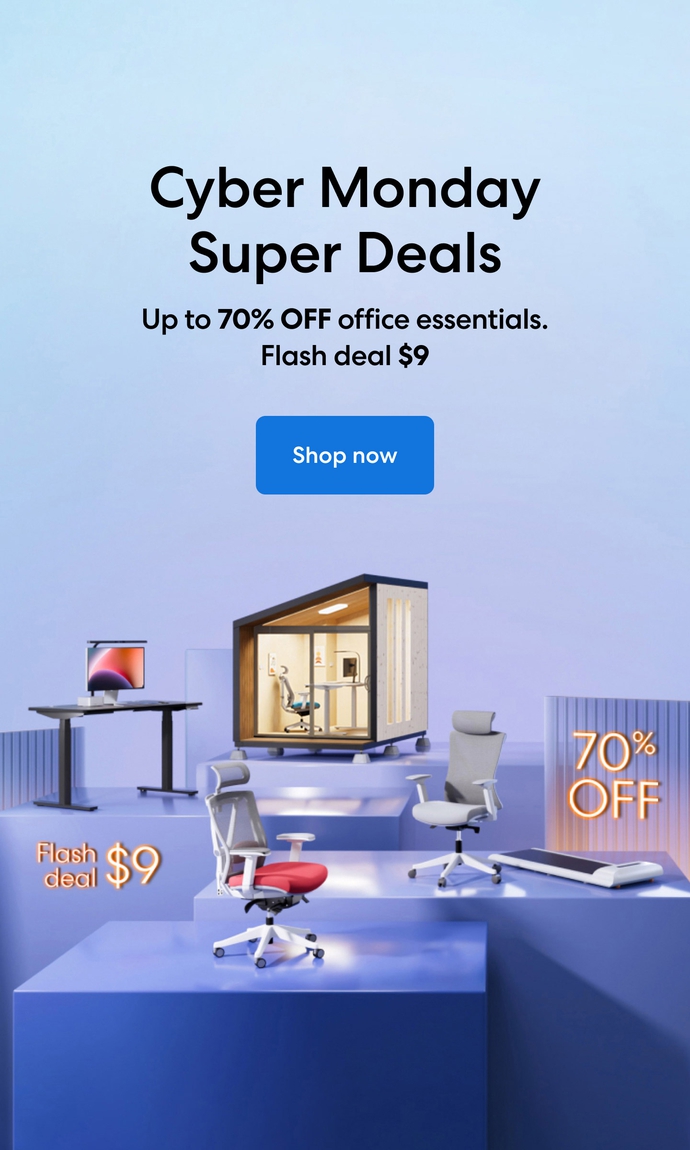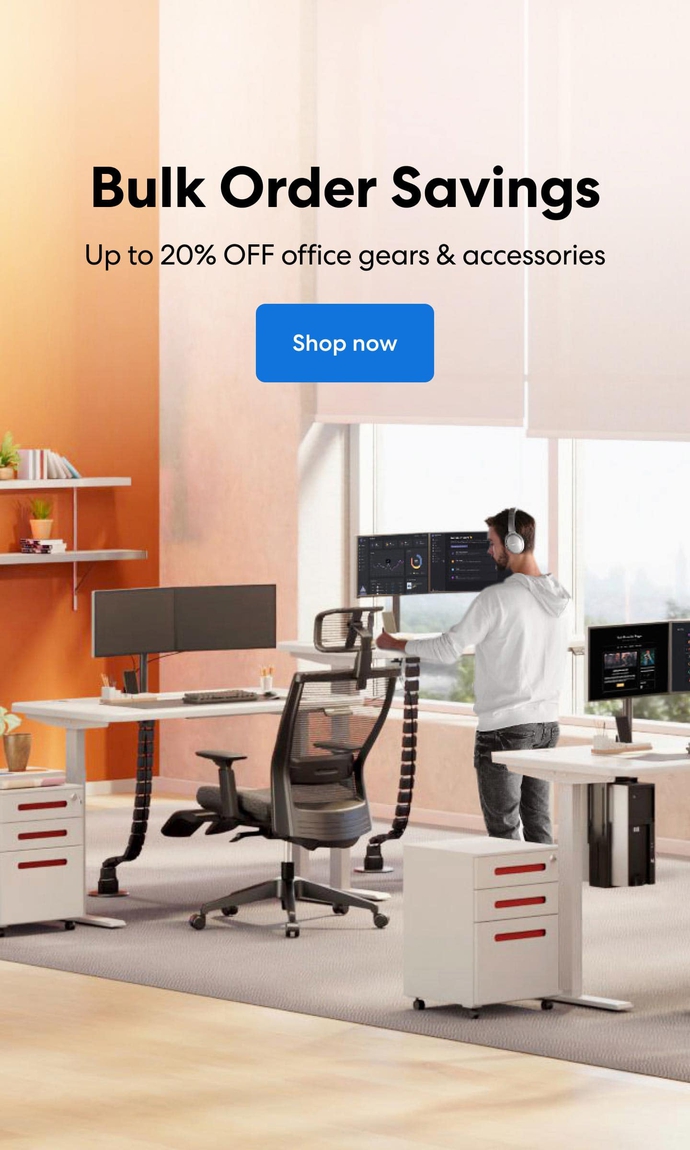 Subcribe newsletter and get $100 OFF.
Receive product updates, special offers, ergo tips, and inspiration form our team.