The traditional staples of any office design trend are a desk and chair. Certain circumstances may mean that you do not have the same kind of freedom of choice that other persons do. One such case is when you must find an office chair for a small space. Traditionally, people do not need to worry about the amount of space a chair is going to use up.
Not all companies have large offices. In fact, all big names and giant companies around the world began their operations small. So, don't worry if you have a small space. Just learn to manage the furniture items well and get suitable chairs and desks.
Such a worry is typically reserved for larger pieces of furniture, such as your desk or cabinet. Therefore, you are way more likely to hear about troubles finding a standing desk for a small space when a small room desk setup becomes necessary. However, there are cases in which you need to ensure that your chair is also small enough.
People with this concern need to save as much office space as possible, and that means they may need to cut back where the chair size is concerned. Thankfully, office chairs are not like desks, which cause you to lose out quite a bit if the one you get is too small. Theoretically, once a chair can comfortably accommodate you in your working position, you have nothing to worry about.
Some manufacturers around the world make chairs specifically for small spaces. You can utilize those chairs to add seating to small spaces. In this article, we have rounded up some good ways to add seating to small spaces. Also, you will learn how to make small office chairs more comfortable. Let's know more about them!
So, how do you go about choosing a desk chair for a small space? It just so happens that there are 20 magnificent options below, which should take trial and error out of the process for you. 
20 Best Chairs For Small Spaces
1. Autonomous ErgoChair Recline
The Autonomous ErgoChair Recline is next on the list, and it offers a tremendous feature set for a steal of a price tag. Not many office chairs at that price are going to offer you a reclining feature and an adjustable headrest. Additionally, you get the typical armrest and seat height adjustments too.
The ErgoChair Recline has an adjustable armrest, height recline, lumbar support, leg rest, and headrest. Also, it has a super comfortable and highly supportive foam seat. This small space desk chair reduces back problems with its lumbar support.
Of course, the chair's footprint is perfect for those who have small space constraints to deal with. What more could you want when you were being offered an ergonomic computer chair with great features and a little price? It is considered as one of the best reclining chairs with footrests.
2. Autonomous AvoChair
Autonomous hit the nail on the head here again with a near-perfect office chair for a small space with AvoChair. Additionally, the environment was a huge consideration in the design of this chair, so even if you should dispose of it many years in the future, you do not have to think about what it is going to be doing negatively to the environment.
AvoChair has a compact design with a fully-adjustable structure. The height, back tilt, tension, and armrests, are adjustable. It is made of a sturdy and strong diecast aluminum alloy base that makes it long-lasting. Like other chairs of Autonomous, the AvoChair is also made of recycled material. It can support a weight of up to 250 lbs.
The somewhat oval design of the chair gives it a unique look, yet it can still be accommodated as a part of just about any office design and green home office. 
3. Autonomous ErgoChair Pro
The Autonomous ErgoChair Pro is undoubtedly the premier option to go for when looking for the best small space office chair. You do not have to break the bank to afford it, and it has more adjustability features than you know what to do with. Some of these include armrest height, armrest angle, recline, headrest adjustments, lumbar support position, and seat height adjustment.
The ErgoChair Pro is also fully adjustable and supportive. It has breathable seats to boost comfort. This computer chair for small space has a smooth recline with 5 lockable positions, lumbar support, mesh back, and 300 lbs. weight capacity.
It is available in a series of simple and standard colors that should allow you to fit it in just about anywhere. 
4. ErgoChair Plus
ErgoChair Plus is considered one of the most dynamic chairs by Autonomous. The frameless construction of the ErgoChair Plus ensures users get unhindered movements and natural mobility. It is made of eco-friendly material that makes it 1o times more durable than ordinary chairs. Also, this 8-hour office chair has adaptive spinal support for better posture. Its weight capacity is 300 lbs. and its warranty is 5 years.
5. CJS Kiro Ergonomic Foldable Office Chair
This is yet another inexpensive option of an office chair for a small space that you can consider. It is hard to find a computer chair for a small space better than one that can fold away. You do not normally find folding chairs with ergonomic features and casters, but CJS Kiro decided to break away from the status quo with this one. 
You can even get it in different colors to fit whatever aesthetic you are trying to build in your office space.  
6. Flash Furniture Mid-back Drafting Chair
This is for those who need to sit a bit higher than the norm. The Flash Furniture Mid-Back Drafting Chair comes in particularly useful when you have a standing desk and want to get a little sitting in at a higher height.
It features a mesh back design for coolness, padded seating, seat height adjustment, etc. Feel free to take advantage of the flip-up arms included that give you a bit more mobility than you were expecting. 
7. Steelcase Gesture Office Desk Chair
If you are a tall person looking for the best small space office chair, you may have some issues finding one that is tall enough but small enough to not be a problem. That is where the Steelcase Gesture Office Desk Chair can come into the mix.
Though it is incredibly pricey, it has a ton of ergonomic features and a high-back design that is conducive to the tallest among us. The best part is it gives you the height without being too wide, meaning you can slot it in wherever you want to. 
8. Mercury Row Pinero Conference Chair
If you want an executive-looking chair without the price, you can select this budget option. As far as ergonomic features go, you can make changes to the lumbar support, tilt mechanism, seat angle, and seat height. While the armrests are not adjustable, they are adequately placed. 
You can get it in one of eight colors, and it can stand up to surprisingly heavy use. Feel free to use it for those long work sessions you may have. 
9. Dragonn Ergonomic Kneeling Chair
A kneeling chair is not what you typically think of when looking for office furniture. However, it does save space like any office chair for a small space would. It positions you well, especially for people who may be suffering from chronic low back pain as they work and in other aspects of life. 
It is built to be very sturdy, and it has padded cushions that prevent your knees from getting uncomfortable as you work. The height adjustability should make it suitable for you, regardless of how tall you are. 
10. Laura Davidson Direct Management Chair
While it is not on the cheap side of the spectrum, this Laura Davidson chair is also far from expensive. It has a unique, yet simple look that is going to fit well in almost any office design. The entire seating surface features a very durable leatherette composition, with enough padding to keep you comfortable for a very long time. All this is complemented by a steel frame build. As you work, you can adjust your swivel, seat tilt, and height. It is one of the best small space office chair. 
11. Humanscale Freedom Ergonomic Chair
This is another option of desk chair for small space that is on the pricier side of the spectrum. However, its design is extremely ergonomic and justifies the high price tag. The headrest is automatic, meaning it moves as you do. Additionally, you can recline, and adjust various aspects of the chair. 
The aesthetic is both modern and unique, and you can get it in a variety of colors. Feel free to choose whichever one fits into your small office space the best. 
12. Alera Elusion Mid-back Office Chair
For this one, it is back to the budget side of the spectrum. Surprisingly, you get an incredibly high-quality and adjustable design for a very low price here. The aesthetic is simplistic, meaning you do not have to jump through any hoops to get it to fit in with the rest of the elements in your office.
Additionally, a multifunction mechanism provides adjustment functionality for armrest height, seat tilt, and back angle. Of course, seat height also makes the caught where adjustments are concerned. All this is complemented by a mesh backrest that keeps you cool as you work. 
13. Steelcase Series 1 Ergonomic Chair
While this is the manufacturer's entry-level chair, it stacks up incredibly well against some of the other available options. Imagine having the perfect combination of comfort, ergonomics, and aesthetics in one simple chair that is going to fit in extremely well with your small office space.
It features a breathable mesh back and a host of adjustability and support features that should make for some very comfortable working sessions, regardless of how long they may be. 
14. Fully Office Chair
Here is yet another option for the taller persons who are in the unfortunate situation of having a small office space. Finding a chair that is narrow enough yet tall enough can be a chore, but this one by Fully could be exactly what you are looking for as you seek to buy an office chair for small space.  
The seating pad is comfortable, and the mesh backrest is your anti-sweat system. It features noteworthy adjustability for a mid-range chair, and it can even handle up to 330 pounds of weight. 
15. Fully HAG Capisoco Puls
Fully takes the next position too with this option of office chairs for small spaces. It is not intended to be a traditional office chair. instead, you are meant to use it to accompany your standing desk as you seat yourself in a modern workspace. 
Standing desks work incredibly well with stool seating, which is what this design offers you. Feel free to sit cross-legged, sideways, backward, etc. The last thing you need is a standing desk chair that is conducive to static sitting, and this Fully design is the opposite of that. 
16. Sihoo Ergonomics Office Chair
Here is another office chair for a small space that is not going to be costing you too much. Even so, it offers you a breezy mesh back, adjustable armrests, grey lumbar support, and even an adjustable headrest. Additionally, you would be hard-pressed to find another ergonomic chair in the same price range with the kind of spring-lock tilt mechanism that this one has.
It's simple aesthetic is guaranteed to complement your small office space as well as its size does. Sihoo did a wonderful job with this simple yet effective design. 
17. Herman Miller Sayl Ergonomic Chair
Herman Miller is a well-known name in the office chair market, and there is a very good reason for that. The Sayl chair is a testament to the brand name. It is built with a Y-frame back and elastomer that lend themselves to incredible ventilation and support. It is also one of the best computer chairs for a small space. 
The chair's footprint is not particularly large, which means implementing it as a part of your office space should be no problem at all. 
18. Herman Miller Cosm
Here is another Herman Miller office chair for a small space. Note, however, that this one is on the more expensive side of things. As far as aesthetics go, it is one of the biggest departures from the Herman Miller line, but it is still going to look great in your office space.
The lumbar support, adjustability features, and tremendous build quality are just a few of the reasons why you should not think twice about getting yourself one of these if you can. 
19. Herman Miller Aeron Ergonomic Chair
You could say that this is the flagship office chair for a small space of the Herman Miller brand name. As you would expect, it is incredibly expensive, but you are likely not going to find another desk chair for a small space with the kind of design that this one offers.
The recyclable material, the curved seating area, the adjustable armrests, the lumbar support, the mesh backrest, and the seat height adjustment are just some of the elements that make this chair so fantastic. 
20. Herman Miller Embody
Herman Miller strikes again on this list with the Embody. It is the most expensive chair listed here, and there is a good reason. When you use this computer chair for a small space, you are going to feel like there was only one made, and it was specifically for you.
The unit was designed to support and encourage movement by essentially contouring itself to whoever uses it. The narrow backrest may leave you to think that it is not going to be offering you much support, but you would be incorrect in that assumption.
Ways to Add Seating to Small Spaces
1. Poufs and Small Cushions
There are various ways to add seating to a small space. For instance, if you want the office space to look more sophisticated, this versatile seating option will be good. The small structure of these items makes them easy to fit anywhere. 
Besides, if you cannot accommodate an entire sofa, then you can add small cushions. Though most people recommend it for homes, you can also use it in office sitting areas. Plus, this option of a chair for small space is also budget-friendly.
2. Stools
Stools also make a good way for adding seating to small spaces. Stools have two benefits. First, they do not consume much space, and second, you can easily place them anywhere. However, these stools should match the rest of the décor in the workplace. We also have a good option for a stool which is discussed below.
ErgoStool
ErgoStool by Autonomous has a weighted dynamic base. This stool has an adjustable height with a range of 10" to make it go well with the regular desks. Plus, the ergonomic sloped seat of this small desk chair makes it super comfortable to sit. It has a weight capacity of 270 lbs. and a warranty of 2 years. The ErgoStool also has different color options. So, choose the one that matches the rest of your office décor.
3. Benches
Just like stools, benches also make highly effective furniture to accommodate seating for more people and save space too. Benches are normally suitable for kitchen and eating and playing areas, etc. For meeting rooms, cubicles, and other spaces in the workplace, benches are not a recommended option.
4. Folding Chair
If the above-listed seating options do not suit your office, then go for folding chairs. You can easily find small office chairs in the market with a folding option. You can use these chairs when you need them, and once done with the work, you can easily fold them and place them in the storeroom. Also, these narrow office chairs are normally lightweight.
5. Some Considerable Options for Small Computer Chairs
Autonomous has some worthwhile chairs for small spaces. All of their chairs are known for their excellent quality, durability, amazing features, and comfort. Some of the company's best-picked products are listed in the coming paragraphs.
How to Make a Small Office Chair More Comfortable?
You can easily make a small office chair more comfortable by following some easy techniques.
Get an extra Lumbar Pillow
If you want to make your chair for a small office more comfortable, then get an extra lumbar pillow for yourself. Place these pillows on the chair in the area of your lower back to give it good support. Along with supporting your back, these pillows also improve your posture and reduce your problems. In the first few days, the pillow may seem a little odd. But it will take just a few days for your body to get used to them.
Add a Seat Cushion
Another good way to make your chair comfortable is by adding a seat cushion. Most office chairs for small spaces do not have a comfortable seat, and while sitting, the discomfort is visible. However, adding a seat cushion will solve your problem. It alleviates different symptoms like sciatica and back pain, etc. Besides, better posture and even distribution of weight are a few other benefits of adding a seat cushion.
Use Armrest Pads
In an ergonomic office setup, employees sit in front of the computer and work for hours. Along with other physical concerns, it also welcomes pain in the arms and wrist, etc. As a solution to this problem, you should use armrest pads. These pads are designed to reduce strain on the wrist and arms. Armrest pads are necessary for all office desk setups. So, get one for yourself too.
So, don't worry if you have a tiny office because you can accommodate more people with the above-discussed chairs for small spaces and seating for small spaces. Just follow the techniques, get the right office chairs, and make your small place bigger. Don't forget to get the lumbar pillow, seat cushion, and armrest pads to make your chair for a small space more comfortable.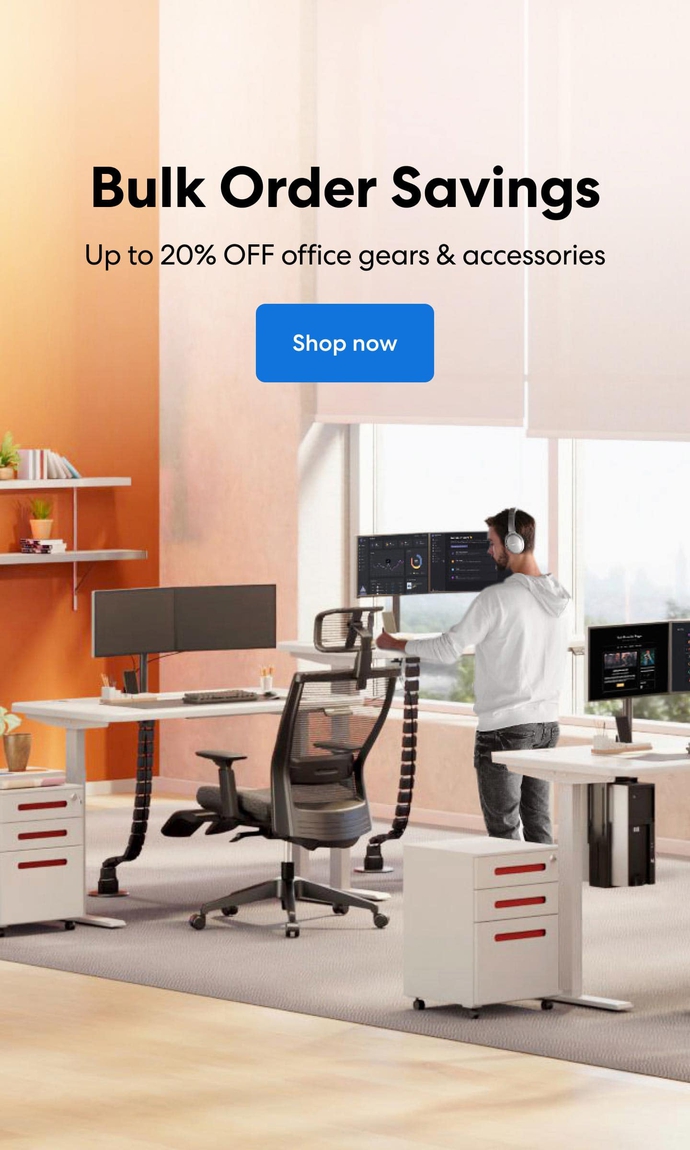 Subcribe newsletter and get $100 OFF.
Receive product updates, special offers, ergo tips, and inspiration form our team.