Smart Products
Office Chair vs Gaming Chair: Which One is More Ergonomic?

Autonomous
|
Feb 28, 2021
8,985 Views
It's no secret that sitting in a fixed position for extended periods can cause serious health problems. This has been proven by modern science. With that being said, we live in a world that requires you to sit for long periods while you work at your desk. It's for this reason that chairs have been designed to accommodate these long hours and ensure that you remain comfortable and supported.
Various designs can be used to provide support and comfort during the long hours at your desk. However, two of the most common and popular designs are office and gaming chairs. This sparks a new question: what ergonomic chair design best serves the needs of a full-time desk worker? Is it the office chair or gaming chair? Office chair vs gaming chair: Which one is better?
In this guide, we're going to explain the difference between these two office chairs and which one is the more ergonomic chair option.
Why Should You Include Ergonomics in Your Workspace?
If you're required to sit behind a desk for prolonged hours at a single time, you don't need to suffer the back or neck pain that commonly comes with being seated for such long hours. When incorporating proper office ergonomics into your workspace, you have the ability to work these long hours without experiencing any back or neck pain.
When you include the right ergonomics into your workstation, you have the ability to help your pressure points remain comfortable while you work. This is done by including the correct chair design that fits your spine and back's natural contours. An office chair or gaming chair are built with the right ergonomics in mind to ensure that you gain the comfort and support needed to work at your desk for extended periods.
Enhancing Ergonomics with an Office Chair vs Gaming Chair
The generic terms for an office and gaming chair are used to describe the particular features making up the ergonomic chair's design. These chairs are equipped with different characteristics that can help fit a wide array of preferences. The differences between these two ergonomic chairs are:
What Is an Office Chair?
An office chair is designed with features that improve the comfortability and support offered. The overall design of an ergonomic chair is to provide the best support to the human body. This includes considerations such as health, support, comfort, and sitting posture. A typically ergonomic office chair is built to include an adjustable seat height, lumbar support, and seat depth.
When the proper lumbar support is included in an office chair's design, you're provided ample support for the lower back. This ensures that your spine is in the correct alignment for a healthy spinal posture. When having this feature, you're provided with the ability to gain optimal support and comfortability while negating the harmful effects of sitting for extended periods.
Pros and Cons of Using an Office Chair
Executive office chairs are known for being comfortable and durable.
These designs include adjustable height, recline, and swivel features.
The versatility allows you to fit the chair into a variety of different workspaces.
It prevents back and circulation problems.
It relieves joint and muscle stress.
There's generally a limited material and color selection.
What Is a Gaming Chair?
A gaming chair is designed with technologies that support your back. This design is developed by the race car seat industry and comes equipped with a bucket seat design, as well as a tall reclining backrest. One of this ergonomic gaming chair's main features is that it's equipped with a thick padded seat and adjustable lumbar and neck pillows. The adjustable armrests are also incorporated to offer additional reinforcement, as this feature is used to absorb the weight of the arms.
In addition to this, the design of an ergonomic gaming chair includes a backrest recline function. This feature helps the user move around more effortlessly while sitting in a chair. Not to mention, these high back racing style designs included in a gaming chair setup have been helping many players become professionals since 2006.
Pros and Cons of Using a Gaming Chair
You're provided with an enhanced gaming experience.
It offers an appealing aesthetic.
You have optimal support and comfort while being seated for extended periods.
A gaming chair provides you with exceptional health benefits.
The price isn't usually budget-friendly.
The material isn't very breathable.
What are the Primary Differences between Gaming Chair and Office Chair?
There are a variety of differences between gaming chair and office chair. Each of these chairs' design is equipped with varied features, which contribute to the individual ergonomics offered. Here are some of the most common differences between gaming chair vs office chair:
Headrest
A gaming chair is designed with a fixed headrest. Many benefits come with having a gaming chair with a headrest. One of these benefits is that it helps support your head and neck, which results in pain relief. In addition to these pain-relieving properties, you're also provided with good posture. All of these elements help you protect your neck, back, and shoulders while alleviating the problems commonly associated with sitting for extended periods.
With that being said, an office chair is generally designed with an adjustable headrest. Having a headrest that's equipped with an adjustability feature ensures that you can customize the support and comfortability offered by the office chair. An adjustable headrest is generally seen as the best option for providing effective ergonomics in your workspace.
Backrest
The backrest of a gaming chair is winged. A winged backrest is commonly admired for offering the most comfort. This is because the gaming chair provides comfort and support when you're sitting for extended periods. In addition to this, it also improves your posture. This is because your spine is aligned correctly. Not to mention, winged backrests are equipped with effective pain-relieving features for optimized comfort and support.
An office chair is designed with a wingless backrest. The inclusion of a wingless backrest is the perfect choice for those who don't want to feel trapped in the chair. Although a winged backrest offers excellent benefits, this design can also lead to decreased movability. For this reason, an office chair is an excellent option for workers who need to move around their desks while remaining seated.
Seat Pan
A gaming chair is designed with a bucket seat pan. This bucket seat pan is known to fully support your back and spine when sitting for extended periods. Not to mention, the features of a bucket seat pan are also provided to fit your personal posture and body size. This allows you to sit ergonomically and with maximized comfort. It allows for enhanced blood flow to your lower body, which relieves your muscles and joints.
In contrast, an office chair is designed with a flat seat pan. The general design of a flat seat pan features a 12-inch deep seating area. This also includes specific spacing that allows you to sit in the gap between the edge of your seat and your knees. This spacing allows you to release pressure off the back muscles of your knees. This effective cushioning found in the flat seat pan provides effective support for your hips while eliminating fatigue and resolving low back problems and other ergonomic office injuries.
Seat Edge
In addition to the inclusion of a seat pan, an office chair vs gaming chair are also designed with a seat edge. A gaming chair has a seating edge that's often raised, while an office chair is equipped with a waterfall shape.
Backrest Recline
Another feature of any office and gaming chair is the backrest decline. A gaming chair has a degree of recline, which provides more reductions in muscle activity. This means that you're equipped with a gaming chair that leaves you less exposure to ergonomic risk, as well as back fatigue and long-term back risks.
With that being said, office chairs are designed to offer a low to a high degree of recline. This all depends on the exact model that you're purchasing. Thus, it would be in your best interest to go for an office chair that's equipped with a relatively high level of recline.
Lumbar Support
Although a backrest recline is essential, the benefits of reduced muscle activity are only provided if you also have adequate lumbar support. The use of detachable pillows is generally seen as being uncomfortable, as you aren't able to customize the support you're given. Nonetheless, this does work perfectly for some individuals.
On the other hand, an office chair is generally designed with an adjustable or fixed lumbar support system. This type of lumbar system typically features various mechanisms that are used to align your spine and fit with the natural curves of your back. You're provided with the best support system. The adjustable system only means that you're able to customize this support to your exact preferences.
Armrests
Finally, armrests are another feature included in the design of a gaming chair vs office chair. A gaming chair is typically designed with 3D armrests. These are armrests that can be adjusted in three dimensions. You're able to adjust these armrests by height, sideway angle, and backward or forwards. However, you aren't able to move these armrests left and right.
In contrast, office chairs usually incorporate 2D armrests into its design. This means that these armrests can move left and right at a sideways angle, as well as be adjusted in height.
Why Should You Invest in an Autonomous Chair?
So, Office chair vs Gaming chair: Which one is better? One option for all. That is Autonomous chair. There are many reasons why you should purchase an Autonomous chair. One of the most well-liked reasons is that Autonomous only uses high-quality materials when building its ergonomic office chairs and ergonomic gaming chair as well. In addition to this, the company is also recognized as being one of the best providers in ergonomic furniture and has been helping customers alleviate the health problems of sitting for extended periods for many years. Not to mention, the customer service is impeccable. Thus, if you ever encounter a problem with any of your Autonomous purchases, you're guaranteed a suitable resolution.
The Autonomous Ergonomic Chair
One of Autonomous' best-selling ergonomic chairs is the ErgoChair 2. It can satisfy requirements of both office chair vs gaming chair. This is one of the best chairs on the market because it incorporates the best features of a gaming chair and an office chair to offer the customer the best of both worlds.
The design of the ErgoChair 2 is fully-customizable and works to offer back support while preventing back pain. Not to mention, you're also able to enhance your sitting posture. However, combining this ergonomic executive chair with an Autonomous standing desk is going to completely revolutionize the ergonomics offered in your workspace and allow you to work for extended periods, and boost your productivity.
When purchasing this ErgoChair 2, you can rest easy knowing that you can customize the comfort and support offered while optimizing your back health and spinal alignment. The key elements that are making up the ErgoChair 2 ensure you receive a comfortable seated experience that positively impacts your posture and spinal alignment, ultimately minimizing your back pain. Additionally, you're also able to enhance the blood flow, which allows vital nutrients to reach each part of your body.
In addition to this, the ErgoChair 2 is equipped with a world-class mechanism that offers the most versatile system and highest quality office chair. The Italian-designed tilt mechanism is equipped to provide multiple levers for you, which work to ensure that the resistance and support offered are entirely tailored to your exact preferences. Finally, the use of breathable and durable mesh fabric in the design means that the airflow is increased to provide optimized comfort and reduces sweat buildup even when you're seated for extended periods.
Whether you're looking for an ergonomic gaming chair or office chair, the ErgoChair 2 from Autonomous has got you covered with all the features you need to ensure you conduct your work in a comfortable and supported environment. The right ergonomics are essential in any workspace, which is why the ErgoChair 2 is a must-have if you want to boost your productivity and enhance your spinal health.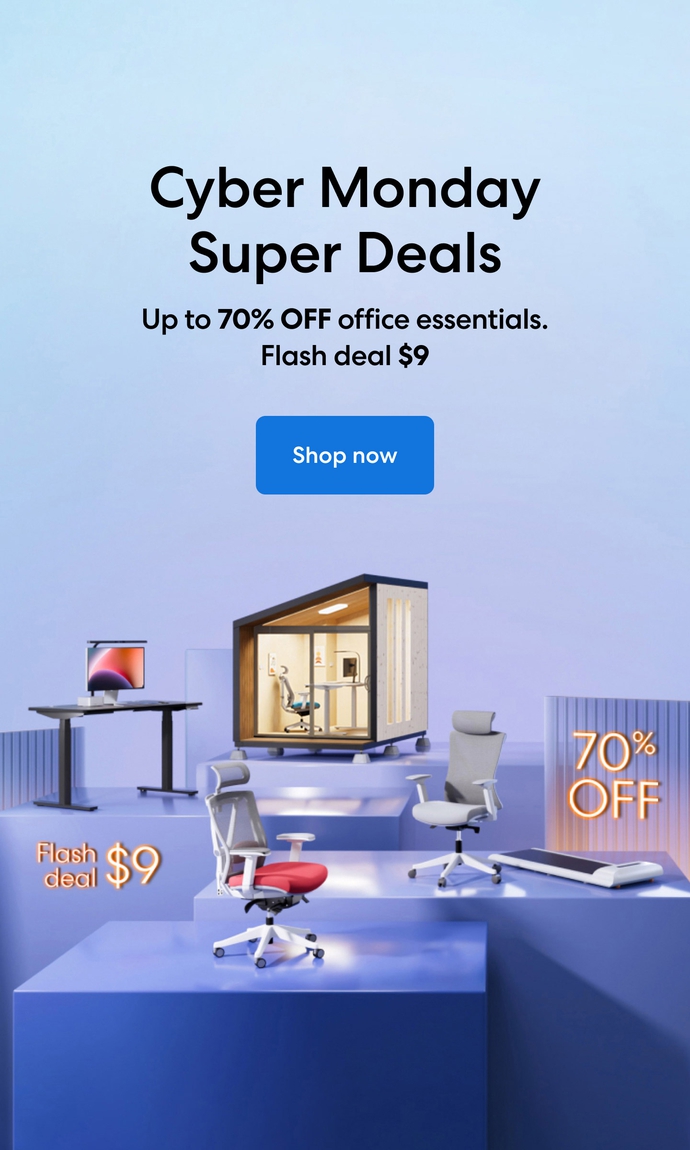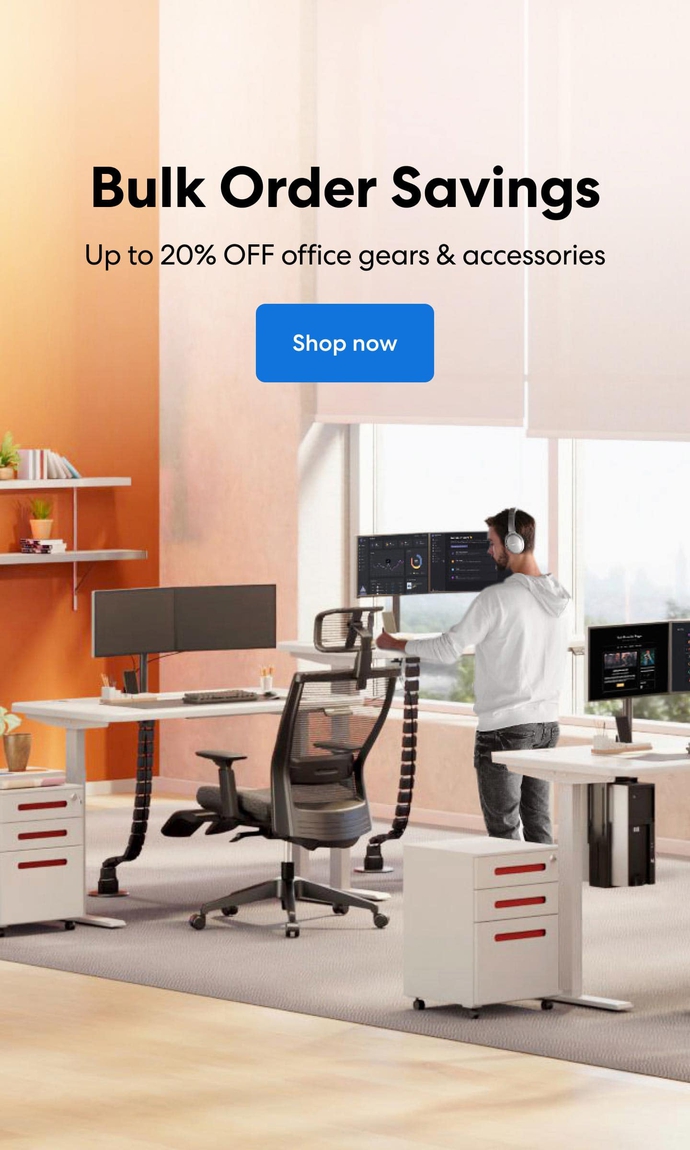 Subcribe newsletter and get $100 OFF.
Receive product updates, special offers, ergo tips, and inspiration form our team.