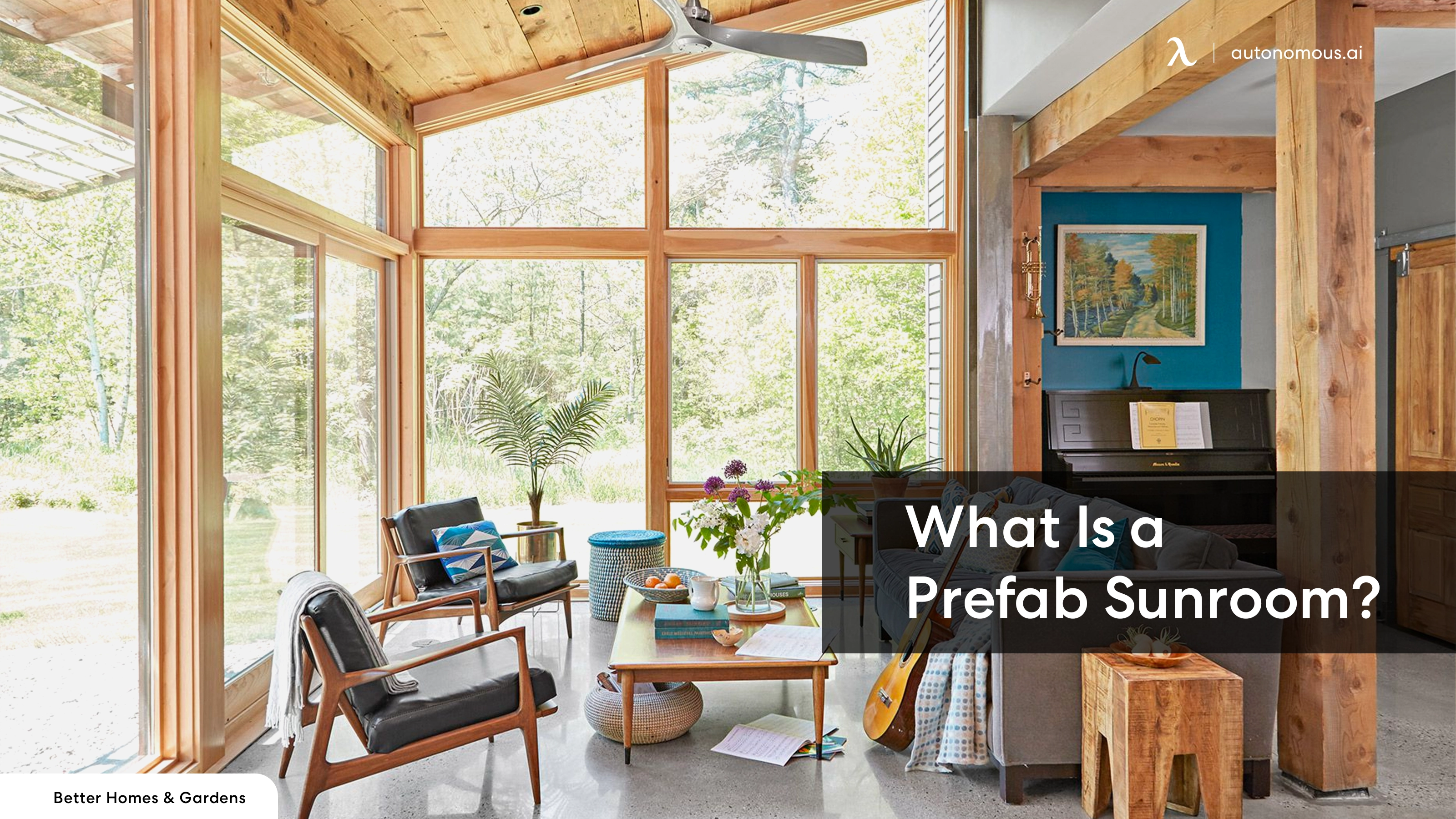 Workplace Inspiration
Prefab Sunroom: The Gateway to Your Year-round Sunshine

Autonomous
|
Jul 16, 2023
541 Views
Imagine the bliss of basking in the sun's warm rays while sipping on your morning coffee, any day of the year, without stepping a foot outside your door. This luxury is no longer just a dream, thanks to the innovative concept of a prefab sunroom. 
A prefabricated sunroom is meticulously crafted off-site, brought to your home, and installed to give you an airy, light-filled oasis where you can enjoy the outside view in ultimate comfort, protected from harsh weather elements and pesky bugs. It also offers a delightful space to showcase your unique sunroom furniture. 
In this article, we'll dive into the world of prefab sunrooms, discussing their benefits, different types, and how they're built, and answer frequently asked questions. Keep on reading to learn more! 
What Is a Prefab Sunroom?
A prefab sunroom is a home addition designed to allow homeowners to enjoy the beauty of the outdoors from the comfort of their homes. 
The term "prefab" is short for "prefabricated," meaning that the major components of the sunroom are built in a factory, then shipped to your home for assembly and installation. 
This process sets prefab sunrooms apart from traditional construction methods, which involve building everything from scratch on-site. 
These sunrooms come in various sizes, shapes, and styles, all designed to improve the natural light from the outdoors and provide panoramic views. They can serve various purposes: a relaxed lounging area, a green space for plants, or an elegant dining area, to name a few. 
Moreover, they typically feature floor-to-ceiling windows and often come with skylight options, offering a seamless connection with nature. 
One advantage of a prefab sunroom is the time it saves. Since major components are prepared off-site, the actual construction time at your home is significantly reduced compared to traditional construction. Prefabricated sunroom additions also cause less disruption to your daily life during the construction phase. 
Another interesting application of this concept is the prefab accessory dwelling unit. Like the prefab sunroom, these dwelling units are built off-site and installed at your location, offering an efficient way to add living space to your property.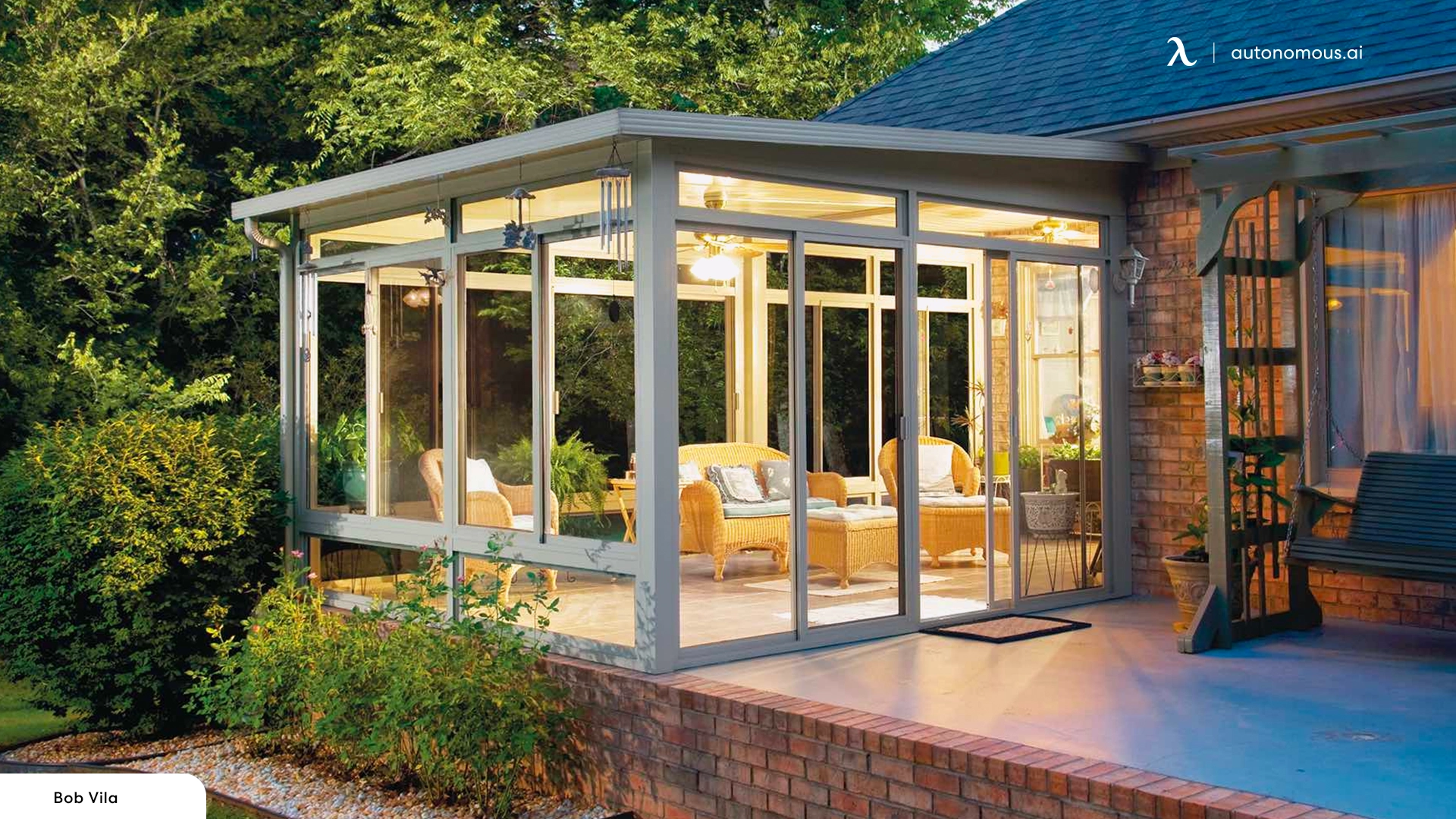 What Are the Benefits of a Prefab Sunroom?
Choosing a prefab sunroom for your home comes with numerous benefits that extend beyond simply having a sunlit space to relax. Here are some of the key advantages: 
Efficient construction

: As a modular sunroom addition, it arrives at your home in pre-built sections, ready for assembly. This reduces on-site construction time and limits disruption to your daily life.

Cost-effective

: Compared to traditional construction methods, a prefab sunroom addition tends to be more affordable. Because the components are made in large quantities in a factory, manufacturers can take advantage of producing them on a larger scale. This allows them to reduce costs, which means you can save money.

Versatility

: Prefab sunrooms can be customized to suit a variety of purposes. Many are searching for sunroom office ideas with the rise of remote work. However, you can easily transform a prefab sunroom into anything you like.

Enhanced property value

: A sunroom not only provides additional living space but also improves your home's aesthetic appeal. This can increase the resale value of your property.

Energy efficiency

: Many prefab sunrooms come with energy-efficient features, such as double-glazed windows and insulated walls, helping to regulate temperature and potentially reduce your energy bills. 
Furthermore, by opting for a prefab sunroom, you're investing in a space that can bring comfort, flexibility, and value to your home.
Are There Any Different Types of Prefab Sunrooms?
By exploring the diverse world of prefab sunrooms, you'll discover that there's a design to suit just about any preference or need. 
Among the options are modern, innovative spaces such as office pods, prefab studios, and more affordable prefab ADUs, offering functional and stylish solutions to various demands. Let's delve into three standouts from Autonomous. 
Autonomous WorkPod
Office pods are very popular these days. However, when it comes to blending work and relaxation seamlessly, the Autonomous WorkPod stands out. This prefabricated house is a noise-insulated sanctuary that provides an unmatched working environment right in your backyard. 
Furthermore, it's more than just a workspace. It can immediately transform into your personal yoga studio, games room, or chill-out zone. 
The WorkPod comes equipped with an ergonomic workspace setup, an anti-fatigue mat, a cabinet, a bookshelf, and warm lighting, all pre-wired and ready to use.
Moreover, the construction is meticulously tested and exceeds factory standards, offering a reliable and quick solution for a private, distraction-free space. 
Dimension
8'6''W x  11'9''L x 11'H
Ceiling height
6'10'' to 9'4''
Window material
Wooden frame, 5/16" tempered glass
Door material
Anodized aluminum frame,  5/16" tempered glass
Material
Siding: bitumen, housewrap, vinyl silding
Roof: bitumen, housewrap, shingles roof
Floor: plywood
Balcony: composite wood
Include
Optional: SmartDesk Connect, ErgoChair Pro+, Dual Monitor Arm, Cable Tray, Steel Cabinet, Anti-Fatigue Mat. Always included: Electrical Cabinet & Bookshelf
Floorspace
98 square feet
Capacity
2.9 tons
Autonomous StudioPod
This model is an epitome of a multi-purpose prefab studio. It offers the convenience of an extra living space, complete with a desk, bookshelf, TV stand, and a convertible sofa bed. 
In addition, having an extra room can serve as a potential source of income if you decide to rent it out through Airbnb. 
Additionally, it comes with all the sockets and connections you need for climate control and electricity, along with mood lighting with three color modes. The sturdy steel frame and waterproof vinyl siding layer make it a long-lasting addition to your backyard.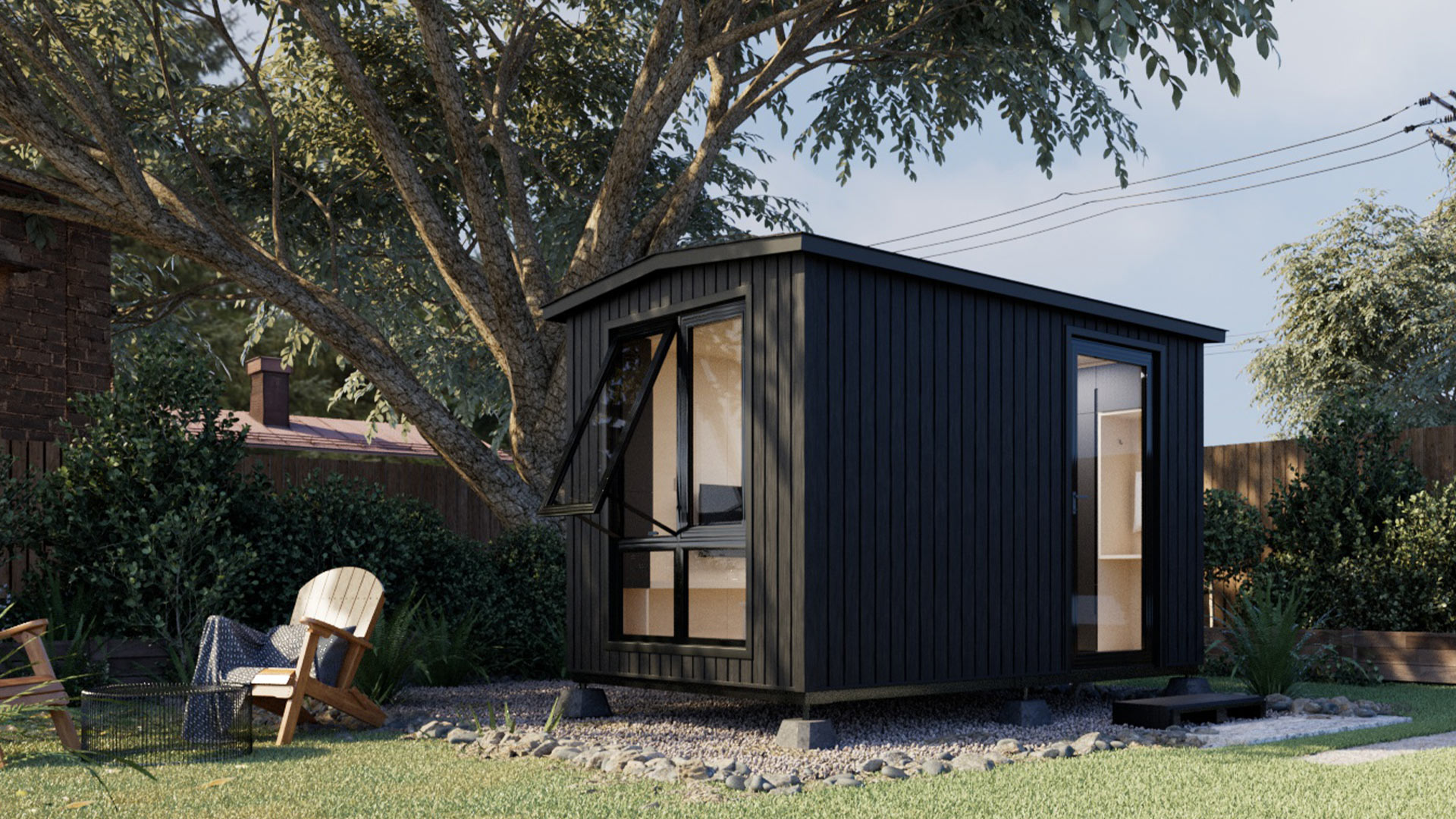 Dimension
8'4"W x 12'6"L x 9'10"H
Floorspace
105 square feet
Ceiling height
7'3"
Weight capacity
2.9 tons
Pedestal
18"W x 43"L x 7"
Window & door material
Powder-coated aluminum,  5/16" tempered glass
Material
Siding: plywood 1/2", steel frame, honeycomb paper, plywood 3/8", bitume, housewrap, vinyl siding
Roof: roof shingles
Floor: plywood
Pedestal: steel frame & wood plastic composite
Electrical devices
RCB, Wall outlet, Ceiling light switch, Ceiling light, Ventilator switch, Ventilator, Ethernet wall port, 66ft power cable with 2 connectors
Include
Optional: Cabinet, Desk, Small & Big Bookshelf, TV Shelf, Foldable Sofa Table, Convertible Sofa Bed. Always included: Electrical Cabinet
Power input
Maximum voltage : 110V AC (US standard)
Maximum current : 25A
Maximum power dissipation : 2750W
Autonomous WorkPod Lite
Next, for those seeking a more budget-friendly option, the Autonomous WorkPod Lite is an affordable prefab ADU that doesn't compromise on quality or aesthetics. Like its counterparts, the lite version can transform into whatever you need it to be - a home office, an extra bedroom, or even a gaming room. 
It comes pre-wired and ready for use, with a solid steel frame and weatherproof layers for year-round protection. With a fast, fuss-free setup, the WorkPod Lite is a testament to the fact that luxury doesn't always have to come with a hefty price tag. 
From prefabricated sunroom additions to unique office pods, there's an exciting array of prefab options out there, each promising a unique blend of comfort, convenience, and style.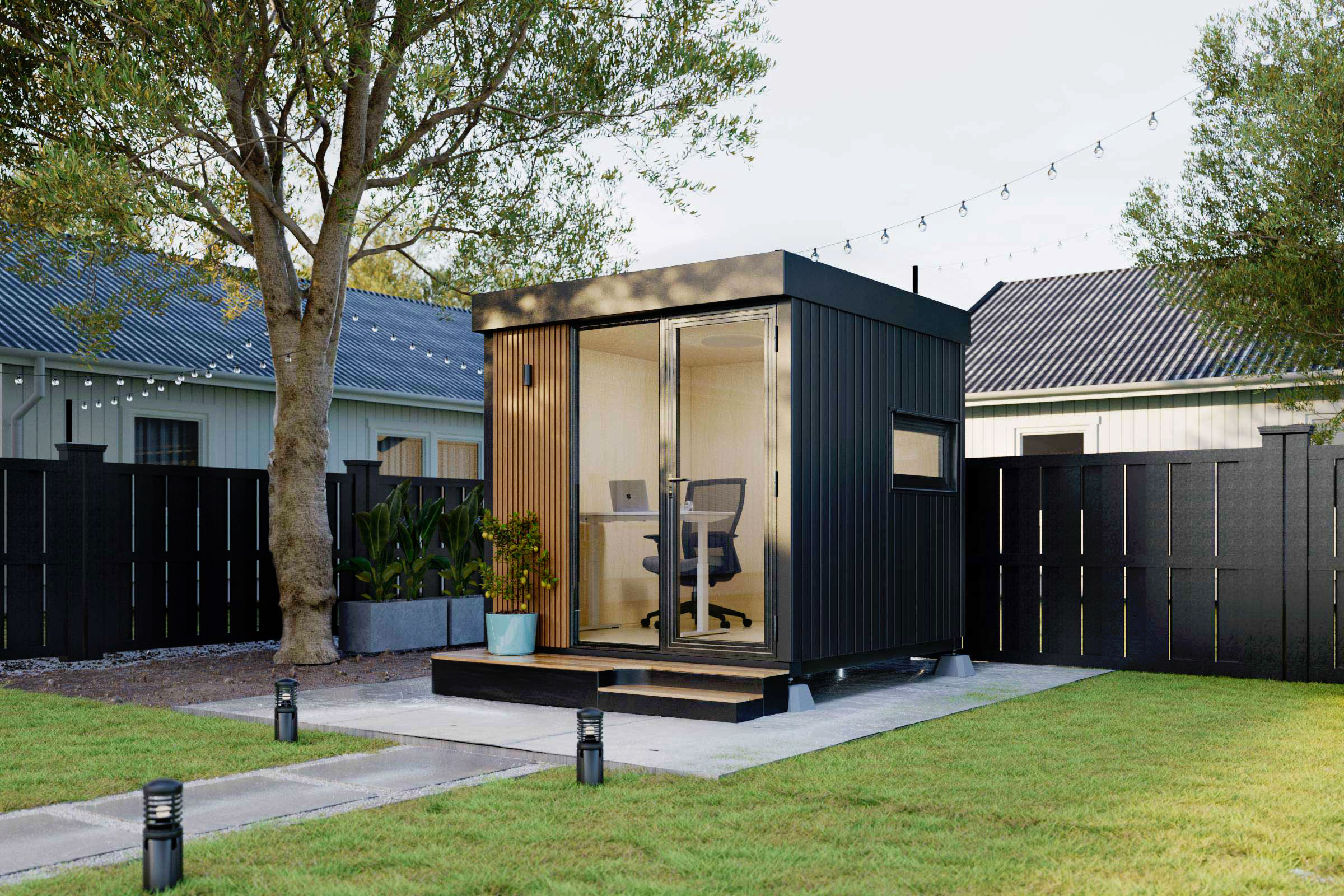 Dimension
8.7"W x 8.12"L x 9.3"H
Material
Window and door: powder-coated aluminum, 5/16-inch tempered glass
Siding: plywood 1/2-inch, steel frame, honeycomb paper, plywood 3/8-inch, bitume, housewrap, vinyl siding
Roof: metal roofing
Floor: plywood
Balcony and Pedestal: steel frame and wood plastic composite
Pedestal
24"W x 103"L x 9"H
Electrical devices
RCB, Wall outlet, Ceiling light switch, Ceiling light, Wall light, Ethernet wall port, 66ft power cable with 2 connectors
Weight capacity
2.3 tons (including Pod body)
Floorspace
80 square feet
Ceiling height
7.3-inch
How Are Prefab Modular Sunrooms Built?
Building a modular sunroom addition is an exciting journey that combines modern technology with efficient craftsmanship. The first step in the process is the careful planning and design phase. Here, every detail of the sunroom, from its dimensions to its layout, is methodically planned using advanced computer software. 
Once the design phase is complete, the production of the sunroom parts begins within the controlled environment of a factory. This is where the 'prefab' in prefab sunroom addition comes into play. 
Each part of the sunroom, including walls, roof panels, and windows, is meticulously manufactured in modules. Moreover, this controlled manufacturing environment allows for exact precision, leading to superior quality and reduced waste. 
After each module has been produced, it undergoes rigorous inspection and quality control processes. This process ensures that the parts meet the requisite industry standards and are ready for assembly. Ensuring the quality of each part of the sunroom is crucial to the safety and longevity of the final structure. 
The next phase involves transporting the ready modules to your location. Upon arrival, these modules are assembled on-site, piece by piece. Generally, this assembly process is significantly faster and less disruptive than traditional construction methods. 
Finally, the last touches are added. If you choose to complement your sunroom with a prefab shed for extra storage or bespoke fittings, these are installed at this stage. Now, the final result is a beautiful, durable, custom-made prefab sunroom addition, ready for you to enjoy.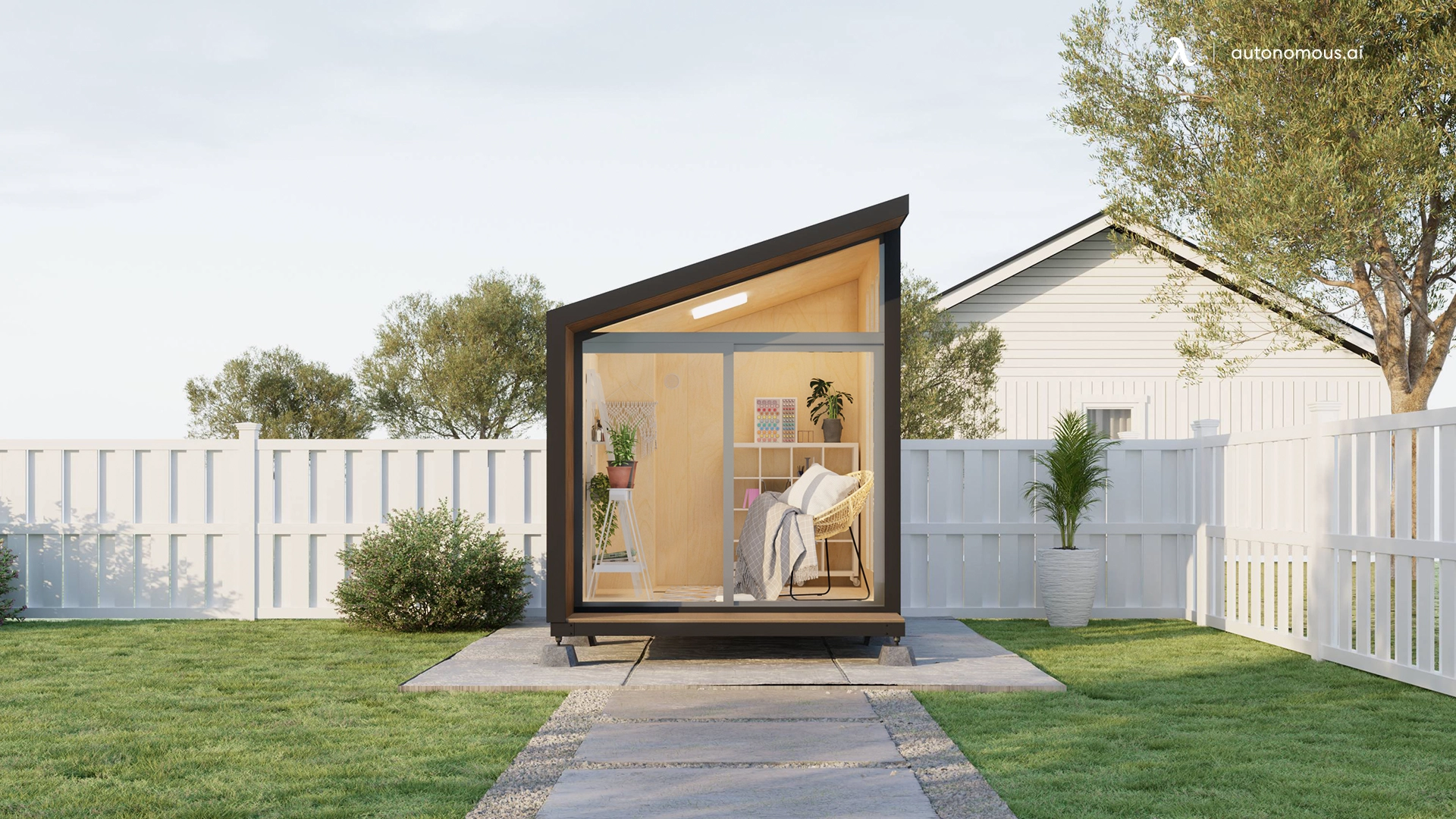 Maintaining Your Prefab Sunroom
Once your prefab sunroom is installed, keeping it in top condition is essential to enjoy its benefits for years to come. 
Regular maintenance includes cleaning the windows to keep them clear and shiny, as they're your gateway to the outdoors. Wipe down the frames to prevent dust and grime from building up. 
Check the sealant around the windows and doors periodically to ensure there are no leaks or drafts. The flooring also needs proper care, depending on the material. If you have a wooden floor, you might need to reseal it occasionally. 
Lastly, remember to inspect the roof and gutters for debris, especially after a storm. This simple upkeep can help your sunroom stay attractive and functional. Always refer to your manufacturer's guidelines for specific maintenance advice.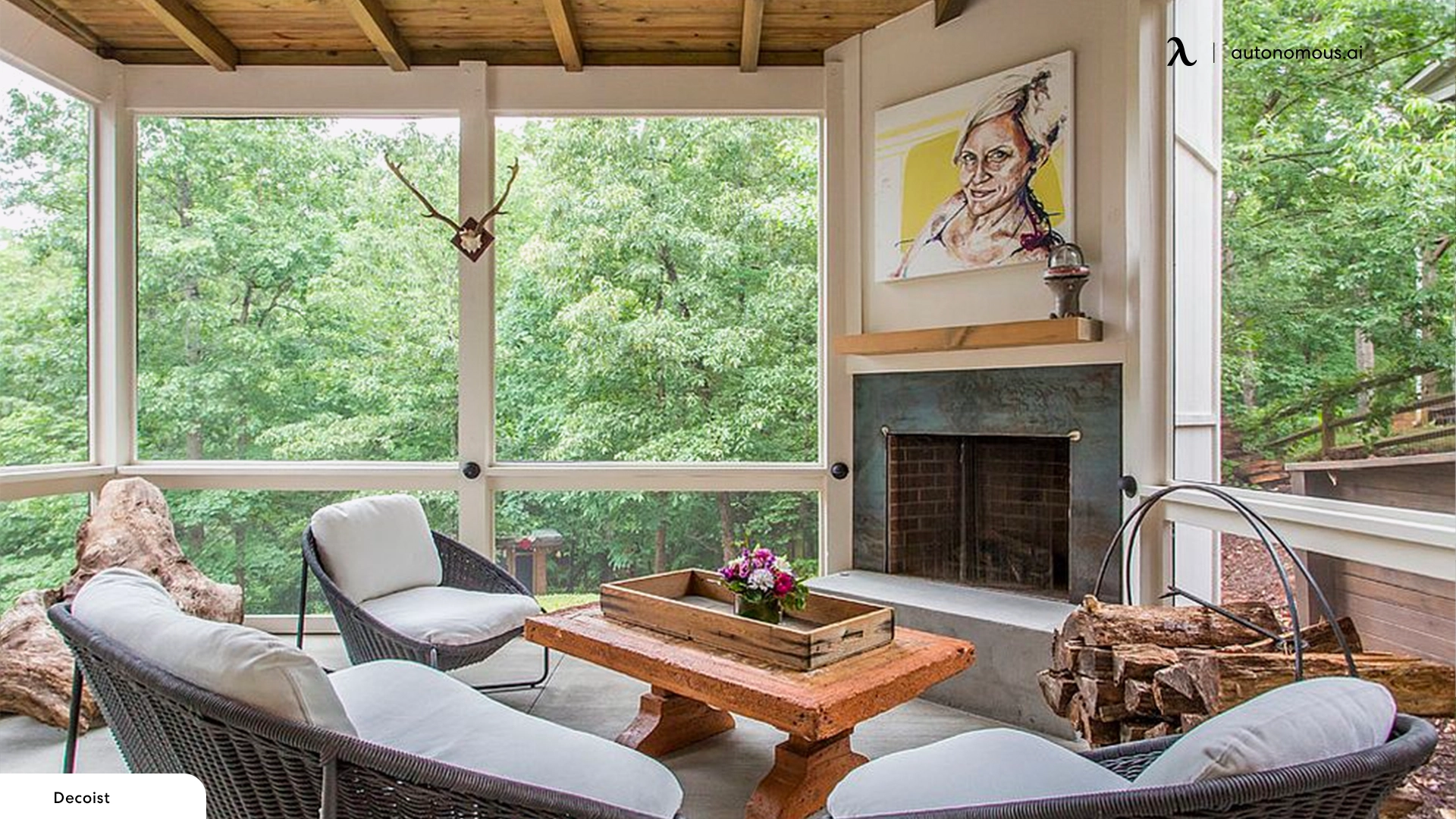 Frequently Asked Questions
Navigating the world of prefab sunrooms might leave you with a few questions. Don't worry, though. We've got you covered! In this section, we'll address some of the most frequently asked questions about prefab sunrooms to help you make an informed decision. Let's dive in! 
1. Are prefab sunrooms worth it?
Prefab sunrooms are absolutely worth considering. They offer a quick and cost-effective way to add extra space and value to your home. Built under controlled factory conditions, they assure superior quality, less waste, and fewer delays due to weather. 
Besides, these structures allow for flexibility in design, meaning you can customize your space to fit your specific needs. Whether it's a modular sunroom addition or another type, prefab sunrooms are an excellent investment. 
2. How much does a DIY sunroom kit cost?
The cost of a DIY sunroom kit can vary greatly, typically ranging from $1,500 to over $15,000, or more, depending on the size, material, and complexity. These kits often include everything you need to build your sunrooms, such as walls, roofing, windows, and doors. 
It's a cost-effective way to achieve a prefabricated sunroom addition. However, remember to consider other costs such as permits, foundation work, or professional help if you need it. 
3. What is the best type of sunroom?
The "best" type of sunroom greatly depends on your personal needs, budget, and the climate you live in. If you live in a region with a temperate climate, such as many areas in California, prefab homes with four-season sunrooms might be ideal. 
They allow you to enjoy the sunroom all year round, insulated and heated for the colder months. Nevertheless, a three-season sunroom could be your best bet if you primarily want a sunny space for warm-weather months. 
4. What is the difference between a sunroom and a patio enclosure?
While both a sunroom and a patio enclosure are used to extend living space and enjoy the outdoors, there are several differences. A sunroom is a room addition with glass walls and a roof that lets in ample sunlight, and you can always use it. On the other hand, a patio enclosure is typically a screen room built over an existing patio or deck to provide protection from insects and weather while maintaining an open-air feel.
5. Does the sunroom need a foundation?
Yes, a sunroom generally requires a foundation to ensure stability and durability. The foundation serves to support the structure and distribute its weight evenly.
It's typically made of concrete or a similar material. Moreover, the type and size of the foundation required can vary based on local building codes, the sunroom design, and the characteristics of the site. 
6. Is a sunroom considered an addition?
Indeed, a sunroom is considered an addition to a home. It adds functional square footage, increases the property's value, and provides extra space that you can use for various purposes. 
Whether you opt for prefabricated sunroom additions or custom-built ones, a sunroom is a substantial modification to your home.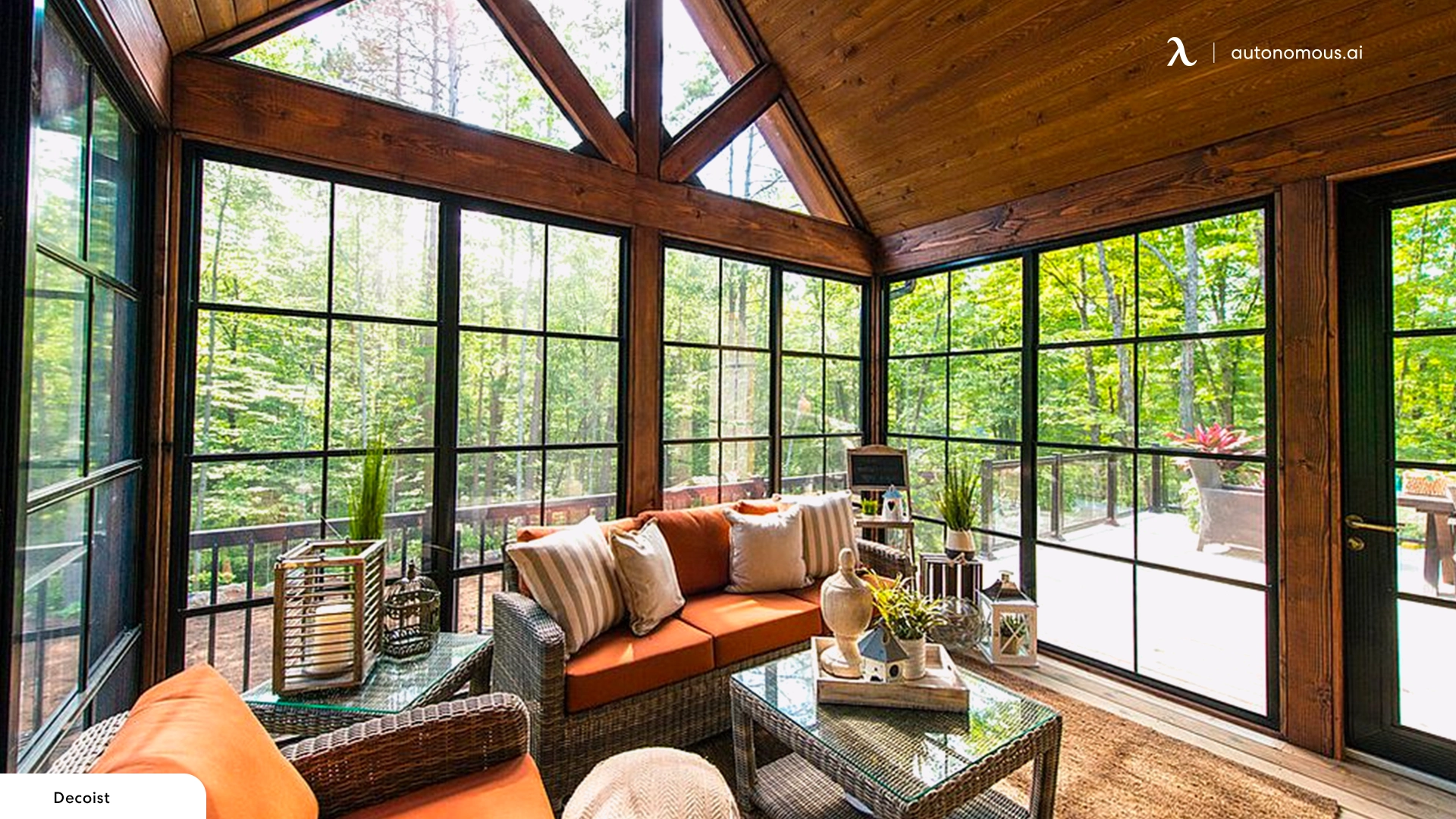 7. Can a sunroom be built on a deck?
Yes, you can build a sunroom on an existing deck, given that the deck is structurally sound and meets local building code requirements. This approach can be a cost-effective way to add a sunroom since you use an existing structure. 
However, you should consult with a professional to assess the deck's condition and determine if additional support is necessary to carry the weight of the sunroom. 
Final Thoughts
Prefab sunrooms truly offer a revolutionary and versatile space solution. With the numerous benefits and the exciting options available, they have reshaped the way we think about and use our home environments. 
Whether it's a secluded office pod, a vibrant studio, or an affordable backyard retreat, each sunroom's prefab nature lends itself to quick installation, efficiency, and endless possibilities.
This fusion of indoor comfort with outdoor freshness opens the door to a healthier and more productive lifestyle. Now, it's time to explore the potential of these Florida prefab homes and invite more sunshine into our lives.
Video ads for product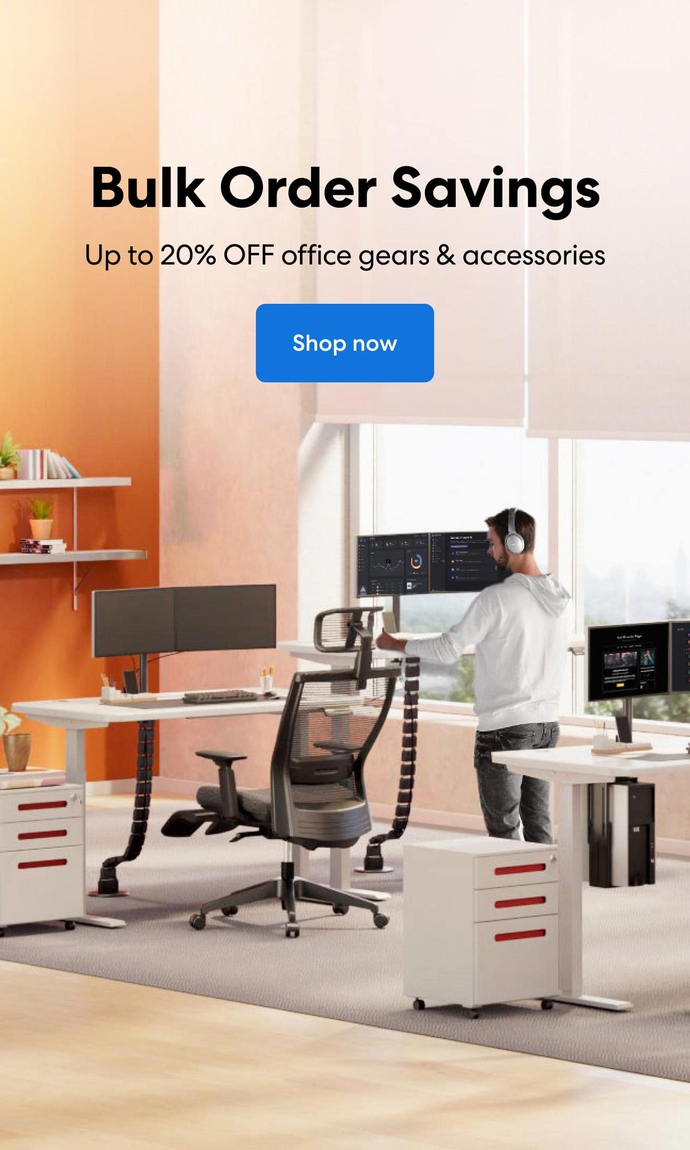 Subcribe newsletter and get $100 OFF.
Receive product updates, special offers, ergo tips, and inspiration form our team.