Workplace Inspiration
Tips to Create Private Workspace for Working from Home

Autonomous
|
Nov 6, 2022
3,350 Views
Home office working offers many benefits, including increased productivity, work-life balance, and business continuity. It's becoming more common for small and large businesses to conduct business from their offices. One of the main reasons? Efficiency. It can be a pain to operate out of your workspace at home if it isn't properly managed. Is that what you're planning to do?
Taking part in the growing trend of home-based workers, you're one of many currently working from home. The following guide on creating a workspace at home shows you how you can take advantage of the benefits and responsibilities of your newfound freedom. They apply to managers and team leaders as well as individual contributors.
Private Work From Home Space Ideas You'll Love
Having the right kind of private workspace is of utmost importance when working from home. It is not easy to separate personal and professional life. Hence it would be best if you had your designated workspace to do the job for you. It must be a free space for all interruptions and distractions and can help you focus on the tasks. You can create an efficient home office workspace in several different ways. Some of these ideas have been elaborated as follows:
1. Incorporate Restful Furniture
The right furniture can make a marked difference in your work from home space. The more comfortable your furniture is, the more hours you will want to put in while working. The basic requirements that a work from home office space may have included a desk, a conference room chair, frames, and organizing tools such as whiteboards, planters, etc. If you don't have restful furniture, you will most likely tire out quickly. Therefore, this hack can help with mindful and efficient work.
2. Consider a Home Office Pod
Another way to create an effective working space is by installing a prefab accessory dwelling unit within your home. These work pods can be installed in any outdoor space. They are compact, soundproof rooms that you can convert into home offices by adding the appropriate features. The pods come fully equipped with power outlets and make for an outstanding home office workspace. 
3. Have a Checklist
When you are working from home, it is easy to take things lightly and lose focus. To keep yourself organized, it is better to have a set checklist in place. This checklist can include your daily tasks, pending work, etc. Once you have accomplished a task, you can put a tick next to it. This can help you feel motivated as you work.
Our Top Picks For Pods
Autonomous is a renowned site that offers some amazing deals on office pods that can be installed in your home. These pods make for a great little working space that stimulates your mind and allows you to work efficiently. These pods are free from all distractions and allow you to enjoy nature and peace as you complete your professional tasks. Some of the finest deals on Autonomous have been listed as follows:
1. Autonomous StudioPod
The Autonomous StudioPod can create an optimal workspace inside your home. It is compact and soundproof and allows you to work in a peaceful and calm environment, which can lead to efficient results. This pod comes fully equipped with heating and cooling sources, power outlets, and basic furniture items, e.g., desk, chair, bookshelf, etc. These pods do not require a particular foundation, and you do not need to level your ground to install these. It is made of weather-protected carbon and solid glass windows, making it a durable and sturdy option.
Dimension
106" W - 155"L x 106.3"H
Material
Exterior: Aluminum layer
Interior: Eco-friendly honeycomb paper
Frame: Steel
Include
A closet, desk, bookshelf, TV stand, a foldable coffee table and convertible sofa bed
Minimum wattage
150W
Lighting
3 color modes
Warranty
1 year
2. Autonomous WorkPod
The Autonomous WorkPod is another small office space specifically designed to serve the work-from-home purpose. The pod can be installed in any space that you find appropriate. These work pods are not only great focus rooms, but they are also aesthetically pleasing with their long glass windows. You can get a great view as you get your work done.
The work pods can be installed within 1 to 2 days, saving you all the construction and maintenance hassle. It has many accessories that can facilitate you, such as heating, lighting, cooling, power outlets, etc. These work pods make for a remarkable space to concentrate and get work done. The pods also have long-lasting structures and are highly sustainable. 
Dimension
103"W x 142.5"L x 92" - 125.5"H
Material
Exterior: Composite wood
Interior: Plywood wooden frame
Frame: Steel, M300 cement
Include
SmartDesk Pro, ErgoChair Plus, Cable tray, Filing Cabinet, Dual Monitor Arm, Anti-fatigue Mat
Minimum wattage
100W
Weight capacity
2.9 tons
Color
Black, White
Warranty
1 year
3. Autonomous Pod
The Autonomous pod is a customizable room that can add a great office space to your home. These privacy pods are secure spaces that can be turned into home offices with the installation of the correct tools. You can sit in them for hours without fearing distractions as they are made of soundproof materials. These pods can last through all types of weather conditions and have all the accessories you may require while working. They can support an office desk, chair, cupboards, planters, monitors, etc. The Autonomous pod is one of the best options to explore while developing at-home office workspace. 
Dimension
103"W x 142.5"L x 92" - 125.5"H
Material
Exterior: Composite wood
Interior: Plywood wooden frame
Frame: Steel, M300 cement
Weight capacity
2.9 tons
Minimum wattage
100W
Color
Black, White
Warranty
1 year
4. Thinktanks Compact Office Pod
This is another option for your work from home space. These compact office pods can be installed easily and conveniently on all types of grounds. They are weather protected and can be converted into any space you want. These office pods provide great utility with their features and can also make for an aesthetically pleasing addition to your home. You can add devices, furniture, decorations, etc., to the pod according to your preferences and make it a personalized space for yourself.
| | |
| --- | --- |
| Dimension | 7 x 7 x 7.5 ft |
| Material | Double laminated tempered glass, R200 aluminum |
| Color | Black, Green |
| Interior | Washable PET Felt |
| Standard outlet | 110-220V |
| Lighting | LED 140W |
| Warranty | 3 years |
Add Office Electronics To Your Workspace
To make your office space more facilitative and efficient, you can add different office electronics to help you with your tasks and accomplish your results. Some of the office electronics that you can add to your work from home space have been listed as follows:
Webcams: These can help you conduct conference calls with people worldwide and help you discuss matters of great importance without having to leave your home.
Computer microphone and recorder: These devices can help you make calls and record meetings that may be conducted virtually. They help you get things done without having to meet in person.
Monitor: Monitors can be extremely effective as you can display all kinds of visual aids, slides, videos, etc., on it and get a lot of utility out of it while getting your work done.
Tips to Create Private Workspace in Your Home
Choose a long-term location
The first step toward creating a workspace at home is deciding which area of your home will be dedicated to this purpose. This room can be converted into a home office if there are no other bedrooms. Keeping your computer and office supplies on a desk will free up space around the home workspace if you are limited. Set aside a workspace in your home regardless of the general area or location when creating a workspace at home, and try to maintain it every day. So that you can concentrate on what you're doing, make sure your workspace is quiet.
Set work hours
You need to get down to business after creating a work from home space. Establish specific work or business hours if you intend to work from home every day. When working from your home, it is much easier to plan out your work schedule.
 It is great to be able to set your working schedule when you work from home. If you have children, you should work before 7 a.m. or just before you need to take them to school.
You can speed through your tasks by focusing deeply. Here are the tips to help you be effective with time management. Limit the amount of time you can work in one day. Keep your work distanced from you so as not to work nonstop.
Use comfortable furniture
Investing in office furniture for your private workspace may also be necessary if you haven't yet. When you have sufficient space, purchase a desktop computer, bookshelves, and an ergonomic office chair. A quality desk is not necessary. A relatively simple home office desk from Ikea is affordable and easy to set up. Using the monitor arm with the desk setup will maximize the amount of space you have available. Your time here will be spent mostly here.
Set work boundaries
It can be disruptive to your personal life to pursue a career in which you work from home. If you're always at home and near work, you'll find work edging into your home life. Your work and home life can merge, but only if you let it. Putting a limit on work hours is a good starting point. You can increase performance and develop a healthy work schedule by setting specific work hours and installing a privacy panel.
Create a task list and update it daily
It can be challenging to track what you need to do while working from home in your private workspace. Frequently, schedules or deadlines are lost in the shuffle.
Consider your daily priorities before starting your day. One of the smartest home office ideas for small spaces is to stay on track when making your to-do list. With just a little bit of focus, it is possible while working from home to move the needle.
During the day, keep updating your to-do list as you wake up. Each task should have a goal and time limit. You should check off each task after it has been accomplished. You can accomplish your task using this highly efficient and simple method.
Maximize on light
Consider choosing a workspace with a lot of natural light when choosing a private workspace in your home to work. You will enjoy spending your time working if you have a view to enjoy, and you will remain alert and focused if you sit near a window.
Improving functionality
Comfortable spaces are functional spaces. Ensure that you have the right type of desk and chair and plenty of storage space for any materials you may need. Your creative office space should always be well-stocked with office supplies so that you can stay productive instead of searching for a pen.
Add your personality
You should also incorporate a personal touch into your home private workspace, just as it should be flexible and well organized. Put family photos on your desk, find ways to make organization and storage easier, and add greenery to add a sense of freshness. As well as adding little pops of color, make the scene lively.
Use a time management system
Working from home can be challenging, so you may need a time management app to keep on task. Some productivity apps, for instance, track your time spent on each task and minimize distractions.
Utilizing a time tracking app allows you to track your productivity each week and every day. It even shows you the amount of time spent on every task; when you are most productive will also show you how much time you spend on each task.
Perhaps you should consider implementing some automation solutions to increase your productivity at work even more if you spend too much repetitive time.
Set up a vision board
It is possible to become bored and uninspired working from home after a year or two. It might become less enjoyable to work from home. It is helpful to set goals. Vision boards need not be complicated. The board allows you to pin pictures and notes regarding your dreams and aspirations.
You can enhance your mental power with vision boards in your private workspace, which have a powerful visualization component. These boards put you into a productive and focused mood. A sense of purpose like this can motivate you to overcome a rut and become more productive and successful when working at home. Vision boards give you a clear picture of your personal and professional goals. Whenever you work from home, you are more likely to achieve your targets.
Video ads for product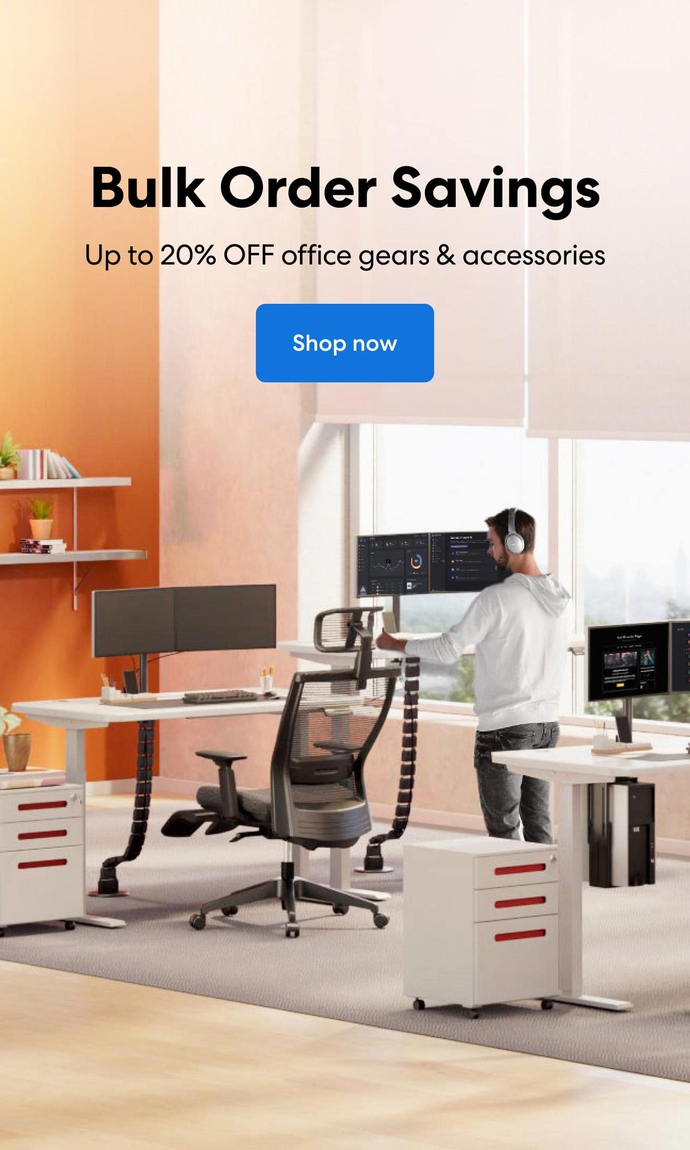 Subcribe newsletter and get $100 OFF.
Receive product updates, special offers, ergo tips, and inspiration form our team.