Workplace Inspiration
Renovation Office: Steps to Survive Your Workspace

Autonomous
|
Aug 21, 2021
1,979 Views
New research is focusing on the importance of workplaces being ergonomically friendly for maximum productivity. This means the organizations have to be extra careful with the work environment they create and the work culture they have. Not only, workplaces have to be mentally peaceful, but office ergonomics considers comfortable furniture a mandatory part of a modern organization.
Moreover, with the hybrid work model, adapting flexible ways of working such as office hoteling, hot-desking, and other desk reservation systems, renovation office, is a common practice now. Therefore, the office interior renovation can make a workplace friendly according to the new norms of social distancing and other flexible working modes.
This office space renovation can be a costly procedure, especially if you opt for a shift in workplace dynamics. Still, the great news is with the right office renovation design and office interior renovation ideas; businesses can easily achieve ergonomic workspaces that will be cost-effective in the future.
This article will cover the best step-by-step guide to office space renovation and the important office accessories you might need for a healthy workplace.
The Best Office Space Renovation Ideas
We all have heard that the right furniture and best desk accessories can instill maximum productivity in employees in the renovation office. Still, when it comes to office space renovation, there are various factors at play. Not only do you just have to pick any desk or chair or buy a bunch of accessories, but you need to be wise with the investment. Here are some steps to make an easy approach towards renovating your renovation office.
Identify the Goals
Before Investing in renovating and designing you must have a clear vision and end goal in mind. This will prevent any extra expenditures, and you will have a clear direction to go. To identify the goals clearly, there can be different approaches for your renovation office. For instance, you can start with a few questions to help find what your organization expects from the new layout.
How many workstations or work desks do you need

What type of workplace arrangement you are planning

Are you planning an open space office?

Is your kitchen sufficient for the current number of staff?

Have you checked and monitored all the safety issues that could occur in the workplace?

Is your office space friendly?

Does your new layout support people with physical disabilities?
Asking yourself these questions will give a clear idea of what kind of office layout you need and the factors to rule out. After deciding on the type of workplace arrangement you need, it is important to consider your budget before constructing the renovation office.
Renovation Considerations
While renovating a workplace is a good chance, it is also a very costly practice. If you spend months creating the new workplace, what will happen to the workforce meanwhile? Will you opt for remote workers or renovate certain portions while the other area remains operational? If the employees are going remote for the said time, how will you manage team collaboration and communication during this period?
Contractors and Designers
This is the most important phase in the remodeling of your workplace. When it comes to the remodeling crew, it's critical to choose people that get along well with one another because they'll have to coordinate throughout the process. You must find the best fit for an organization that knows and understands the goals duly and works as a team player. The service you choose must not cost you a lot. Here are a few specific professionals you would need to bring on board.
A Design Team
The role of a design team is basically to work on the renovation office layout. They will bring your entire plan into physical existence.
Project Manager
A project manager is the one who will take up the entire responsibility of the project and will manage the communication and process workflow during this entire process.
Evaluate the Building
Before setting up a renovation office, you need to check the building's condition. Once you've assembled your crew, wait until you've had a professional building assessment to check for asbestos, fungus, mildew, mold, and other dangerous materials that may be lurking within your company's walls before starting the restoration. This will take more time and money, but it will save you money in the long run by preventing costly mistakes and assisting with resale.
New Office Space
After selecting the right office space and hiring the contractors, you need to furnish the new renovation office. Even though the layout plan defines workspace management, the right furniture can seriously impact productivity. Here are a few furniture items you can get to kick start an ergonomic workplace.
Ergonomic Chairs
For a modern workplace to give maximum efficiency, there must be ergonomic furniture. Ergonomic chairs not only make a renovation office comfortable but also improve energy levels. They offer full adjustability with an adjustable height, armrest, seat tilt, and backrests.
Many ergonomic chairs with wide meshed back give maximum airflow to the user. You can choose from many ergonomic chairs such as ErgoChair Recline and ErgoChair Pro from autonomous. These chairs are ranked as the most comfortable option in the market.
Work Desks
A smart workplace is a combination of different arrangements, thus catering to a wide group of people. To make a modern renovation office fully functional, you can opt for a combination of height-adjustable smart desks as well as conventional desks. SmartDesk Pro is the latest addition to the ergonomic family, a height-adjustable desk that makes work possible both while standing and sitting. This work desk can give you hours of smooth working, and when you feel tired, you can easily lower the height to switch to a sit position.
Workplace Accessories
Workplace accessories add to the comfort and value in the workplace. While mousepads and lamps were a common accessory, modern renovation offices now have many other helpful tools. Such as a filing cabinet which is an easy and affordable solution to office documents' safekeeping. Rather than investing in fully functional shelves, you can manage papers with the help of a filing cabinet.
Besides, other workplace accessories also include anti-fatigue mats combined with a standing desk, a monitor arm to raise the monitor height to a safe level, and even desk pads to make any desk surface safe and free from scratches.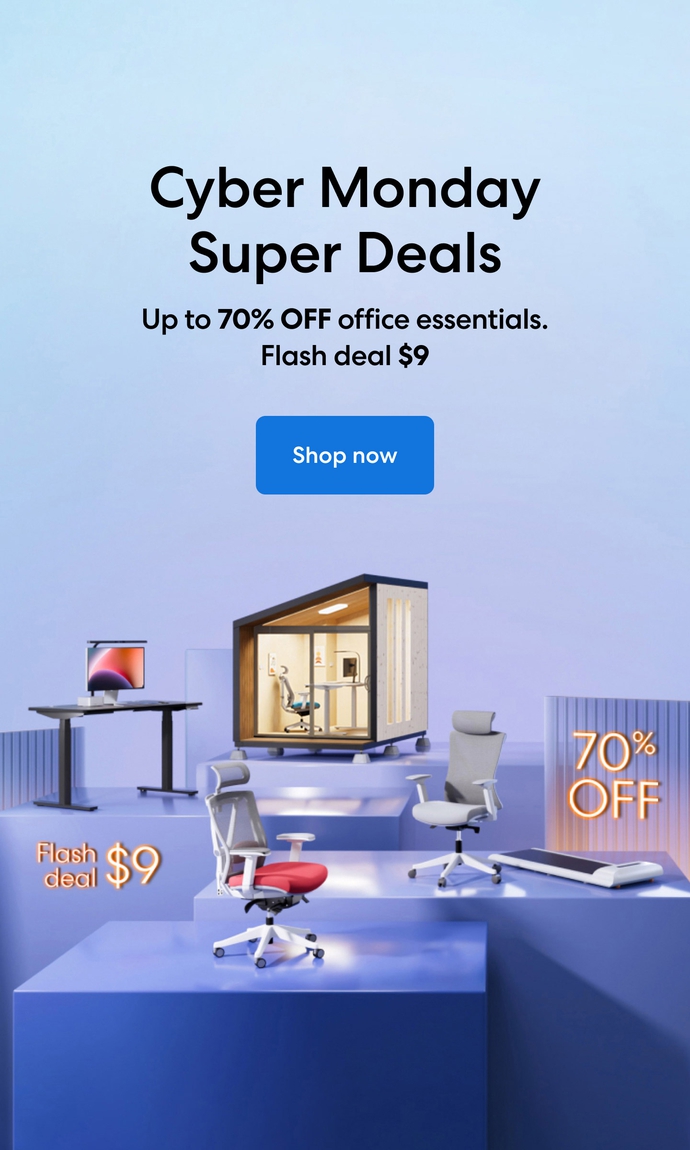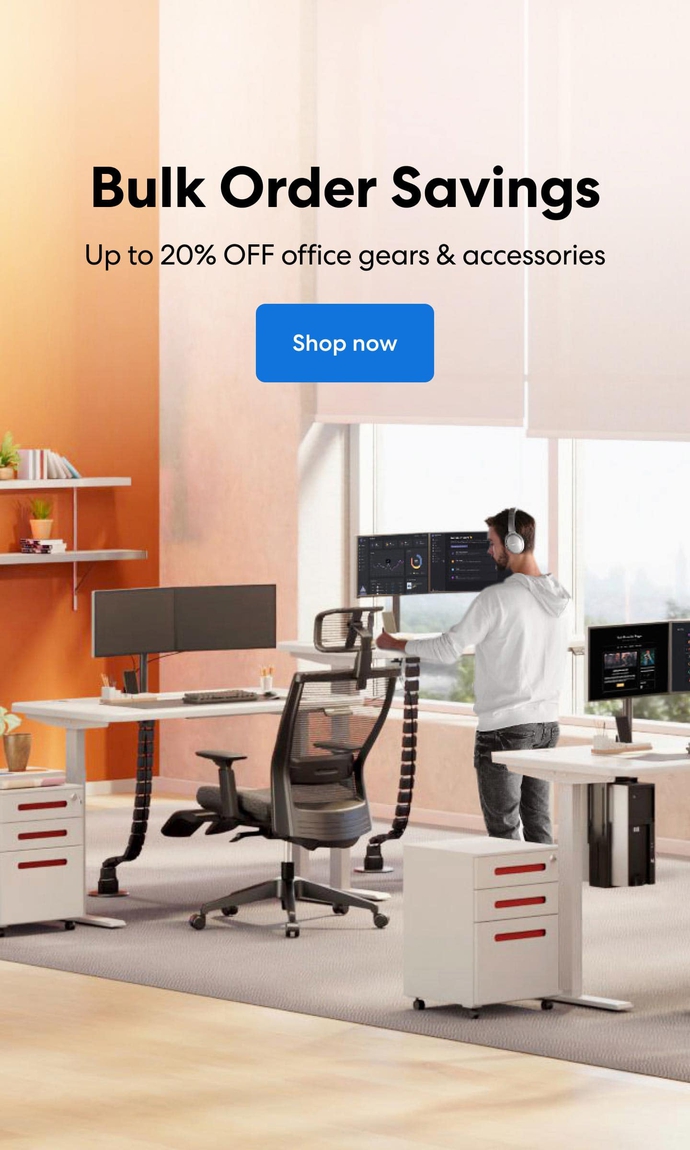 Subcribe newsletter and get $100 OFF.
Receive product updates, special offers, ergo tips, and inspiration form our team.