As the world advances towards some level of normalcy, we are in a phase where we are testing things out. For a long time, a full live event may not be the best idea. For any type of event in the office, a hybrid work arrangement is the smarter approach. Hybrid meetings integrate in-person and virtual in-person experiences. One utilizes engagement tools, and technology to communicate. But when and how does one hold such a meeting? We thought about listing some of the hybrid meeting pros and cons for you here.  
A quick introduction to the hybrid meetings in hybrid work models
Before we delve into the hybrid meeting's pros and cons, let's take a closer look at everything about hybrid work models and hybrid meetings. These are solutions for the workplace, created to cater to all employees irrespective of their location. It gives them several multifaceted ways to access the content.
A hybrid event is a meeting, seminar, or conference that has two formats: a virtual one and a physical one. This dual format aids remote and in-person attendees and is just a reason why it's so popular. Let's find out hybrid meeting pros and cons below!
Pros and cons of hybrid meetings
This kind of meeting format has become a cornerstone of hybrid remote work. Employees can participate using any compatible device. It facilitates collaboration, communication, teamwork with all personnel, even those that aren't in the office. Here are some key points about hybrid meeting pros and cons.
Advantages
Expanding participant base
A physical meeting is no longer feasible owing to several entry barriers like quarantine restrictions, travel limits, health issues, etc. This is one of the benefits of hybrid meetings, allowing you to expand on the presenter and audience members.
It provides them with a platform for all participants to view and contribute to an ongoing meeting virtually. For this purpose, meeting software providers are focusing on or transforming their services to offer a content-rich experience.
It doubles as a brainstorming platform.
A hybrid workplace is free of traditional confines, making it possible for all to collaborate. Employees can contribute to a meeting no matter where they are. They can use the tools present on the platform they're using or view what others have to contribute.   
Cost-effectiveness
This is one of the obvious benefits of hybrid meetings. Earlier, if you wanted to make a good impression, you would have to invite critical clients or investors. This was a cost to the company to accommodate that client or investor. The same applied to a marketing executive who had to go overseas to win a potential client. Now, both can be done with traveling and accommodation costs. Companies only need a laptop and the right software for all their meetings.   
Re-usable content
Meetings are live-streamed as they happen. The good news is that the host of the meetings can record the entire session and share it with all participants. It's a great way to recall everything that was shared during the sessions.
Less planning involved
When holding a hybrid meeting, you don't have to worry about the venue, timings, ensuring that all are on time, sending out reminders, etc. It is such a common benefit of hybrid meetings. The only planning you need to do is send out an invite via email that takes minutes. Before the meeting, you have to start the session and wait for all to show up. In some cases, you may have to give them alternate log-in links.
Disadvantages
No personal contact
Some employees miss the personal contact and socializing surrounding a meeting. They feel that a hybrid meeting is a bit distant and cold since it is a virtual one. All attendees are in front of their screen, experiencing much less engagement. Of course, this con is subject to a lot of debate as one can use a number of hybrid work software applications available. Meetings needn't always be about work!
Reduced concentration or focus
When relaxed at home, employees find themselves very distracted during meetings. They are left unfocused and could even miss out on important details too. If there is no participation, they are likely to move away from their screen and do other tasks.  
Dependence on internet connections and technology
Meetings are only successful when it is online. The biggest thing is to have a good internet connection that is stable as you plan and carry out meetings. It is possible to encounter technical issues that can ruin the meeting or prevent access to it. In many cases, employees might not have technical guidance for sorting out those technical issues. But even here, the host can easily share a recording of the session. If you are the host, then it's a very different matter! A safer bet would be to request your hybrid workforce to test run all devices and connections prior to an event.       
Preparing attendees and speakers
Not everyone is going to be on board with using technology as they might not be familiar with it. To prepare all attendees, speakers for these virtual experiences, you could add a training session as part of your hybrid work policy. These sessions aid individuals who aren't tech-savvy and assign people for technical help when required. Setting up this response activity may take time and effort to get all employees on the same track. Your policy must have guidelines on rehearsals, assigning speakers, assigning technical assistance, listing out authorized tools, etc.    
Matching up time zones
While hybrid meetings give you a wider reach, they come with the disadvantage of matching time zones. This difference in time zones makes it tough to select an ideal time for the meeting. You also need to keep in mind that attendees won't be at their PCs all day. Both factors leave you with a very narrow time frame during which you can set up, attend or host meetings.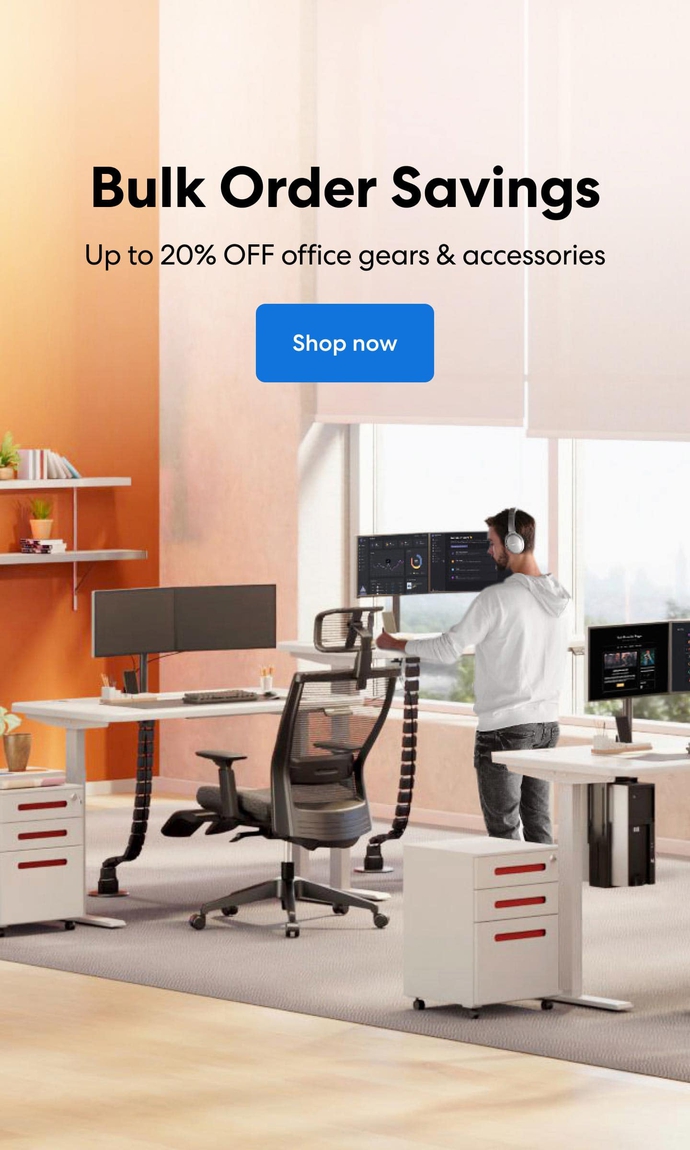 Subcribe newsletter and get $100 OFF.
Receive product updates, special offers, ergo tips, and inspiration form our team.