Millions of people shifted to the new work from home concept since the year 2020 began its series of social isolation. While working from was a rather new concept that demanded employees to change the way they work and hence face many challenges during this new transition, millions of people are familiar with away from office routine in the form of remote working. Remote vs. work from home is a common confusion where one fails to comprehend how the two things differ from one another.
But the truth is there is a considerable difference between work from home and remote working modes. Work from home employees cannot classify themselves as remote workers until they meet certain standards, and the same is the case with remote employees. In this article, we will clear the remote work vs. work from home misconception once and for all.

What does Remote Work Mean?
Does remote work mean work from home? You often ask this question or come across people who ask the same. While a few years ago, remote work would have been called somewhat the same as work from home but with advancements and the emergence of modern workplaces, remote working is no longer work from home.
As per the definition of remote working, remote workers work from anywhere other than an office. They could operate from a work-from-home office setup, a café where they have breakfast, a co-working space, or any shared workspace with other remote workers. They could have their setup with a standing desk and ergonomic chair or book places that offer proper office setups, such as co-working spaces.
Remote workers use digital technologies to manage duties, execute projects, and communicate with their team instead of coming to the office and interacting with coworkers. As long as you have a laptop and a reliable internet connection, you may work remotely from wherever.
Employees might work entirely or partially from home. Fully remote employees are not obliged to visit the office, although partially remote employees may be expected to visit at least a few times per month. Remote working is also common amongst entrepreneurs and people who have their businesses but don't operate from any fixed physical site.
What Does Work From Home Mean?
As the name suggests, work from home is when you work away from your office but at your home. Work from home could be from anywhere in your home, whether your living room, drawing room, bedroom, or kitchen counter. While some people love this flexibility offered by a work-from-home routine, a long-term work home without any proper home office setup and work-from-home essentials will substantially damage your productivity.
Working from home for an extended period necessitates more modifications than working in an office or co-working facility. You must not only construct a separate workspace, but you must also establish clear boundaries between business and personal life.
You will need to purchase proper work from furniture, invest in a dedicated space, and struggle to juggle the work-life balance. It is wise to make a one-time investment and create friendly work from home space for long-term or permanent work from employees. There are also several employee purchase programs and government purchase programs to encourage work-from-home employees.
Several manufacturers also offer specific discounts in the form of teacher discounts or programmer purchase programs where you can save on work from equipment that fits your job needs.
Pros and Cons of Remote vs. Work From Home
Both work from home and remote work offer flexibility to employees and provide more than just one mode of working. Both working from home and remote working have their pros and cons.
Improved Flexibility
Remote workers, whether working through their own office or a home office corner, have greater flexibility since they are the ones who decide their workplace. They could opt for an outdoor office or a crowded working place based on the type of environment they feel most productive in.
The most significant benefit of remote work is that you can design your work environment to suit your preferences. Some people prefer to work in noisy environments, while others focus on perfect stillness. With remote work, you may boost your productivity by designing a workspace that best suits your needs.
One Time Investment
On the other hand, your work-from-home setup requires on-time investment. You can purchase a desk, a chair, and work-related accessories to build a home office. Rather than just booking new workspaces and paying for desk sharing, you can pay once and use it repeatedly.
Better Management
Moreover, one of the most significant benefits of working from home is that you may work from your area and avoid the journey to the office. Working from home allows parents to care for their children while still completing their careers. It is also ideal for people who live far away from office areas hence cannot travel for an hour or more days to reach and come back from office.
Work While Traveling
While traveling, you can also work remotely. This is one of the biggest perks for remote workers as they don't have to have one place to work. Their office is virtual, so they need a suitable device and working internet connection to proceed with their work.
This might provide you with magnificent work vistas from sophisticated cafes or tropical Co-working spaces with paintings and huge plants. While some office workers might not enjoy the ambiguity about their next office for the day, people who love new experiences can benefit from remote working.
Self-Motivation
Remote personnel must be self-motivated enough to complete tasks without being continually supervised. Your boss might stop by your desk to check on you or even assist you if you're stuck in an office situation. However, in a remote work setting, you must constantly remind yourself of the tasks you must complete.
Easy Learning
For office employees who are a part of the team, even working from home, learning new skills and growth is easier than for remote workers. Remote workers must continuously learn to work with new team members, interact with a distributed team, incorporate new technologies and tools, handle work if the internet goes down or their laptop breaks, and maintain a healthy work-life balance.
Video ads for product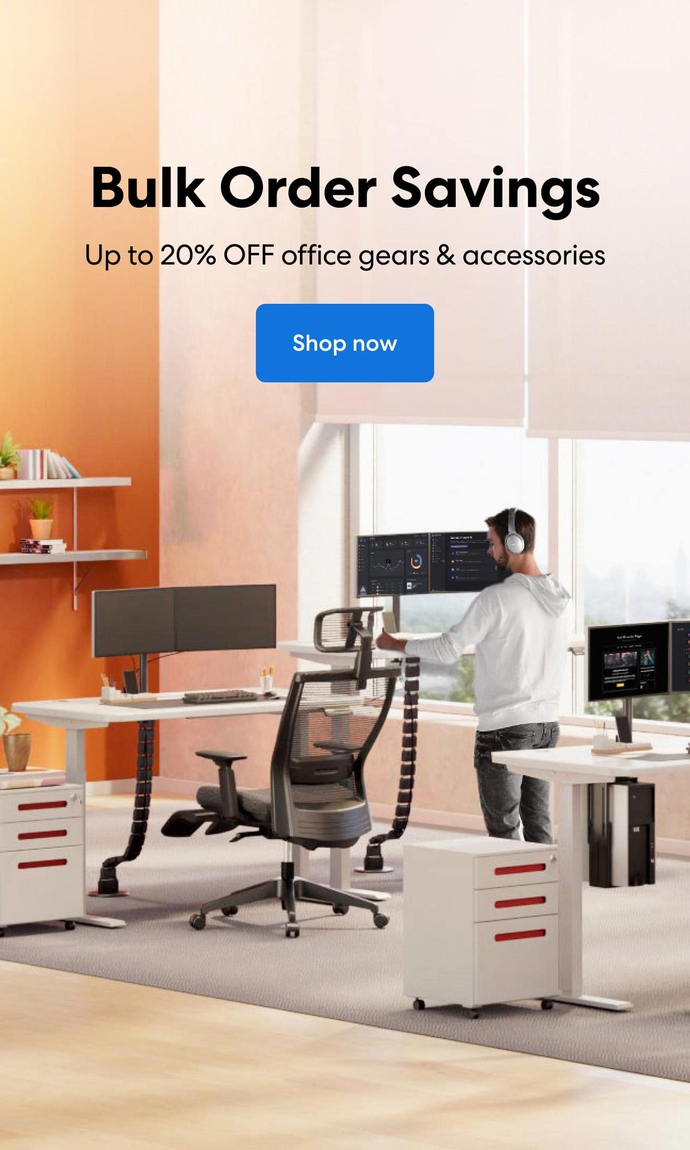 Subcribe newsletter and get $100 OFF.
Receive product updates, special offers, ergo tips, and inspiration form our team.