The start of the work from home trend ushered in many things at once. Companies had to implement several new teleworking policies, many of which had never been done before. Employees had to find new ways to balance out work and life boundaries. Nobody had an easy time adapting to this way of work. However, it's a year later, and most of us have done it. The transition created new remote work etiquette; managers have to keep employees engaged and productive while employees apply new ways of dealing with remote communication with minimal personal context.       
There are lots of changes in the way we work. Most of us are in a shared space that we are working and living in. The typical workday is punctuated by pets, kids, and door sounds, resulting in a mad scramble to complete work and manage home life! Some of the rules apply in remote work, while others don't, resulting in all-new remote work etiquette. This is how employees and management are adjusting to remote work in the long term while avoiding distractions at home and adapting to a changing world outside.        
Giving all team members more autonomy
One of the ongoing best practices for working remotely is to give everyone in your team more autonomy. In offices, employees could interact with each other, ask questions, go over to their desks for extra help. If there was a problem, your entire team would meet in the conference room to brainstorm and work out a solution. These dynamics don't exist in a hybrid remote work method. Since employees are out of sight, you simply have to trust them with the task they're working on. Otherwise, you'd constantly be messaging or calling them throughout the day. This is a big no-no in working remotely etiquette, as employees would have to take time out to answer those messages and calls. They are switching communications like in a hybrid workplace which frequently lowers their focus.        
Developing your new work from home environment
Some tips for working remotely that we had learned from the mega-corporations were increasing IT spend and investing in more productivity enhancement software. The point here is to have all the necessary tools so that your new hybrid workforce can go to work effectively. Certain software could even help them to develop a work mindset and help them work better or faster. So, the key here is to find out what all team members require based on their skill set, needs, and their contributions to the team.   
Proactive reach-outs
Regularly reach out to clients, leaders in your company, and your co-workers. You could do this via email, simple phone calls, or video conferencing if you need to make a presentation. This approach lets your team know that you are thinking of them. One step is to plan out regular engagement sessions with co-workers or your teams. This could be a fun session where everyone gets together for games or even just to share their thoughts on remote working.       
Adhere to colleagues' off-hours timings
Ensure the remote work etiquette that you know when employees are working and when they are not. Try not to email, message, or call them during these off-hours. A hybrid working model is less frustrating to get used to when all involved have time to breathe. Usually, your own teams and colleagues will sign in and out of the day around the same time – so you know that they are off-hours at 7.30 PM. What is troublesome is knowing when your client or colleagues in different time zones will be available. Ask ahead so that you get all your timings right.   
Place trust in your colleagues
None of us like having someone looking over our shoulders constantly. The hybrid work model gives us a break from this. Trust your colleagues to carry on working diligently without pestering them with emails demanding to know the status of a project or task. Each employee has already set up a workflow based on how they work. Plan out how you will send out those emails – either midway through a project or towards the end of it. Instead of asking employees about their activity, ask them the accomplishments or goals that they achieved, focusing on their results.  
Ensure greater flexibility and organization
Remote teams need flexible hours to work consistently. It is an obvious remote work etiquette. It starts out with a concrete plan that adds definition to your strategy, but that strategy needs to adjust if required. Prioritize quality completed work over employees putting in the correct hours each evening or morning.   
Manage the length of meetings
Keep meetings short, ensuring that you and your colleagues cover all the important points. If possible, try to mail a reminder to all who need to be present at that meeting. This way, they can be prepared ahead of time and save time trying to recall what they need to share. This approach makes it easier for all to switch back to their hybrid work schedules without being distracted.    
Provide necessary support
Make yourself available for questions, situations, and for check-ins from others. These doubts about remote work etiquette are bound to surface as employees go through several unfamiliar circumstances. You could set up meetings, times, and messages to help everyone. Advocate a healthy lifestyle that would aid employee's well-being and help them be more productive. Other times, they would require help with a new system and IT issues and some software that would help them work better.   
Clear, consistent communication cycles
Regular communications keep everyone on the same page about work challenges, work schedules, deadlines, and new projects. Ensure that this communication is done via a communication tool that fits everyone's needs – text, email, phone, or meetings. Knowing when to ping employees with texts, emails and when to keep silent varies with each employee. Usually, it's easier to ask them what they expect out of management and how they wish to be managed. An excess of oversight of your employees shows that you don't trust them. Let them communicate, complete goals and follow up with clients in their own way, and manage to keep metrics on them.
Video ads for product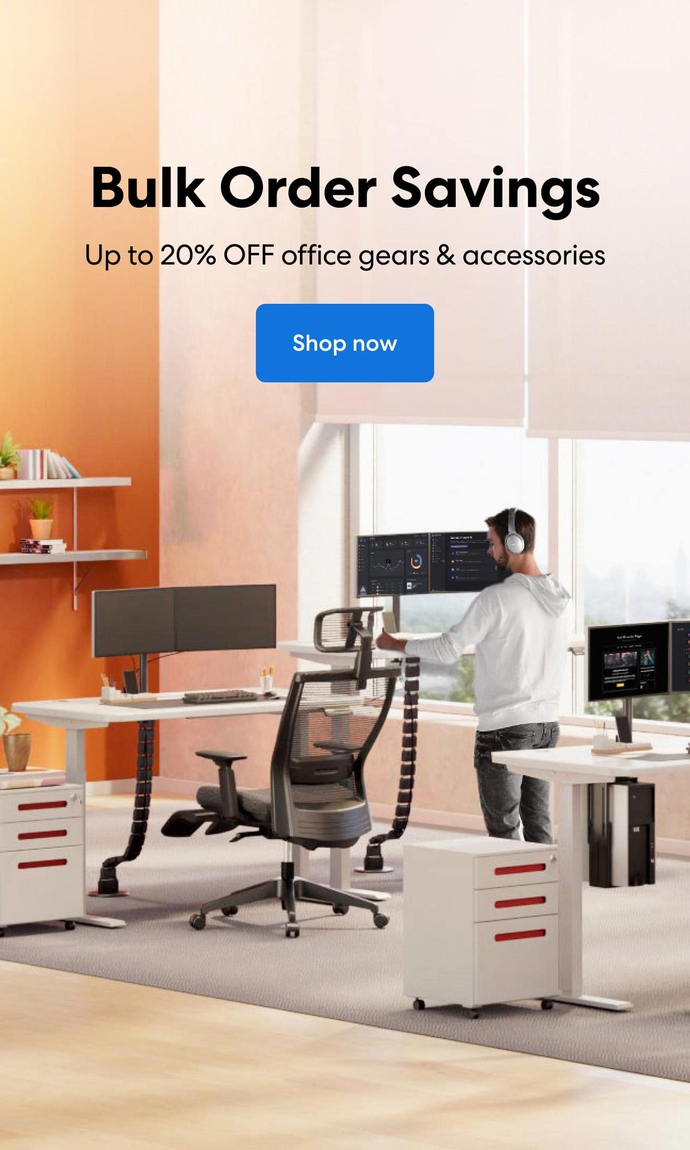 Subcribe newsletter and get $100 OFF.
Receive product updates, special offers, ergo tips, and inspiration form our team.