Smart Products
Differences Between Residential vs. Commercial Office Furniture

Autonomous
|
Nov 7, 2021
1,718 Views
Most people believe that all furniture falls in the same category, which leads to confusion when it comes to differentiating commercial office furniture from residential office furniture. If that's the case for you, then you're probably part of this club – but don't worry. It's more common than you think.
Not all pieces of furniture are built the same or with an identical purpose. Hence, it is essential to learn the differences between each category to make sure that you're making the right purchase for your business. But, don't worry; this topic isn't as complicated as you may think it is.
You can find both furniture types within a company, but they serve different purposes. So, if you're looking forward to renovating your office's furniture, here we'll tell you how you can tell each concept apart to avoid potential mistakes during the remodeling.
Commercial Office Furniture vs. Residential Office Furniture
There are tons of office furniture brands in the market, and they're all characterized for something different. However, what remains the same is the usage of each piece. So here, we'll dive deep into each concept to learn how they differ from each other.
1.  Commercial office furniture
This type of furniture is more reliable and durable. This is because it has been designed to be long-lasting and often comes with extended warranties. Hence, it can resist tear and wear, allowing you to continue using it without problem for several years. But, of course, you'll still need to provide maintenance if you want each piece to last longer.
2.  Residential office furniture
On the other hand, residential office furniture isn't built with the same "durability." Still, there's a reason for that: it isn't meant to be used as frequently as commercial executive office furniture. Instead, it is more casual, as the workforce will only need it during selected times.
Summary
So, commercial office desk furniture and residential office desks have an enormous difference. But, even if they have distinct purposes, they coexist together within the same spaces all the time.
It is important to know the difference between both options if, for instance, you're looking for commercial office desks. Not knowing the difference can lead you to purchase non-resistant office furniture, which may end up causing big losses for your company.
Equipping Your Office with the Right Furniture
Now that you know the difference between both options let's learn the essential pieces of furniture that you should purchase for your workplace. Please note that all the furniture mentioned in this section are all in the commercial office furniture category.
1.  Ergonomic office chairs
Ergonomic office chairs are probably the most essential item in an office, along with desks. Hence, it is necessary for you to look for the best options that allow your workforce to keep up with their responsibilities without feeling discomfort. After all, a person that feels uncomfortable in their workstation is likely to have higher stress levels, and as a result, less concentration.
You can also find some of the best executive office chairs for good prices. Here you can choose from leather chairs to mesh back chairs, based on what you'd like to get. For example, leather chairs provide you with more comfort, and mesh options allow you to remain fresh throughout the whole day, even during the hottest seasons.
2.  Ergonomic desks
It's also quite important to purchase good ergonomic desks that provide each employee with enough space and stability to complete their tasks.
Although traditional desks are a good option most of the time, not everyone has the same body proportions, and some people are above or below the average height. As traditional desks don't cater to the needs of people outside the norm, office standing desks are a better option in multiple ways.
These commercial office tables have been linked to productivity, efficiency, and well-being benefits ranging from lower blood sugar levels to higher focus. Hence, if you'd like your workforce to be in top condition, then investing in standing desks is an excellent idea.
3.  Other office furniture and machinery
Although these items aren't strictly part of the categories mentioned above, it is quite important for your office to be equipped with the right equipment so your employees can work comfortably and efficiently.
For instance, here we can mention:
We can find computers, printers, photocopiers, and other similar equipment within the technology category. It's crucial for you, as an employer, to provide your workforce with all the

office equipment they need to complete their tasks successfully throughout the day.

It's also important for each employee to have access to office stationery: paper, pens, clips, staples and staplers, and so on. These are common items found in most offices and should never be overlooked. If you don't know what to include, try to make a checklist with everything you think that your employees will need throughout the day.

If your workplace has employees with mobility issues, it is important for you to accustom certain spaces for them. That is where the difference between commercial office furniture and residential office furniture becomes more accentuated – as a person with a disability has different needs than the average worker.
Conclusion
Commercial office furniture is the most important furniture category within a workplace. These items will allow your workforce to work comfortably throughout the day while ensuring their efficiency, focus, and productivity.
It's important to invest in long-term furniture to avoid unnecessary expenses in the long term. Most offices are equipped with durable furniture for this purpose – and that's another reason why these items often have such extended warranties. Still, it is recommendable to do some research first and find manufacturers that provide high-quality furniture in bulks at competitive prices.
It doesn't matter if you have an already-established business or if your organization is just beginning. Your workers will need different resources to complete their tasks successfully. Plus, a well-equipped office will give a better impression to new talents and will also help you increase the employee retention rates.
Many leading brands out there – including Autonomous – have been providing commercial office furniture in bulks at competitive prices for several years. So, you will find thousands of users backing up their claims.
Video ads for product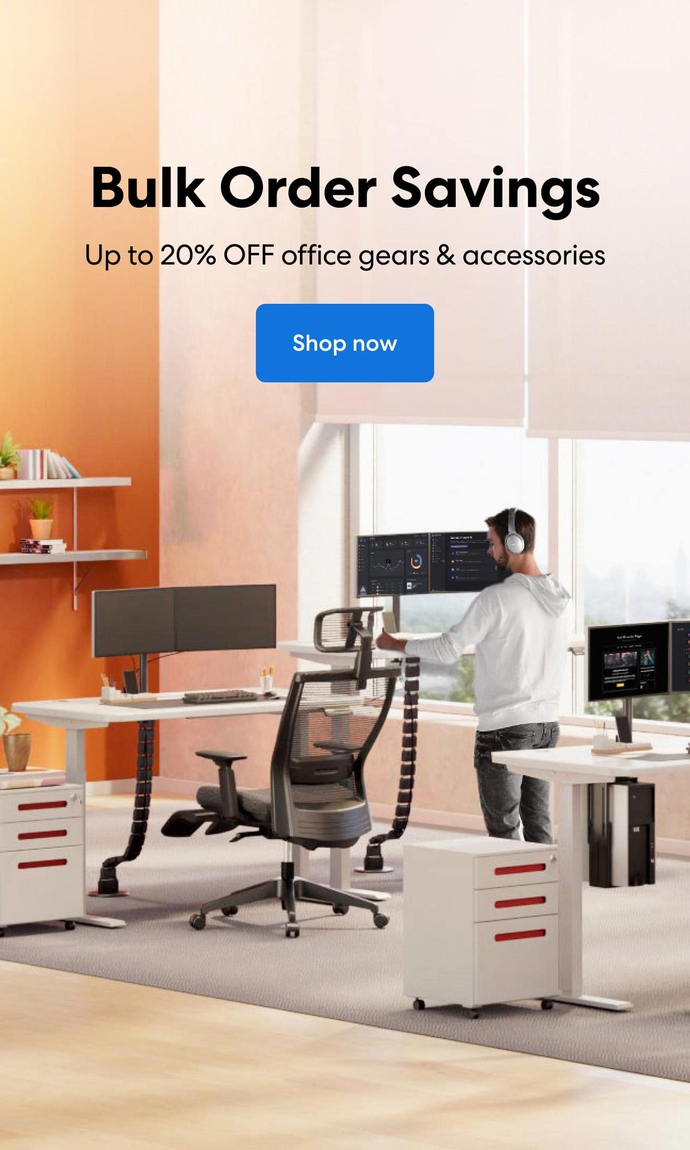 Subcribe newsletter and get $100 OFF.
Receive product updates, special offers, ergo tips, and inspiration form our team.