Smart Products
Top 20+ Techni Mobili Desk Reviews of 2023 for Workspace

Autonomous
|
Nov 12, 2022
1,019 Views
It's a great idea to buy a new desk from Techni Mobili if you need one. There is a wide variety of modern designs available from Techni Mobili. Featuring abundant shelving and coming in multiple colors, these desks are a complete workstation that is compact, sturdy, and stylish.
1. Techni Mobili SmartDesk: Basic Keypad
The Techni Mobili desk has a sleeker, compact design without compromising on space. Steel legs, and the bottom is made of particle board with steel legs. Up & down buttons are easily accessible on the console. There is a quick height adjustment mechanism on the desktop, and it has a smooth, ergonomic finish.
2. Techni Mobili Compact Computer Cart
An all-in-one solution for those who use a lot of devices and accessories but do not have the space for them is a computer cart style Techni Mobili computer desk. Among its features are adjustable shelves mounted on the desktop's left, right, or center, which will come in handy during your workday. As far as construction is concerned, particleboard panels are laminated with PVC laminate veneer for moisture resistance. A keyboard shelf, a side media rack, a bottom accessory shelf, and locking casters round out the features of this Techni Mobili desk.
3. Techni Mobili L-Shape Desk with Hutch and Storage
With a hutch for additional space and under-desk storage, this industrial-style desk is perfect for any workspace. A powder-coated steel frame is attached to engineered wood. There is an elevated Hutch, as well as two pull-out drawers for storing office supplies within reach and two drawers under the desk for everything else you need. An empty shelf under the drawers section can be used as a CPU caddy or for storing anything else you may need. As well as having an accessory holder, we think the white and steel design aesthetic blends well with any workstation layout.
4. Techni Mobili L-Shaped Industrial Desk with Storage
In addition to the hutch attachment, this Techni Mobili modern office desk would be ideal for locations where you have plenty of wall space or if you already have floating shelves. On the larger desk segment, shelves are located under the desktop instead of drawers. On the smaller desktop segment with an accessory hook, there is a smaller attached shelf with just enough room for a printer. Engineered wood desk made from eco-friendly material that can easily fit into corners and larger spaces, this stand-up desk is modern and versatile. 
5. Techni Mobili Industrial Writing Desk
This L-shaped standing desk is a simplified version of the desk above and is not equipped with an additional desktop segment to make an L-shaped desk. An attached shelf of 22 inches across and 5 inches high is all that's included with the L-shaped desk, which does not have a height-adjustment system. In total, the desk measures 36 inches high, and if you remove the top shelf, it measures about 30 inches. It has a simplistic, clean line and streamlined structure and fits into the design layout. In addition, there is a desktop elevated shelf and a side accessory holder hook. 
6. Techni Mobili Rotating Multi-Positional Modern Desk
If you enjoy changing your desk layout a lot but don't like to lug around heavy desks, this unusually designed desk is perfect for you. On top of the desk is a drawer storage cabinet with both desk segments attached to a single metal pole that provides the rotational axis. All you need to do to move the middle desk segment forward or backward is simply pull it forward or backward, depending on how much space you need. Underneath the desk is a storage cubby that can be converted from an L-shaped desk into a full-length desk.
7. Techni Mobili Home Office Workstation
An elegant, minimalist, tempered glass workspace is mounted on a powder-coated steel frame with Z-shaped legs. This glass-top office desk shelf is 11 inches wide and mounted on a system that allows it to slide from left to right as necessary. You can store files, books, and other items on the shelf under the desktop, which is similar to a keyboard tray. Metal, glass, and steel are all used in the construction of the desk.
8. Techni Mobili Study Computer Desk
With MDF panels, a PVC laminated white finish, and metal legs, this two-person desk is made of White Magnetic Board and is made with MDF panels. On the left and right sides of the shelf are two smaller shelves that jut out at the bottom, replacing the desktop shelf with a magnetic dry-erase board. Even the accessory hook is included in this segment. A pull-out drawer and two open storage areas are found on the desktop.
9. Techni Mobili Rolling Writing Desk - Black
Desk frame is made of wright iron and is manually adjustable in height. There are two large corner desk components included in the frame: one that serves as the desktop and the other as a top shelf with accessory hooks. It is possible to move the bottom shelf forward or backward. You can move the back shelf down to the bottom to create a much larger flat surface. 
10. Techni Mobili L-Shaped Glass Top Computer Desk
With tempered glass and a wrought iron frame in a slim X shape with floor glides, this desk is a stylish version of the basic small corner desk. A round corner segment connects the two straight, oblong segments. There is also a pull-out keyboard tray made of MDF under the desk. There are 29.5 inches of height on the desk and 107 inches of width on the desktop.
11. Techni Mobili L-Shaped Glass Computer Desk
A compact desk with oodles of style, this is a slimmer, elegant desk with computer curved boomerang shape. Additionally, there are three drawers in the file cabinet section on one side. A durable engineered veneer laminate finish makes the desktop easy to clean, durable, and strong enough to hold all the essentials of your workstation. The desk measures 109 inches long and 30 inches tall when assembled at its full height.
12. Techni Mobili Home Office Computer Desk
The desk features a simple design, generous storage options, superb functionality, and a sophisticated style, all rolled into one. A glass desktop is attached to a static design on a frame consisting of a scratch-resistant metal structure. A filing cabinet-style storage solution made of MDF is located on the other side of the frame. A filing cabinet and two spacious drawers are included. The desk measures 29.5 inches in height and 59.5 inches in length and has one side drawer cabinet for additional storage.
13. Techni Mobili Modern Design Computer Desk
An angular accent desk with sleek lines, asymmetrical proportions, and asymmetrical accents is described above. You can use the 55-inch desktop for a variety of purposes. There are three drawers under the 30.12-inch desk, providing ample storage space.
14. Techni Mobili Clear Glass Top Desk
This static desk design makes the keyboard tray from moisture-resistant laminate veneer in a mahogany finish with a pull-out keyboard tray. On top, you'll find a tempered safety glass desktop surrounded by powder-coated steel legs that are curved and scratch-resistant.
15. Techni Mobili Warrior L-Shaped Gaming Desk
An MDF panel with a black carbon fiber like texture covers the top surface and two elevated and removable shelves. Because it is a gamer's desk, it comes with one accessory hook and two cup holders. As a bonus, if you decide to buy more gaming accessories, there are two over-desk shelf attachments! Alternatively, you cannot attach these two shelves at all or attach them to either side. Including a carbon fiber desktop on a heavy-duty steel frame, the desk was constructed with care. While the desk is heavier, we're sure gamers will appreciate its extra durability.
16. Techni Mobili Compact Computer Cart With Storage
This Techni Mobili desk consists of a desktop, legs, and handles made from PVC laminate veneer and metal. An extremely practical design can be found on the desk. Several storage options are provided under the desk with many features including an adjustable shelf. Furthermore, it has an adjustable shelf that can be mounted in the center, right or left of the desktop to complete the look.
17. Techni Mobili TS-200 X-shaped Gaming Desk: Additional Storage
VUTs super compact desks are equipped with built-in headphone jacks, media storage racks, and cup holders. There are cup holders, accessory hooks on either side and a media storage rack. This Techni Mobili desk also features a floating shelf attached to the back edge where you can mount an additional monitor alongside a tablet holder panel that can be adjusted as needed. A second floating shelf can be attached by removing this. You have a wire rack under the desk that holds everything except a keyboard, as it is not removable.
18. Techni Mobili Blue Stryker Gaming Desk
Dual removable shelves, a built-in headphone holder, and standard and shaker cup holders are included on the desk. Panels made of MDF with carbon fiber-like texture and powder-coated scratch-proof steel frames. A full black desk or an ensemble of black and white is available.
19. Techni Mobili Complete Workstation Computer Desk
The larger Techni Mobili desk includes a large work surface and plenty of storage, including a cabinet designed to hold the CPU and cables and a removable shelf. You also find a full cabinet that can also be used as a CPU holder under the desk. It includes a keyboard holder with a slide-out mechanism, two drawers, a filing cabinet shelf and two drawers.
20. Techni Mobili Computer Desk
A minimalist's dream come true, this L-shaped computer desk features laminated wood panels and two storage shelves for easy access to office supplies. In order to make it more convenient, it comes in two boxes, but it cannot be reversed and can only be fitted into an L-shaped design.
21. Techni Mobili Computer Desk - White
This Techni Mobili Desk is perfect for home-office space and offers the option of 2 separate desktops on independent levels that includes an adjustable height mechanism. The fiber-like texture tabletop surface and powder-coated metal structure.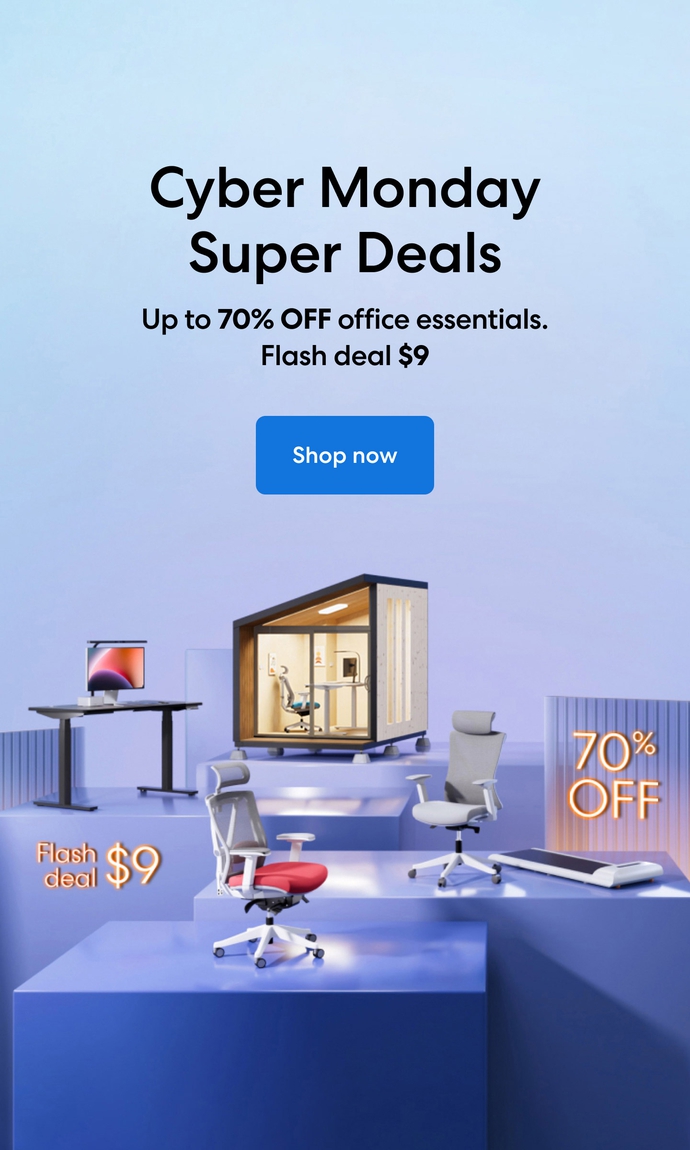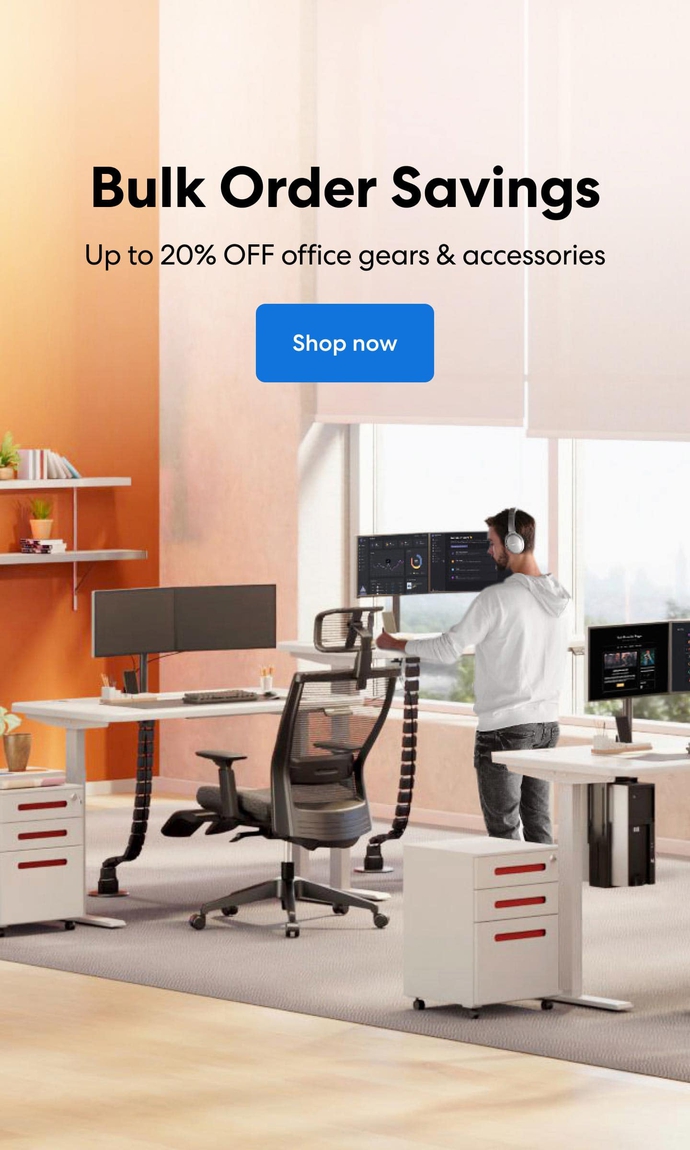 Subcribe newsletter and get $100 OFF.
Receive product updates, special offers, ergo tips, and inspiration form our team.