Smart Products
Shop 20 Best Modern Gaming Desks for PCs and Gaming Consoles

Autonomous
|
Dec 24, 2021
1,703 Views
While the modern gaming desk is often given the least attention when setting up a gaming station, it is the cornerstone of any successful gaming setup. There's a lot to consider when selecting the ideal gaming desk. It must be a stable spot to store your gaming PC, monitor, and gaming console and allow you ample space to use your gaming mouse. 
Additionally, your desk should not just be functional. It should also be ergonomic, allowing you to maintain the ideal sitting posture, even when spending hours lost in your favorite online game. If your gaming desk is positioned incorrectly, you may be placing unnecessary strain on your muscles and joints, making it difficult to enjoy your favorite pastime. 
The ideal modern desk for PCs incorporates functionality, ergonomics, and a "cool factor" to set the scene on your gaming sessions. Here are 20 super-cool gaming desks for your gaming setup.
20 Best Modern Gaming Desks for PCs and Gaming Consoles
1. Autonomous SmartDesk Corner
The SmartDesk Corner is the ultimate L-shaped standing desk from Autonomous. With its modular segments, you can adjust the SmartDesk Corner to get the perfect fit and make the best use of your space. 
You never have to worry about having enough space with this corner gaming desk because it can easily fit three computer monitors and additional tech gadgets. Additionally, you don't have to compromise on ergonomics with any Autonomous modern desk for streamers. 
This L-shaped gaming desk is an adjustable standing desk that moves up and down at the touch of a button, allowing you to alternate between sitting and standing to prevent "couch potato syndrome" in those who tend to spend hours gaming each day. 
Its whisper-quiet triple motor ensures that you are never disturbed, and a solid build quality and five-year warranty ensure that it stays true to you for many years. 
2. Autonomous SmartDesk Core
If you're searching for something more compact and fun, then the SmartDesk Core is a great alternative. This modern gaming computer desk is available in 13 different desktop designs, so you are sure to find something fun to match your gaming setup or complement your gaming desk accessories. 
Like the SmartDesk Corner, the SmartDesk Core is an adjustable standing desk that comes with a five-year warranty. It is also available in a regular and extra-large version, so you can choose something larger if you need to store more equipment. 
Plus, with a 265-pound weight capacity, you never have to worry about the desk warping or collapsing inward under the weight of your PC and consoles. 
3. Thermaltake ToughDesk RGB Battlestation
The Thermaltake Battlestation is designed to push the boundaries of the L-shaped desk. 
This desk's entire surface is supported by a motorized lift system that allows the desk's height to be readily adjusted between 28 and 43 inches. Gamers never have to worry about gaming gear overloading the desk because it has a maximum load capacity of 330 pounds. 
Thermaltake modern desk for PC has included cable management trays to help you keep your setup neat. The RGB lighting adds a futuristic touch to the space. 
4. Aidan Gaming Desk by the Twillery Co.
This modern gaming table was created with all your gaming equipment in mind so that you can concentrate on that intense fight or epic battle. 
The curved front end of the desk, which is made with a robust framework and a stylish charcoal-colored fiber laminated desktop, offers comfort and plenty of space for your computer monitor, laptop, PC, speakers, games, and more. 
Other features include a scratch-resistant surface, a cable management system, and an elevated platform for your monitor. 
5. Ikea Utespelare
This is a great and modern desk for streamers. With a 63-inch desktop that is 31.5-inches deep, the Ikea Utespelare offers enough room for any setup. However, it is essential to note that this desk isn't an electric standing desk but can be adjusted manually. It has various height options ranging from 26.75 to 30.75 inches, allowing you to tune in an ergonomic height whether you're standing or sitting. 
The desktop's rear edge contains a metal mesh, which allows you to run your cables through it. There's a cable retainer underneath the slot to keep your connections from hanging loose. One of the greatest advantages is its low price point, making this one of the most affordable gaming desks on this list. 
6. FlexiSpot Height Adjustable Gaming Desk
While gaming, your workstation should not hold you back, and the FlexiSpot Height Adjustable Gaming Desk certainly doesn't. This modern gaming desk is designed to adapt to your needs, with a cutout in the broad tabletop allowing you to get closer to your screen. 
There's plenty of room for large mousepads and other tech gadgets, and the desk measures 60 inches by 30 inches. If you don't usually wear headphones, there is certainly enough room for a set of speakers. The desk height may be adjusted easily from 29 to 48 inches, creating a comfortable seated or standing play position. 
7. Herman Miller Motia Gaming Desk
Sitting is indeed the most common way to enjoy a long session of your best games, but it does not have to be. The Motia Gaming Desk by Herman Miller allows you to game comfortably whether you prefer to snuggle down in your preferred modern gaming chair or stand up, engaging more muscles and preventing sedentary behavior. 
This modern gaming table has a large surface area of 60 by 30 inches, allowing you to fit two monitors, an ergonomic keyboard, a big mouse pad, speakers, and more. The desktop is even smudge-resistant and has a soft feel. 
8. Jordin Height Adjustable Gaming Desk
This beautiful white modern standing desk has four memory settings and is made of recyclable materials, making it an environmentally friendly alternative. It comes with pre-installed components, so you don't have to spend an hour putting it together. 
The biggest size includes a 60-inch tabletop that can comfortably accommodate more than two monitors and a range of consoles and other devices. However, with a load capacity of 120 pounds and a combination of particleboard and chipboard tabletop, it is best not to store heavy equipment on it. 
 9. Ebern Designs Computer Gaming Desk
If you prefer to have your gaming consoles, monitor, and games off the desk and out the way, then Ebern Designs has a smart solution. This modern standing desk includes shelving instead of table legs, so you can keep your desk clutter-free. Thanks to its five shelving spaces, you get to store all your favorite games within arm's reach. 
10. Latitude Run Elef L-Shaped Electric Standing Desk
If you require a sit-stand arrangement with all your tech equipment on one level, this modern gaming desk is a great option. You can have in-desk power for all your electronics with power grommets. This desk's unique feature is that one side of the desktop includes a greater surface area than the other, allowing you to use it for a large mousepad or other additional equipment. 
11. Arozzi Arena
The Arozzi Arena modern gaming desk is built for people who use several monitors, with enough room to operate up to three panels—including ultrawide curved monitors for gaming. This desk is also 31 inches deep, giving you enough room to move the keyboard closer to you while allowing enough space for the display. 
It also has a mouse pad-like surface, and the desktop is entirely water-resistant. The Arozzi Arena is on the pricey side, but it's the kind of thing you can purchase once and never need to upgrade. It also comes with a variety of table leg colors, including green, red, and black. 
12. Secretlab Magnus
Secretlab begins with solid foundations, including a metal frame that can handle up to 220 pounds so that you can house all your gaming desk essentials safely. 
The Secretlab Magnus modern gaming computer desk can also assist you in achieving a tidy setup, as the rear edge of the workstation features a slot that runs along the whole width of the desk for cable management. It also includes a lower tray that can hold up a power strip. 
This modern gaming desk also has a Magpad desk mat for a dazzling, leather-like desktop finish. You can use the Secretlab MagRGB RGB light strip or your own LED light strip to add RGB lighting. 
13. Cougar Mars Gaming Desk
Isn't a desk merely a place to put all your stuff? The modern gaming desk from Cougar Mars isn't just that. It includes two hubs with audio ports for connecting gaming headsets and microphones, as well as USB ports for connecting other devices. 
The desk also has integrated RGB lighting for an added wow factor, and you can sync the lighting to your gaming PC for added special effects. This desk contains a five-volt RGB header that can be hooked into the desk's motherboard for use with several applications such as Gigabyte RGB Fusion and Asus Aura Sync. 
14. Lian Li DK-05F Gaming Desk
It's good to have your computer stop your modern gaming table, but what if you could have your desktop computer within your desk? This is precisely what the Lian Li DK-05F is made for, and it can fit up to two complete, custom-made systems inside. 
You can construct some incredible PCs inside this desk, with E-ATX motherboards, full-length graphics cards, and up to 19 inches of a liquid cooler. 
15. Aukey S-D01 Standing Desk
The Aukey modern gaming desk gives you several options. You may position it as low as 27.6 inches from the floor, or you can elevate it to 47.3 inches if you prefer to stand. A pair of motors instantly raise you to this height; all you need to do is click a button to activate them. 
If you prefer specific heights, you can save them using the memory function and have the table shift to them with the simple push of a button. 
16. Orren Ellis Thilebrook L-Shaped Gaming Desk
This stylish L-shaped dual monitor standing workstation combines functionality with contemporary aesthetics. It is completely reversible and features a digital display. The Thrilebrook is dent, smear, and wear-resistant and is constructed from laminated particleboard. It also contains extra storage space, so you have enough room to store your gaming essentials. 
17. Uplift V2 Four-leg Standing Desk
While most modern standing desks are supported by a set of legs with a T-shaped frame structure for sturdiness, the Uplift V2 Four-leg desk is supported by four distinct legs that keep it steady. It can support an impressive 535-pound load, which allows you to store a significant number of computer monitors with a wide range of gaming consoles and gadgets. 
18. L- Shaped Computer Office Gaming Desk by Inbox Zero
The gaming desk's trendy architectural style makes the most of your area, fitting neatly into a corner to optimize your available space. A removable monitor stand frees up more room on your workstation, and it is made of a high-quality MDF board and has a solid metal frame, which ensures quality and strength over time. 
19. Gaming Desk by Devoko
If you're an avid racer, you may just love the sporty design of this modern gaming desk from Devoko. It is available in three sizes, making it an ideal modern desk for streamers. This desk also includes a gaming desk cable management system, so you can keep your desktop tidy and free from clutter. 
20. Dorazio Gaming Desk by Inbox Zero
The Dorazio workstation is made for PC gamers and lovers of multiplayer online games. Various storage sections for speakers, controllers, drink cups, and headphones are included with this desk. Its metal z-leg construction provides extra stability, and it also includes an elevated platform to store your computer monitor. 
Final Thoughts
If you are looking for a modern gaming computer desk that blends functionality, ergonomics, and visual appeal, then you are sure to find one on this list of modern gaming desks. We recommend the Autonomous SmartDesk Corner and the SmartDesk Core because they provide excellent value for money and are sure to give you many years of companionship.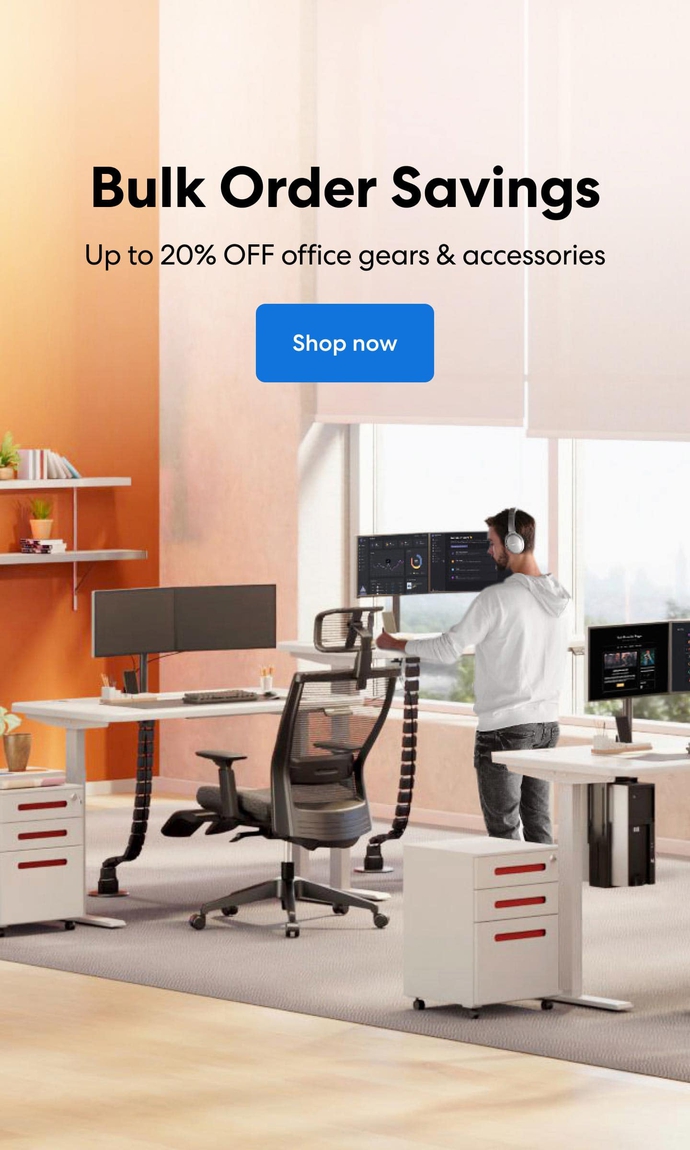 Subcribe newsletter and get $100 OFF.
Receive product updates, special offers, ergo tips, and inspiration form our team.