Finding yourself an office corner desk is ideal for taking advantage of the corner space in your office. Typically, if you put a normal rectangular desk into a corner, you find that you lose out on quite a bit of the desktop real estate that directly touches the edge of the said corner. 
Some corner desks use either an almost triangular or trapezium type shape to offer the kind of flexibility you would need. Another design choice that is arguably more popular is the L-shaped corner desk, which is known for offering a bit more where space is concerned. 
Below is a list of 20 corner computer desk options that you cannot help but love. In some cases, it's the sense of durability, while in others, the tremendous aesthetic is almost irresistible. Either way, it is highly unlikely that you are going to come out on the other end of this not knowing which desk you want.
Top 20 Office Corner Desks You'll Love
1. Autonomous SmartDesk Frame
In second place, you have unbelievable customizability, as this standing desk kit allows you to choose your tabletop. The frame comes in white and black, and it features a triple motor design that allows for alternating between seated and standing positions quickly and quietly. 
The unit is made from solid steel, and it features a programmable keypad that allows you to return your L-shaped standing desk to whatever positions you may have liked. 
2. Autonomous SmartDesk Corner
The final space on the list goes to none other than the Autonomous SmartDesk corner that outclasses all others present. It's yet another adjustable design, and it offers an L-shaped office corner desk that is tremendous for your health. 
You're getting neutral colors here, as whether you want a white or a black L-shaped standing desk, Autonomous has you covered. The tabletop is built with high-quality MDF wood, while the frame is akin to the previous entry on the list. What more could you ask for? 
3. Tribesigns Modern L-Shaped Desk
The first option on the list is a black L-shaped computer desk with a twist. It's built with a swivel that allows you to make it straight if necessary, granting you a much longer horizontal space than you would traditionally find. 
While there is a white alternative, it's the black one that truly makes the design come alive. The composition is made of particle wood that sits atop a sturdy steel frame. A 900-pound weight capacity is nothing to turn up your nose at, so expect this unit to be able to effectively handle anything you throw at it. 
4. Little Tree Rotating Corner Desk
The Little Tree Rotating Corner Desk is another L-shaped office desk design that offers a unique white aesthetic. Typically, both components of the "L" stand at the same vertical height. However, this desk features a higher platform and a lower one. 
The side table, which is the lower of the two comes with rotational capability that offers a range of up to 180 degrees, meaning you could also adjust this desk to make it a straight horizontal one, as opposed to its natural L shape. 
There is even a keyboard tray and bottom shelf under the main component, the latter of which allows you to store books, your system unit, or whatever else you may see fit. 
5. Tangkula Corner Desk
While this desk is stated to have a triangular design, branding the shape as a trapezoid is probably a bit more accurate. You can purchase the unit in both black and white designs, and the solid wood construction provides a high-quality work experience. 
Two open shelves are included, which are along the desk's legs, while there is a large drawer immediately beneath the desktop surface. Assembly is barely an inconvenience, so expect to be up and running in no time. 
6. Le Crozz L-Shaped Corner Desk
Here is yet another office corner desk design for your corner desk setup. The tabletop is a beautiful wooden design, and it is supported by a sturdy steel frame. The said frame makes use of multiple X shapes at each end of the "L" as well as a third connection to the floor in the middle of the unit. 
An adjustable footrest bar is included that extends throughout the entire design. Again, this is a model that offers very easy assembly. 
7. TOPSKY L Shaped Corner Computer Desk
The trend of beautiful wooden L-shaped computer desk options continues with this design from TOPSKY. You are getting a standard and sturdy steel frame here that features an epoxy coating. The tabletop consists of CARB P2 MDF board, which is going to make for a strong layer that bears some level of stain resistance. 
All this is complemented by a bevel edge finish and a 300-pound weight capacity. It's always good to have a bit of customizability, so you should be happy to know that this is a corner adjustable desk model. Feel free to modify the position of the legs to fit whatever needs you may have. 
8. Mr. Ironstone Corner Computer Desk
The second quartet begins with a large corner computer desk that was built with gaming in mind. Even so, it happens to be very suited to an office space. One side of the "L" has a monitor stand that allows you to suspend one screen in the air.  
A further two screens can be placed on the other side, giving you an idea of how large a unit you are dealing with. The legs of the powder-coated steel frame create an X shape, which is typical for stability. Adjustable leg pads make a return here, and it's all topped off with 0.59 inches of high-quality P2 MDF wood. 
9. Teraves Reversible L-Shaped Desk with Shelves
If you've never heard of a reversible L-shaped office desk, welcome to the club. The standout design choice is the ability to reverse the positions of the long and short panels of the "L." This office corner desk design choice tends to yield higher customizability, allowing you to take advantage of any kind of corner positioning you may wish. 
There is also a system unit stand included, as well as two shelves for storage.  
10. Wheaton Collection Reversible Corner Desk
Even if you were not familiar with reversible corner desk layouts, they are typically found in L-shaped units. However, here is a trapezoid form that boasts the same feature. How it works is that there is a rectangular panel that can be affixed to either side of the main unit. 
It doesn't have a large tabletop, but that's perfect for people who are looking for a corner desk to fit into a tight space. Two cubbies and two drawers are present, which allows you to take advantage of some very useful storage space. 
11. Bush Furniture Fairview L-Shaped Desk
It would be an injustice to mention this L-shaped office desk without alluding to its beautiful vintage design. The large tabletop surface features a cherry finish, while the lower area is completely black, providing a wonderful contrast. 
Traditional legs of this office corner desk are not used here, as the base spans the entire width of the tabletop. Storage is included in the form of drawers, cubbies, and a door that leads to a closed storage area. 
12. Bestar Hampton L-Shaped Desk
Bestar offers another L-shaped design that can slot perfectly into your office space. An amazing contrast of black and cream is used throughout, which is going to offer the same kind of backdrop to white or black office equipment. 
There is an elevated area at the meeting points of both sides of the "L," which is intended for your screen. Of course, you can place a couple of accessories under it, and take advantage of the rest of the tabletop too. Considering there is storage and a keyboard tray beneath the top, a minimalist L-shaped desk layout is not beyond the realm of possibility. 
13. Coleshome Gaming Corner Desk
Coleshome offers another L-shaped gaming design that is suitable for your office needs. It's reversible, so feel free to put the long and short sides wherever you may wish. The sturdy metal frame features the typical X shape that is used to contribute to additional stability. 
There is quite a bit of desktop real estate, allowing you to store up to three monitors easily. The engineered wood and metal are superb, as well as the presence of a system unit shelf and a removable one atop the shorter panel, contributing to vast storage space. 
14. SHW L-Shaped Wooden Corner Desk
SHW has made its mark on the world of typical and adjustable standing desk designs, so it's no surprise that the manufacturer managed to craft a stellar wooden corner desk. What you're getting here is a wood grain finish environmental particle board composition. 
Two open shelves make storage very convenient, and the two grommet holes present make cable management a breeze for a neat layout. Assembly is no challenge at all, so what is there to lose in going for this standout offer? 
15. Fatorri Reversible L-Shaped Office Desk
If you are one of the persons to whom a rustic finish appeals, then the charm of this model from Fatorri is likely to sweep you off your feet. The metal frame present is very heavy duty, so the level of durability you're getting is unquestionable. Additionally, the oak shade that is used is tremendously easy on the eyes. 
The reversible design means greater customizability and convenience, and with two short shelves and one long one, there is a host of storage space for you to take advantage of. 
16. Ameriwood Home Pursuit L-Shaped Office Desk
If drawers are not enough for you on your L-shaped computer desk, then you may want to consider this Ameriwood design that features a whole hutch, with more dedicated storage than the average office worker knows what to do with.  
Even with such a design, it slots into your space of choice very easily. The wooden finish is quite attractive and is complemented by the frame colors very nicely. 
17. Z-Line Glass Computer Desk
No one can deny the premium look and feel that is seemingly second nature when glass is a part of the design. Z-Line did a tremendous job with this L-shaped glass office corner desk that brings a modern flair to your office layout. There is an elevated glass shelf on one side that is suitable for a screen or storage. 
The other side features a keyboard tree, allowing you to save on tabletop space. All this sits atop a reinforced steel frame, which is going to give you a sturdy experience. 
18. Monarch Specialties Corner Computer Desk
This is an incredibly spacious L-shaped desk design that brings a simple yet elegant aesthetic to whatever room it's placed in. Three drawers mean ample storage for all your essentials, which just contributes to the amount of surface area you have at your disposal with this office corner desk. 
The said drawers can be placed on either side of the metallic frame, and the dark top finish used on both the top and the frame complement each other very well. 
19. Sauder Harbor View Corner Desk
If classic and modern visuals were to ever be integrated well, this Sauder office corner desk would be the result. The stained frame design and the outstanding wooden top provide an aesthetic you probably didn't even know you wanted until you saw it. A grommet at the meeting point makes for respectable cable management, and storage exists in the farm of three drawers and an open storage space sealed by a door. 
You also get a keyboard tray, which means more tabletop space for you to take advantage of. Note that it's not very small, so some spaces are not going to be able to take advantage of it. 
20. Bush Furniture Cabot Desk
An espresso finish is not the most common thing in the world, but it brings out this office corner desk that manages to snag the second runner-up spot. It features a greater array of storage options than usual, and there's even a USB power station to ensure your devices are charged and running. 
With an open slider, a large cabinet, a small cabinet, and a desk drawer, you should have all you need with this beautiful design. 
Conclusion
Choosing a corner desk can be a tough decision. However, these 20 solid recommendations trivialize the process.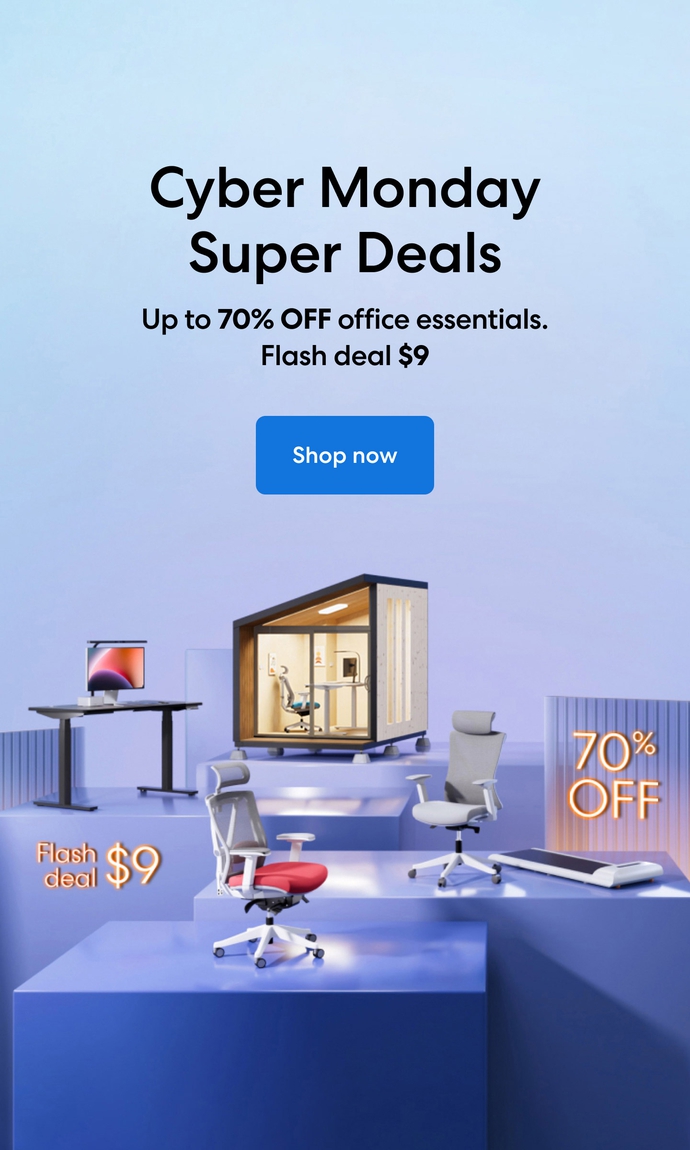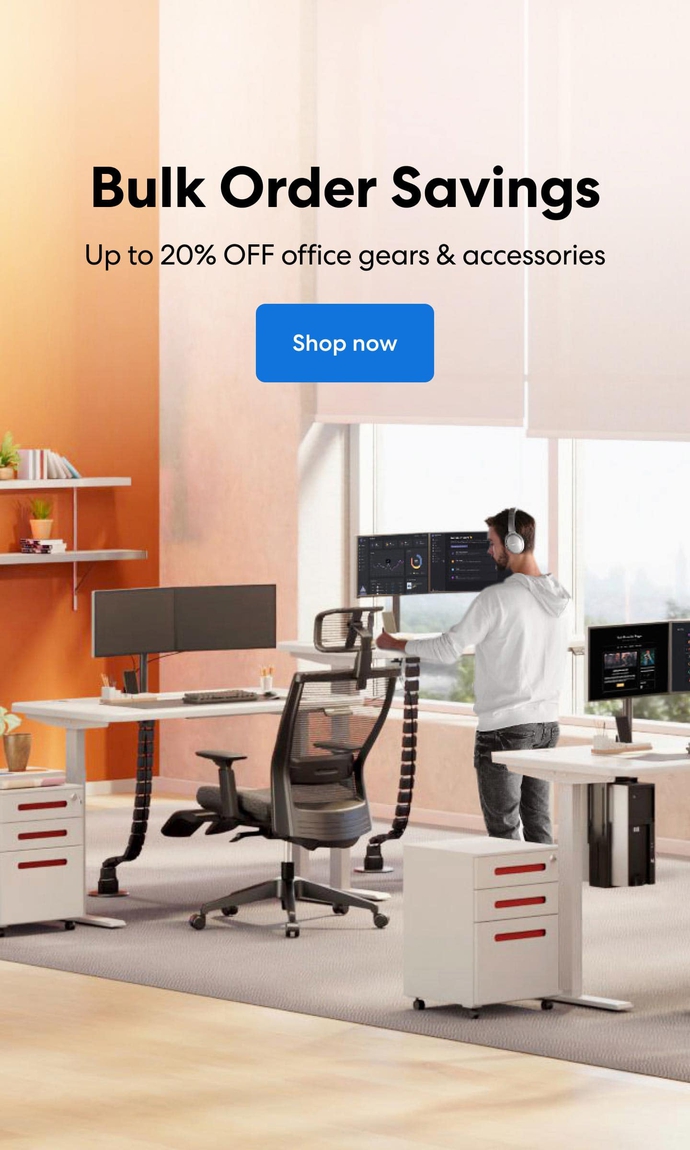 Subcribe newsletter and get $100 OFF.
Receive product updates, special offers, ergo tips, and inspiration form our team.