Smart Products
Should I Get a Standing Desk? Here Are 5 Reasons Why
10,549 Views
Should I get an office desk? If you're a remote worker, you might be asking yourself this question. Working several hours can be a tiring experience, especially without many breaks in between. There must be a compromise somewhere. What if you could alternate between sitting and standing while you work? There is a way you can achieve this: a standing desk. Due to the high level of customization, you have plenty of options to make yourself comfortable. All you need to do is consider the benefits of a standing desk, especially one of good quality.
Why Is a Standing Desk Worth It?
A high-quality standing office desk provides several key benefits for remote workers. If built properly, a standing desk frame allows for durability. When you work on your projects, higher durability makes it less likely for your table to wobble. There are also high-grade materials which make desks last a long time.
With that in mind, all you need is a few convincing arguments. Before you make a purchase decision, weigh your options carefully. Below are five main reasons why you should get a standing office table:
1. The Risk of Sitting
Scientific research indicates sitting too long is detrimental to your health. Remote workers are expected to work long hours on their projects. Inevitably, they are at higher risk of sitting for several minutes straight. Without a break in between, remote workers often suffer from health ailments such as back pain. However, a standing office table gives you the option to choose between sitting and standing. With break intervals, you can reduce the risk of sitting too long. Should I buy a standing desk, you ask yourself - here is a good reason why.
2. Reduce Back Pain
On the topic of sitting too long, did you know it often causes lower back pain? The reason is due to the strain put on your lower discs. Back pain is particularly common among those who sit for prolonged hours. Remote workers inevitably fall victim to this. However, a standing desk can reduce back pain by making you sit less.
Another factor in back pain is bad posture as a result of constant readjustments. A standing desk can be set to a comfortable level for your convenience. As a result, you are more likely to maintain a good position for your body.
3. Prevent Obesity, Diabetes, & Heart Disease
One of the more effective answers to the question "should I buy a standing desk" is the health improvement. A standing office table serves an important function - it reduces your sitting. By doing so, it significantly improves oxygen flow to your legs. It also increases oxygen throughout your body, which makes it easier to breathe.
Sitting for long stretches of time is a heavy contributor to obesity, diabetes, and heart disease, especially remote workers. A standing office table solves this problem by letting you alternate between sitting and standing. You can maintain better health as a result.
4. Encourage for More Exercises
Since a standing office desk offers plenty of space, you can perform several exercises. Not only can you work out while you work, but also stay healthy. For example, you can do a few reps of squats or lunges. Schedule workout routines so you can break the monotony of daily assignments. It also gives you something to look forward to, since you can use these exercise breaks to eat healthy and delicious superfoods.
5. Improve Productivity
Last but not least, you can maintain a stronger level of commitment to your work. Since a standing desk reduces body pain and lets you stay active, your work productivity should increase at an exponential rate. Remember - a standing desk's main goal is to make sure you finish your assignments on time, all while remaining healthy. If you factor in all these reasons, you can improve your life quality as a remote worker.
Things to Consider When Buying a Standing Desk
Before you buy a standing desk, there are a few other factors you need to consider. A standing office table should offer basic ergonomic comforts, such as customizability and convenience. However, the best products allow you to mix and match your own style. A good standing desk should also be compatible with your preferred height. Everybody is built differently, after all.
The matter of money is also an important thing to consider when buying a standing desk. Most ergonomic desks tend to be expensive, while the cheaper ones lack quality features. However, there is a brand you can trust for affordable monthly payments. Autonomous has everything you need for a standing desk.
Introducing the SmartDesk 2
Autonomous offers the SmartDesk 2, an industry leader among ergonomic desks. The product prioritizes your comfort and convenience through high-level customization.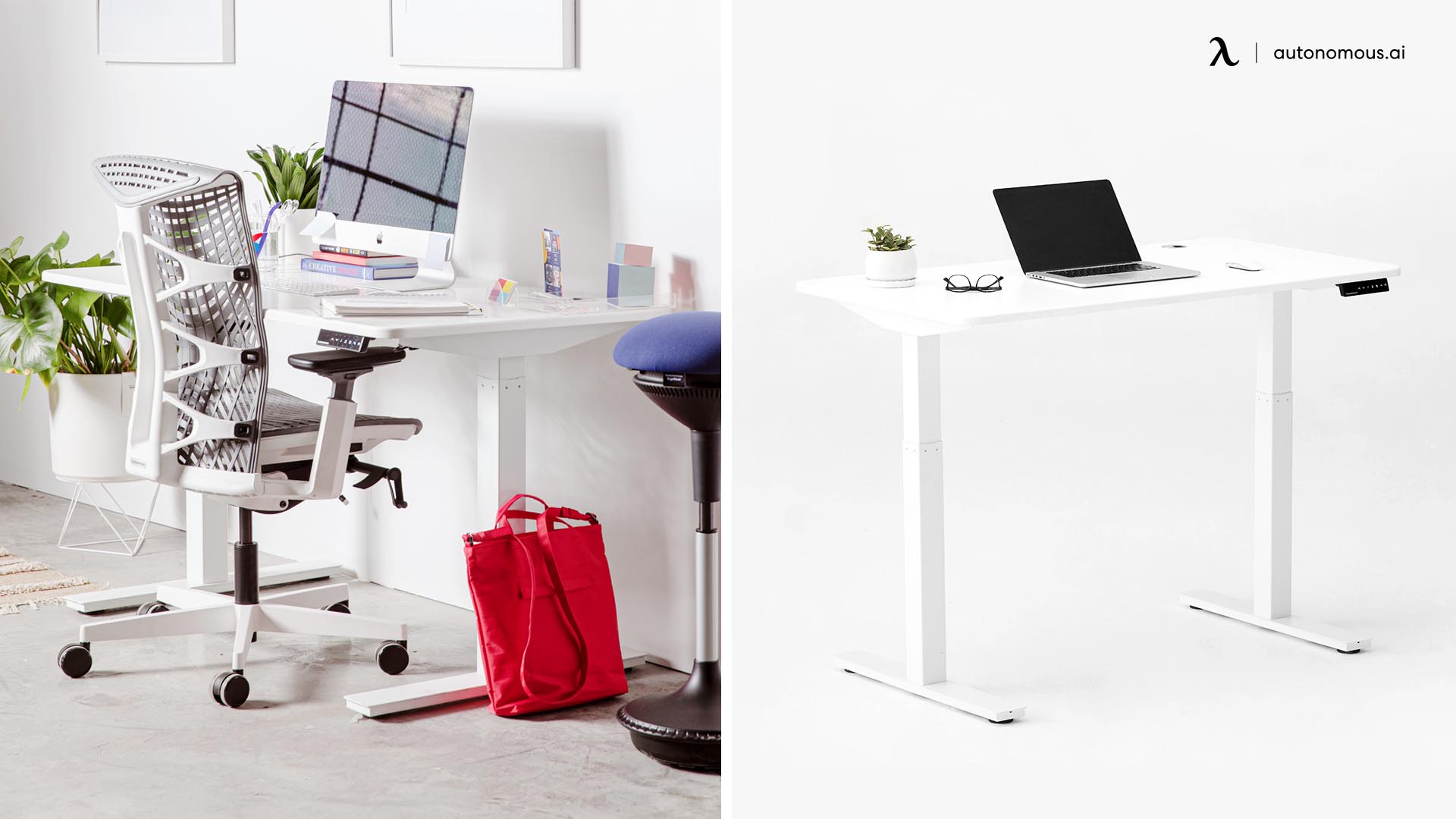 From memory presets to programmable height settings, you can adjust the desk to your liking. For your viewing pleasure, here are a few pros and cons of the SmartDesk 2:
SmartDesk 2
Four different programmable height settings.
Adjustable, customizable, and easy to control.
Strong and silent dual-motor system.
The heavy-duty steel frame offers exceptional durability.
Smooth and seamless transitions when in operation.
30-day trial, a five-year warranty, and free shipping.
Affordable monthly payments.
Slightly expensive, though mitigated with monthly payments.
Conclusion
Ask yourself - should I get a standing desk? The answer is a resounding yes! There are several reasons you should consider getting one for yourself. For starters, it can improve your health by reducing back pain. Without such a distraction, you can maintain your concentration while you work. Standing desks also allows you to alternate between standing and sitting.
The SmartDesk 2, in particular, is a great choice for a standing office table. It's highly customizable, the high-quality materials make it strong and durable, and it offers affordable monthly payments. You can't go wrong with a SmartDesk 2 from Autonomous.
Subcribe newsletter and get $100 OFF.
Receive product updates, special offers, ergo tips, and inspiration form our team.
WRITTEN BYAutonomous
We build office products to help you work smarter.