Smart Products
Six of the Best Standing Desks - Reviews (Updated 2023)

Autonomous
|
Jan 5, 2021
25,577 Views
It's a well-established fact that prolonged sitting can have adverse effects on our health and productivity, whereas devoting time to standing during our working day has many positive outcomes. We've gone into detail about this before and if you're reading this article, you're probably already aware of the many benefits that standing or stand up desks provide to their users. 
In any case, there are thousands of options out there when it comes to stand-up desks and in order to reap their full ergonomic benefits, it's important to make the right choice and get the best desk for you.
1. Devaise Standing Desk - 55-inch
Adjustable standing desks come in many different forms, and the Devaise Standing Desk is of the non-motorized variety. Using a hand crank, you manually adjust the height of your desk to suit your preferred seated and standing positions - and no electricity bills! We chose the 55-inch model as we appreciate the space it provides, which is certainly important if you have a dual-monitor setup. 
It's worth stating that this is a budget option at just under $260, so it doesn't have all the features of more premium models - having to hand crank it up and down might be a chore for some, it's manual and therefore doesn't have height presets, plus it can only take up to 100lbs of weight. There are a few things into consideration but for the price, it certainly offers value. 
2. VIVO Black 36" Desk Riser
For those who aren't willing to take the plunge and get a dedicated standing desk just yet, then this could be solid option for you. VIVO's Desk Riser is an adjustable sit-to-stand workstation that you place on top of your existing desk. You use a gas-lift mechanism for movement, similar to what you'll find on an office chair, so it requires a little effort to raise but lowering is very easy. 
The Desk Riser has a range of 6.4-16.5", so will comfortably suit people in the average height range. It's nicely compartmentalized with a keyboard and mouse tray, has enough space for a couple of monitors and even has a device slot for a tablet or phone. Coming in at just under $200, you get a decent bit of kit. At 52lbs, it's not especially portable, but it's a sturdy desk and can take 33lbs of equipment. 
3. Uplift V2 Standing Desk
The Uplift V2's best feature is arguably it's pre-purchase customization potential, particularly when it comes to the worktop itself. Their cheapest iteration still comes in at $539, though - and for that you'll get a one-inch thick carbonized bamboo top that measures in at just 42" x 30". However, if you're looking to splurge, you can go all the way up to their 80" x 30" option made from solid walnut, which comes in at relatively heft $1,537.00. 
The V2 has many of the features you'd expect from this pricepoint, with a programmable keypad, a dual-motor system and a lifting capacity of over 300lbs.  
4. Herman Miller Renew
If money is no object, then you definitely want to take a look at what Herman Miller has to offer. Herman Miller are a byword for top quality in the ergonomic office furniture world and their Renew standing desk is no exception. We should start off by saying this is a beautiful example of minimalist design and the build quality is second to none. Using an intuitive lever, you can raise or lower the Renew at a height range of 27-46" and the motorized frame that powers this movement has a warranty of 2 years. 
There aren't a great deal of options in terms of size, you can either plump for the 24 x 48" top or the slightly larger 30 x 60" but there are four finishes to choose from and you can have your choice of three leg finishes too. All of this comes with a price tag to match, so you'll be looking at a minimum of $1575 - we did warn you!
5. Autonomous SmartDesk Core
Frankly speaking, we're proud of what we've been able to produce with the SmartDesk Core and seeing as prices start at $379 at the time of writing, we think that it offers better value for money than just about any option on this list. Our base model, the SmartDesk Core, features an elegantly minimalist design and comes with either a 53 x 29" Classic or 70.5 x 30" XL top. It is available in a range of finishes, and two that we really like are the sleek all-black top and the earthy, natural bamboo option. 
Its sturdy dual-motor frame will lift at a speed of 2.3" per second and can comfortably move up to 300lbs, producing almost no noise at all at 45db. The SmartDesk Core has a programmable keypad, so you can easily choose and set 4 different heights to switch between as you go about your working day. 
For those living in the US, you don't need to take our word for it either - take advantage of the 30-day risk free trial and if it doesn't float your boat, you can send it back, no questions asked. 
6. SmartDesk 4 - Brand new Standing Desk
As a best choice for people who want to boost their productivity and upgrade office for ergonomic and safety, SmartDesk 4 is a revolutionary new electric standing desk from Autonomous. With the built in app, the SmartDesk 4 will help you maintain a consistent, healthy work routine. Autonomous' newest standing desk enables productivity boost by establishing practical improvements from the previous version.
SmartDesk 4 with many new features make it one of the most popular standing desk:
With stronger and quieter frame, SmartDesk 4 can lift up to 350 lbs and produce under 40db which not many standing desks in the market can archieve.
Wireless control for a seamless experience with just a touch on your phone.
Self-scheduled sit-stand sessions enable moving habit while working.
Free exercise with standing desk videos to boost energy between your breaks.
And more upcoming features will be updated. Gear up!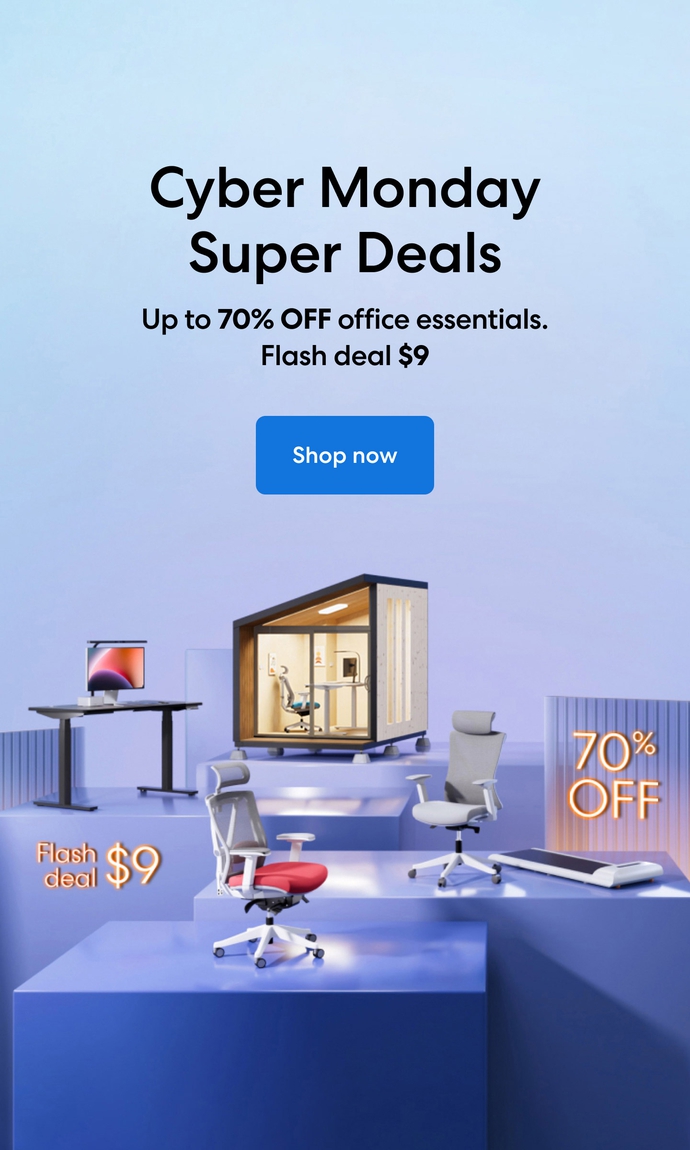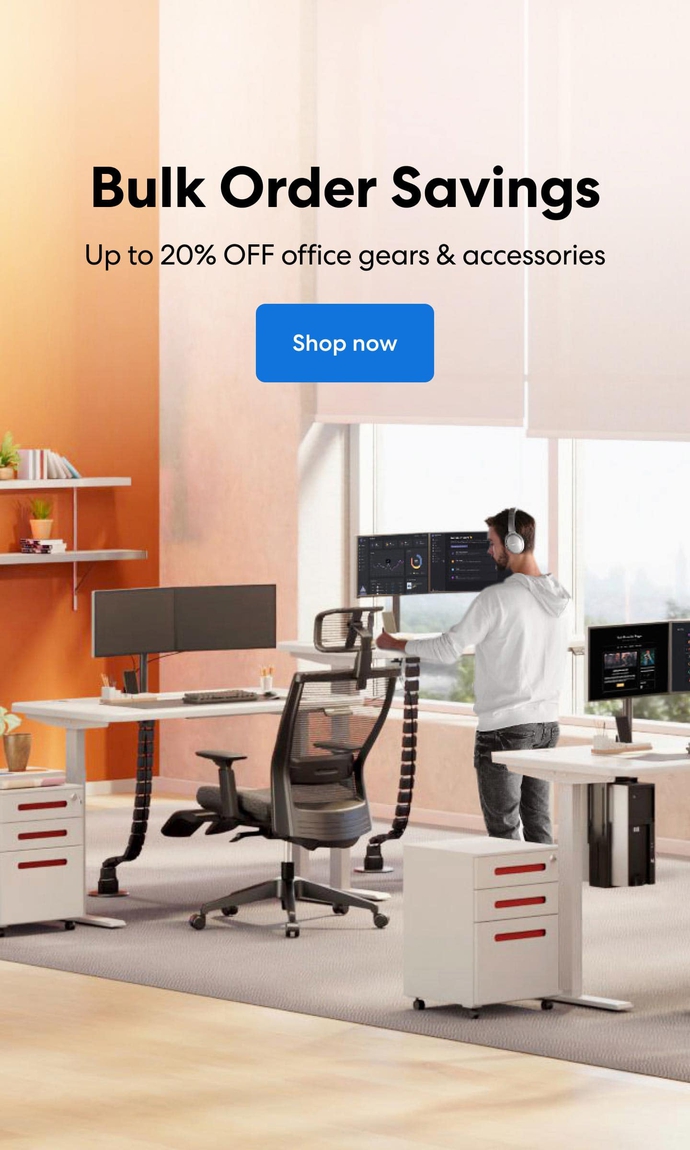 Subcribe newsletter and get $100 OFF.
Receive product updates, special offers, ergo tips, and inspiration form our team.