The office setting has witnessed dramatic changes over the years. Notable technological advancements have taken over, and one of the most affected environments is the workplace setup.
With office tools and equipment becoming smarter by the day, the workplace has seen significant transformations and developed into what is now known as a smart office.
Companies are being forced to adapt to this current trend. A majority have gained a better understanding of the concept and are incorporating automated systems to lower operation costs, increase efficiency in the workplace, and develop a suitable working environment for workers.
What exactly is a smart office?
A smart office is a workplace that leverages technology to allow people to work smarter, faster, and better.
Mobile apps, sensors, and beacons enable employees to carry out menial tasks faster and better, thus giving them enough time to focus on innovating and growing the business.
Moreover, smart office solutions aid people to communicate better. For instance, sensors can help determine whether a given employee is within the office building, their location at a specific moment, and more. For this reason, smart offices are popularly referred to as the offices of the future.
Benefits of smart offices
Adopting smart office solutions could be the secret to achieving sustainable growth for your business. Outlined below are some of the benefits to expect from a smart office:
Organizations that employ smart office solutions are in a better position to perform exemplarily compared to those who still apply the traditional approach. This new concept encourages both creativity and innovation.
Consequently, it affects how the business performs its operations. A labor-intensive work environment provides a huge volume of data, which is a great source of insight on where the company should be headed.
A smart office offers several options for monitoring, processing, and managing data onsite. This information helps to develop strategic plans and patterns that boost connectivity and interactions in the office. It offers the company a unifying platform for employees, which in turn empowers them with the proper tools and settings to be innovative and achieve the organization's goals and objectives.
Better office and employee schedule management
Smart office solutions also aid in simplifying the process of tracking and managing personnel and office schedule efficiently.
Automated systems, smart devices, and reports that aid in performing business operations simplify the process of accounting for workers' schedule.
Furthermore, as a result of increased connectivity, document sharing and collaboration is also enhanced.
Unified and improved communication
The traditional workspace doesn't provide a unified and stable communication system for its personnel. Today, messaging apps and other smart office trends allow teams and individuals to communicate easily and efficiently.
A smart office incorporates numerous integrated platforms to allow workers to communicate effortlessly with each other anywhere and at any time. This is vital for decision making since feedback is instant, thus making business operations to flow smoothly.
Development of a better working environment
For any organization to perform at an optimum level, it must focus on improving the well-being of its employees. A great working environment encourages employees to enjoy reporting to work and carrying out their tasks.
It's common knowledge that employee absenteeism can have a crippling effect on an organization's performance.
The good news, however, is that employee absenteeism can be lowered considerably when the work environment is designed to meet workers' needs.
Smart offices now integrate systems that regulate the overall office environment to reduce or do away with such challenges. Regulating things like lighting, heating, ventilation, air, and water within the building allows employees to perform their tasks comfortably.
A survey conducted by Tech Pro Research revealed that most employees admit that smart office solutions significantly simplified their work life.
Better employee attraction and retention
Smart office solutions also help the company to create a great working environment that aids to attract talented workers. In addition, thanks to smart office solutions, the company can retain these talented employees in the long run.
That's because smart office solutions help to improve communication and interaction among employees. By offering a great smart working space, you can prevent the cost of losing a talented worker.
Smart office solutions also provide you with innovative technology solutions that aid in breaking down complex tasks into simple operations. For this reason, employees can execute complex tasks within a short time, allowing them more time to carry out more meaningful work.
Time management is crucial to any business because every customer wants fast service delivery. If you can't guarantee this, your competitors will. And what better way to do so than to leverage smart office solutions.
In today's world, it's not enough to create a good brand. You need to create a smart brand. Incorporating smart tools in your daily business operations improves the way your brand communicates with its target audience.
A smart office system features a wide range of options that you can leverage to create a smart brand.
Leverage of cloud computing
The Internet of Things has allowed organizations to perform most of their tasks via the internet. Consequently, organizations can manage, process, store, and access information on various platforms via the internet irrespective of their location.
Cloud computing enables employees to access information from anywhere, even when they are dealing with a faulty hard drive or when they have misplaced their laptop.
It's vital for the manager to weigh their organization's performance against corporate objectives and costs incurred. A smart office setting employs automated systems and sensors to help capture real-time data. This information is used to measure, analyze, and improve the behavior of employees; which results in a performance built for cost-effectiveness.
A business can also use control software equipped with a visual interface to control all systems. Things like early fault detection and space optimization help to avoid system downtime.
Insightful usage analytics
A smart office setting enables a business to monitor building usage, space, and booking. The business obtains space usage data from system reports and alerts. Relevant parties can receive schedules and alerts of the usage analytics via smartphones or email to aid in decision-making.
Organizations can also improve their security by monitoring the people within the building. Smart office solutions help the organization to distinguish between employees and visitors easily.
A smart office system also helps the company to monitor the time workers spend doing actual work, irrespective of whether they are working remotely or are in the office.
Examples of smart office solutions
Smart Office Furniture
One notable example is the AI-powered SmartDesk 3. It's a great height-adjustable desk that's designed to learn about you and work for you according to your preferences. For instance, it can tell when you've been sitting too long and signals you to stand. Interestingly enough, it also knows when you are hungry and orders your favorite meal for you. Isn't that just amazing?
As if that's not enough, the SmartDesk 3 also helps you stay synced with your team and sharpens your mind so you can come up with great ideas.
Since the desk encourages you to move more, you gain better focus throughout the day. Also, you end up becoming more healthy and fit.
Furthermore, at the end of the day when you're ready to head home, the SmartDesk 3 helps you to order a taxi so you can get there fast.
The standing desk is usually used together with an ergonomic chair such as the ErgoChair 2 and AvoChair, or a stand-up desk stool such as the ErgoStool.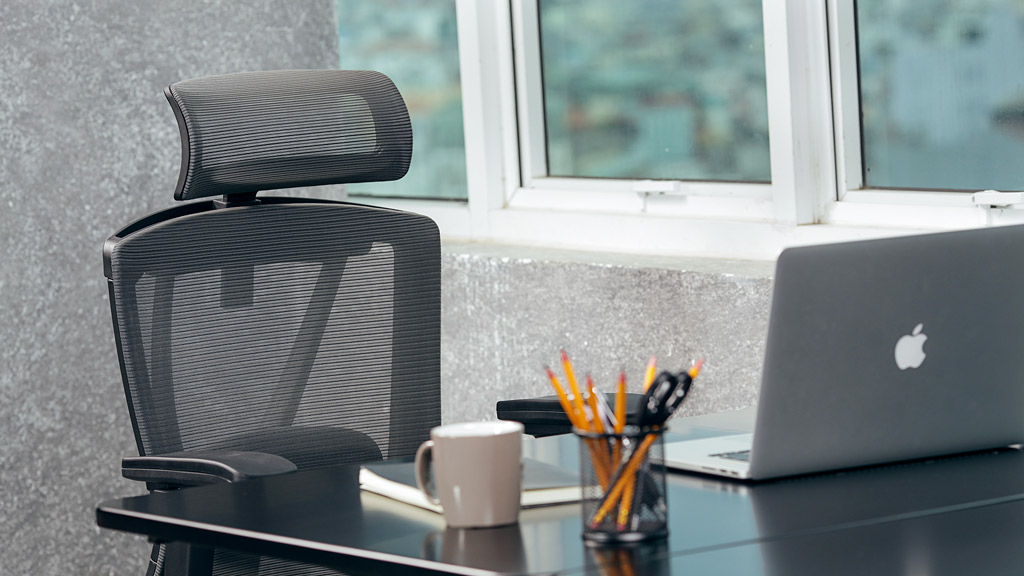 Biometric Scanning
Biometric scanning refers to any technology that uses things such as retinal eye scanning, facial recognition, or fingerprint scanning for identification. Biometric scanning is considered a smart office solution because you don't have to carry around swiping cards and keys, or enter any passwords. All you have to do is present yourself at the door, have your biometric measurements taken, and gain access. Simple and efficient.
Biometric scanning also helps with time punching because it helps to do away with buddy-punching issues.
Even a simple technology like fingerprint-recognition door locks can help save both money and time. Your company doesn't have to worry anymore about replacing keys or locks. Some of the companies offering biometric solutions include Eyelock, FingerTec, Synel Americas, and Face Value Technologies.
Telepresence robots
Have you ever wished to be in two places at the same time? Well, thanks to telepresence robots, that wish is now a reality. Telepresence robots allow you to project a physical presence regardless of your location. As such, you can interact and talk to people and move around as if you were there in person. Companies with a lot of bicoastal employees or remote workers can leverage this technology for walk-throughs, meetings, and conferences to minimize travel costs.
Even though this sounds like something from a science fiction movie, the technology is already being applied in corporate America and educational settings.
Companies such as VGo, Double Robotics, and Padbot are leading the way toward a workplace full of robots. A significant number of their designs have a motorized stand equipped with a tablet, microphone, speaker, and wide-angle camera.
Wireless Mobile-Charging Stations
Wireless charging is another smart solution that helps to update your workspace. All you need to do is set up several wireless mobile-charging stations in the office. This gives your clients the convenience of being able to charge their mobile devices on the premises quickly. The advantage of using wireless charging pads is that they don't hinder you from using your phone. You can still check your notifications and pick up calls.
With more organizations enforcing bring your own device (BYOD) policies, it makes a lot of sense to consider adopting this smart office technology.
Interactive collaboration and presentation tools
Projectors are still great, and they do their job well, but soon they will be replaced with smart boards and interactive walls. If your company relies on pitching clients face to face, you should consider investing in smart office tech such as an interactive touch wall. Video walls are easy to install and help organizations to play specific presentations, run promotional videos, and showcase portfolios.
An interactive digital whiteboard is an excellent tool for companies in a creative industry. They are perfectly suited for brainstorming and collaboration.
Some of the most popular business-focused and well-priced interactive digital boards include Cisco's Spark Board and Google's Jamboard. They allow multiple users to host video conferences, give presentations, make notes, and view the display.
Energy usage
Using smart office solutions can also help your business to achieve energy efficiency. Automated window shades or smart lighting solutions help you to customize light intensity and color and eliminate waste. For example, as soon as a sensor detects that there is no one in the office, it automatically turns off the light.
Climate Control
Smart thermostats, including Nest and other Honeywell products, help to create an optimal room temperature that promotes comfort and productivity in the workplace. This technology also helps to save energy. Installing energy management solutions also allow you to control the consumption and efficiency of power in the workplace.
In Conclusion
As you can see, smart office solutions offer a variety of benefits to almost any workplace. However, there still exists some skepticism among some business owners. Some of them have tried a few products and have mixed feelings regarding them, while most are still hesitant to invest in smart office solutions.
This is despite the fact that adopting a smart office setting goes beyond being able to control office lighting and temperature via smartphone. Smart office solutions result in more efficient, safer business operations. In turn, the business gets to enjoy better ROI.
The final decision on whether to adopt these smart office solutions or not lies with you. However, you should note that even the tiniest increase in efficiency could offer you the most significant advantage over your competition. Also, a comfortable office environment enables you to attract and retain the most talented employees.
Sort by

Top comments

This week

This month
Smart Office Solutions to Make Your Office Smarter and More Productive