Smart Products
SmartDesk Review: Autonomous Desk Features, Price & Summary

Autonomous
|
Nov 3, 2020
10,899 Views
As the world stands, more and more people are being forced to work from home. The health and economic uncertainty of the future has led to a lot of emergency measures taking place and the dissolution of the traditional office working environment. 
Countless people have had to make a sudden and difficult jump to working out of their home, but as they likely found out, working from home is not as easy as working from an office. 
You've got countless work from home distractions to keep you from your business, but more importantly, you don't have the right equipment. 
Most corporate offices supply their employees with premium working setups. You get a good ergonomic chair, an ergonomic desk, and a computer setup that runs smoothly. 
Putting that together at home isn't a small feat. Ironically, it's not the computer aspect that trips people up. It's the desk.
The desk is the focal point of your office. Everything else is built around it, and the best desk on the market today is the Autonomous SmartDesk.
The Autonomous SmartDesk is worth far more than you're paying for it. It comes with features not seen in desks three times its price, which should be all you need to know.
If you are interested in learning what makes this desk such a force to be reckoned with, then read on. We've got a fully comprehensive SmartDesk Core review for you. 
Introduction to the SmartDesk
There are two different models of the Autonomous SmartDesk – the SmartDesk Core (Home Office) and SmartDesk Pro (Premium) versions. There are a few differences between them that we're going to talk about, but the important parts of the smartdesk review are applicable to both of them.
If you're entirely unfamiliar with the notion of a "smart desk", then let me explain. A smart desk is a type of desk that takes the ergonomic design that's seen widely on the market and adds a technological aspect to enhance it. 
The SmartDesk does this better than any other model, giving you a phenomenal ergonomic desk that is seamless and effortless to use. 
Why Use an Ergonomic Desk?
Yet, why use an ergonomic desk in the first place? Well, if you've been working in an office all your life, then you're probably used to stinging pains in your lower back.
Have you ever gone to stand up after a long shift and not be able to straighten your back out? If yes, then a SmartDesk is what you need. If no, then consider yourself lucky and take measures to prevent that from happening.
What causes these kinds of issues is the bend and pressure being put on your spine when you sit. You're arched over a keyboard with your neck and back out of position. This is fine for a few hours a week, but if you do it full time, then it's going to have some nasty consequences.
Ergonomic desks allow you to work while standing up. You might dread the idea of that but trust us when we say the short-term sacrifice is well worth the long-term rewards. 
Using poor office furniture can take years off your life, and sure, standing up is going to be difficult and awkward at first, but you're going to get used to it. 
Autonomous wasn't happy with telling people to "get used to it" when the SmartDesk was developed, though, and implemented measures to make the transition easier.
Review of SmartDesk
1. Specs and Price
The difference in specs and price are the only things you need to concern yourself with when looking at the SmartDesk Core and the SmartDesk Pro. 
Let's start at the beginning, price. The SmartDesk Core sells for $499, although you can often get it for up to $100 off during the regular sales that Autonomous holds. 
The Pro desk goes for $699. Again, you can save upwards of $150  on it if you time your purchase right.
What does that price jump get you? For starters, it gets you a longer warranty. 
The SmartDesk Core comes with a five-year warranty. That's already phenomenal on its own, especially for a desk that might not cost you more than $500. 
The SmartDesk Pro comes with a whopping seven-year warranty, though. If the manufacturer has the confidence to say that its desk isn't going to break in seven years, and puts its money where its mouth is, then you know you're dealing with quality hardware. 
The SmartDesk line all have adjustable heights. You can set it at any number you want within a specific range. This range is also something that gets upgraded with the business model.
If you opt for the SmartDesk Core, you can adjust the height of the desk between 29.5"-48". This is more than enough for most people's needs, but there are situations and body types that call for a little more maneuverability.
The Pro gives you this extra space with a height range of between 26"-52", tt is definitely a perfect standing desk for tall people.
These are the main two things that differentiate the SmartDesk models. Everything we talk about from here on out is going to be applicable to both. 
2. Packaging of SmartDesk
With hardware of this quality, you want to be sure that it's safe when shipping across the world.
Too often, companies with stellar products neglect their packaging process, and that tends to skin the metaphorical ship. 
It's rare that packaging is worth mentioning in a writeup, but it needs to be put on record for our SmartDesk review. Autonomous has realized how important packaging is and put the kind of effort in that really should be industry-standard but isn't. 
The desk is going to come in two parts: the frame and the desktop.
The packaging is very compact for the size of the desk, impressively so. There has been a clear effort put into how the boxes are packed. 
Every single part of the desk is protected by cut foam. This is a massive benefit on account of the desk being unassembled when it ships.
Additional foam is packed around the top of the desk and shrink-wrapped, and the outer edges of the box are all reinforced with additional hard cardboard. 
3. SmartDesk Assembly
It wouldn't be a SmartDesk review if we didn't talk about how to put the thingtogether with smartdesk assembly guide. 
If you've ever put together a piece of flatpack furniture before, then the SmartDesk is going to pose no problems for you.
In fact, it's going to be even easier. All of the hardware required in the build is separated into bags, and each individual bag is labeled. This saves what could end up being hours looking around, trying to make sure you've got the right piece.
The upper supports, adjustable frame, and the feet of the desk all need to be connected to the legs first. Everything screws in easily, with only one or two specific areas causing a bit of bother due to positioning. 
The frame is fine; attaching the tabletop to it, though, is an entirely different ballgame. 
The desktop comes pre-drilled, which is fine. That makes it easy to line up the holes. However, the desk uses round rubber bumpers that sit in between the frame and the tabletop to reduce vibrations. 
Once these bumpers are in place, you can no longer see through the holes on the desktop into the frame. This made attaching the top take way longer than it should have. 
Aside from that, though, there are no real issues with the assembly. 
Just keep in mind that you need to make sure that all of the hardware is tightly secured. If anything's loose, it's going to have an effect on the movement of the desk. 
4. Key Features Review
Now we're into the meat of the SmartDesk – the features. 
The SmartDesk took over the market through optimization and creation. It took what other standing desks were already doing, made it better, and then threw its own features in on top.
Modern adjustable frame
Obviously, the first thing to talk about is the adjustable frame. The height of the SmartDesk, both Core and Pro, is adjusted through a motor that is attached to the legs. 
This motor, at your command, raises the desk up and down to whatever height you specify. You can even set predetermined heights. For example, if your kid wanted to use the desk for homework, you can set up two heights so that you don't have to manually change it back and forward each time.
This feature is the most important thing to take away from our SmartDesk review. It defines the desk as a SmartDesk.
It might only seem like a quality of life improvement at first, but it's actually much more impactful than that in practice. 
The key to keeping your back healthy while working a desk job is to avoid repetition. Sitting down for eight hours is bad, but standing for eight isn't great, either. Instead, researchers recommend you change up your position every hour or two to keep your back and your brain active. 
The SmartDesk takes the hassle out of that process, which becomes extraordinarily helpful in the long run. 
Quiet Motor & High Lifting Capacity, Speed
The motor is quiet and can lift up to 300 pounds at 2.3 inches per second, which is surprising all things considered.
That's the main takeaway from this Autonomous standing desk review, but there are a few other features. 
High quality of the finish and material
One of the big ones that people tend to appreciate is the quality of the finish on the desk. Every single color offered is applied using automobile-industry standard techniques. This is overkill, but it's good overkill. 
The difference in appearance between a SmartDesk and a regular standing desk is incomparable, thanks in part to this feature. 
The desks are both very minimalist in design. That's not to say basic, but there's an air of sleek elegance about them. If you're the kind that likes to decorate with black and white, then you're going to love how this desk looks in your office.
Certified by BIFMA & EMC
Lastly, it's worth noting that the SmartDesk is BIFMA and EMC certified. There are really no corners being cut here, which, combined with the price of the SmartDesk, makes it one of, if not the best standing desk on the market today.
Pros and Cons of the SmartDesk
This wouldn't be a fair SmartDesk review if we didn't talk about some of the cons. There aren't many, but it still needs to be said. 
Pros of the SmartDesk
Great modern design that looks well in most office settings.
Wide range of frames and tabletop colors to choose from.
Automobile-standard painting processes are used to finish each desk.
The SmartDesk Core is BIFMA and EMC certified.
It's surprisingly quiet, even when lifting a heavy load.
There's little to no vibrations, meaning nothing's going to fall off the table.
Cons of the SmartDesk
The motor isn't a particularly high-quality model.
The assembly can get annoying.
There can be stability issues at the more extreme heights.
What's the difference between Core Edition And Pro Edition?
Making a lifestyle change is great until you're caught between two perfectly good options. You might be facing a similar problem while choosing to get either the Autonomous SmartDesk Core Edition or Pro Edition.
Both options are great in their own ways, but what the decision comes down to is what would suit you best. So, to help you make the decision, we have this detailed Autonomous SmartDesk review.
1. Desktop Size
A modern office desk can sometimes be too small. The desktop size of your standing desk needs to be able to accommodate all of your items without being too cramped and cluttered.
So, when you're choosing between the home and Business Edition, it is important to take into account the size of the desktop you'll require.
The Pro Edition comes with the XL top that measures 30 inches by 70 inches. This size has been curated to be a comfortable and spacious area to keep all your belongings. Whether you have a couple of monitors or just a lot of papers, books, and files, you'll find it easy to store on this desktop.
The Core Edition comes in two different sizes. You can get an XL desktop, which is an inch larger in this version, or you can get the classic version. The classic home version measures 30 inches by 53 inches.
While the differences in sizes don't seem drastic, it can make a world of difference if you're in a smaller environment or have a lot of items you need on hand.
2. Desktop and Frame Color
When it comes to the desktop and frame color, the options remain the same for the Core and Pro Edition.
The color of your standing desk depends on the material you're planning to purchase. You can choose between MDF and Bamboo for your desk.
With the MDF, there are four different color options. You can choose between
Black
White
Walnut
White oak
The second material, Bamboo, has a natural wood color that is the only option. It is also worth noting that the Bamboo desktop only comes in the classic size and not the XL.
Choosing the right color for your standing desk depends on the kind of room you are placing it in. Classic colors such as white and black fit into any space and blend in easily with other furniture. Colors like walnut and white oak tend to stand out a little more and can be used as statement pieces.
3. Frame Height
The whole point of the standing desk is to give your back a well-deserved break. A short standing desk defeats the purpose completely. For this reason, when choosing the best standing desk for you, take into account the frame height.
With the Pro Edition of the Autonomous SmartDesk you get a larger range for height. The frame is adjustable between 24 and 51 inches. So, the desk can go as low as 2ft and as high as 4.25ft.
The Core Edition is only slightly smaller, with the range being between 2.5ft at its lowest and 4ft at its tallest. There is only an inch of difference between the Core Edition with and without the top. Without the top, the Core Edition goes as low as 2.4ft.
Despite the relatively small difference in height, you can be assured that it can make a whole lot of difference. If you're especially taller shorter, having a slight edge can really help with your good posture.
4. Weight Capacity
Most technology is extremely lightweight in this day and age. However, weight does build-up, and having a desk that can support this weight is important.
When it comes to standing desks, it becomes doubly important to keep in mind the lifting capacity. A standing desk with a load that is too heavy will start to wobble and have other problems.
The problem can be easily fixed by buying the desk that best supports the weight of the items on your desktop.
A Pro Edition & Core Office standing desk can hold up to 300 lbs. This is a significant amount of weight, especially if you're using multiple monitors or have a lot of wires. A Business Edition won't be strained under the weight of multiple workspace gadgets and items.
5. Transit Speed
A standing desk cannot take hours to move from one position to another. Neither the Core Edition nor the Pro Edition of the Autonomous SmartDesk takes more than 20 seconds to go from their lowest level to the highest. However, there is a small difference in the time.
The Core Office & Pro Edition come equipped with a dual-motor to propel the desk to the required or idesl standing desk height. The dual-motor takes only 14 seconds to get the standing desk from the lowest setting to the highest for the Pro Edition and 11 seconds for the Core Office.
6. Control Pad (Function)
The control pads on both editions are of the same quality. You'll find that the control pad is simple and easy to use and doesn't give in to wear and tear easily. It is quick to respond and helps you get your standing desk to the perfect height each time.
If you're shifting between two different heights through the day, the control pad helps you set predetermined heights. By setting these beforehand, you won't have to manually change the height of the desk each time you're shifting positions.
7. Price
Lastly, the price of the two desks could help you determine which version of the Autonomous SmartDesk you're going to purchase. There is only a hundred-dollar difference between the two versions, with the Core Edition retailing at $499 and the Pro version at $699.
Both versions are ultimately cheaper than any other standing desk you purchase at another store, which makes both options a great deal!
Endnotes
The minute differences between the Autonomous SmartDesk Core Edition and Pro Edition can make a big difference for some. Since your standing desk is going to be a space you spend a lot of time in, putting in a little extra thought doesn't hurt.
While the desk shape doesn't change, buying the right color or height can really set the mood in your home office or workplace that'll get you geared up and motivated!
Conclusion
That covers everything we needed to discuss with the SmartDesk Core and the SmartDesk Pro. 
Getting a standing desk of any kind is going to be a massive leap in the right direction when it comes to your work and health, so don't be pressured to buy a SmartDesk right away. If you need to make a slower transition, then so be it. 
On that note, though, you should know that all of the SmartDesk models come with a 30-day free trial. You can try out the desk for a month, and if you don't like it, send it back and get your money returned. 
This is another line on what is already a long list of ways the Autonomous is confident in its product.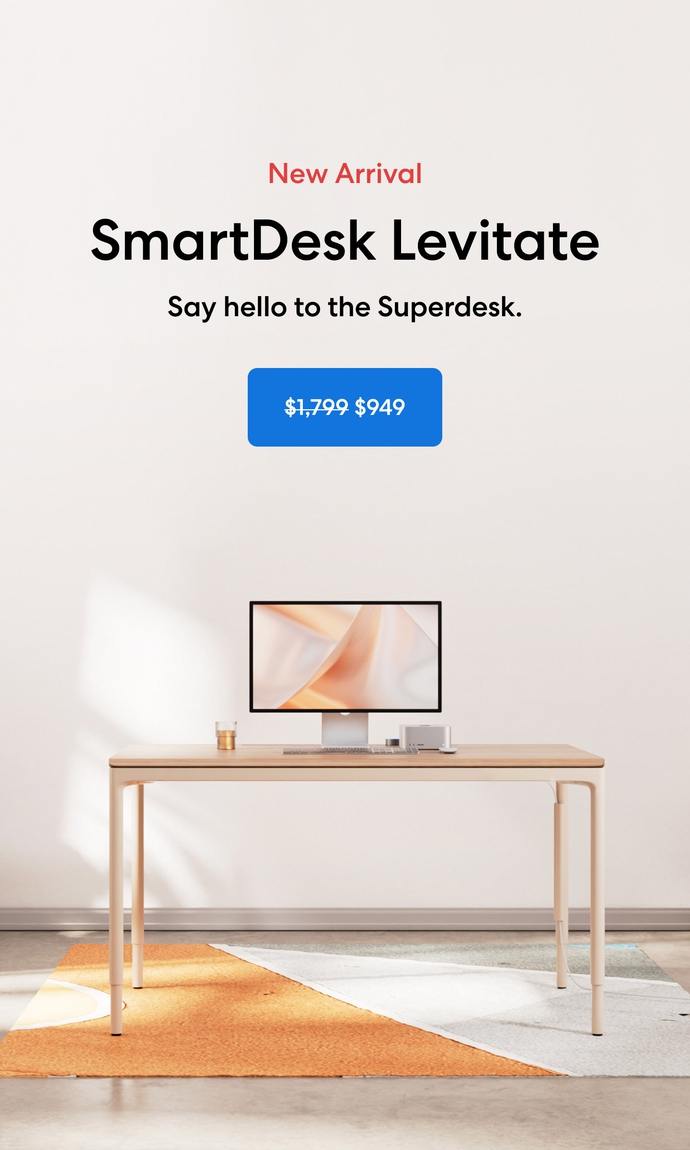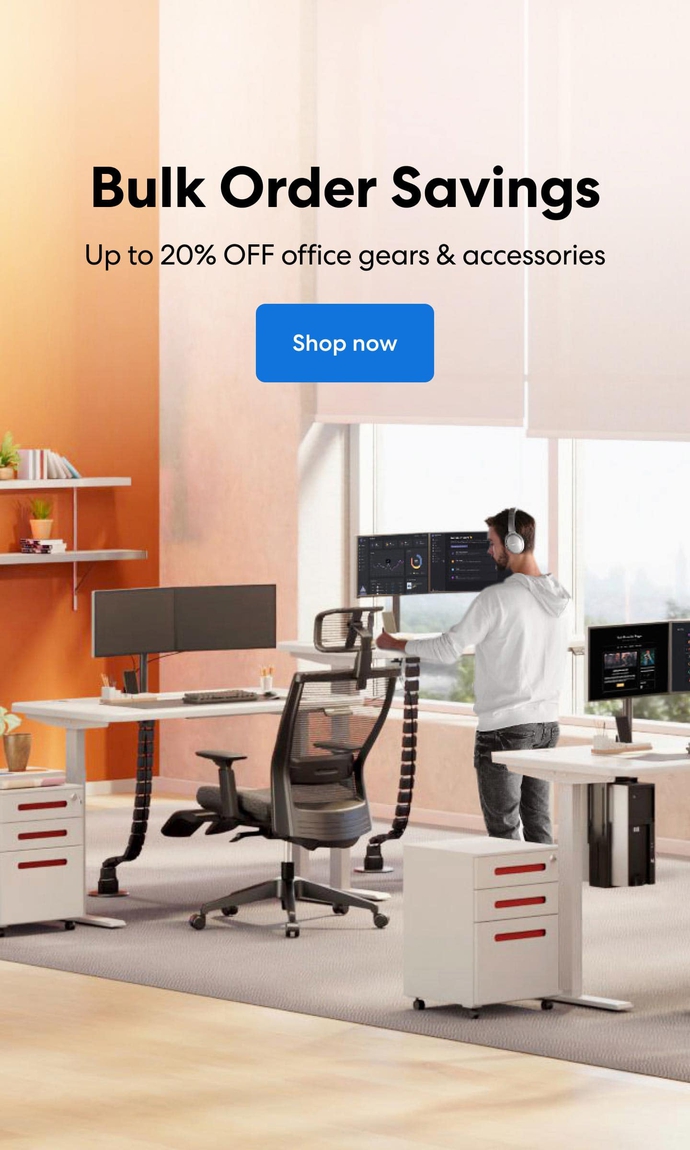 Subcribe newsletter and get $100 OFF.
Receive product updates, special offers, ergo tips, and inspiration form our team.