Smart Products
What Is Standard Computer Desk Height?
3,259 Views
When we first hear office ergonomics, many things pop into our minds. Some people think ergonomics is all about buying a height-adjustable desk, getting an ergonomic chair or even purchasing support for your lower back. But the truth is ergonomics is much more than just furniture. It's about the lifestyle.
Even if you use a standing desk, you still need to take some measures so you can reap the maximum benefits of a height-adjustable desk. The computer desk height is one such crucial factor. Yes, after buying a corner computer desk or any standing desk, one needs to set the standard height of the computer desk, so there is no strain.
Although many people find it hard to achieve the perfect height, smart furniture like standing desk Connect makes it easier for you to attain the perfect desk height dimensions.
But what is the correct desk height, and why should you focus on it? This article will discuss all the normal computer desk heights to work comfortably for hours.
Correct Desk Height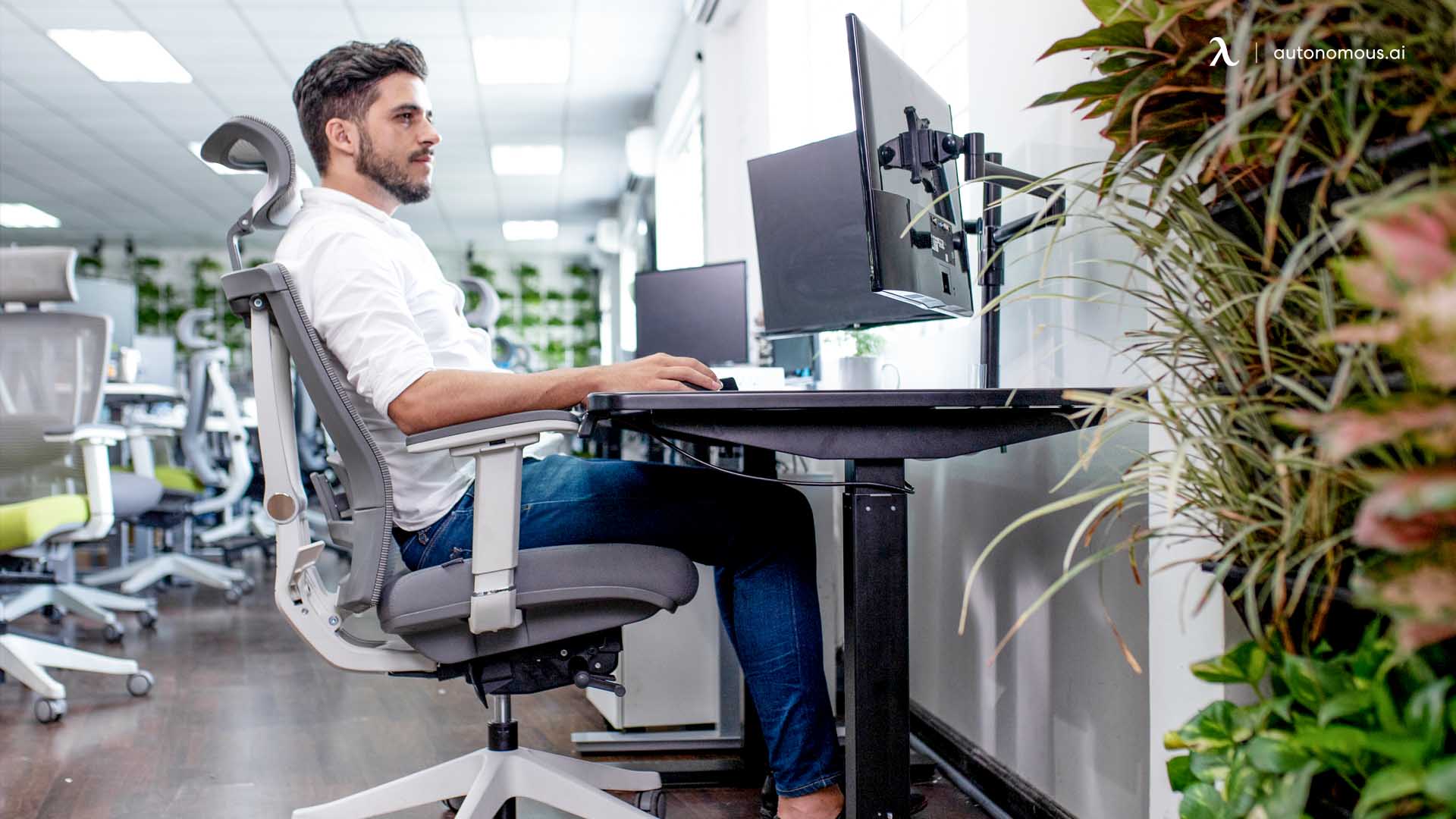 There is a direct relationship between your posture and spine health regarding desk height. By choosing the right desk and right chair, you are one step closer to attaining the most ergonomic position for you, but until you know all about adjustability, you are still far behind the proper sitting position while working.
You could be wondering if there is a universal standard desk height or an international standard. According to ergonomic design requirements, the usual height of an office desk is 73 to 80 centimeters.
The height of a desk, on the other hand, should ideally be determined by the user's height. Tall folks would have to raise their chairs to sit in the best position. When their feet are flat on the floor, their legs are at a right angle to their back in this position. However, a taller worker would want a taller desk to have enough room for their legs under the desk with a raised seat.
Using a "normal" office desk without these changes would be extremely uncomfortable for tall and short people.
Desk Height While Seated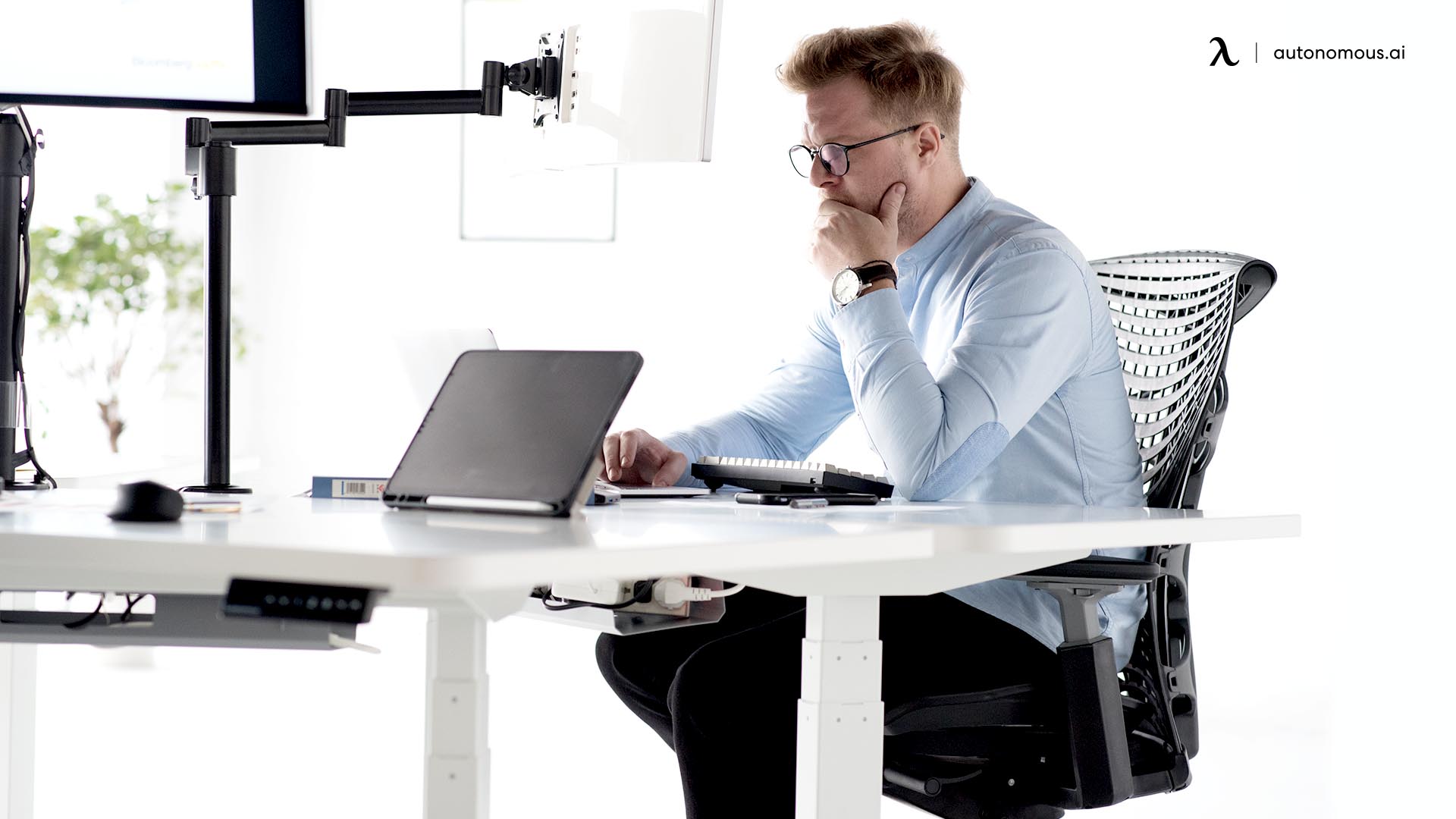 For people between 5'8 to 5'10, the standard computer desk height is 28 inches. As understood, this number varies as the height of the user varies. However, there are few ways to determine the best possible height when seated.
 Make sure your arms and upper arms maintain an angle of 80 to 130 degrees with the desk. If your desk is a bit high, you can adjust the chair to a higher level. You can also use an ergonomic stool or standing desk chair to adjust fully. Although make sure your shoes/feet are firmly on the ground and parallel to each other.
If your feet are lifted off the ground, your computer desk height is not right.
Desk Height While Standing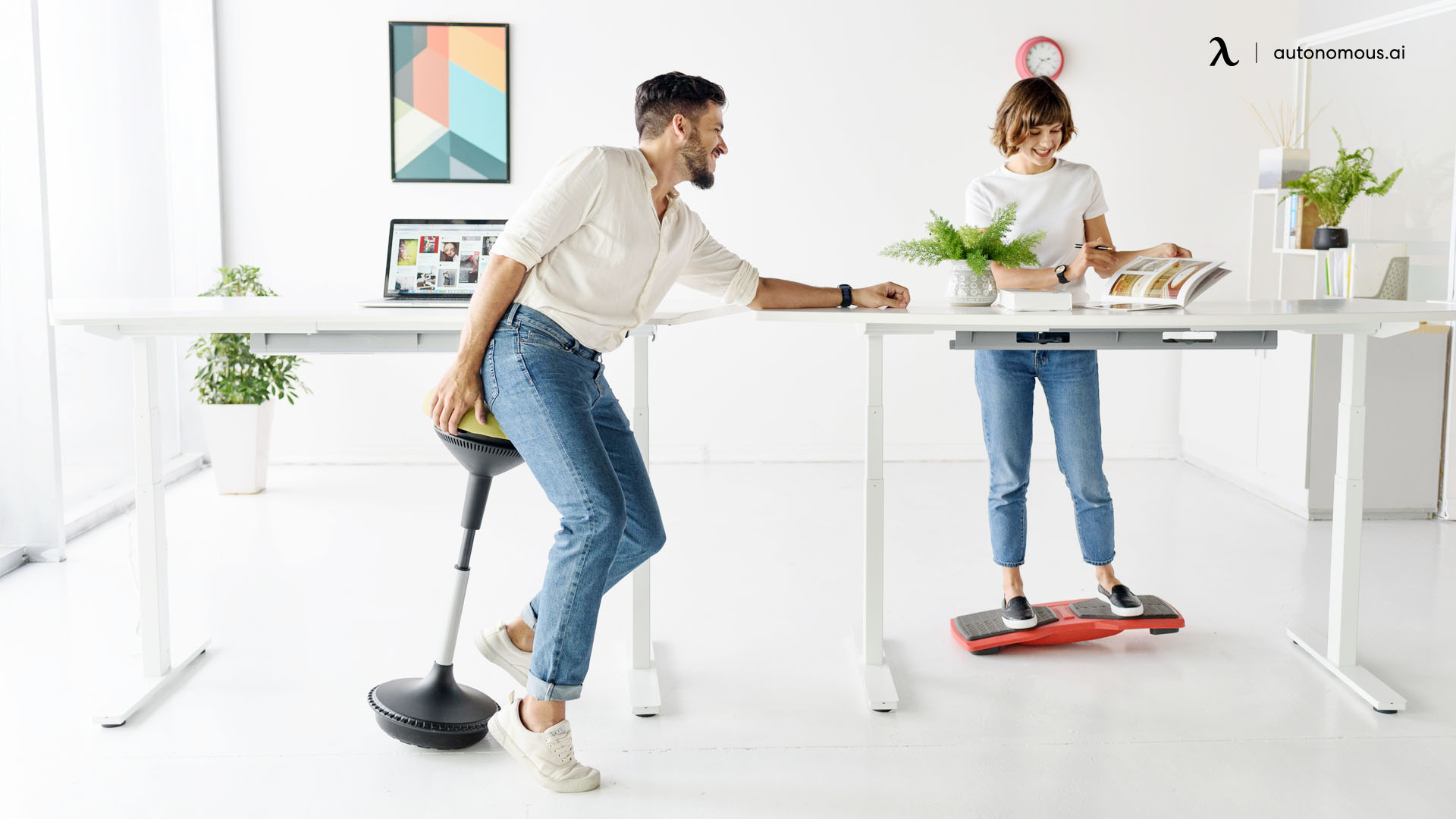 Getting the standing desk isn't just the only thing you need to do to get proper working posture but setting a typical computer desk height makes the real difference. A standing desk should be adjusted in the following ways to work properly.
To begin, adjust the height of your ergonomic standing workstation to roughly elbow level. This means that your elbows should be at a 90-degree angle to the ground. Although there are no hard and fast rules for screen placement, the common belief is that it should be 20–28 inches (51–71 cm) away from your face.
The distance between the tip of your middle finger and your elbow should be no less than that. With a little upwards tilt of between 10 and 20 degrees, the top of your screen should be eye level. The concept is that you should never have to lift or lower your head. Moreover, ensure that the keyboard and mouse are within your comfortable reach rather than extending or slouching to reach it.
Alternating Between Sit and Stand Positions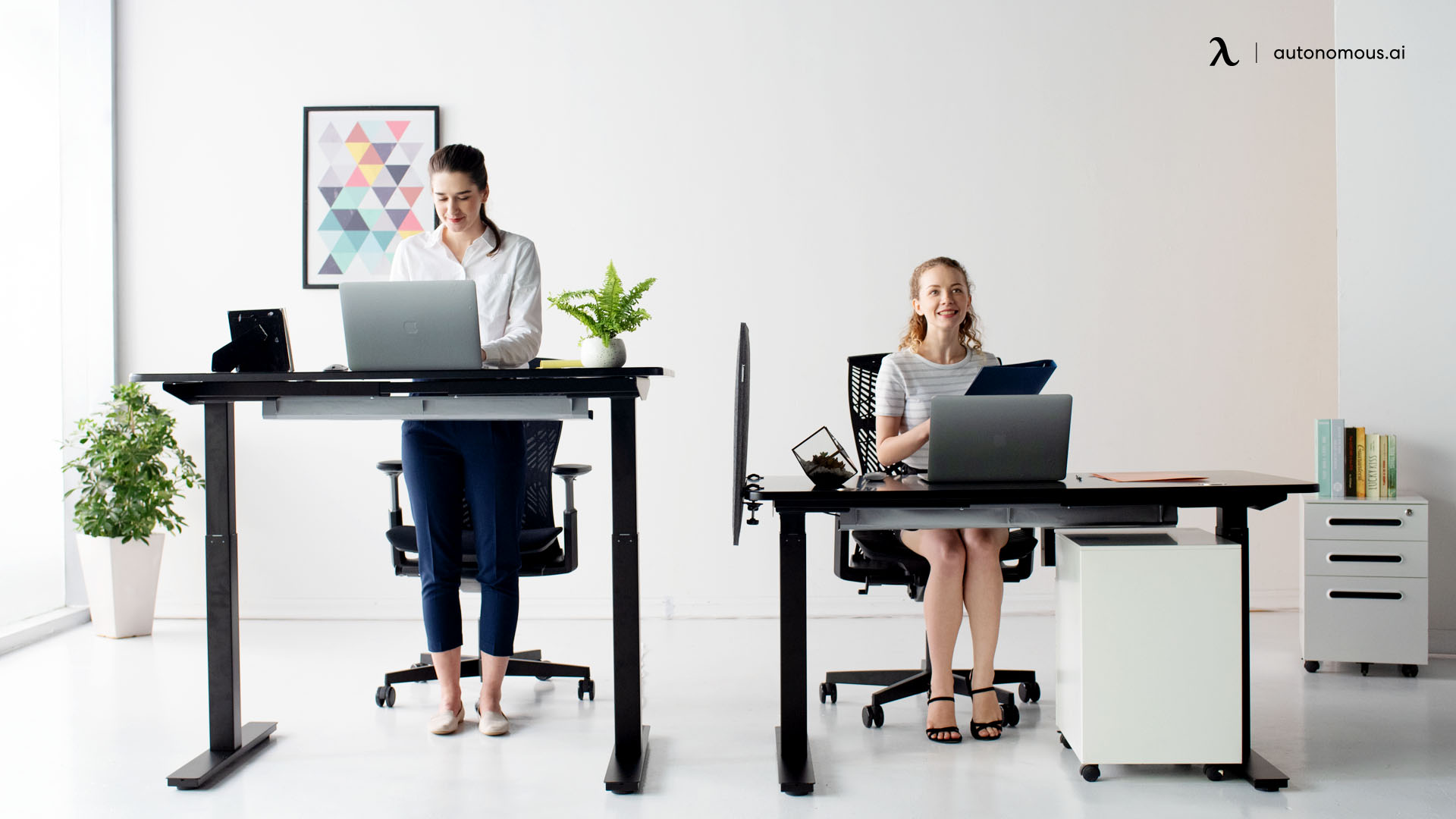 While working, a proper mix of sitting and standing enables healthier blood circulation throughout your entire body, including your brain, which receives more oxygen. As a result, your brain has the opportunity to perform at its best, which leads to greater concentration, among other things.
Moreover, when you switch between sit and stand positions, the body is less likely to feel any strain, and you won't get tired while working soon. This also ensures you have a better mood and a greater creativity level.
Also, if you frequently switch while working, a sensation of tiredness is less likely to overtake you. This effect is stronger in the afternoon and hurts your work performance.
At the same time, continuously standing for a prolonged period can adversely affect your health in many ways. It can impact your leg muscles as well as damage the connective tissues. Researchers recommend switching between the two positions. And for every one to two hours, you are recommended to switch between the positions.
Frequently Asked Questions
How High Should A Desk Be From The Floor?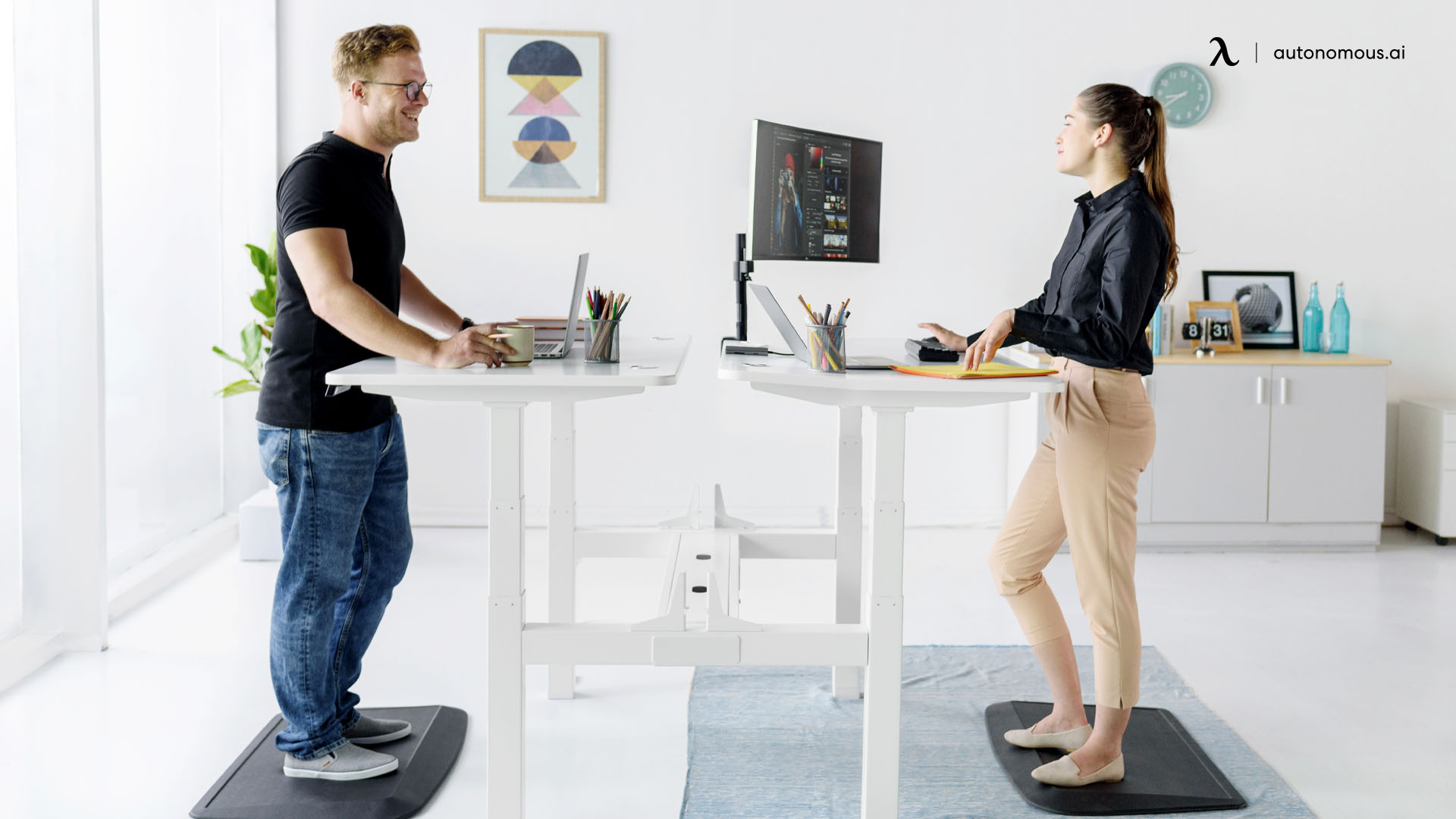 Usually, office desks are manufactured in the same size and same height. But with the advent of ergonomic furniture, there are now many variations in height to suit different individuals. However, a common work desk is 29 inches tall for most users to fit in. This height also allows the chair to slide in and work comfortably.
How Do I Know If My Desk is Too Tall?
You may feel shoulder, elbow, wrist, or hand discomfort if your computer desk height is too high. If your desk is too low, you may have to bend forward to work or extend your arms forward to utilize the keyboard/mouse.
What Height Should My Desk Be?
Although there is no fixed number what your desk height should be, 28 inches is a standard number. Besides that, many factors affect the desk height; these include the user's height and physique, the type of chair you are using, and desktop height.
Why Adjusting Your Desk Height Properly is Important?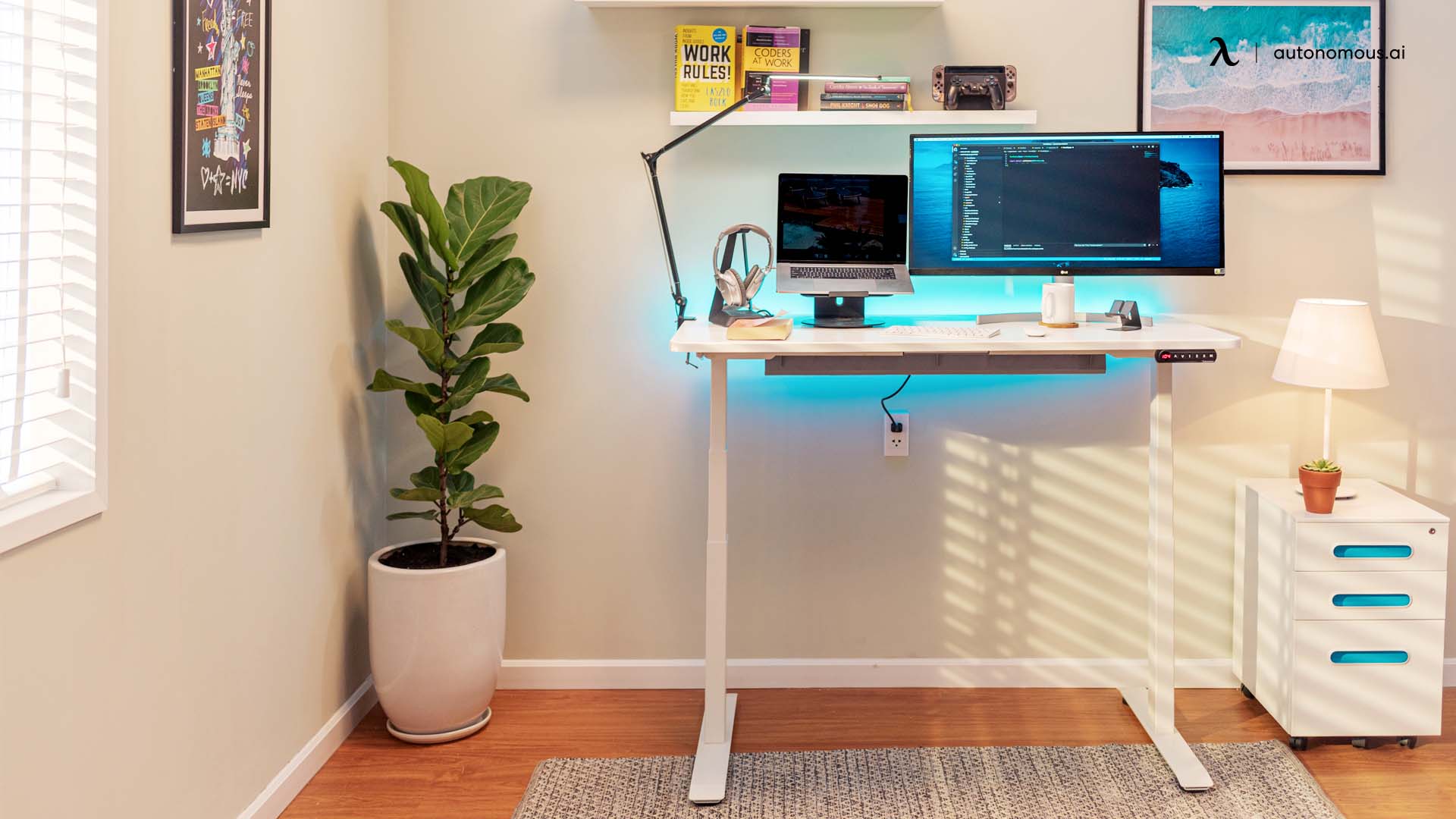 If you set the desk to the proper height, you won't have to stretch to reach your mouse, keyboard, or other work-related objects. It also enables you to sit comfortably in your office chair while keeping your arms at a correct angle and your wrists on your desk.
Keep up with Autonomous news
Stay informed, stay inspired with our new blogs.
WRITTEN BYAutonomous
We build office products to help you work smarter.