Using a standing desk mat at your office is always a good idea, especially if your work involves a long period of standing. If you are standing on a random desk mat, there is a possibility that you will feel fatigued. However, if you use a standing desk mat, you will not feel fatigued. For that reason, it is also known as anti-fatigue mats. Here we will try to grasp everything that comes with an anti-fatigue mat, including the standing desk mat benefits.
What is an anti-fatigue mat?
Anti-fatigue mats are nothing but a type of mat that will help you stand comfortably for a long period. To be specific, you will not feel fatigued even if you are standing for a long time. The makers use various materials to craft this mat, such as wood, vinyl, rubber, and other carpeting materials. Therefore, you should always bring an anti-fatigue mat to your office desk. It will help you to work comfortably. Besides, it will supply you with numerous health benefits. 
What are the benefits of anti-fatigue mats?
Anti-fatigue mats boast various benefits. Be it health benefits or professional benefits; you will get all of them if you buy an anti-fatigue mat. So, here are the standing desk mat benefits that you should know.
Health Benefits
At first, we will discuss the health benefits of this mat, standing desk mat benefits such as:
It will strengthen your core.
The design of these mats will ensure the ultimate comfort of your spine as well as your body. It is imperative for building the strength of your core. It will allow you to place your fit on a flat, cushioned, and supportive surface. You have to understand that it is always a healthy alternative to typical office floors.
If you stand for hours, there is a chance that you will feel fatigued.
Hence, buying an anti-fatigue mat is always a good option. Standing for hours may establish some negative effects on your health. The makers create these mats in such a way that it will help you to lower down the intensities of orthopedic foot problems, swollen legs, and feet.
These anti-fatigue mats will also provide you with peace of mind.
To be precise, you don't have to worry about standing in a specific position. Also, you will feel like you are making efforts to improve your feet' health and joints. 
You can also stretch in these mats if you want.
It will bring a variety to your standing pose. This variety is accountable for increasing the strength of the outer side of your feet and legs. Thus, you will be able to stand in any position you want. 
Office Benefits
Now, we will try to fathom the standing desk mat benefits at your working place.
It will help you to reduce the damage to the materials.
Most of the anti-fatigue mats that you will find absorbent. Therefore, if you drop any item on the floor, it will result in comparatively less damage. So, you don't have to get a shock if you drop a fragile glass on the floor.
These mats are easy to clean.
You don't have to give a huge effort to maintain these standing desk mats. Well, you can consider these mats to be the ideal choice for the offices that deal with liquids or chemicals. You should know that clean-up is one of the vital steps to keep the office environment safe.
Most of the anti-fatigue mats are designed to absorb vibrations as well as sounds.
If your company deals with heavy and loud types of machinery, you can install the anti-fatigue mats into your office. It will deliver you a peaceful and relaxing work environment. You don't have to feel irritated with the disturbing sounds of a heavy machine. 
How to choose the best standing desk mat?
Before you buy your anti-fatigue mat, beside the standing desk mat benefits, there are some points that you need to take into account. If you can understand those points precisely, it will be easier for you to get the best mat for your office. Here, we are sharing those points with you. Hope it will aid you in making the right decision.
Materials of the product are the first thing that you have to check. If the materials' quality is not up to the mark, you should look for other alternatives. The makers use a variety of materials to craft the anti-fatigue mats. Well, rubber is the most common and beneficial material you will find in the standing desk mats.
Non-grip edges are a sign that you are choosing a good mat. The edges must be inclined as well as beveled. It will deter the mats from curling on the floor. Besides, the non-grip edges will provide you with a strong grip. It will enhance your support when you stand on them.
Next, you have to check the size of the product. The size of the mat should be large enough. It will allow you to reposition your legs. Besides, you should be able to shift your legs as well. However, the size of the mat shouldn't be extra-large. It may frustrate you. It will be hard for you to position it if the mat is too large.
The mat you are buying should be easy to clean and maintain. Or else, you have to invest a lot of time and effort.
What are the two types of mats?
These are one-dimensional mats. It will help you lower down the pressure of your legs. Most of the time, you will find these mats in the kitchen.
3D mats are more comfortable compared to normal mats. They have more features which make them more comfortable.
So, here are everything that you need to know about standing desk mats or anti-fatigue mats.
Video ads for product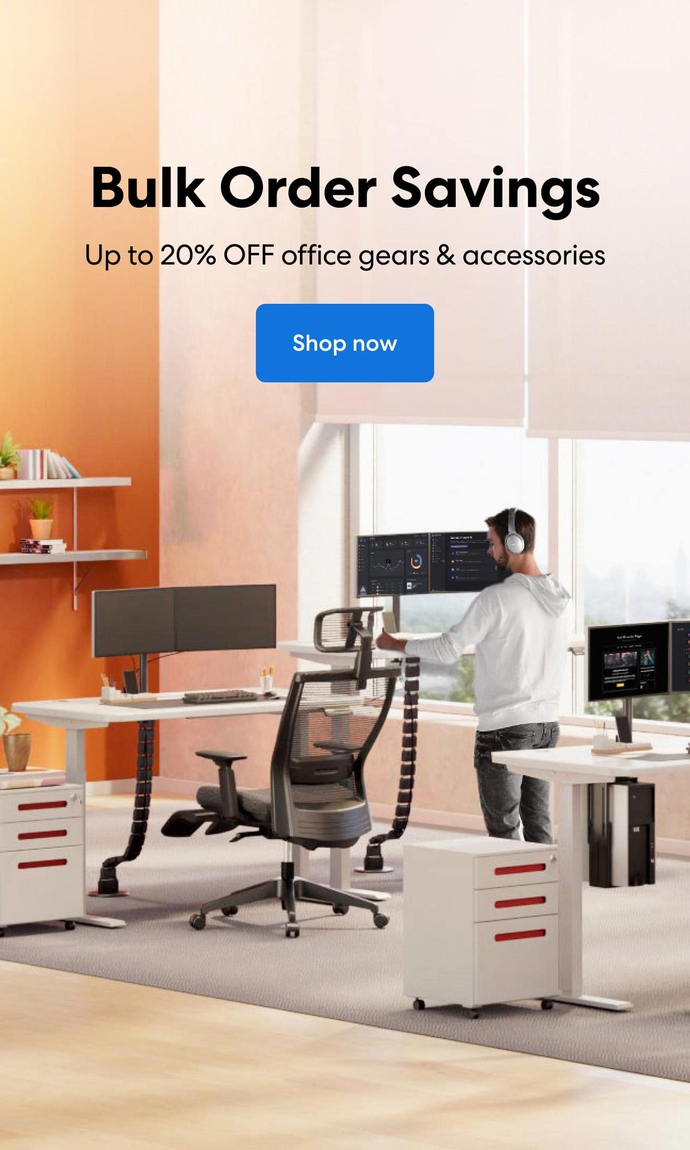 Subcribe newsletter and get $100 OFF.
Receive product updates, special offers, ergo tips, and inspiration form our team.