Latest Updates
Study Smart With Back To School Deals From Autonomous

Autonomous
|
Jul 18, 2022
1,510 Views
In less than a decade, Autonomous has grown from a small team of engineers and dreamers in 2015 to an internationally-renowned and trusted source for all things WFH. We're not just an online store: we're a team of dedicated ergonomics experts who are passionate about solving today's most common problems and reimagining the future of work.
Work, however, can have many different contexts, not least of which is academic studies! From an early age, kids spend time at school and at home dedicated to their studies and learning how to budget time so they can boost their productivity and get more things done - so they can spend more time playing with friends. And what better way to boost your kids' productivity than with great ergonomic tools from the Autonomous store?
We've got great classroom furniture for sale coming up, with great deals on back to school supplies with our best back to school sale ever! Read on to find out more about how you can save and stock up on essentials with the best back to school deals.
Don't Miss Our Back to School Furniture Sale
From July 19th to August 16th - that's 5 whole weeks! - we'll be offering up to 50% discounts on a select list of products featured on our website. It's a back to school furniture sale with tons of great options that we've hand-selected for the 2022-2023 academic year, all at a great discount. Be sure to visit our website and take a look at our list where you'll find everything you need to get your kids started on the right foot.
In addition to these great deals, we'll have a back to school desk sale and back to school chair sale with a weekly mini game! For any order of $500 or more, you'll be eligible for a lucky draw, and we'll announce the winners every Monday from the previous week! Winners will receive a lucky order code with a $50 credit that can be used for your next purchase in the Autonomous store. This is a weekly event, so be sure to check back every Monday to see if you've won!
Finally, we're offering an even crazier back to school sale on the weekend, with $9 deals on products worth hundreds of dollars announced every weekend! These products will be posted at random times, so be sure to check our website often for your chance to get lucky with an insane back to school deal on great chairs, desks, and accessories.
Ergonomic Tools for Students
Our store is full of amazing ergonomic study tools for students, like our flagship office essentials, our line of standing desks, and hundreds of great accessories made by our in-house team of engineers, as well as our fantastic third-party vendors. 
Picture this: you've got an exam coming up, but you're way behind on studying. If you've got an uncomfortable chair that makes you feel cramped, you're going to run out of steam pretty fast. A wobbly desk makes it difficult to balance all your notebooks, textbooks, documents, and electronic devices and accessories. Having to manage a suboptimal study space is distracting and causes clutter and disorganization. 
Getting the right ergonomic tools in our back to school furniture sale can make a huge difference, enabling students to work comfortably and focus on their studies - not their surroundings. This translates to better performance in school not just for youngsters, but for college students and post-grad students as well! No matter where you or your kids are in your academic journey, making an investment in ergonomic study tools has the potential to help you achieve benefits that last a lifetime.
Back to School Deals Coming Up
Be sure to look out for all these great deals on the Autonomous store from July 19th to August 16th. From all of us at team Autonomous, we wish you success in all your academic endeavors - whether you're just getting started, or rapidly approaching the finish line. For all your study needs, we've got your back with great ergonomic tools that will make you feel comfy and focused throughout the day.
Terms & Conditions
Our terms and conditions may be posted on the site during the promotion only and are referenced herein.
We reserve the right, in our sole discretion, to refuse any disputes that do not follow our Terms and Conditions at any time.
Entry period
July 19 - August 16, 2022 (9am - EST)
This promotion is a limited-time offer and shall be offered on a "first come first serve" basis and may be ended early in case the item is out of stock.
Location
US only.
Promotion trial & return policy
Please note that the trial & return policy does NOT apply to these promotion products - and the warranty policy is guaranteed. Therefore, no Return or Exchange is accepted under any circumstance.
Due to logistical constraints, once orders have shipped, they can't be canceled. We are sorry to inform you that the promotion will NOT be applied to Alaska, Hawaii, and Puerto Rico.
Discount code application terms and conditions
Our discount codes and referral codes are not applicable for products on promotion. Codes are applicable for full-price products in your order and only one code can be used per order.
Store credit is applicable for products on sale. However, the credit applied can not exceed $200.
Changes in Terms & Conditions
Autonomous may change the Terms & Conditions at any time. You are responsible for checking these Terms & Conditions from time to time for any changes. If you continue to participate after we post changes to these Terms of Service, you are signifying your acceptance of the new terms.
Autonomous decisions on all matters related to the promotion will be final and decisive. Autonomous will not be liable for any claims made by you, or for third party claims, or losses of any nature, including but not limited to, any loss of profits, loss of expectations, indirect, special, or other damages, and any related claim of any nature, including direct, indirect, third consequential party, consequential damages or other harm caused by or related to this promotion.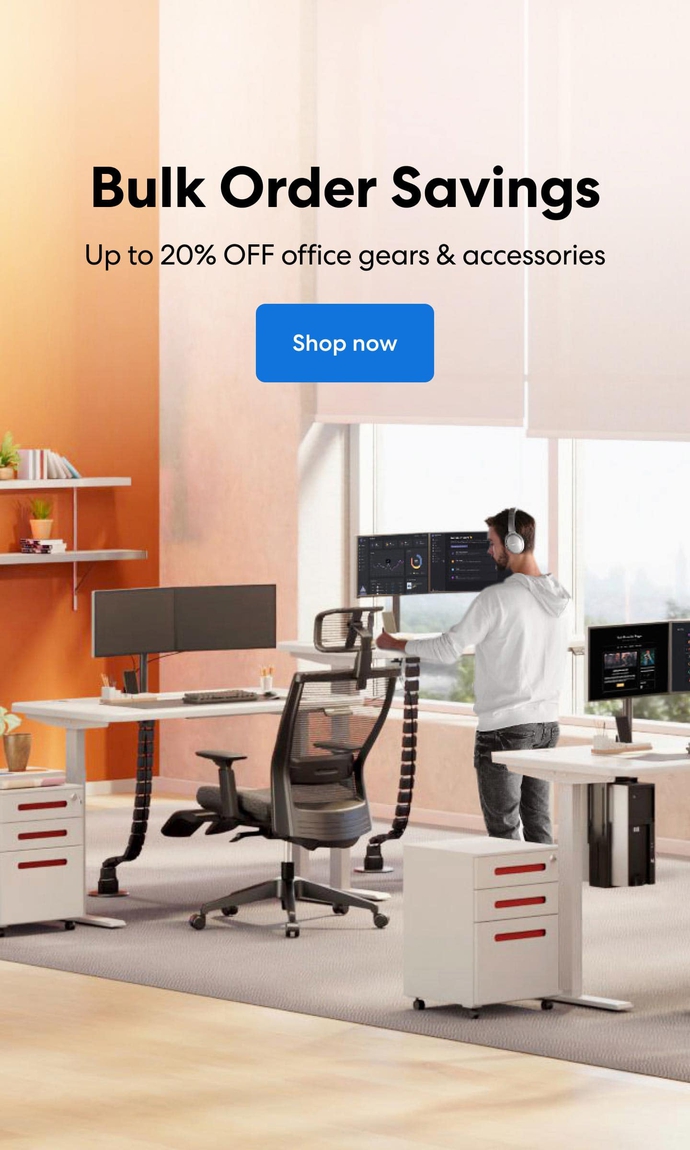 Subcribe newsletter and get $100 OFF.
Receive product updates, special offers, ergo tips, and inspiration form our team.