Workplace Inspiration
Stunning & Simple Office Desk Design for Minimalism

Autonomous
|
Mar 18, 2022
1,505 Views
Simplicity never goes out of style, especially when talking about the workplace. A tidy, neat and clutter-free work environment can have a huge positive impact on the mind of employees. And as proven by many studies, clutter can demotivate employees to work and give rise to stress and frustration while working. Part of the reason why after years of loud colors and congested designs, modern places are now back to simple office desk design.
A simple office table design is pleasing to look at, boosts productivity, and is also pocket-friendly. The best simple office desk covers the necessary desk items and saves you space. You can even achieve the best simple home office desk setup with a small standing desk and not even need a large space to create your workstation.
This solves the major challenge employees face during work from home – the limitation of space at home for a proper home office. If you are also a fan of a simple work desk for home, here are some easy and stunning ideas that will work great for a minimalist yet modern office design.
Choose the Location
Take measurements of the area where you want to put your desk. When purchasing a minimalist desk for simple office desk design, you will want it to have a sleek and clean appearance. Large, cumbersome items will not look attractive in a room created with minimalism in mind. As a result, you should have a clear picture of your area (colors, styles, and patterns).
Keep it Natural
Choosing a natural space for your home office has dual benefits. Number one, the natural area depicts a minimalist look which we are aiming for. Secondly, it is also going to cost you a lot less. In this case, we are talking about a place close to a window, so you might not need that much investment in artificial lighting.
There are also various benefits of working in natural light, and a little touch of fresh air doesn't hurt anyone. Placing the desk under or nearby the window will also ensure that you are not coming in anyone's way and have a place with utter privacy.
Setting the Right Tone
The right tone doesn't mean the universally approved colors; when it comes to minimalism, the right tone is specific to the person setting up their home office. Hence one color that is too loud for you might be the best environment for others. Make sure you opt for tones that suit you and suit your mood too.
Don't go for extravagant wallpaper or bright colors; instead, use a plain hue that will fade into the background and allow you to concentrate fully on your task. Of course, this does not imply that you must use white (usually associated as the only way to achieve minimalism in a decor). Any light color that you want would suffice.
Focusing on Declutter
Minimalism is great for those who believe that having more clutter on their simple office desk design equals having more mess in their heads. They will have fewer distractions if they see less. A minimalist work environment may help you achieve better results, numbers, and earnings. A minimalist home office design, especially if you've been stuck in a creative rut recently, could be just what you need to get your creative juices flowing again.
Minimalism does not necessarily need the purchase of smaller furniture or eliminating your whole setup. It could also involve reorganizing your desk so that nothing interferes with your natural mobility.
Storage Space
Investing in some Scandinavian design storage and furniture, in general, is an excellent way to give your office that minimalist aesthetic. Scandinavian design is timeless and screams minimalism, so it'll look great in your new office. You can install wooden shelves on the walls or even a tiny filing cabinet that slides right under the desk.
Multi-Purpose the Space
One of the best things we realized while being quarantined at home is that no place is too useless or tiny to be used for any job. Since our homes were not equipped to bear the responsibility of an entire home office setup, you have likely had your fair share of stress when finding the right corner for the meeting. This is where this idea comes in handy.
Using a home space for multi-purpose is a great way. Though you might be worried about setting your work desk every day then hiding it all over again, a pillar standing desk is a great choice. This compact and simple office desk design is a 2-minute assembly desk that can be folded and kept away. Work, and then keep it under the bed and as if you never had a home office. Moreover, it is also ergonomic with adjustable height features, a digital keypad to control the height and a tiny design that fits anywhere.  
Keep it Tiny
Just because your work takes up the entirety of your mind, your office shouldn't have to occupy your entire home. This idea is especially useful for people with limited home space but needs a corner where their work is not disturbed. A home standing desk or even a small office standing desk is a great option. Such desks don't cover up a lot of square footage but also provide a spacious work area to keep all your accessories and gadgets on.
Just like the compact desk by Wistopht from Autonomous, the desk is made with a pretty design to be even used as modern furniture for your home. Who says you cannot use it as a center table or table with a showpiece when the guests arrive? 
Match it with your Room
If you are setting up a work desk in your room, it's a great idea. Your room is your personal space; there is no one to invade your privacy, and one can easily be produced with the life around them.
An office standing desk such as a SmartDesk Pro is made with such ideas in mind. Pair it with any theme or design of bedroom furniture and enjoy working with the seamlessly blended theme. The desk comes in three different frame colors and a desktop that offers a choice of more than 10 designs and patterns. This desk can also work if you are a fan of a simple black office desk and a dark theme.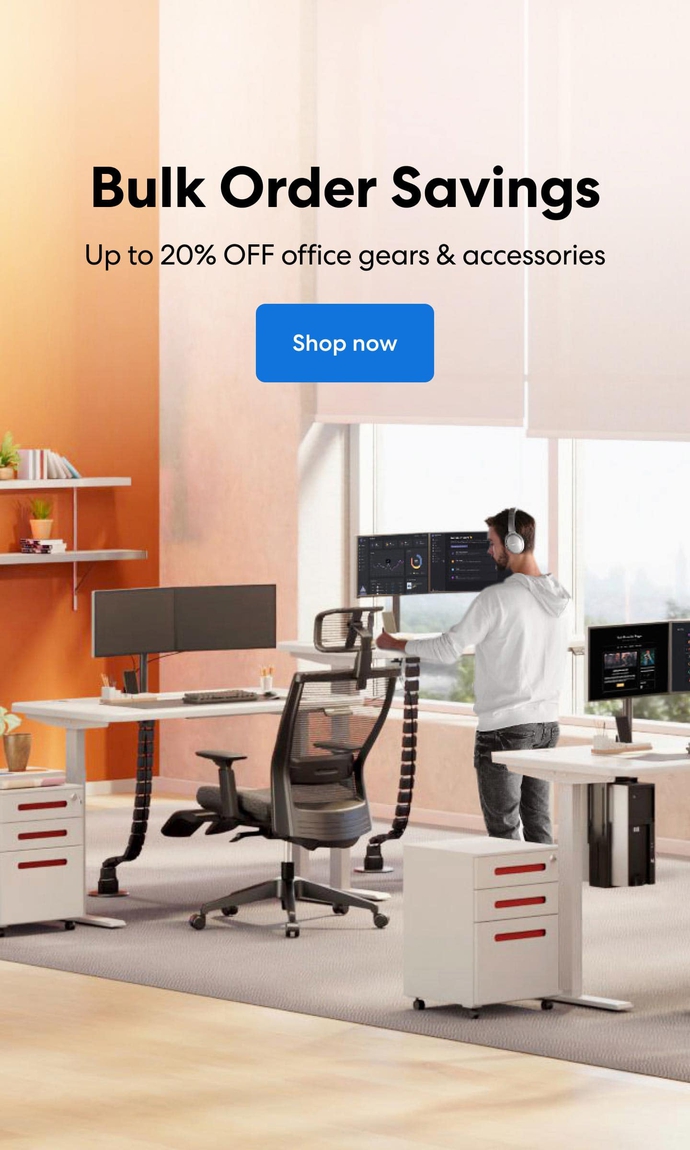 Subcribe newsletter and get $100 OFF.
Receive product updates, special offers, ergo tips, and inspiration form our team.