Latest Updates
Looking for Super Black Friday L-shaped Desk Deals in 2023?

Autonomous
|
Oct 24, 2022
933 Views
It's now time to start thinking about setting aside some funds for spending on the awesome Black Friday L-shaped desk deals being offered by Autonomous. If your budget has been preventing you from getting the desk you have always wanted, your chance is almost here. 
There is so much you can use your L-shaped desk for. It's great as a home office desk or as a gaming desk. The only problem you will have is choosing the right one for your needs. At Autonomous, you will find a very wide range of sit-stand desk designs to choose from, including some of the great options listed in this article. 
30+ Great Black Friday L-shaped Desk Deals
With 30+ L-shaped desk Black Friday deals on offer, surely you will find what you are looking for among the following options: 
1.  Autonomous SmartDesk Corner
Technology meets innovation in this L-shaped smart desk from Autonomous. With a programmable keypad that allows you to adjust the height at the touch of a button, this Black Friday corner desk will deliver all the exceptional functionality that it promises and more. 
2.  EUREKA L60 L-shaped Standing Desk: Programmable Keypad, Right-handed
Take a look around your room and find the perfect corner to place your desk. If the corner is on the right side of your room, the Eureka Ergonomic standing desk with height-adjustable functions will fit in perfectly. 
3.  EUREKA Ergonomic L60 L-shaped Standing Desk: KeyBoard Tray
A keyboard tray may seem like an insignificant thing to have, but it's only when you have used it for a while that you discover how much it improves your comfort and productivity. Get the EUREKA ERGONOMIC L60 L-shaped Standing Desk and never struggle with your keyboard again. 
4.  EUREKA 60" L-shaped Standing Desk: Programmable Keypad, Left-handed
There is nothing more frustrating than landing a great Black Friday corner desk deal, only to bring it home and find that the desk turns the wrong way. If you are looking for a 60-inch desk for the left side of your room, EUREKA has a great option for you. 
5.  EUREKA Ergonomic Eureka L-shaped Desk Additional Mousepad
It's the little things that set a great L-shaped desk from the rest of the pack. These small features, such as an additional mousepad, would have cost you a little extra on any other day, except if you are clever enough to get it on Black Friday. 
6.  EUREKA L-shaped Techdesk: Monitor Stand & Dual Headphone Hook
If you are a serious gamer, no doubt you have a lot of computer accessories, such as headphones and extra monitors. You will need a good place to store them safely and the Black Friday L-shaped desk from EUREKA is just the right choice. 
7.  EUREKA ERGONOMIC 60" L Shape Glass Gaming Desk: Music Sync RGB
When you have limited space, your choice of material for your desk can go a long way in making your room feel less cramped. The glass top on the EUREKA L-shaped desk does just that! 
8.  EUREKA ERGONOMIC L60 Computer Desk: Left Side, Pink
If you are going to be spending a lot of your waking hours sitting behind your desk while working on your computer, you need to make sure that both the chair and the desk are ergonomic. Take good care of your body by buying the EUREKA Ergonomic L60 computer desk. 
9.  Bestier's L-shaped Gaming Desk
True gamers put a lot of thought into all the important accessories needed for a good gaming experience. One look at the Bestier L-shaped gaming desk, with its modern design elements, and you will know that this is the desk every gamer needs. 
10.  L-shaped Gaming Desk From Designa L
A lot of people have had their eye on this beautiful desk from Designa L for a long time. However, spending money on a desk is not easy in such an economy, which is why the Black Friday L-shaped desk deals from Autonomous are your perfect opportunity. 
11.  GD/1000/N Series Desk From DXRacer
Made from ABS plastic and wood, you can be sure that the GD/1000/N desk from DXRacer will last you a very long time. The material is also very light, so moving the desk around will not be an issue. 
12.  L-shaped Corner Desk From Greenforest
The great thing about the Black Friday L-shaped desk from Greenforest is that it is big enough to allow you to set up two different stations on the same desk. Get some work done on one end and kick back with one of your games on the other. 
13.  Yoleny L-shaped Desk
If you do not have enough room to spread out your desk, why not use the space above your workstation instead? That is exactly what the Yoleny L-shaped desk achieves with its extra shelves for keeping books and other computer accessories. 
14.  Howzone Motorized Corner Desk
Having a standing desk is the best thing you can do for your good health. However, switching from sitting to standing can be very tiresome, unless you have the Howzone Motorized corner desk, of course! 
15.  Bestier LED L-shaped Gaming Desk
Bestier is well known for its range of great gaming desks, and this latest offering proves why they are one of the best. With LED lighting to improve your gaming experience, this L-shaped desk is a must-have item on Black Friday. 
16.  Mr. Ironstone L-shaped Gaming Desk
Strong, sturdy, and top-quality, are the words that spring to mind when looking at the L-shaped gaming desk from Mr. Ironstone. When you get one of these, you will know why gamers rate this desk so highly. 
17. L-desk From Earth Sign
With four shelves dedicated to creating extra storage, you can make the best of the limited space in your room by having every accessory that you need to be kept in one place. This L-desk in Black Friday will take up very little space in your room while being a functional desk at the same time. 
18. L-shaped Desk From Tribesigns
This L-shaped desk has the advantage of being very spacious. You can easily set up your workstation and leave plenty of room to move around without feeling like your desk is overcrowded by computer accessories. 
19.  Ebern Designs Warrior L-shaped Gaming Desk
Ebern Designs Warrior is all about pushing the limits with its unique designs. It does that here, with the awesome Black Friday L-shaped desk that will be the centerpiece of your room. 
20.  Multi-functional L-shaped Gaming Desk by Inbox Zero
Even though you are looking for the perfect desk to enjoy playing games on, it doesn't mean that you will not be doing other things on it as well. You can easily switch from gaming to either working or watching movies on the L-shaped desk by Inbox Zero. 
21.  Crosley Reversible L-shaped Desk
Are you not sure about how you want to orient your room? Don't worry about it! Get the reversible L-desk in Black Friday from Crosley and think about arranging the room later when you have the time. 
22.  Chattanooga L-shaped Gaming Desk
If you are a gamer who wants nothing but the best quality furniture and accessories in your game room, the first thing you need to get is an excellent desk. When it comes to quality, a few Black Friday desk deals will be as sweet as the one for the Chattanooga L-shaped gaming desk. 
23.  Emmett L-shaped Desk
Our favorite feature on the simple, yet elegant Emmett L-shaped desk is the textured table top. The feeling of working on that high-quality top is one you will appreciate for a long time. 
24.  Thilebrook L-shaped Gaming Desk
Have you ever struggled to clean your table after spilling your drink and the liquid being absorbed by the deck material? Thilebrook will put an end to all that with its waterproof Black Friday L-shaped desk that is easy to clean. 
25.  Raya L-shaped Gaming Desk
Raya uses durable tempered glass to create this beautiful, L-shaped gaming desk. Place it close to a window and watch the beauty unfold as it reflects the natural light. If you are worried about breaking the glass, you will be pleased to know that it is highly unlikely. The tempered glass used by Raya is quite strong and it will take a lot to break it. 
26.  Amold L-shaped Gaming Desk
If the rest of your gaming room consists of modern design elements, it follows that your desk has to be able to keep up. The Amold Black Friday corner desk is as modern as they come, with USB ports and LED lights to add some fun to your gaming. 
27.  Abeyta Reversible L-shaped Gaming Desk
With the Abeyta reversible L-shaped gaming desk, you can regularly keep your room looking fresh by moving things around every now and then. The fact that this desk can be reversed to fit any corner makes it easy. 
28.  Masala L-shaped Desk by Red Barrel Studio
To give you more storage space, the Masala L-shaped desk by Red Barrel Studio has a whole cabinet right next to your feet. If your work generates a lot of paperwork, this is the right desk for you. It also comes in many different colors, so pick one that goes well with your other furniture. 
29.  Cletus L-shaped Computer Desk
As much as we all love having a lot of fancy accessories next to our PCs, the tangle of cords that usually occurs can be a nightmare to fix. That is why the Cletus L-shaped computer desk comes with a cord management feature that will allow you to keep all your cables neat and organized. 
30.  Rosecliff Heights L-shaped Desk
The Rosecliff Heights Black Friday corner desk is made of high-quality wood that will easily withstand weights of up to 200 lbs. If the impressive strength is not enough to convince you, how about the extra storage space it has, in the form of a few extra drawers to hide away your paperwork? 
31.  L-shaped Executive Desk From Hutch
Make no mistake about it, this is a huge L-desk in Black Friday. It will completely dominate the entire side of the room, which is not a bad thing! After all, it is also a beautifully designed L-shaped desk that looks like it belongs in an executive's office. Get it on Black Friday at an unbelievably cheap price. 
What's So Special About an L-shaped Desk?
If you are looking for the perfect desk to complement your ergonomic chairs Black Friday Autonomous deals is the right place to find it. A great L-Shaped desk is ideal when you have limited space because it can fit snugly in one of the corners. 
There is also something unique and different about buying an L-shaped desk instead of the normal straight desks everyone else has. When you have a lot of accessories, you will appreciate the ample space available on an L-shaped desk.
It is for these reasons that getting your hands on an L-shaped Black Friday adjustable desk should be at the top of your list of things to buy this festive season. 
Why Should I Shop on Black Friday?
Black Friday L-shaped desk deals do not come around very often. In fact, this is the one time of the year that you are guaranteed to find affordable items on sale everywhere you look. 
While a lot of people try to avoid the crazy rush that accompanies every Black Friday event, you cannot deny that the ridiculously low prices make the experience worth it. If you have been struggling to afford an L-shaped desk, Black Friday is your perfect opportunity to get one. 
Conclusion 
An L-shaped gaming desk is the last piece of the puzzle that is required to create the perfect gaming room where you can lose yourself in your favorite games. Whether you are looking for an electric L-shaped standing desk or just an ordinary work surface, visit Autonomous for the best Black Friday corner desk deals in town.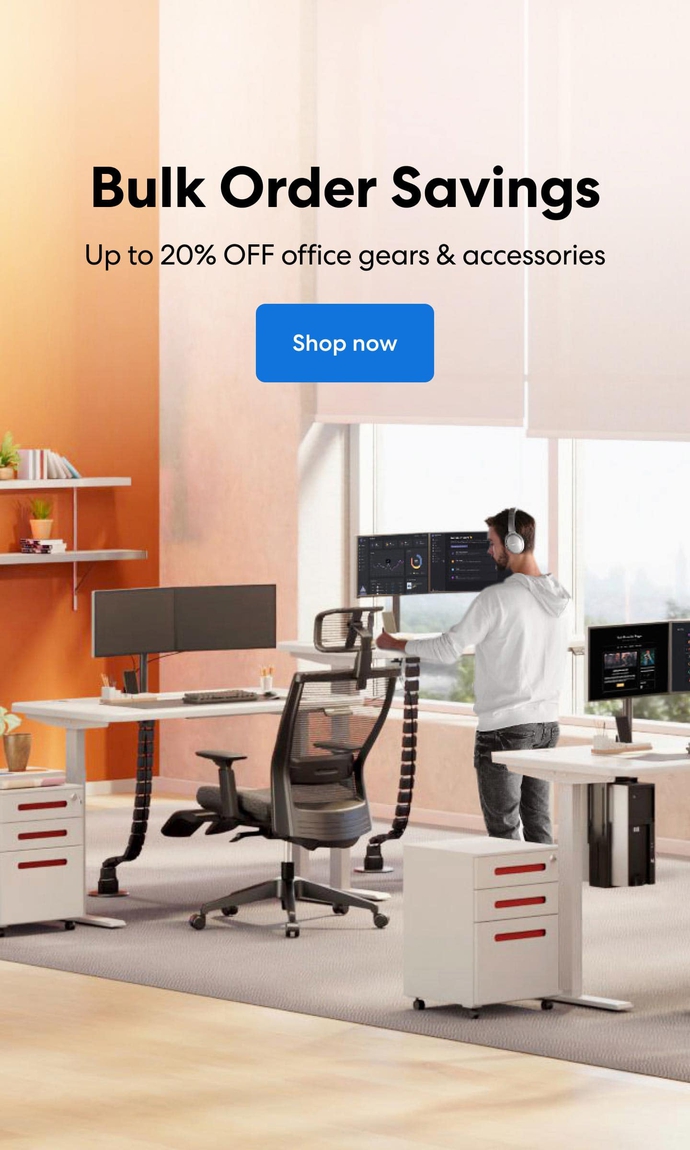 Subcribe newsletter and get $100 OFF.
Receive product updates, special offers, ergo tips, and inspiration form our team.