Productivity
Task Chair vs Office Chair: Is There Really a Difference?
5,892 Views
Which chair is the right choice for employees in an office, a task chair or an office chair?  As you ask this question, you will see that an office chair or task chair are used interchangeably in today's modern times.  In fact, for the layman, other terms could include a desk chair or a computer chair.
As people work on computers, the amount of time spent at a desk is on the rise. To be productive and efficient at work, irrespective of the chair's name, the chair must be comfortable to work from.  You do not want employees being ill or having health concerns as productivity falls due to work constraints like a mere chair.
The word task chair itself is becoming redundant as most people sit and work from offices. Here's a deep dive into the debate of a task chair vs office chair.
What is a Task Chair?
History considers that the first chair to be customized for office work was by Charles Darwin. He adapted a wooden chair by adding two wooden wheels on the chair's legs.  As he worked, he wanted to access his area quicker. What an idea, isn't it?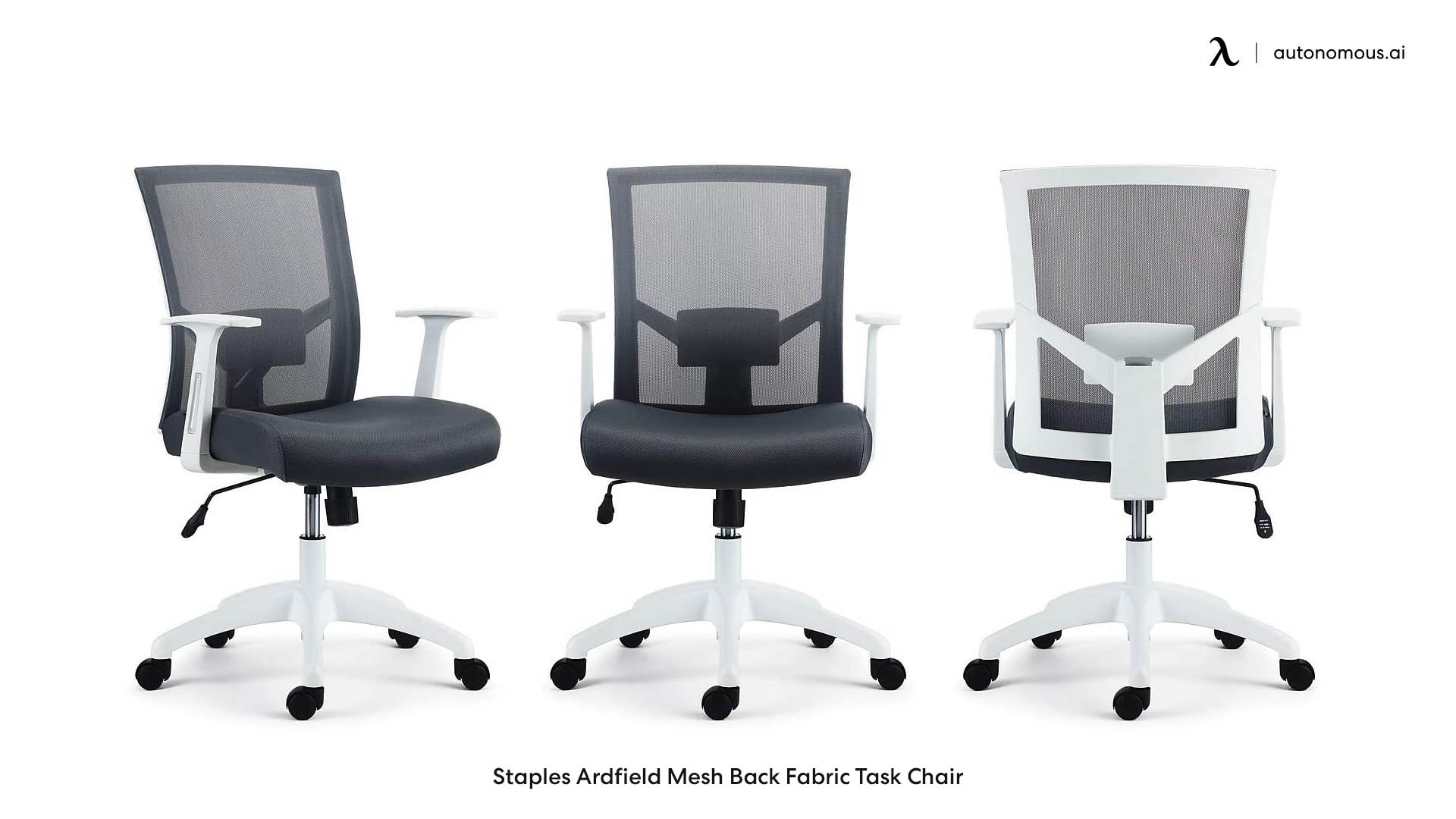 In the 1850s, studies began on how chairs could provide quicker access to work areas for an employee. This would ensure that they did not have to leave their desks or stretch over to access files and more. The nobility provided clerical staff with chairs that kept their backs upright to work longer hours and be alert for better productivity. The task chair traditionally had a lower backrest, also indicating working class or the blue-collar worker.  White-collared employees had a high back office chair, indicating more power control and authority.
In summary, task chairs are functional chairs designed to give comfort and convenience to a particular type of job being performed. 
What is an Office Chair?
Between task chair vs office chair, an office chair is a basic chair, with or without arms, that gives an employee space to sit and work at a desk. Mostly, they would have a lower backrest to accommodate smaller working spaces, unlike executive offices. Historically, perhaps lower backrests also signified a lower authority and power of control. Traditionally the office chairs were made of wood or other metal.
In the last few decades, the office chairs were equipped with more features ranging from fixed armrests, wheels to move around, and manual height adjustments (not hydraulic or powered) if not fixed.
In recent times, office chairs have undergone a complete change, with ergonomics incorporated to woo the end user. Here are some more details on the ten most comfortable office chairs.
Key Differences Between a Task Chair and an Office Chair
Most chairs are classified as office chairs, desk chairs, task chairs, and more, with the terms used interchangeably. Difference between office chair and task chair? Familiarize yourself with the key differences shared below.
1. Comfort by Ergonomics
What is an ergonomic chair? To reduce health concerns and make the workplace better, office chairs are now ergonomically designed.  An ergonomic office chair has a higher comfort level, including an adjustable backrest with adjustable lumbar support for users.  Where featured, armrests, backrest, neck rests, and seat height for different users is enabled.  Users have expressed a change in energy levels, leading to higher productivity and energy levels. It also increases the user's mental and physical alertness.
2. Style and Design
Between task chair vs office chair, office ones are available in a wide spectrum of choices.  Depending upon use, they could either be covered in rich upholstery like leather, silk or be made from fine mesh, which offers you breathability.  Function and form are blended with extravagance and richness.  The metallic support of the chair is made from steel for higher sturdiness.  Add on the elements of polished wood panels to go with a wooden decor office.  Office chairs are lightweight, easy to move, and require minimal maintenance. 
Task chairs, on the other hand, have basic foam and normal upholstery.  They may have wheels for functionality. They usually are low-styled to enable a large feel of the work area in an office. Task chairs are also available in a thick mesh, less expensive, and offering higher durability due to higher use and varying users.
While both are swivel-based, an office chair has a hydraulic-based height adjustment.  A task chair would have a manual height adjustment or have a fixed height.
3. Pricing
Office chairs are usually priced at £300 and above for the finesse and functionality it provides. A task chair could cost half the price of an office chair (£150) or even lower in this competitive world. Don't be surprised to see some office chairs being sold at the price of a task chair to woo you.  You will need to use a chair to experience the comfort level before you select any. Consider the features of task chair vs office chair, make and comfort levels before you use your budgets.
Don't miss the ergonomic computer workstation that could accompany an ergonomic chair.
Decision Time: Office Vs Task Chair – Which one is the Best?
In conclusion our verdict goes to the best office chair, the ErgoChair Plus.   
Designed for the elite, the ErgoChair Plus is a statement of style and elegance for executives in an office. It gives them mobility as they beat time to manage large empires and conglomerates, making decisions involving millions of dollars worldwide.
The ErgoChair Plus chair has a sleek frameless design that gives easy access to areas around your desk. The strong lumbar supporting the entire back of the chair provides excellent and immediate relief in rarer moments of an executive's hectic schedule.  You can easily lock the lumbar support into any one of the five positions for your convenience. You also get adjustable armrests, height, and seat tilt (forward/backward). 
The fine mesh material covering the seat offers high breathability, allowing your skin to breathe as you work long hours. The backrest has customized lumbar support as the seat recline can be locked in any of the five positions, giving you comfort. 
Made available in six elegant and subtle colors, it is designed to match the décor of executive offices.
Subcribe newsletter and get $100 OFF.
Receive product updates, special offers, ergo tips, and inspiration form our team.
WRITTEN BYAutonomous
We build office products to help you work smarter.