Smart Products
The 15 Best Reclining Executive Office Chairs for 2023

Autonomous
|
Dec 15, 2020
4,704 Views
As we move forward into the next few years, home working is going to become the new normality. As the 2020 pandemic dies down, we're seeing more and more companies allowing their employees to work from home. The shift is so dramatic that office spaces are soon going to be a thing of the past. This obviously brings about a number of different advantages for workers. You're going to have a better work-life balance, more favorable hours, and we can't forget the fact that you're going to be able to work from the comfort of your own space.
It does bring about a new set of challenges for workers, though. There are a few things you have to do in order to get ready for home working, the most important of which is setting up an office. 
There are countless distractions at home, whether it be your partner or kids, this can seriously damage your productivity. As well as that, working from bed isn't exactly a good idea. It might sound nice, but your brain is going to be thinking it's time to rest. This is going to sap your energy levels, further decreasing your productivity.
Your home office is going to help counter that, and one of the most important parts of that office is a reclining executive office chair with footrest. You're going to be sitting down for 10's of hours every day, so you want to make sure you're doing that in comfort. Otherwise, you risk doing serious damage to your back. 
To help you with getting your office set up, we've put together a list of the top 15 reclining executive office chairs that you should buy right now. 
1. MyoChair - Best executive adjustable reclining chair
Now, we're getting into the cream of the crop. 
The MyoChair is manufactured by Autonomous, a company renowned for the ergonomic design that its equipment offers. It's a simple mesh office chair that costs a fraction of the other chairs on the list, thanks to the fact that you're buying straight from the manufacturer. It's incredibly breathable and going to keep your back feeling fresh even during the longest of days. 
There are other Autonomous chairs that can beat it out, but there's no better value for money chair out there right now. 
2. Kinn Chair
The Kinn Chair is another reclining executive mesh chair from Autonomous, but this one is a step up from the MyoChair. 
It's made from a high-quality TPE material that is far stronger and more comfortable than anything we've seen thus far. Its fishbone ergonomic design is cutting edge, turning an already great chair into one of the best executive reclining swivel office chairs in the world. 
3. ErgoChair 2
The ErgoChair 2 is the best chair in the world, and it's not even close. It's got an incredibly comfortable seat cushion that's designed for long workdays. So much so that it's going to feel like you're sitting on air.
This is only helped by the fact that it's made from a high-quality mesh that offers a level of breathability unrivaled by anything else on the market. That's not even touching on how well the ergonomic lumbar support system is integrated. It gives you the ability to adjust pretty much anything you want, so you can get supported no matter what your body type is. 
You get all of this for a price that is way below the market value of a chair like this, too, so there's literally no reason not to pick up the ErgoChair 2. 
4. SIHOO Ergonomic Office Chair
Ergonomics is going to play a key part in our executive reclining swivel office chair choices, and the SHIOO does ergonomics extremely well.It's one of the more moderately priced chairs on the list, but don't let that fool you. This executive mesh swivel chair is one of the best-built pieces of hardware on the market today. 
The net mesh that the chair is made from is incredibly strong, and the level of adjustability that you get on the chair can rival models that are twice the SHIOO's price. It's a great starting point if you're looking for a breathable chair, hence why it gets the number 15 spot on our buying guide. 
5. Killabee Big and Tall
If you're not a fan of gaming chairs, then you're not going to like this next entry. If you're a fan of that style, though, then stay tuned. 
The Killabee isn't actually a gaming chair; instead, it's an executive reclining chair that is built in a gaming chair style. It's incredibly heavy-duty, meaning the level of comfort you get with it is unbelievable. It's so good that you could, arguably, fall asleep in it. It's also got a USB massager built into it, which doesn't help with the falling asleep element of it. It's still one of the most comfortable chairs around, though, even if it does cost a pretty penny. 
6. SmugDesk Office Chair
The SmugDesk is another reclining executive mesh chair, but this one has one key feature that puts it above the SHIOO. It comes with a neck rest that is fully adjustable, so if you suffer from neck and back pain, then this is one of your best options. Aside from that, it's pretty much on par with the other mesh office chair that we've talked about, so choose whichever one you personally prefer.
7. HOMCOM Reclining Office Chair
The HOMCOM is a true executive reclining office chair. It's bulky, padded, and wouldn't look out of place in your sitting room. If you want to work and feel like a king, then HOMCOM should be your go-to. It's a foam-padded chair that has a leather finish, meaning it has a price tag to match that king status. If you have the budget for it, though, then this chair should be right up at the top of your list. 
8. HBADA Reclining Chair
The HBADA is one of the more unusual looking office chairs on this list. If you're looking for something with a bit of bulk and weight behind it, then this isn't going to be for you. If you have a modern looking office and value sleek designs, though, then this is a good option. The chair is made from a fully breathable material, meaning there's no leather to speak off. This makes it great for getting through those 10-hour workdays during summer. 
9. WaterJoy Reclining Swivel Chair
The WaterJoy is a reclining chair that has a dual-chair design. Rather than having an extendable footrest, it comes with an external footrest. This is a design choice that we actually appreciate. While it's not the best for taking a nap, it is going to let you achieve a level of comfort that other chairs aren't. It's comfortably padded without looking like it weighs a ton, letting it keep a relatively low profile while still feeling incredible to use.
10. Kealive Massage Chair
The Kealive is another massage chair, so if that's not your cup of tea, then read on. If you are a fan of massage chairs and not a gaming chair fan, then this is the perfect chair for you. It's incredibly well-padded, meaning it's even more comfortable regardless of whether or not you actually use the massage chair. It's also got an ergonomic design that is going to keep your back from aching during the workweek, making this one of the better overall options you have.
11. Respawn 900 Racing Style Recliner
Love them or hate them, gaming chairs make for great office chairs. The Respawn 900 takes the style up to 11, so if you really don't like gaming style chairs, then you're going to hate this one. There's no denying that it's great at what it does, though. If you have a game setup in your office, then you're going to appreciate this. It's been specifically designed to let you recline while you play, which can easily turn those two-hour gaming sessions into all-nighters, so be careful. 
12. REFICCER Big and Tall
Despite the mouthful of a name, the REFICCER is as big as its namesake. If you fall on the taller end of the spectrum, then this is one of the best chairs on the list that we have for you. It's got a comfortable padded ergonomic design that would make most reclining executive office chairs blush, and that's saying something. It has great lumbar support and a unique waterfall seat edge that turns it from being a mediocre chair to one worthy of our number eight spot.
13. Ticova Executive Office Chair
Now, this is an executive chair. It's the type of design you would expect to find in a boardroom, so if that's your cup of tea, then put this one on your wish list. It's got high-density foam padding with a leather back finish, meaning not only does it look sleek and stylish, but it provides the type of comfort that a CEO would expect. It's a particularly large chair, though, so if you're shorter, then you might want to look at your other options. 
14. Duramont Reclining Office Chair
The Duramont is a great alternative that provides the same level of quality without the executive feel that is on offer by the Ticova. It's made out of heavy-duty nylon, meaning it doesn't cost as much as a lot of other options we have here. The nylon that it's made from is unusually comfortable, though, so don't discount it based on that fact alone. 
15. Healgen Office Chair
This is a gaming style chair that tones down the flamboyant design in favor of something that feels much more like an executive chair. It has a portable massage cushion that can come in handy during those long winter workdays. It has a heavy metal frame that the lumbar system is built around, too, making it remarkably durable for a gaming chair. 
16. JULYFOX Executive Office Chair
If you're looking for a reclining executive swivel chair, then the Julyfox is very much a prime example of that. This chair just looks like a beast. The level of padding on it is ludicrous, and that is very much a good thing. If you're a fan of comfortable chairs, then put this one at the very top of your list.
Pros and Cons of a Reclining Executive Office Chair
Reclining Executive Office Chair
You're getting a level of back support than a traditional chair simply can't offer
These chairs are made from premium materials that are going to last you a lifetime
Your workdays are going to be made so much easier by the level of comfort that these chairs offer
Your back is going to be feeling so much better, not only helping the pain but assisting the way in which you age
These chairs cost much more than traditional chairs
Some of these can be heavy, so maneuverability can be an issue
New advancements are being made in this field every day, so your chair may end up going out of date
Conclusion
We hope you've found this list useful. Your office is an extension of yourself, and the quality of your equipment should reflect that. There's only so much to be said for a good desk, but without a quality chair, you're going to be feeling the effects of your workdays a lot more.
We have a ton of other content covering office chairs on our blog. We have lists about the best general reclining ergonomic office chairs, as well as a detailed explanation of why you need a good reclining office chair. It might seem like a big investment now, but your body is going to be thanking you in a few years when it's still keeping back pain at bay thanks to your office chair. If you're still of two minds as to whether or not you actually want an ergonomic reclining executive office chair, weigh up the pros and cons. Sure it might cost a lot, but how much is your health worth to you?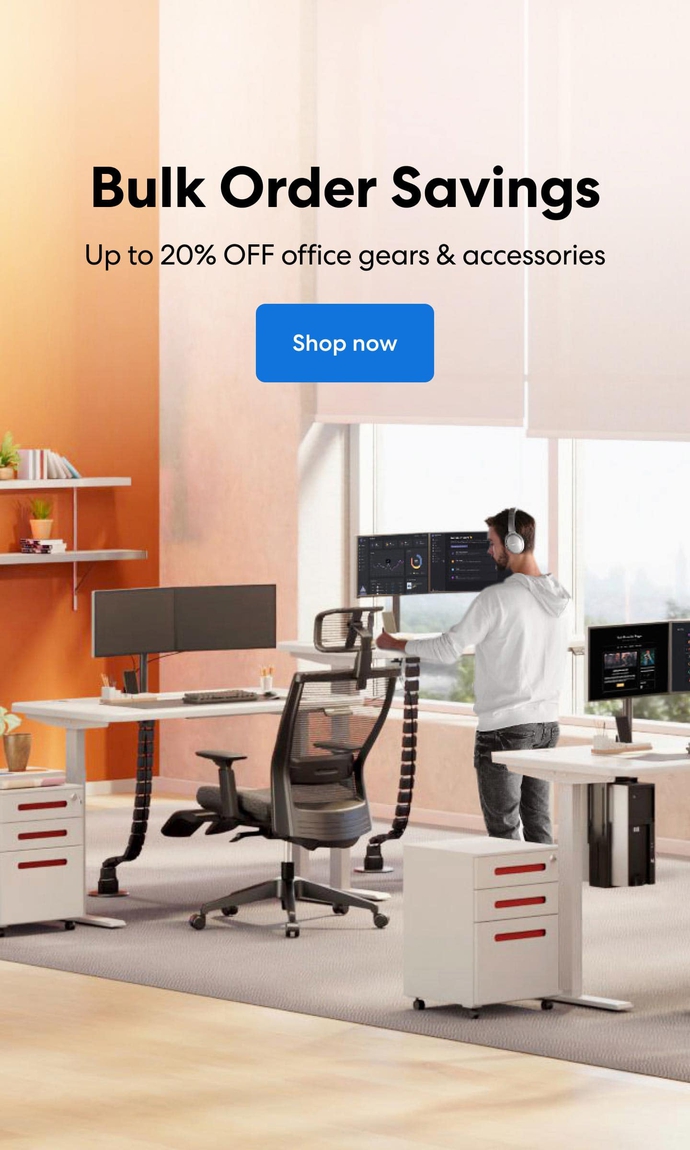 Subcribe newsletter and get $100 OFF.
Receive product updates, special offers, ergo tips, and inspiration form our team.