Are you aware that color psychology is as important as your office's physical comfort? Many office ergonomic chairs come in various colors that are ideal for offices. Some of these chairs are gray, a color considered neutral. A grey computer chair has a variety of reasons why workers choose them. 
Though color psychology is subjective, certain colors give unique vibes. The gray color is good at highlighting its environment. This action works best with the existence of other colors. Your workplace becomes highlighted with a good accent, provided by the gray color. 
Buying a gray ergonomic chair for your office needs pairing with white and black frames. This is because the seat represents a strong neutrality balance. Blend the chair color with a good office interior design to bring out the energy at the workplace. Are you looking to buy a gray office chair? Consider some of these carefully chosen 20 chairs. The chairs perform their ergonomic functions well and are gray in color.
Top 17 Grey Computer Chairs For Recommendation
1. ErgoChair Plus
ErgoChair Plus is a grey mesh office chair that has undergone scientific testing. The grey ErgoChair Plus is frameless and offers seamless movement around the office. It runs on five wheels, which enhance motion. Of course, with mobility comes spinal protection, especially when working long hours. 
This frameless seat bends to your body contours, leading to a good posture. Any adult can comfortably use this grey computer chair, given that it has a weight capacity of 300 pounds. The upholstery work done on the seat provides added comfort and durability. 
Perhaps the most ideal feature of this gray fabric office chair seat is its adjustability. You can adjust the height, the armrests, and the seat position without any difficulty. The Grey ErgoChair Plus has a lifespan of 10 years. 
2. ErgoChair Pro
This is another Autonomous grey mesh office chair that bears an ergonomic design. The chair is designed for long office working hours. This grey computer chair seat provides comfort, promotes blood flow, and allows you to stay energetic. 
The seat's parts are easily adjustable to provide the desired comfort and movement. Its multiple levers adjust effortlessly. You can sit as comfortably as you want on the seat. It has seat foam and breathable back mesh fabric that provide this comfort. The seat's adjustable elements include lumbar support, 20-degree backrest, and height. 
Though the ErgoChair Plus is its upgraded version, this seat still carries a heavy load. The ErgoChair Pro carries a weight capacity of 350 pounds. 
3. ErgoChair Recline
This is an exceptional grey mesh office chair, available in two versions. There is an original version without head and footrests, parts which are added to the upgraded version of the seat. The grey computer chair has adjustable armrests, seat tilt, and height. Any gaming enthusiast can use this chair, apart from it being an office seat. 
This gray reclining chair is strong enough to carry a weight of 250 pounds. Any sweaty user should not worry about using the chair since it has a mesh back. The mesh and reclining lumbar support provide comfort for your spine and make you feel cool. Moving about is easy, as provided for by the seat's 24-degree body lean-back mechanism. 
4. Dotpro Task Chair
Dotpro is a light grey office chair known for its healthy office freedom of movement. It has many adjustable mechanisms that enhance its comfort. The chair has a swivel that promotes all-around movements and lumbar support. 
Its tilt mechanism permits body adjustments. With a weight capacity of 250 pounds, Dotpro is nearly perfect for everyone. You can adjust the seat's height to match yours and armrests for comfort. This office chair is a product of Inbox Zero. The chair also has an adjustable locking back angle.
5. Charmine Mesh Task Chair
This seat is a gray fabric office chair with predominant white frames. Charmine grants 360-degree mobility through its swivel. The seat's angles can be adjusted using its center-tilt mechanism. Other adjustable features of the chair include armrests, height, and lumbar support. 
Charmine is a product of Zipcode Design™, with its entire back meshed with a fine fabric. The fabric enhances breathing, ideal for long working hours. 
6. Bret Mesh Task Chair
Bret is an ergonomic grey mesh office chair made of black frames. The grey computer chair has four reels that enhance its mobility in the office. This movement is supported by a swivel that rotates at 360 degrees. 
The seat's tilt lock helps to maintain the chair's adjusted center. Anyone with a weight of 250 pounds can use this chair comfortably. A predominant feature of this gray fabric office chair is a large mesh back, which allows air circulation. You stay comfortable and cool while concentrating on your work. 
7. Carleen High Back Chair
One of the best executive gray desk chairs on the market is the Carleen High Back Chair. This grey computer chair by Symple Stuff is made of thick fabric that covers the sitting and back areas. Unlike most grey seats with white or black frames, this seat's frames are gray. 
Carleen does not have adjustable armrests; they are fixed. It, however, has an adjustable swivel, lumbar support, seat height, and a tilt mechanism. The seat has a weight capacity of 280 pounds. 
8. Adelphine Grey Mesh Task Chair
Talk about a grey office chair with desirable adjustable features, and you have Adelphine. Though the chair's armrests are fixed, it has other turns of adjustable parts. You can comfortably adjust the seat's front and back angle. The tilt lock secures the center setting in place. 
Adjustable lumbar support enhances your body posture. Adelphine is an anti-microbial and environmentally friendly seat preferred by many people. The manufacturer backs the seat's functionality with a five-year warranty. The Adelphine Grey Mesh Task Executive Chair has metallic silver frames. 
9. Billups Mesh Task Chair
With a grey transparent mesh back, Billups stands out for its comfort. The mesh allows air circulation that comforts you even in a high-pressure work environment. Billups is an ergonomic chair with adjustable armrests that move up and down. 
Other adjustable features of the seat include a tilt center and lumbar support. You can also move back and forth on the chair using the adjustable back angle. The chair's swivel allows all-around movement. Billups carries a weight capacity of 250 pounds. The frames of this grey computer chair are either black, silver, or a mix of both. 
10.  Mesh Task Chair
If you value an office chair that provides comfortability and has a sleek design, then the Mesh Task Chair is the right one for you. This gray office chair is created with long-lasting mesh as a primary material. 
The durable mesh is ideal for back support and breathability. Through its flexible gray-colored frame finish, it allows the chair to sync-tilt to your desired height. The grey computer chair is ergonomically designed with lumbar support and a headrest.
11. The
Techni Mobili 

Office Chair
A product of Techni Mobili, this chair is created with modern and classy upholstery. The woodcraft on the grey office chair enhances durability and comfort. 
Through its rotational swivel, the chair can easily move to 360-degrees. The chair is strong enough to carry a weight of 200 pounds. It is, therefore, suitable for heavy-weight workers. 
12. Odelle Ergonomic Mesh Task Chair
This is an ergonomic chair that provides comfort and relaxation. The grey computer chair has a durable mesh that offers back support, ample airflow, and lumbar protection. Crafted with quality and durable materials, the chair has a tilt lock, padded arms, and adequate height adjustment.
13. Realspace's Gray Manager's Chair
Are you looking for an office chair that has a cool gray scheme? Well, the Gray Manager's Chair from Realspace offers comfort through its bonded leather. The chair has a rotational swivel that facilitates free movements. 
This gray reclining chair offers back support and is highly adjustable. It has a good ergonomic chair design that allows it to fit in fewer spaces and matches your office theme. 
The Gray Manager's Chair offers convenience, reliability, and cost-effectiveness. This chair is a cheap, stylish, and perfectly customized justifiable seat. 
14. Mayson Executive Chair
Are you seeking a unique grey office chair? The Mayson Executive Chair offers a corporate look to your office. With its slate gray scheme, Mayson offers your working space a luxurious and stylish look. 
The grey computer chair has multiple adjustments, recyclable material, and easy-to-operate features. Though the chair may seem expensive, it is durable and unique. It, thus, gives you value for your money. 
15. The Empire Management Chair
Would you like to customize your office empire with an exceptional mesh executive chair? The Empire Management Chair is a high-quality and ergonomically designed seat. 
This gray reclining chair has a durable mesh that offers back and lumbar support. The grey chair has an adjustable armrest, a headrest, and a classy feel of breathable mesh. 
16. Gray Massage Chair
This is one of the most unique light grey office chairs on the market. The chair stands out due to its massage feature, which offers maximum comfort at work. 
Through its vibration points, the Gray Massage Chair offers you a relaxation experience. If you work for long hours, this is the ideal office chair to help you enjoy and relax. 
17. The Bernot Task Chair
This gray office chair ensures you have the comfort you need to work for long hours. The chair comes in a shade of light gray, which stands out among other office chairs. 
Through its quality materials, the chair has a soft texture and a fluffy cushion. The Bernot Task Chair is ergonomically designed with a padded armrest. This feature helps in supporting your arms while working. 
Due to its adjustable feature, the gray desk chair is easy to control, assemble, and tilt. Though it does not move smoothly on the carpet, it is compatible with concrete and hardwood floors.  
Final Take
Any gray office chair provides a neutral touch to your workplace. Most managers prefer this seat for its comfort and accenting the office. Research which gray ergonomic office chair best fits your needs when going shopping. There are many options on the market likely to confuse you. 
Your chosen office ergonomic chair in grey should offer comfort. Since you work long hours, don't pick a gray desk chair based on body comfort only. Have a color that makes you comfortable and refreshed all the while. Gray is the color. Of course, the cost of the chair may be vital as well. Don't overlook the materials used in making the chair.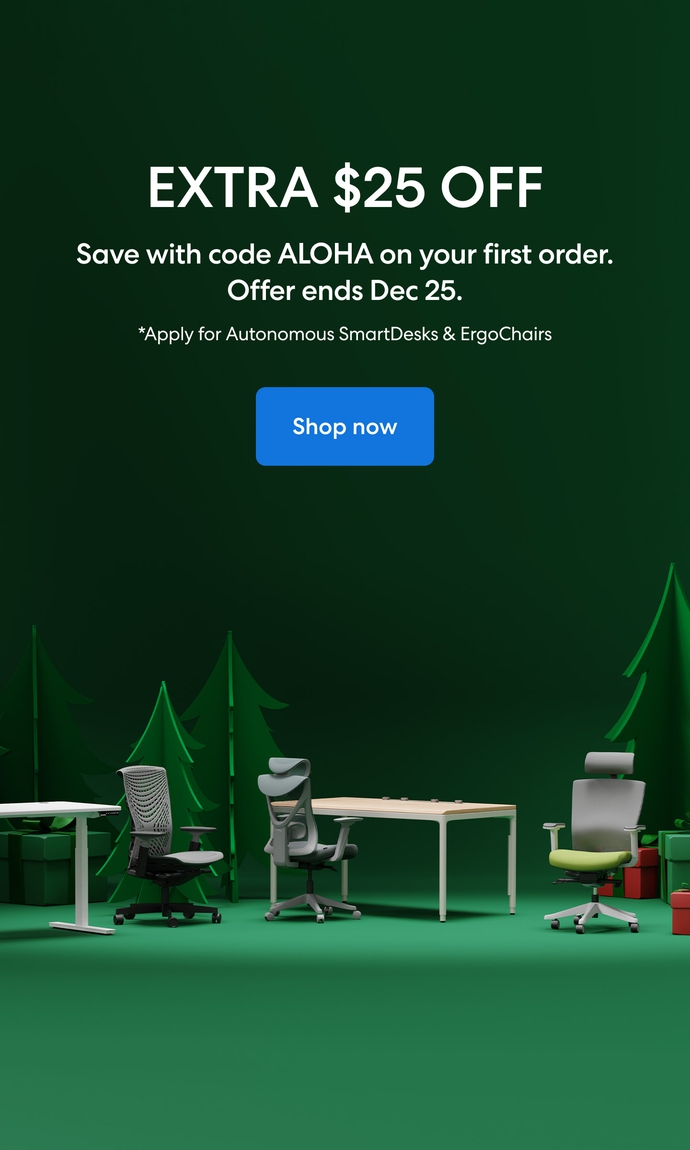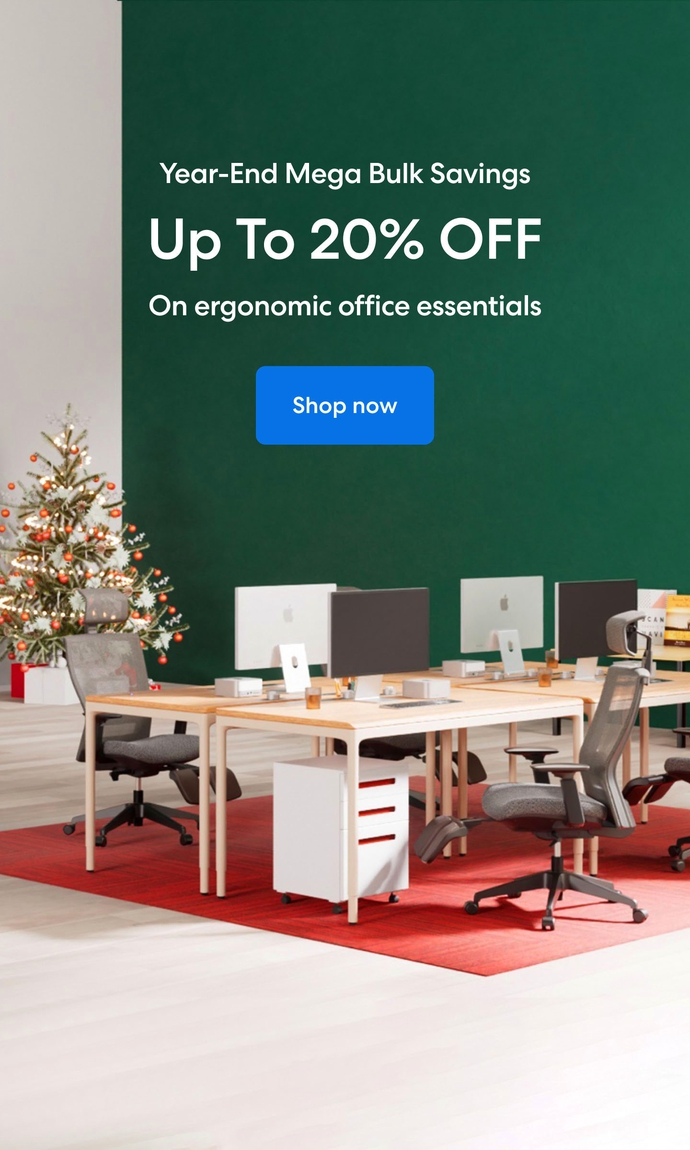 Subcribe newsletter and get $100 OFF.
Receive product updates, special offers, ergo tips, and inspiration form our team.