Undoubtedly, a comfortable desk chair is a staple of any office space. Though there's a transition to the use of standing desks, it doesn't invalidate the need for chairs. Some people think that the addition of such a desk to their offices means that they're never going to need to sit again while working. 
This couldn't be further from the truth, as standing all the time creates a situation like the one that would have caused the purchase of the standing desk in the first place. Indeed, sitting continuously is not good for the body. However, standing continuously can also lead to chronic issues and pain. 
The human body's design is most conducive to continuous movement, which is why the best bet is for workers to get used to sit-stand sessions. 
Since a part of that is sitting, it means ensuring that the chair you are using is conducive to a comfortable experience. Why wouldn't you want a comfy office chair, especially if you're going to be using it for an extended time? 
Comfortable work chairs are highly sought after and for good reason. The idea today is to walk you through some of the main considerations, as well as go over 20 incredible models that should yield the highest level of comfort possible. 
How to Determine a Chair Is Comfortable
This is probably something that you've never actually taken the time to think about. After all, wouldn't you determine that the chair is comfortable simply by sitting in it? Such a response is understandable since comfort is often highly subjective. 
However, one could argue that the best ergonomic chairs are the ones that take the subjectivity out of the equation. So, what does a manufacturer do to create an objectively comfortable home office chair? It's all about the ergonomic design and the slew of adjustability features that come together. 
Here's a simple example to tie that together. Imagine that there are 15 total seat height positions that chairs can achieve. Everyone in the world is going to be comfortable at one or more of these positions. Some outliers are comfortable at all 15, while there may be others that are comfortable at only one. Everyone else falls somewhere in between. 
Any chair not able to achieve all 15 positions would be only subjectively comfortable since those who fall outside of its coverage range would be uncomfortable. However, some comfortable task chairs can achieve all 15 positions. These designs become objectively comfortable, as they support the entire spectrum.
While it is almost impossible to manufacture a chair that works for everyone, good designers try to accommodate the broadest base possible.  
Therefore, you technically have two measures of a chair's comfort. There is the objective measure and the subjective measure. From an objective standpoint, it's a good idea to review the features present. Can the chair recline? Is there lumbar support in office chairs? Are the armrests adjustable? Is there an adjustable headrest? Here, you are looking for adjustments to evaluate the extent of support. 
On the subjective plane, you can focus on the things that matter to you the most. For example, you may be suffering from tremendous back pain, so you have a higher need than others for lumbar support. Only a chair with that feature would be comfortable for you. 
To summarize, pay attention to the range of general support, while also looking for specific features that meet the unique needs you may have.
20 Best Comfortable Desk Chairs for Home Office
1. ErgoChair Pro
The Autonomous ErgoChair Pro is one of the premier designs in the industry. It is as if the manufacturers decided to think about every possible adjustment that would be needed to create a very well-appreciated, comfortable computer chair. 
You are getting a host of adjustments including headrest, armrest, recline, tilt tension, height, lumbar support, etc. Additionally, take advantage of standard or incredibly unique color pairings. 
2. ErgoChair Plus
The next stop is none other than the Autonomous ErgoChair Plus. It's the pinnacle of comfortable desk chair design, supporting mobility in its purest form. 
The standard feature here is the frameless design, allowing for unrestricted movement on a chair that adjusts continuously with you. Years of development have gone into this one, and it stands head and shoulders above the rest of the Autonomous catalog, as well as the other chairs on the list. 
3. Alori Conference Chair
It's almost unbelievable how cheaply priced this comfy office chair is. It features a breathable padded seat, swivel and tilt features, as well as an ergonomic backrest. 
The design features a premium build, including PU casters that are suitable for both carpets and hard floors. Take advantage of the lumbar support and the mesh-based composition that is there to prevent you from building sweat. 
4. Neo Chair
Here's another comfortable home office chair that is not going to push you to break the bank. Again, its focus is providing a respectable sitting experience at a lower price point. One of the best parts is that it can settle into any office aesthetic since you can get it in a variety of colors. 
The upholstered sofa-like seat features a high-density molded foam, which is complemented by its adjustable seat height and tilt-and-lock back. 
5. OFM ESS Collection Gaming Chair
Comfortable work chairs are not only created in traditional ergonomic designs. Instead, some people prefer to use a gaming chair. This is especially true for those who may be using the same space to enjoy a bit of chill gaming between work sessions. 
This OFM comfortable task chair design is not too expensive, and it has an unexpectedly classy visual. Reviews are overwhelmingly positive, based on attractive features such as the arms, swivel, heights, and tilt. 
6. Orren Ellis Aimee-Jayne Office Conference Chair
This comfortable computer chair is also quite visually impressive, although the manufacturers went for a simple aesthetic. It's a faux leather design that is height adjustable and features an incredibly sturdy iron frame. 
There's also a foam-stuffed cushion, featuring a waterfall edge that should take some of the pressure off the hips. 
7. Vertagear S-Line 2000 Gaming Chair
As far as comfortable work chairs go, you would not be putting a wrong foot forward by choosing to get this gaming chair. It's known for its place in the office space and its classic gaming design. 
Choose from various colors and assemble it in no time. You're getting a premium build, high resilience, and even a reinforced base. 
8. Alera Elusion Series Mesh Back Fabric Task Chair
The word budget is not often seen in the same sentence as "ergonomic computer chair." However, this design is known to offer some of the features typically associated with more prominent and expensive models, though it's surprisingly cheap. 
There is a multifunction mechanism, allowing you to adjust the arm height, tilt, and back angle. Additionally, the contoured seat cushion leads to a consistently comfortable experience. 
9. Mercury Row Pinero Mesh Task Chair
Some people want a comfortable desk chair though they're on a budget and Mercury has you covered in that regard if you choose this option. You can yet your choice of eight colors, including some very bright hues for niche aesthetic creation. 
Though it's not super expensive, it is built for heavy use, so don't expect your typical work sessions to wear it out. 
10. State Line Velvet Executive Chair
As you try to find the most comfortable office chair, it's very unlikely that this comfortable task chair is not going to catch your eye. The tilt mechanism and seat height adjustment options are good enough, but the button-tufted details and that sofa look and feel simply make for a most divine seated work experience. 
Some chairs with this aesthetic don't provide the best back support, but that's not the case here. 
11. Flash Furniture Mesh Ergonomic Drafting Chair
No one has anything bad to say about a mesh fabric office chair. This one from flash furniture features some of the top advantages, including the cooling design, a comfortable padded seat, and more. 
It's highly suited to adjustable standing desks, especially considering its height adjustment is way more accommodating than most other designs on the list. 
12. Hbada Office Chair
The footprint on this Hbada chair is incredibly small, making it very suited to the smallest of office spaces. It falls under the budget-friendly category, though it features principles of ergonomic design. 
These include flip-up ergonomic arms, a breathable mesh back, and built-in lumbar support. 
13. BestOffice Desk Chair
Some of the best computer chair options out there are the gaming and office hybrids, and this design from BestOffice also falls under that category. It resembles a race car seat as you'd expect, though you get a host of adjustability features, including lumbar support, armrest and footrest, tilt, and even the headrest pillow. 
One of the best things about it is the series of standout colors that you can choose to compliment your office space. 
14. Dragonn Ergonomic Kneeling Chair
Kneeling chairs are often better for some people, especially those who may be suffering from back issues. This one features a heavy-duty build, mostly due to its sturdy metal base. 
The three-inch cushions prevent your knees from getting too uncomfortable, and the unit is height adjustable, allowing you to ensure you can work effectively and comfortably at your desk. 
15. Steelcase Leap Chair
Choosing this comfortable computer chair design is certainly a leap in the right direction (pun very much intended). 
Regardless of your body shape and size, this chair is built to provide complete support. Its fabric is comfortable, and it has a host of ergonomically designed features, including lumbar support, tilt, adjustable armrests, etc.
16. Ticova High-back Desk Chair
This comfortable desk chair design manages to be very high quality simply by doing what it sets out to do incredibly well. There are no bells and whistles here, which means that the manufacturers placed a dedicated focus on the core design. 
You are getting a typical mesh design with a high back, height-adjustable armrests, adjustable lumbar support, and a cushioned headrest. Assembly is a sinch, and it's quite reasonably priced. 
17. Herman Miller Sayl Chair
Herman Miller needs no introduction. The Sayl Chair is the cheaper version of the flagship Aeron Chair, though it's not the most affordably priced in the world. The back features a web design that flexes when you move to offer lumbar support. When making your purchase, you can customize the entire unit. 
18. Steelcase Gesture Office Desk Chair with Headrest
This comfortable desk chair is incredibly pricey, but it's unbelievably comfortable too. Tall people who struggle to find seating should look into this option. 
The chair features a host of adjustments and a high-tech design. For example, the armrest can move like a human arm offering tremendous positional support. 
19. Modway Articulate
This is a highly rated comfortable desk chair model, and you can get it in a series of unique colors, including lime green and cobalt blue. 
Ergonomic support is the order of the day here, as is the comfort offered by the six-inch thick mesh cushion. It does look a little complicated to operate with its three-lever design, but you should get used to it in no time. 
20. Herman Miller Aeron Chair
Herman Miller offers a premium design here with a stunning price tag to match. Still, this comfortable desk chair debuted over 25 years ago, and you can see the result of continuous innovation. 
Temperature regulating mesh is used, and it's complemented by a host of adjustable ergonomic features. As is the case with the Sayl Chair, during your purchase, you can adjust anything you want about the unit.  
Beyond the color and size, this even includes the type of tilt and back support you get. 
Final Remarks
Comfort is undeniably essential in the office environment. It's not just about the intangibles such as a healthy work environment and good benefits. It's also about having the most comfortable office chair possible. Even if you're going to be using an adjustable standing desk, you still need to sit regularly if you are doing it right. 
While you're not often going to be spending 24 hours in an office chair, you still sit long enough to develop chronic issues if your body is not comfortable enough. Beyond helping you to understand how critical a proper seating option is, you were presented with twenty options above that should be all you need to turn your office space into a productivity hub.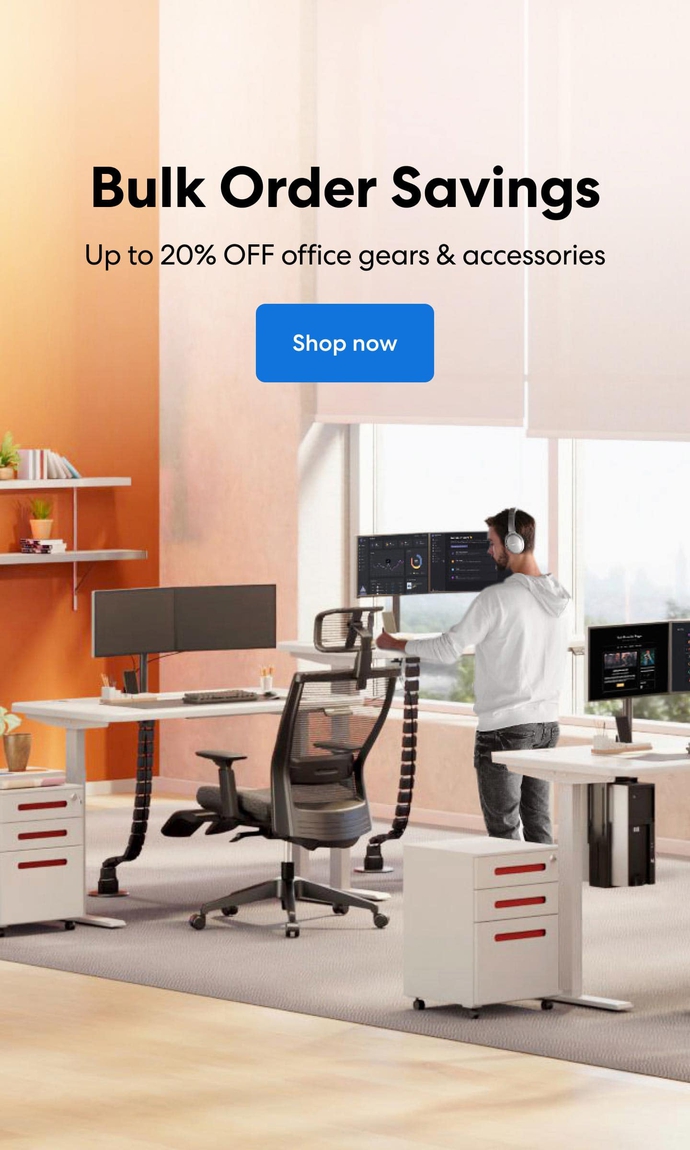 Subcribe newsletter and get $100 OFF.
Receive product updates, special offers, ergo tips, and inspiration form our team.