Smart Products
The 20 Best High Back Office Chair Options with Adjustable Features

Autonomous
|
Feb 28, 2021
7,036 Views
An office chair can enhance the ergonomics offered in your workspace. The design of office chairs varies, which means that there are many options to choose from. However, one of the popular office chairs is a high back design and adjustable features. Due to this popularity, there are many high back office chairs on the market, which can make choosing the right office chair for your exact preferences incredibly challenging.
The importance of an ergonomically designed best high back office chair cannot be ignored by folks who work long hours.  Working may include gaming professionals who are creating or playing games. There are so many vast options available in the marketplace that it's difficult to decide often.
For this reason, we have developed this definitive guide for the best office chairs to help make your decision easier. In this guide, we have included 20 of the best high back ergonomic chair options to help you find one that's best suited to your needs. This includes your budget, ergonomics, and support required, features, and aesthetics. 
Why Should You Buy a High Back Office Chair?
There are many different ergonomic chair designs for your office. These include low-back, mid-back, and high-back office chairs. Each of these designs has its advantages and disadvantages. However, the general idea between a high back office chair is that it's built to support your upper back, neck, and shoulders. In addition to this, a high back office chair is equipped to offer a comfortable seated experience daily.
Pros of a High Back Office Chair
A high back office chair is an excellent choice if you're sitting for extended periods.

This is perfect for those who suffer from back pain.

It's an all-around more supportive office chair.
Cons of a High Back Office Chair
High back office chairs are generally more expensive than other office chairs because more material is used during the manufacturing process.
What are the Best High Back Office Chair Options with Adjustable Features?
When it comes to purchasing a high back office chair, the market is saturated with endless options. This can make the overall process of picking a high back office chair incredibly daunting. We wish to make this decision more comfortable by providing you with 20 of the best high back office chair options. Here are our picks for the best high back office chair:
1. Autonomous ErgoChair Pro
The Autonomous ErgoChair Pro is designed to provide the best ergonomic support and comfort. This is done by incorporating a variety of features in its design. One of the best well-liked features about this high back ergonomic chair is that it has a world-class tilt mechanism. This tilting mechanism is equipped to offer tailored resistance and support, ensuring that you receive the exact comfort you're looking for.
In addition to this, the ErgoChair Pro is an ergonomic chair designed with durable mesh fabric. The inclusion of mesh material in the design means that breathability and airflow are enhanced. This reduces the sweat buildup that's commonly experienced after sitting for extended periods. Thus, you're provided with a more refreshing and comfortable sitting experience while your seated posture and spinal alignment are enhanced. 
2. Autonomous ErgoChair Plus
The Autonomous ErgoChair Plus is another exceptional option as one of the best high back office chairs on the market. The design of this ErgoChair Plus includes advanced TPE material and a specialized fishbone design. The inclusion of these elements works to correct your posture while promoting back health with optimal comfort and support.
When purchasing the ErgoChair Plus, you're guaranteed premium spinal support. This ergonomic high back chair is designed with lumbar support that encourages a seating posture that works to activate your body's core while promoting an enhanced sense of well-being that conventional office chairs can't offer.
Not to mention, this ErgoChair Plus also meets the strict industry standards that have been set by BIFMA, also known as the Business and Institutional Furniture Manufacturers' Association. In addition to offering excellent posture correction and comfort, the durability and build of the ErgoChair Plus's build have also been independently certified. 
3. Autonomous ErgoChair Recline
The Autonomous ErgoChair Recline is designed to be your best friend at your work. This is because it offers top-to-toe support and comfort that's entirely customizable. Not to mention, all of these features are provided at an accessible price point.
The ErgoChair Recline includes intuitively placed controls and a graceful silhouette that features classic and simple lines. This makes the high-back computer chair an ergonomic seating solution that's highly adjustable. In addition to this, it allows you to recline in an instant. It is better to use this ergonomic chair with footrest features to make you feel more comfortable. 
Whether you're twisting your neck to speak to a colleague or wanting to make a long phone call, the ErgoChair Recline has got you covered with a practical and effortless reclining system that tilts you back into a zone of complete comfort. Finally, this ErgoChair Recline is also equipped with a finely woven mesh, which works to support your back's contours and increases airflow. Pairing this mesh fabric chair with durable foam takes the chair's resistance and comfort to the next level.
4. Steelcase Series 1 High Back Desk Chair
This high-back desk chair is known as an entry-level chair that introduces office workers into the world of ergonomics. If you're on a budget and not entirely sure of ergonomic high back office chairs, this is the right option for you. It's exceptionally budget-friend while offering comfort, a smart appearance, and high-quality ergonomics. Not to mention, this chair is comfortable to tailor to your body's specifications, as it features a number of customizable elements. These customizable ergonomic features are something that isn't present in more expensive high-back computer chairs, which makes this a must-have. 
5. Steelcase Gesture High Back Executive Chair
The Steelcase Gesture is manufactured by one of the leaders in executive office chair high back furniture manufacturing. It's for this reason that the Steelcase Gesture is guaranteed to offer exceptional comfort and support while ensuring a healthy spinal alignment when you're seated for extended periods. However, Steelcase offers one of the most expensive models, which can turn many customers away. Nonetheless, the design does offer a sleeker and more modern appearance.
6. Branch Task High Back Computer Chair
This high-back computer chair is known for its affordability. Many are shocked at the exceptional value that's available in this relatively cheap office chair. Not to mention, this high-back computer chair is equipped with many incredible features, including an adjustable lumbar support system and adjustable armrests. These features make for an excellent seated experience when working for extended periods.
7. Herman Miller Sayl High Back Office Chair
The Herman Miller Sayl High Back Office Chair's design is heavily based on suspension bridges, like the Golden Gate Bridge in San Francisco. One of this Herman Miller model's most well-liked features is that it includes a Y-frame in the design. This provides sufficient ventilation and support for a comfortable seating experience that works to better your back health.
8. Ikea Markus High Back Ergonomic Office Chair
The majority of Ikea desk chairs are designed with aesthetics being the main priority instead of performance. However, the Markus model is exceptional. This chair is designed to offer some of the most compelling features for the best ergonomic experience. It has a high mesh back that fits with your back's natural curves for optimal support while being the best option for those who run hot.
9. Sihoo Ergonomics High Back Computer Chair
This Sihoo Ergonomics High Back Computer Chair offers exceptional ergonomic benefits at an affordable price. It includes a breezy mesh back and lowers back support for comfort and resistance that's unmatched by other options at the same price point. Not to mention, it also includes an adjustable headrest and spring-lick tilt mechanism.
10. Humanscale Freedom High Back Desk Chair
Next we have the Humanscale Freedom high back chair, which includes features that stray away from manual adjustment and incorporates elements that make it a self-adjusting chair. This design is equipped to handle all reclining and tilt tension, which ensures that you receive optimal comfort and support. Not to mention, you also gain enhanced blood circulation for a more productive and comfortable sitting experience.
11. Herman Miller Aeron High Back Executive Chair
The Aeron model was the ergonomic chair that put Herman Miller on the map as one of the leading manufacturers in ergonomic office furniture. It includes an effective lumbar support system that works to provide optimized comfort and support. All of these features help it achieve the status it has acquired in the market today.
12. XG-Wing Management High Back Computer Chair
There isn't one office chair that ticks all of the boxes. However, this XG-Wing Management does come quite close. This all-mesh design is equipped to enhance breathability while regulating your body temperature to ensure that you don't get sweaty as you conduct your daily work activity. Not to mention, the inclusion of mesh also allows the chair to align with the natural curvatures of your back.
13. Eames Aluminum High Back Ergonomic Office Chair
This Eames Aluminum High Back Ergonomic Office Chair is an extremely versatile office chair. This means that it can fit into various workspaces and enhance the overall appearance of the workstation. This is all done while improving the ergonomics offered in the workspace. It features MCL leather and an aluminum frame, which only enhances the durability provided in the design. Not to mention, the seating includes elements that allow your back to be supported while you sit for extended periods.
14. Fully High Back Desk Chair
One of the essential features of any high-back desk chair is that it meets the proper alignment with your back's curvature. However, this isn't always possible to achieve if you're a taller individual. Thankfully, the Fully High Back Desk Chair is specifically designed for those who are taller. Not to mention, this ergonomic high back chair is equipped to hold more than 330 pounds, which is high above the other chairs on this list that can only hold around 250 pounds.
15. Blu Dot Daily High Back Computer Chair
This high-back computer chair boasts a stunning appearance while still ensuring that you gain exceptional comfort and support. This model allows shoppers to purchase a useful ergonomic device that can enhance their back and spine health while not breaking the break to acquire such an item. 
16. Vertagear Triigger 275 High Back Office Chair
Now, this racing-style chair goes against everything that's common as a gaming chair. The features included in this gaming chair ensure that you receive support and customization with the ability to remain refreshed and relaxed for hours. This is due to the mesh design.
17. HAG Capisco Puls High Back Ergonomic Office Chair
The HAG Capisco Puls model is one of the best on the market today. It offers a suitable design for any modern workspace while improving the user's seating posture naturally and comfortably. Its minimal design also makes the chair incredibly versatile.
18. Alera Elusion High Back Desk Chair
The Alera Elusion is a high-back desk chair that has a simple appearance but packs a punch. This ergonomic office chair works to offer you the right ergonomics to ensure that your spine and back are supported while you work at your desk. One great feature is that the waterfall-edge seat cushion maintains proper leg circulation and optimal comfort while working.
19. Flash Furniture High Back Executive Chair
Then, we have this high-back executive chair designed with flesh material that makes for a breathable and comfortable seated experience while offering practical comfort. Not to mention, the design of this Flash Furniture office chair is equipped with an adjustable headrest, tilt-adjustable tension knob, and firm lumbar support system. All of these elements make for enhanced ergonomics that work to provide you customized support and comfort throughout your working day.
20. Herman Miller Embody High Back Computer Chaira
Finally, this high-back computer chair is a luxury option for those who want an enhanced ergonomic experience. It prioritizes the ergonomic features, such as an effective lumbar support system, while also making sure the appearance is top quality. All of this is done to ensure that all of the bases are met, and the customers received a luxury experience when using the high back ergonomic office chair.
High Back Ergonomic Office Chair Buying Guide
1. Adjustable Backrest Height
There are many types of high-back chairs. You will need to consider your height to get the best support for your upper back and shoulders. If possible, sit and try out the chair. Check if the chair's back height is adjustable.  Ensure that your upper back, neck and head are supported. 
Having a detachable headrest is a beneficial option. Why? That's to rest your head, neck and spine muscles during the day. In the end, it is your choice, but we strongly recommend one.  Get yourself a comfortable chair where the backrest slides up or down to manage the best ergonomic positions.
Do look up our recommendation of the Autonomous ErgoChair Core.
2. Backrest Tilt Tension Adjustment
While most high rising office chairs offer a recline, good-quality ones will adjust backrest tilt tension.  If you are wondering why you need one, well, here is the answer.  This tilt tension adjustment knob offers you the right amount of pressure required to manage the recline of your body weight. Some good-quality chairs have an auto-balanced tilt tension mechanism.
3. Locking Back Angle Adjustment
As you figure out the best high-back ergonomic office chair, remember to get a lockable backrest. Why? Well, most backrests are designed to offer an element of force to support your back.  You certainly want to avoid a chair where you have to keep pushing the backrest, even if you have just leaned forward to take a paper or glance at that email carefully.  Oh, that could be annoying!
4. Lumbar Support
Pick the best high back office chair that adapts to the shape of your spine. How do you figure that out? It's easy! As you select an office chair, ensure that the lumbar support is adjustable and can move up or down vertically. This will help get the lumbar support at the right place, as per your height.  What is the purpose? The lumbar support functions to provide a minimal strain on the lumbar discs of your spine to offer maximum comfort. Many folks prefer to have a chair that offers a lumbar pillow for back pain. 
5. Neck and head support
Do not ignore the neck and head support.  Your spine and neck muscles are strained as you read from the computer screen or lean forward to read documents.  To reduce the strain, rest your head backward as often as possible. As you rest your head and neck, find a comfortable position for your neck.  Remember not to play around with the support too much once you have found the right spot. This will help you rest your head and neck frequently, with ease.
How High is Good for the Backrest of the Office Chair?
This is a question that is often ignored as most folks spend maximum time looking out for the angle of recline. One must not miss the importance of support needed by the upper back, neck and head. As per a study, Cornell University recommends that this depends on your height. On average, a common person may need between 30 to 33 inches of the backrest. Slightly taller people will need more than thirty-three inches of height.
The determining factor is the upper end of the chair is just below your neck on the back. This allows a high-rise office chair to have an adjustable neck rest to support your back.
FAQs
Are high back or mid back chairs better?
This depends upon your usage for the tasks. Most people who work for long hours at their desks need comfortable high back chairs. Why? They provide much-needed support to the upper back. An additional adjustable head and neck rest ensures that you are not headed for spine issues after a while.
Is a high back chair good for back pain?
If you suffer from lower back pain, you may prefer adjustable lumbar support with tilt tensions. While a high back computer chair will certainly reduce the strain on the spine, this is secondary.
Should office chairs have a high back?
Woah! That's a tough question to answer. Of course, they should be for maximum comfort for the users. However, many offices sometimes cut corners for aesthetics. How? Well, high back chairs tend to make the room appear full and cramped. One would perhaps ask if aesthetics is more important than the user's health.
Mid-back chairs are good if the user population is circulating, like in a library or a computer room at a university.  As users stay for a few hours or minutes, their back is not strained in one position for long hours. A mid-back office chair also works well for users who work for short times and move away from the system.
Wrap-up
In short, a high back office chair is a must for those who work for hours and hours sitting at their desks. Users must often rest their neck and head muscles to rest the spine. Don't miss the upper back and shoulders, which need periodic rest from the long hours of strain.  Choose a chair back height that is appropriate for your height.  Relax, and work or play games for long hours.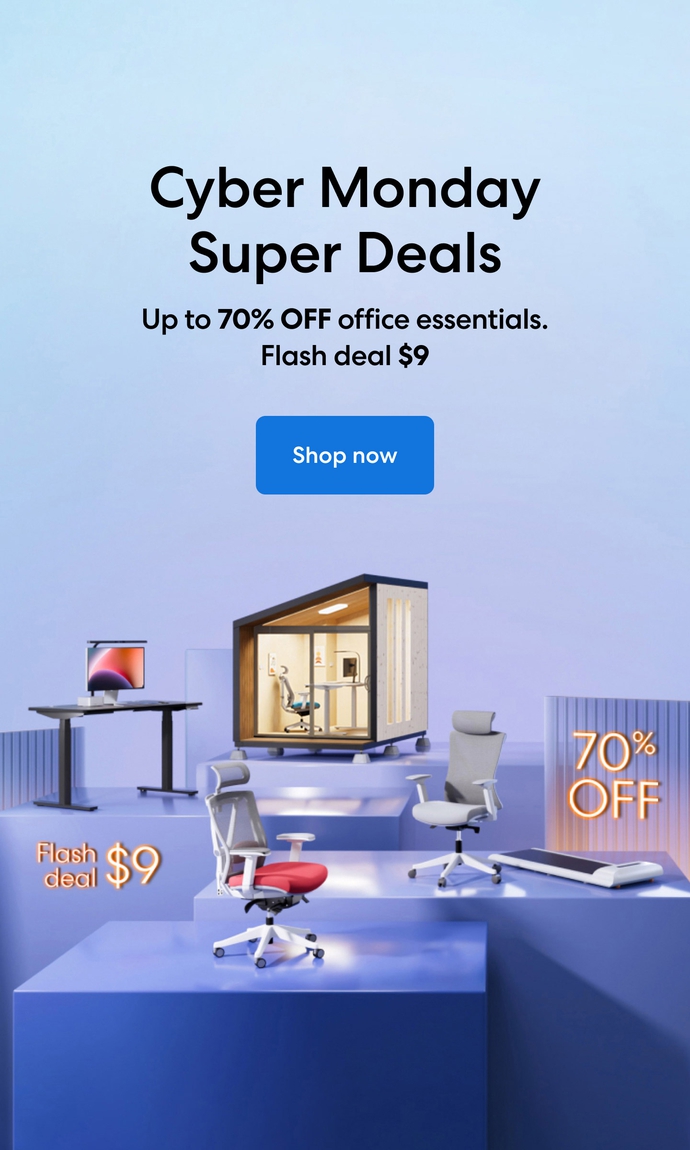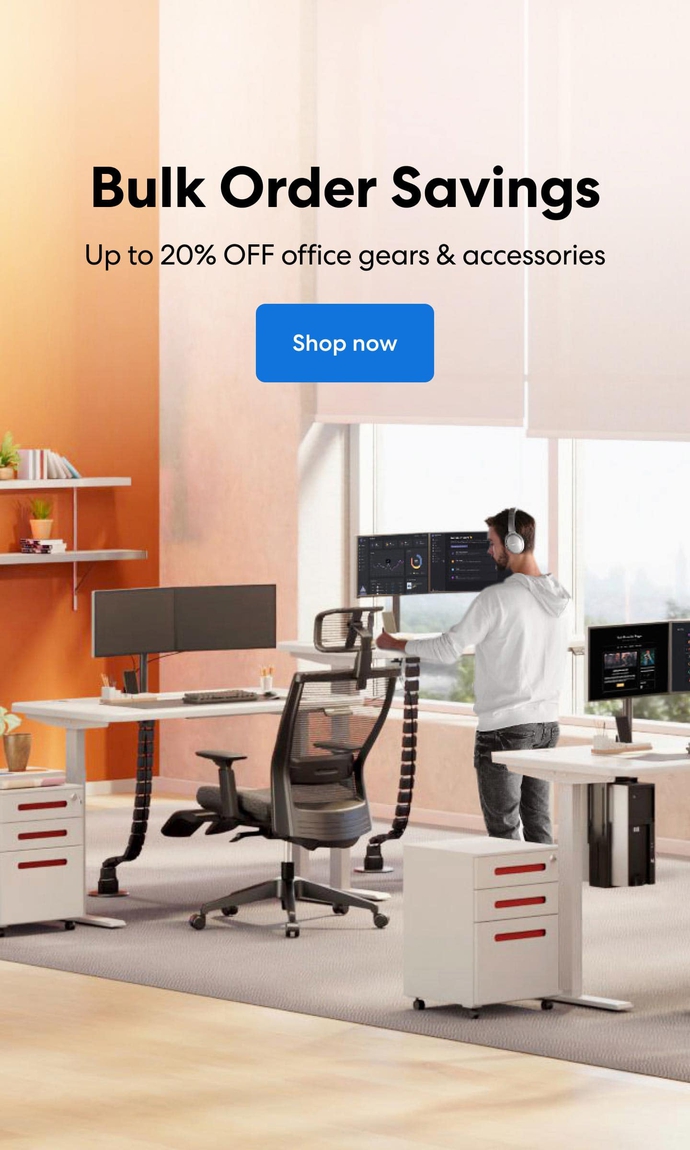 Subcribe newsletter and get $100 OFF.
Receive product updates, special offers, ergo tips, and inspiration form our team.