A tall gaming chair might be the item you need to change your experience while you're playing. Take a look at the best 20 options for 2022
The 20 Big & Tall Gaming Chairs for Ultimate Gaming Experience
1. Vertagear SL4000
Having the best gaming experience is not possible unless you have a chair that can support you while you're playing. In most cases, you might not even notice you need one until you start having back, neck, or leg pain. 
With an ergonomic chair such as the Vertagear SL4000, you can guarantee that your limbs, back, and neck stay safe. It features a design inspired by motorsports, and it guarantees a wonderful experience each time you use it. 
If you take a look at any Vertagear gaming chair review, you might quickly notice that the brand offers you various XL gaming chair options, which is not common. At the same time, this fantastic piece of furniture has adjustable features, removable lumbar and neck support pads, and an integrated frame made of steel. 
2. Karnox Leather Chair
When you're buying a gaming chair for bigger people, you have to make sure that it can support your weight and height, but you also need to make sure that it features the characteristics you're looking for. 
The Karnox leather gaming chair is special since it gives you PU leather upholstery, a tilt mechanism for you to adjust everything and feel comfortable, high-density foam, and customizable features (you can change its seat and height). 
3. Vertagear Special Edition
Another big and tall gaming chair you might want to take a look at is the Vertagear RGB gaming chair. Just like the previously mentioned model by the same brand, this one offers fantastic characteristics, which make it one of the best options on the market. 
On the one hand, the Vertagear Special Edition has a beautiful and unique design with RGB lights. If you want a gaming desk and chair that pop out and makes your surroundings look incredible, this sitting spot might do the trick. 
Then on the other hand, beauty is not the only fantastic feature that this chair offers. It can fully support your back and neck, its tilt tension is adjustable, it's made of breathable materials, its back is reclinable, and you can change its height. 
4. Karnox Slate Gaming Chair
Peak performance and sharp looks are the two defining features of the Karnox Slate gaming chair. This sitting spot combines the best of the best, including adjustable height and seat, reclining backrest, and a high-density seat. 
Additionally, this tall gaming chair gives you a 10-year warranty in case you have any issues, which is highly unlikely. Its strong composition guarantees that it can support your weight for a long time, even if you spend hours in front of the computer, playing your favorite games. 
5. Homall High-back Chair
With a 300-pound weight capacity, adjustable armrest, and reclinable seat, Homall's option is also worth looking into, especially if you want something that's available in different colors. 
The high-back XL gaming chair by Homall is available in eight colors to choose from, so it's an ideal alternative if you want to make sure that your sitting spot matches the rest of your setup. Furthermore, its PU leather upholstery makes it easy to clean, and since it has adjustable features, you can change it to fit your body's needs. 
6. Gtracing Big and Tall Chair
Gtracing's gaming chair for big guys is another option to consider, particularly when you want something that's immensely comfortable. 
Even though ergonomics are essential, being comfortable while you're playing is crucial as well. Fortunately, this model offers thick padding everywhere, so you can enjoy your gaming sessions without experiencing any tension or discomfort. 
7. Jumico's Big and Tall Gaming Chair
In many cases, people want to buy an XL gaming chair even if they're not gamers because these sitting spots are immensely comfortable. However, since a lot of these chairs have flashy designs, some gamers are reluctant to buy them because they prefer simpler options. 
Purchasing Jumico's alternative means you never need to worry about that. It has a low-profile design that might remind you of classic office chairs, so it's a fantastic alternative if you're looking for something that's not so extravagant. 
8. Big and Tall Chair with Footrest by Gtracing
You can get a sophisticated appearance and a sturdy sitting spot with this chair by Gtracing. Unlike the previously mentioned model, it includes a footrest, so your feet can take a break while you're resting from your long hours playing your favorite games. 
This model's adjustable features are slightly more limited compared to others. Therefore, keep that in mind before you make your purchase. 
9. Ficmax's Big and Tall Chair
Long, all-day gaming sessions can be fun, but they can also make you experience tension in your neck, shoulders, back, and legs, especially if you don't have a proper sitting spot. Being in front of the computer means you're adopting a specific position, and it could cause pain if you're not properly supporting your spine. 
Consequently, you need a tall gaming chair with good ergonomic properties, such as Ficmax's option. Its design can support no less than 300 pounds, it has a retractable footrest, padded armrests, and height-adjustable features. Nonetheless, its seat is only 16.5 inches wide, which might be too narrow for some users. 
10. Big and Tall Gaming Chair by Killabee
Killabee's option is even sturdier than the last one mentioned since it can support up to 350 pounds. Furthermore, it has a built-in massager, you can adjust its height, and the seat width is ideal for most (if not all) users. 
With this XL gaming chair, your back never has to suffer any pain since it's properly supported at all times. Since it also has a built-in USB-powered massager, if you start feeling tense after a long game session, you can simply turn it on and relax. 
11. Respawn 400 Gaming Chair
Finding a top-notch beautifully designed and sturdy big and tall gaming chair that has it all is not easy, especially if you know nothing about the Respawn 400.  
The Respawn 400 is one of the best options you could buy because it's affordable, beautiful, convenient, and most importantly, big enough to support you.  
This model is one of the largest you can find on the market. It can support up to 400 pounds and its seat ranges from 22.75 to 24.25 inches wide, which makes it one of the most spacious seats available. Even though its recline range is smaller and you don't get a footrest, it's still one of the biggest and most comfortable sitting spots you could buy. 
12. Anda Seat Chair
Buying a gaming chair for big guys is not only about picking the sitting spot with the best features. On some occasions, even if you do, you might buy something that's not durable. Consequently, you may have to eventually replace your chair anyway. 
If you're looking for the best gaming chairs on the market, you're probably aiming to purchase something that's not going to fall apart in a year. Thus, the Anda Seat model is the ideal choice for you since it's made of sturdy materials, including carbon fiber leather. 
13. Nitro Concepts S3000 Big and Tall Gaming Chair
One of the most challenging aspects of finding the ideal sitting spot when you're tall is that most chairs are too narrow for you to comfortably sit down. Therefore, you might have to go through a lot of options before you find the one you're looking for. 
With the Nitro Concepts S3000 tall gaming chair, you get more than five inches of height range, fabric upholstery, and 3D adjustable armrests. Unfortunately, you don't get a footrest, but the sitting spot does include a headrest and a lumbar pillow, both of which are fully adjustable.
14. AKRacing Masters Series Max Gaming Chair
Tall people need to have sitting spots that can completely adjust to their needs. Purchasing a big and tall gaming chair means that you have to make sure that even if you need to slightly change its features, you're still comfortable while you're playing. 
Since you're spending so much time in your sitting spot during your long game sessions, you need a chair like the AKRacing Master Series model. In this case, the XL gaming chair can support up to 400 pounds in weight, has a 23.25-inch seat, and gives you 180-degree recline support. 
15. Memory Foam Gaming Chair by FantasyLab
Finding a sleek, beautiful, and simple gaming chair is not as easy as it seems. If an office worker, for example, wants an elegant chair for their workspace, getting it might be completely straightforward because most models have similar aesthetic characteristics. 
This is also true for ergonomic gaming chairs. Therefore, it means that most sitting spots available are flashy or are available in various colors that you might not like, which could make you feel unmotivated or even lead you to falsely believe that you can't find an ideal option. 
FantasyLab's chair stands out from the rest because its design is immensely simple. Unlike other models, this one is not meant to stand out, and its features are meant to provide you with comfort.
16. Blue Whale Gaming Chair with Lumbar Massage Pillow
The name itself might be reason enough for you to feel curious when you find this chair. It's a heavy-duty model with a thick cushion, which makes it one of many people's favorites, especially if you're looking for a big sitting spot that can both support your weight and help you have the time of your life during your gaming sessions. 
Buying a Blue Whale means you get a high-quality sitting experience, even if you have to stay in place for hours to ensure you're victorious in your matches. Additionally, since it has a sturdy frame and upholstery made of strong materials, it can last a long time by your side.
17. Heavy-duty Gaming Chair with Lumbar Massage Pillow by Qulomvs
Unlike other simpler chairs, the Bumblebee model is extravagant, flashy, and can even remind you of Transformers. This tall gaming chair is a heavy-duty sitting spot with fantastic features, including a lumbar massage pillow and a unique rubber band to make its seat softer. 
With 3D adjustable armrests, rocking functions, and a high-density seat, this XL gaming chair can support you for years and be your best friend when you're playing your favorite games. 
18. Heavy-duty Ergonomic Gaming Chair by Yitahome
If you're looking for a gaming chair for big guys that guarantees support for your hips, head, waist, and legs, then Yitahome's option might be the right one for you. 
In this case, the sitting spot is innovative and a fantastic alternative since it features a thick-padded headrest, a lumbar pillow, adjustable armrests, and more. Yitahome's alternative even lets you sit cross-legged if you want! 
19. Dowinx Gaming Chair
A beautiful vintage style is possible to achieve if you buy the right big and tall gaming chair, for example, the Dowinx. Instead of getting something too flashy or too boring, you get a perfect combination of aesthetics and incredible features. 
It's fully reclinable, has a massage lumbar pillow, a comfortable headrest, and a footrest that you can adjust to your needs. However, you can't adjust the height of the armrests, which is something you need to keep in mind. 
20. BestOffice's Big and Tall Gaming Chair
The last option on this list is definitely one of the strongest ones on the market, if not the sturdier one in terms of how much weight it can support. BestOffice's alternative can withstand up to 500 pounds in weight, so it might be the ideal alternative if you're very big. 
With lumbar support, adjustable armrests, and more, this chair is heaven for many gamers. Nonetheless, the padding is very thick and hard, so it might take you some time before you get used to it. 
Keynote Takeaways
Big and tall people sometimes have trouble finding the best chair to fit their needs. However, all you need is to go through the best options on the market – now that you have, choose yours!
Video ads for product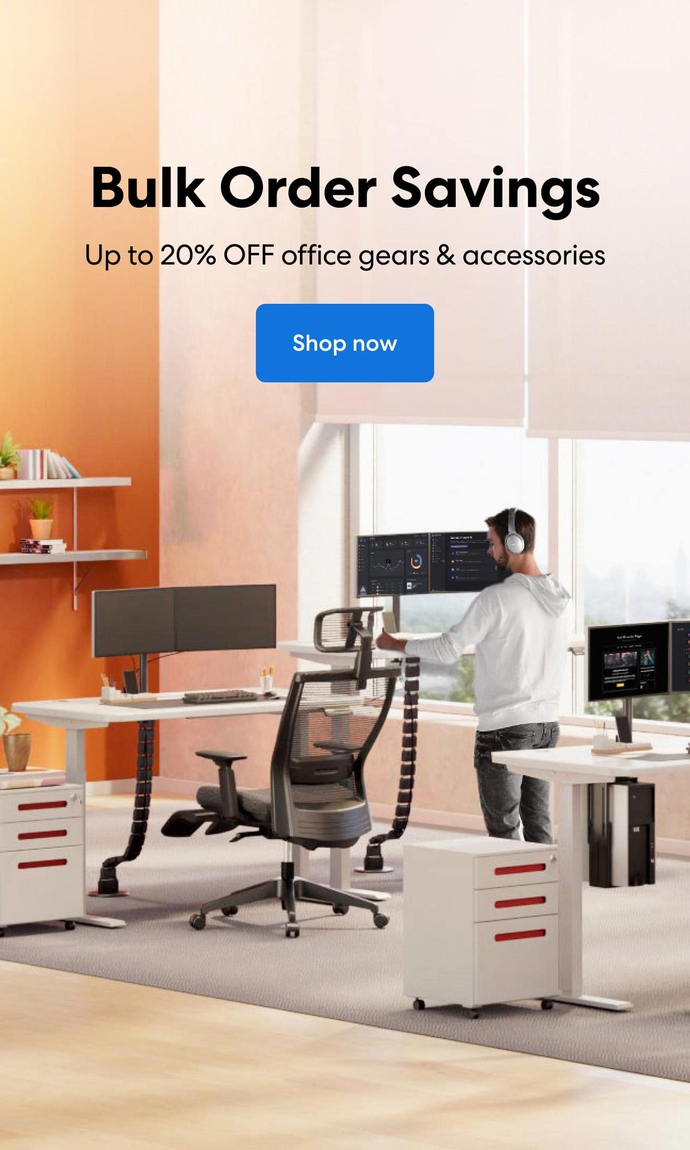 Subcribe newsletter and get $100 OFF.
Receive product updates, special offers, ergo tips, and inspiration form our team.