Smart Products
The 4 Best Glass Top Desks with Drawers at Autonomous

Autonomous
|
Oct 2, 2022
1,314 Views
The visual appeal of glass top desks with drawers added to a workplace is its main advantage. Unless it has been broken or damaged, glass is incredibly durable. Unlike steel or wood, glass will not deteriorate over time. Any space may feel sophisticated with the use of glass. Lastly, you may easily use a moist cloth to clean the glass. However, glass tables might indeed be heavier, which is a trade-off.
Moving glass could be more difficult. It is also prone to be scratched, cracked, or damaged. The glass on those tables can also break if children, dogs, or large items fall over them. Generally, glass office desks with drawers offer the same convenience as those made of other materials, are very useful, and provide open, airy spaces due to the material's transparency.
Due to the sheer weight of its tabletop, standing workstations are rarely constructed of glass. You may put a keyboard tray, or desktop shelf on a desk's top are optional extras on certain glass workstations. In this article, we have shared our top picks for glass desks with drawers available on Autonomois.ai, along with a thorough breakdown of what keeps each unique, helpful, and practical for a workplace arrangement. 
Advantages of Glass Standing Desks
Since glass appears contemporary and elegant, people frequently view glass tables as statement pieces. A small glass desk with drawers gives the impression that you regard your business and aesthetics seriously. A glass desktop or table may also lend elegance and professionalism to any modern home design motif. Here is why you should invest in a small standing desk made of glass:  
Glass Livens your Space
A glass table's numerous benefits are that it can make any workplace or conference room appear more open and airy. Glass' transparency gives the impression that the room is larger and lighter.
Glass Limits the Damage
Scratches and chips on your hardwood desk are the worst. By selecting a glass desk, you can protect yourself from any potential problems with melamine-faced workstations in the future.
Glass Oozes Design
Many glass workstations are fashionable and geared toward CEOs. Several glass-top workstations with brass bases come in black or white colors. Glass is a great option if you require a desk that signals your arrival.
Glass is Sturdy
Contemporary tempered glass is 4 times more durable than traditional glass thanks to a fabrication method that involves carefully regulated heat or chemical processes.
You can use Glass as a Dry-Erase Platform
Most tempered glass workstations work alongside dry-erase markers, making them excellent for taking notes and developing ideas. Choosing the right marker to match your table's color is the challenge. White desktops perform well with primary colors, while black and translucent ones go nicely with fluorescent markers.
Top Tables Featuring a Glass Top and Drawers on Autonomous
A computer desk featuring a glass top will seem stylish and professional in your work-from-home setup or the office. Consequently, a glass adjustable standing desk will make your office a place you'll wish to be in all the time. It will satisfy all your needs, whether you desire a formal appearance or maybe something modern and minimalist. Our design professionals have chosen a few of their top selections of glass top standing desks with drawers from Autonomous below, including desks with metal elements.
1. Northread Glass Top Standing Desk: Drawer & USB Charger
With this desktop, you can manage anything. The Northread Store's workstation has a beautiful panel with up/down movements, an O-LED panel, 4 different altitude configurations for easy adjustment, and USB connections. This Glass Top Standing Desk with Drawer & USB Charger with storage compartments includes three unique USB connections for broad device compatibility, eliminating the congestion and annoyance of tangled cords in your under-desk space. This black glass desk with drawers also boasts a smooth height-adjustable function, which enables you to alter the height from 27.2" to 44.9" to match your demands better.
2. Northread Smart CompactDesk: Touchscreen & Chargers
For safety, the excellent tempered glass top treadmill desk with drawers and a charging dock features curved edges. A hidden pull-out section on the CompactDesk with Wireless Charge Pad adds storage and keeps your documents orderly. Besides having drawers, this lovely glass sit-stand workstation also has a USB charging port underneath the desk. This workstation can be adjusted in height and includes a wireless charging mat integrated into the worktop so you can recharge your phone without becoming concerned with unsightly connections. Three system altitude settings for easy adjustment, an LED indicator, a fast up/down movement, and a lock mechanism to prevent mishaps are all included in its elegant touchscreen interface. Its fast elevating system is strong but attractive.
3. Wistopht CompactDesk: Touchscreen Control & Wireless Charge Pad
This desk's small 45" x 23" top makes it ideal for any WFH or corporate office setting. It has a wireless charger pad and 4 outlets that can charge a maximum of five devices, with efficient cable management. The desk's touch screen buttons and a cordless charger are part of the glass tabletop's small readout. The elegantly contoured corners of the pressure-resistant, robust tempered glass ensure safety. The embedded touchscreen on this white glass desk with drawers allows you to control the elevation of your desk right from the surface. With three programmed height adjustments, it flawlessly recalls your preferred sitting and standing positions. Additionally, it has concealed drawers for convenient storage. Clear your workspace of clutter to keep your job more concentrated.
4. ApexDesk CompactDesk: Touchscreen Control & USB Charging Port
The workstation has an advanced touch interface, five programmable buttons, and three changeable memory configurations for different desired desk heights shown on the LCD. It is an ideal workplace for the home or the office. The ApexDesk Compact Desk with USB Charging Ports can be placed in a small space and big enough yet to hold two monitors. The tabletop features an MDF base with a scratch-resistant resin covering. The table's upturned Y-shaped legs make it exceptionally robust. Its durability is further increased by the twin crossbars. You may adjust the leveling feet on the bottom of this desk to make solid contact with the floors.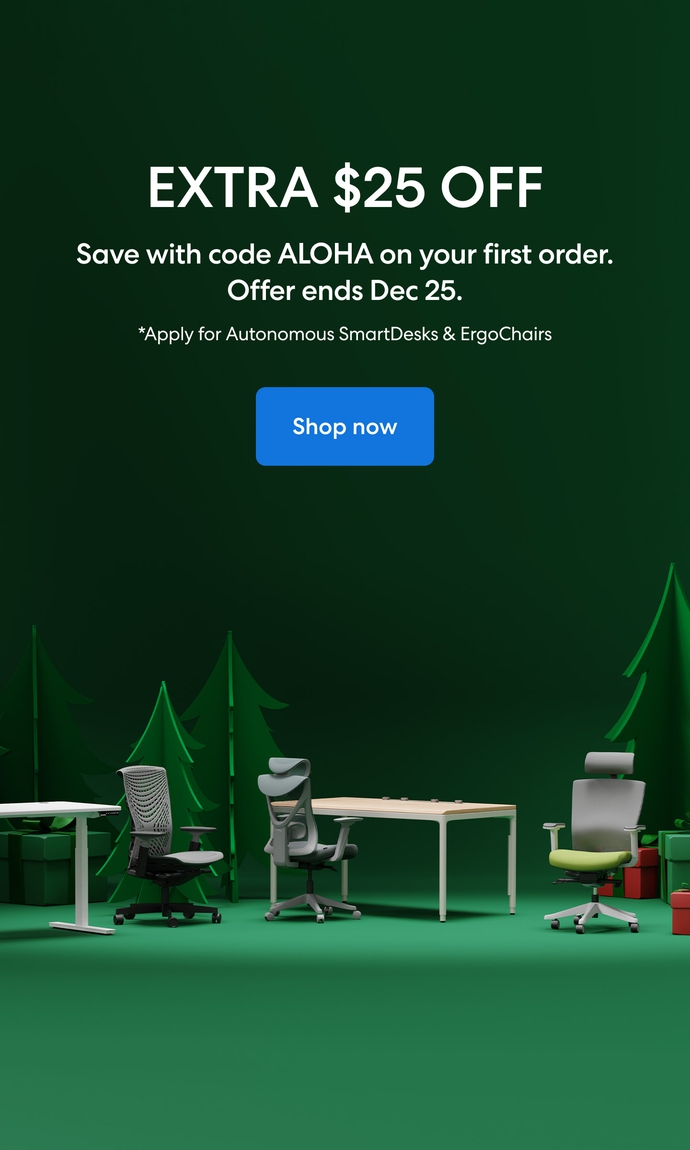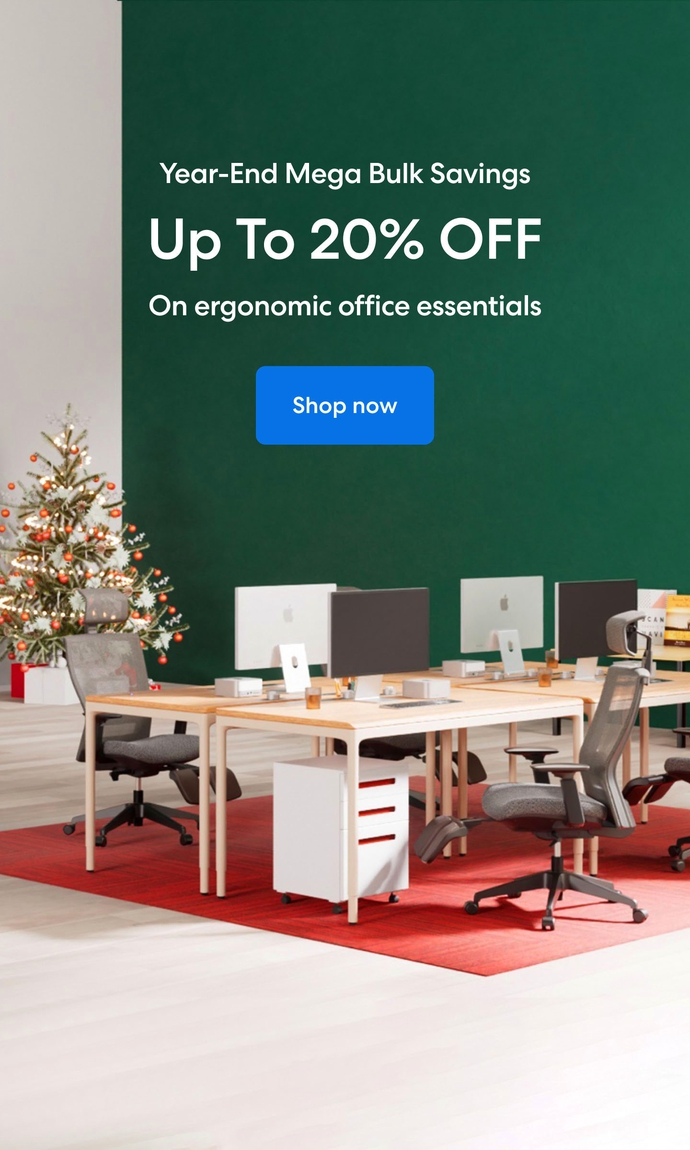 Subcribe newsletter and get $100 OFF.
Receive product updates, special offers, ergo tips, and inspiration form our team.