Smart Products
The 40 Best Types of Office Chairs: There is One for Everyone

Autonomous
|
Sep 30, 2020
11,242 Views
A high-quality office chair goes a long way to protect your back from undesirable pain. It may not seem obvious, but your posture and back health are heavily influenced by the type of office chair you use. Some desk chairs are worth the investment, so this list should focus on the best 40 best types of office chair styles. This list should focus on what are the different types of office chairs and how they differentiate from one another in no particular order.
1. ErgoChair Pro - Best Types of Office Chairs
An ergonomic chair is designed with office workers who tend to spend over 1700 hours a year sitting down. Unsurprisingly, most standard office chairs don't consider this, thus act as a common source for back pain down the line. ErgoChair Pro is ergonomic chair exceling in performance, focusing on having several features for your convenience. As adjustments allow more flexibility, these customization aspects should appeal to the ordinary office worker who wants a new chair. 
Pros
Perfect for a 

flexible office design set up

Allows for height, headrest, armrest, backrest, and seat-tilt adjustments

Smooth recline feature with five positions

Made with earth-friendly materials

Woven mesh back for better airflow (no more sweaty backs!)

Supports 300 pounds

Comes in various colors

Offers flexible lumbar support for all seated positions
Cons
Can be hard to assemble

Fabric easily attracts dirt

Seat padding made for people of average weight
2. ErgoChair Pro +
If you're an office worker who likes to dabble with YouTube videos, the ErgoChair Plus is an excellent choice for you. Its simplistic fishbone design corrects flimsy posture while offering a modern design. With several adjustable functions at your disposal, the ErgoChair Plus works with all kinds of desks, so no office worker should struggle to incorporate this piece of furniture into their daily life. It is a perfect desk for desk setup for Youtube creators.
Pros
Frameless construction allows for unhindered movement

300-pound weight capacity

Cooling TPE and breathable mesh options available

Adaptive for more spinal support

Encourages your natural mobility

Earth-friendly TPE used

10 times more durable than other materials

Offers natural lumbar support

Sleek and modern design
Cons
Some assembly required

Can take some time to get used to the frameless chair

Only goes 44 inches high
3. ErgoChair Recline
Another type of office chair is an ergonomic chair that specializes in comforting your back is ErgoChair Recline. As its reclining features are top-notch, this is the best type of office chair for back pain. Its adjustability makes office work easier for you, which in turn makes you more productive at work.
Pros
Holds up to 250 pounds

Can recline in this chair

Offers a mesh back for more airflow

Includes lumbar support for the low back

Comfortable and supportive seat foam

Adjustable leg-rest and headrest options

Provides adjustable height, seat-tilt, and armrests
Cons
Lower weight capacity than other Autonomous products

Can become expensive when you add leg-rest and headrest upgrades

Seat foam doesn't "breathe"
4. ErgoStool - Ergonomic Stool Chair Type
Autonomous tend to have excellent seats and produce many best types of office chairs, and this stool is no different in terms of high-quality production! If you enjoy a standing desk, but find that you cannot stand all day for efficiency, then this ergonomic stool should be a good compromise between healthy living and comfortability.
Pros
Comes in many fun colors

Allows you to move while sitting to strengthen the core and back

Includes a weighted base

Promotes dynamic sitting

Adjustable from 24 to 35 inches

Can lean forward in it

Suitable for rocking so that you can move around all day
Cons
Doesn't offer any back or lumbar support

Can't take the place of a traditional ergonomic chair

Not as comfortable as regular office chairs

Low max weight accommodations
5. Avo Chair
Saving one of the best types of office chairs for last, the AvoChair is a sleek, eco-friendly option for those who enjoy both functionality and comfort. Its ergonomic design makes it perfect for work, as it can increase your productivity significantly! With a stable aluminum alloy base, it can support up to 250 lbs quite effortlessly.
Pros
Elastomeric mesh back provides spinal support and breathability

No hard edges, so you feel relaxed and ready to go

Minimally designed for sophistication

Completely eco-friendly

Mesh seat for more breathability

Adjustable and suitable for people from 4.9 feet to 5.75 feet tall
Cons
No lumbar support built into the chair

No headrest available

Might not be as comfortable as other Autonomous chairs
6. 24 Hour Chairs
For the unfortunate office worker slaving the days away for long shifts, you need a specially designed office chair type for that sort of work. So, 24 hour office chair is for you. Its durability is excellent, which makes sense given you're sitting on it for hours upon hours.
Pros
Designed for extensive and intensive usage

Includes many ergonomic features

Can last many years with the right maintenance
Cons
Requires various adjustments for different people

Can be more expensive than other options

Must still focus on the features you want
7. Petite Chairs
As the complete opposite of tall chairs, a petite chair is designed for smaller individuals. Your chair's size plays a crucial role in how well you can work in an office setting. If your seat is too big for you, then it can become more inconvenient than comfortable.
Pros
Lower gas lift

Low armrest height range

Adjustable lumbar support

Proper seat depth/width for petite people

Correct seat angle and height for smaller people
Cons
Can't be used by taller people

May cost just as much as other chairs
8. Industrial Office Chair
A common sight among office chairs, its minimalistic design should appeal to professionals looking for cheap yet reliable functionality. There's not much to say about it, but it is a standard among office workers.
Pros
Uses durable materials

Practical for harsh working environments

Minimalistic design with some ergonomic features
Cons
Shorter backrest, which can cause stiffness

Rarely includes lumbar support

Not as beautiful as other chairs
9. Contemporary Office Chairs
Sometimes referred to as a modern office chair, this best type of office chair focuses on simplicity in both use and maintenance. Sometimes, a comfy seat can be a pain to clean, but the contemporary office chair is easy to maintain!
Pros
Comfortable to sit in for long periods

Good value

Offers a few ergonomic features
Cons
Can be hard to clean the seat fabric

May not be as durable as others

Doesn't usually include armrests
10. Tropical Office Chair
Perhaps you wish to feel like you're on a vacation while working, then you need the tropical office chair for decor. They're more comfortable than they look, and are also one of the better-looking seats you can put in an office.
Pros
Highly colorful

Makes you feel like you're on the beach

Made of durable materials
Cons
Few if any ergonomic features

Might not be suitable for remote workers

May not be extremely comfortable for long periods
11. Saddle Chairs
Are you looking for short-term posture gains? A saddle chair can also improve your core, so this office seat is desirable for those looking for more movement in their life. A saddle chair is one of many ergonomic designs designed with comfort in mind.
Pros
Offers a tilt mechanism

Height adjustments available

Usually a divided seat but can be one-piece
Cons
Can feel odd to sit on at first

Not ideal for long periods of time

Looks a bit odd in the office

Sits higher than traditional chairs and requires a higher desk
12. Leather Seat
Old-school, yet cool. A leather office chair is one of the most common office chair types you can find on the market, so its accessibility is a positive trait worth noting. Aside from that, it should complement all styles of offices given its appealing design.
Pros
Very comfortable to sit in
Easier to clean than others
Premium feel and look
Cons
Legs can stick to the leather
Doesn't offer as many ergonomic features as others
Expensive
13. Transitional Office Chair
The best types of office chairs can act as more than just seating for your workplace. A transitional office chair is colorful and focuses on a more comfy cushion. As it looks cool, you can use it outside of the office, and people won't mind!
Pros
Many colors and patterns available
Great profile to match outside/inside décor
Fun and exciting
Cons
Can be hard to sit in for long periods
Little to no ergonomic features available
May or may not have armrests
14. Sit & Stand Chairs
While it may seem like a contradiction at first, a sit & stand chair supports your body depending on your positioning. If you like to stand while leaning into it, this type of chairs for office style should support you comfortably.
Pros
Ability to lean forward
Take short breaks from fully standing without completely sitting
Works the core
Cons
Little support available
Should only be used for a small percentage of the day
Doesn't support a lot of weight
15. Active Sitting Chairs
Working in an office all day with no movement is seriously bad for your overall health. Like other seats on this list, the active sitting chair allows you more mobility. However, this seat focuses less on comfort and more on moving, so use it if you need some exercise when you're working.
Pros
Tons of movement while sitting
Can adjust the height and a few other things
Cons
Focuses more on mobility than comfort
Small backrest might be challenging to use
Few ergonomic features
16. Armless Office Chairs
Noticeably lacking arm support (hence, not ideal if you need to rest your arms), these chairs are mostly budget options and types of office chairs. Affordability is a crucial attribute when considering good seats, so consider a chair like this one if you don't work too much.
Pros
Budget-friendly
Can come in many colors and styles
Swivel features
Cons
Not ideal for long workdays
No reclining features
Doesn't focus on ergonomics
17. Conference Chairs
If your business does conferences frequently, then you need a seat designed to last you through the whole meeting. As you don't typically type when using a seat like this, a conference chair should be better for offices focusing on conversations.
Pros
Stackable design for easy storage
Comfortable with fabric seats and backs
Can be stylish and comes in many colors
Cons
Not ideal for typing and other remote work tasks
Doesn't focus on ergonomics
No adjustable features
18. Executive Chairs
If you have money to burn, this seat is the one for you. Its comfort and aesthetics are usually top-notch, but the modern executive chair can lack some adjustable features something like an ErgoChair Pro + can offer to you in its stead.
Pros
Grand and imposing appearance
Extra padding
Includes swivel capabilities
Cons
Can be ergonomic
Might be more expensive
Doesn't feature a headrest
19. Kneeling Ergonomic Chairs
For those who suffer from chronic back pain, a chair like this one can help you as it cannot touch your back. Its overall comfort is rather low, but they are serviceable for short work hours.
Pros
Can help to ease back pain
Maintains the right lumbar curvature better than conventional chairs
Strengthens the core and back muscles
Cons
Not suitable for use all day
Can be quite uncomfortable (no padding)
Can cause knee/leg pain with extended use
20. Stacking Chairs
This type of chairs for office is yet another alternative budget option and one of common types of office chairs for office workers seeking simplicity. These seats tend to come in various amounts, so it's great for bosses to purchase if they need to save money.
Pros
Easy to stack and store
More comfortable than a folding chair
Robust materials can last for a long time
Cons
Not appropriate for typing and other computer work
Shouldn't be used for long periods
No ergonomic features, armrests, or headrest
21. Task Chairs
There's a common question people have regarding task chair vs. desk chair scenarios. Typically, a task chair is better for short term usage as they tend to lack features for long-term comfort.
Pros
Comfortable
Durable
Various design options
Cons
Creates more heat and isn't breathable
Not ideal for larger people
Can be quite heavy
22. Mesh Chairs - Most Common Type of Desk Chair
It is one of the most popular types of office chairs. If you prefer lightweight seats that are easy to move around, a mesh office chair will be a suitable office chair type. The material it's made out of allows for easier air circulation, keeping your seat cool.
Pros
Made of breathable materials for more comfort
Can be cost-effective
Used for most ergonomic designs
Minimal maintenance required
Cons
Can be hard to find an appropriate design
Durability could be a concern
23. Faux Leather Chairs
Do you like a leather chair, but don't have the funds to dish out for one? A faux leather chair offers you similar benefits, just in a fraction of its functionality.
Pros
Made of PVC and therefore environmentally-friendly
No animals harmed in making it
Can be any pattern, color, or style
Durable
UV fade-resistant
Doesn't crack
Requires less maintenance
Easy to clean with a damp cloth
Can achieve a high-gloss finish
Cons
Not usually breathable
Can waste materials and energy to produce
Doesn't have the same feel as real leather
Doesn't include hypo-allergenic properties
More easily punctured or torn
24. Ergonomic Swivel Chairs
While fun to spin around in, a swivel chair's primary function gives you multi-directional usage. If you're at work and need to turn around often, this is the perfect seating for you to use.
Pros
Provides lumbar support
Includes a stable base
Can adjust armrests, seat height, and headrest
Padded back and seat for comfort
Cons
Can be more expensive than others
May not be able to stop the swivel action
25. Ball Chairs 
Another type of seat that promotes you moving around, a ball chair is another viable candidate for an employee who likes to move from place to place. These chairs are great for balance, especially when used in conjunction with a standing desk.
Pros
Helps to burn calories
Improves productivity and concentration
Boosts blood circulation
Strengthens leg and core muscles
Cons
Can easily get fatigued while using them
Not ideal for long periods of sitting
Can cause poor posture
26. Stools
Other stool variants can work in place of the ErgoStool, just with less effectiveness. It's more or less the same, just as a budget option of types of chairs for office for those who don't want to spend as much.
Pros
Stylish design
Various materials and colors available
Suitable for various locations and needs
Cons
Not ideal for long periods
Doesn't offer as many ergonomic benefits as other types of chairs for the office
Can become uncomfortable
27. Vinyl Chairs
Vinyl chairs are not only durable but also flame-resistant. If you're at a workplace that needs something simple, yet robust, this seat should be an excellent choice for you. Being easy to clean is another bonus to consider.
Pros
Inexpensive to buy
Easy to maintain and clean
Typical choice for most offices (easy to use)
Cons
Doesn't offer ergonomic benefits
Rarely includes headrest or armrests
May not go very high when adjusting it
28. Ottoman Seat
Although this seat can be used as a stool, one of the best aspects for the Ottoman seat is its compatibility with other chairs. You can use this seat like a footrest, especially with some of the less flexible options.
Pros
Unique style
Soft and comfortable
Easy to customize
Use it as a footrest with other chairs
Cons
Easily stained
Takes up a lot of room
Can hold in allergens
29. Folding Chair
Should portability be your primary concern, a folding chair can get the job done quite superbly. It's among the lightest on this guide and is typically also one of the most affordable to purchase. There's nothing fancy about it, but there's a reason why people have used this for several events throughout the years.
Pros
Saves space
Offers tons of variety
Can be stacked on top of each other
Inexpensive
Cons
Doesn't look professional
Can be uncomfortable for long periods
May not be highly durable
30. Egg Chair
Some people prefer modernist designs and more flair to their surroundings. An egg chair typically costs you a fair amount, but its aesthetic appeal is perfect for sleek offices. It is one of the most interesting types of office chairs for your office.
Pros
Modern style
Adds flair to any space
Great for aesthetic appeal
Cons
Can be more expensive
Doesn't work well for computer needs
Can be hard to get out of
31. Drafting Chairs
Posture is an aspect of your health that you often overlook. As its name implies, ergonomic drafting chair is perfect for your posture when writing or typing something up. Compared to other types of desk chairs that protect your back, this one has more mobility if you like messing around within the office.
Pros
Usually comes with a foot ring
Nylon casters
Can swivel
Offers ergonomic benefits
Cons
More expensive
Short back – no headrest
May not offer lumbar support depending on the style
32. Gaming Chair
Nowadays, gaming chair is becoming a really well-known types of office chairs. Although it's challenging to mix in pleasure with business, a gaming chair is designed for gamers who spend six hours plus in a single session. Likewise, businessmen tend to spend hours on their butts looking at a computer screen or in a call. Gaming chairs have several brands attached to them, so you have a surplus of options for the best gaming chairs available to you.
Pros
Very comfortable ergonomic design
Flashy appearance
Various adjustment options
Designed specifically for sitting long periods
Cons
Very expensive
Larger profile might not fit in some situations
May not recline
33. Computer Chairs
This type of office chair is a more generic version of a gaming chair; nonetheless, a computer chair is great for office workers than primarily stare at a computer screen typing. A gaming chair focuses on both mouse movement and keyboard functionality, so a comfortable computer chair is a more affordable option that concentrates solely on the latter for comfort.
Pros
Looks great in any setting
Ergonomics included
Cons
Quality depends on the brand
May or may not offer the features you need
34. Tablet Arm Chairs
If you need to use your tablet for work and multitasking, a tablet arm chair can significantly assist you! The cushion is typically comfortable, but aside from one massive armrest for your tablet, there's not much more to this seat.
Pros
Extremely comfortable
Comes with a small workspace
Cons
Can be expensive
Doesn't have lumbar support
No headrest
Armrests don't adjust
Tiny workspace
Not suitable for use with a regular desk
35. Mid-Century Chair
This class of seats focuses on a unique design, utilizing modern designs and easy-to-use height adjustments. It's similar to a swivel chair in some regards, but it is otherwise an aesthetic choice with some modern functionality. This old design of types of office chairs is suitable for those who loves old and accient office design. It is also one of the best types of desk chairs.
Pros
Quite stylish
Looks great in any décor situation
Offers height adjustments
Cons
Not considered an ergonomic chair
Can become quite expensive
Niche style; may not work for all offices
36. Rolling Chair
A rolling chair is a dull, yet practical choice for any home office or other work setting. It's a common choice if you don't want anything fancy to be used in conjunction with your desk.
Pros
Great for small spaces
Suitable for those who move around the office a lot
Cons
Might not include ergonomic features
Can be pretty plain
Can be dull, though it is practical
37. Desk Chair
Desk chairs are another standard option, yet similar in functionality with a task chair. It's less portable than its counterpart, but it's an excellent pair with any desk thanks to its endurance. However, it lacks the functionality of several other items on this list.
Pros
Similar to a task chair
Can offer fun colors and styles
Withstands the test of time
Cons
Not easy to move around
Might look bulky and out of place
38. Rustic Style Office Chair
If you prefer types of office chairs that bring an air of nostalgia to your workplace, a rustic style office chair is the perfect fit for you! Wood, in general, brings a more classic feel to any setting! While this chair does have several key functions other options on this list possess, keep in mind it is one of the heavier options.
Pros
Gives a feeling of being in nature
Looks great and interesting
Can be inexpensive
Cons
Could be uncomfortable to sit in
Heavier than other chairs
No wheels
39. Wooden Chairs
Ideally, you could get a wooden chair that comes with a cushioning of some form. As previously mentioned, wood is one of the more beautiful materials used in furniture today. Technically, various other classes of seats can be both a wooden chair and another style on this guide. It is a good type of desk chairs.
Pros
Can look refined and classy
Adds warmth to the space
May offer the appearance of professionalism
Cons
Uncomfortable to sit in for long periods
May not have ergonomic properties
40. Tall Chairs
For some tall people, typical office chairs aren't comfortable. When it comes to simplicity, larger people prefer bigger seats. Tall people already have enough back pain as it is so that a tall chair can comfort them better than other options.
Pros
Ideal for taller people
Have high weight capacities
Includes heavy-duty frame
Cons
More expensive
May not fit with some desk designs
FAQ for Types of Office Chairs
Now that we have surveyed the several different types of office chairs available out there let's take a look at some of the general concerns of users to answer any questions you might have before you finalise the purchase of your office chair.
1. Can office chairs be recycled?
On average, as much as 90% of your worn office chair is recyclable. Amidst the global drive to go for sustainable, recyclable products, it is natural for us to look for this property when going to buy an office chair.
Office stationery like cartridges, paper and other items are often recycled or reused. However, one of the items frequently found discarded the office chair. You can avoid this by taking stock of how the process works and if the chair you are going for is recyclable.
The quotient and process vary from one chair type to the other. You usually need to get it inspected before you know if your specific type of office chair can be recycled or should be donated.
For the most part, this depends on the material your office chair is made out of. Some are made purely of one material throughout while others are a combination of a few. The types of office chairs made entirely out of metal are the most amenable to recycling.
Such metal chairs can simply be sent straight to crushers where they are compressed, bailed, and sent to the smelter. After the process, the molten metal can be entirely reused.
In case your office chair is a min of metal and plastic, these components are segregated and undergo the process of recycling separately. The type of plastic used makes a difference in the ease and percentage of recycling.
The different types of office chairs that include wood parts have to be broken down to determine if the wood is real or compressed. Real wood is easy to reuse while compressed wood is often sent to waste.
2. Can office chairs be repaired?
Most issues with office chairs can be rectified at home or be corrected at a repair shop. Even if your chair doesn't come with a manufacturer's warranty, you can take care of most of the common problems with your office chair at home by yourself.
Some issues frequently observed with prolonged or heavy use of office chairs are malfunctioning wheels or broken lift mechanisms, both of which are easy to repair in your home garage with some basic tools.
Other common complaints with your chair over a period of use can be a floppy seat or one that rocks side to side as you sit on it. This is simple to resolve. All you need to do is replace the swivel tilt mechanism of the chair.
If you want to save some money by doing the procedure yourself, you will find easy-to-follow step by step guides on the internet telling you all you need to know to fix the problem without external help. Alternatively, you can choose to seek the help of a professional repair mechanic to mend your office chair. 
The bottom line is, for most of the troubles with your office chair, troubleshooting options are readily available and accessible. This makes your investment in a good office chair a safe and sustainable one.
3. Are office chairs suitable for gaming?
If you are someone who engages in light gaming from time to time and isn't sure about investing in one of those separate gaming chairs, you can lay your doubts to rest.
Ergonomic gaming chairs are designed, keeping in mind the needs of gaming for long hours. They are as a rule ergonomic to make for a comfortable gaming experience even with prolonged use.
They are of several types. Two of the popular gaming chair variants, racer and PC chairs, closely resemble an office chair. When comparing the two, it is often said that gaming chairs tend to prioritise look over comfort, while office chairs do the opposite.
However, this is not the case most of the time.  Although the two have differences in appearance and structure, both office and gaming chairs are designed keeping in mind the comfort of the user, to allow them to serve their purpose for long hours.
When it comes to the build and structure, office and gaming chairs are more alike than different. Both of them feature armrests, casters, cushioned seat and back, and swivelling stands, apart from other adjustable settings.
In their appearance, on the other hand, they tend to be more clearly distinct. Office chairs, designed for formal purposes, naturally tend to be clean and simple in design. Contrastingly, gaming chairs stand out for their strikingly different style.
There are some other differences, too, such as the height of the back. While you will come across some types of office chairs with back support, gaming chairs almost invariably have pronounced, high backs.
Notably, both of these chairs have an ergonomic design with plenty of comfort-maximising features, such as lumbar support, reclining, adjustable height, footrests, and adjustable arms. 
While gaming chairs might have some additional gaming-centric features like headphone output, built-in speakers, and steering wheel mounts, these are usually not indispensable, especially if you are not gaming very frequently.
Both these types are also similarly priced. Thus, to spell it out briefly, if you are not a full-time professional gamer who needs all the additional features of a gaming chair, an ergonomic office chair can work just as well for you.
4. How tall are common office chairs?
The height of the seat varies depending on the type of office chair you go for. Petite chairs would differ in height from saddle office chairs, albeit slightly.
However, the height range you will find most office chairs to fall in is 16 inches to 21 inches off the ground. This measurement denotes the distance of the seat from the ground. The height of the chair's back is not taken into account in this measurement.
This typical height works for most users to have their thighs straight, feet on the ground, and arms comfortably in line with the standard height of a desk.
While this is the standard height range, most office chairs come with pneumatic levers to adjust their height within certain limits. These are found to be the most popular option for offices as they offer greater scope for customisation and adaptability to different users.
On the higher end of the spectrum, you can also find office chairs for tall persons, that have a slightly higher seat than most others or offer greater adjustment variability than most.
5. How wide are common office chairs?
The width of an office chair, like the height, is also found to vary across models and types, depending on the size and level of comfort they are designed for. 
Most types of desk chairs for office, however, are designed to have sufficient space on the seat to carry the majority of users comfortably. Generally, the standard width is 17 inches for a typical office chair.
The span between the back and front edge of the seat needs to be adequate for a user to rest their back against the backrest while sitting in the chair. Along with this, there should be a margin of at least a couple of inches between the front of the seat and the back of the knees.
This is sometimes coupled with adjustment options to tilt the seat backwards or forward, especially in reclining ergonomic chairs.
Concluding Thoughts
When it comes to functionality, all of these basic types of office chairs should perfectly complement any desk you use. If you need a general suggestion that is an overall jack of all trades as far as usefulness goes, the ErgoChair Pro is perfect for all kinds of offices. Consider the following pros and cons for it:
Pros:
Designed to improve your posture
Mesh design keeps the chair at an ideal temperature most of the time
2-year warranty
Several payment options
Free shipping
Supports up to 350 lbs
Several adjustable features
Comes with assembly instructions
360-degree flexibility in movement
Cons:
Slightly expensive
Limited coloring options
If you wish to see some applications for the ErgoChair Pro, you can always check out another guide related to its usage for digital artists here. Ergonomic chairs tend to excel in general use, and the ErgoChair Pro is no different in this regard. As you can adjust several features such as height on it, it's compatible with virtually all types of desks you may use. With some coloring options to accent its generally beautiful design, the ErgoChair Pro can make any office look appealing to any visitor. You can always opt to recline on this chair, should you need additional comfort.
Naturally, any option on this guide of different types of office chairs should be a perfect fit for your work. Whether you choose something with mobility to promote healthier living or just want a comfy chair, there are dozens of options available to you. No matter what you pick, it's vital that you choose one that benefits you the most. One of the most important benefits to a chair is productivity, and if you have the perfect one for your needs, then your efficiency in work should skyrocket!
Video ads for product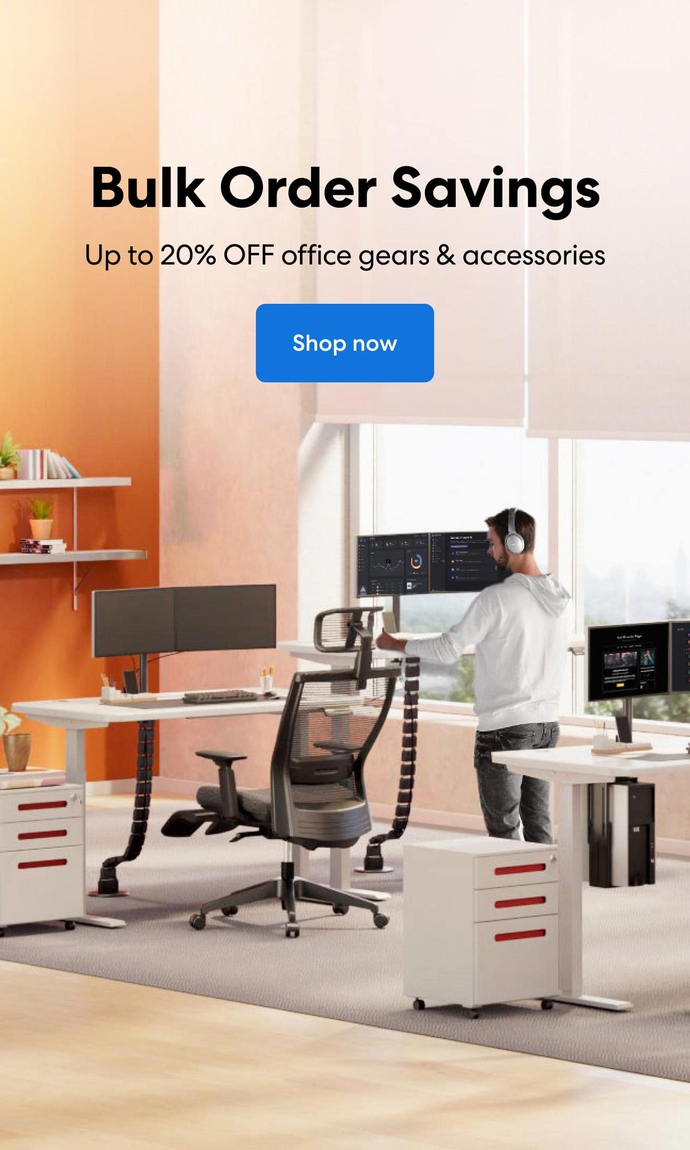 Subcribe newsletter and get $100 OFF.
Receive product updates, special offers, ergo tips, and inspiration form our team.