Hybrid Working
What Are The Benefits Of A Flexible Work Environment?

Autonomous
|
Apr 18, 2021
2,388 Views
How do you define the term flexible work environment? In a few words, you can say that it is a work culture where employees can work freely, without any pressure. Here, they don't have to follow strict rules and regulations. Thus, if you can ensure flexibility in the workplace, it will help your employees work without any burden. It will increase the productivity of the workers. Considering the current pandemic situation, including flexibility in the workplace will be a practical decision.
Compared to the traditional workplace, this office structure yields a better result. It is a positive work culture that will bring success to your organization. People working remotely will also enjoy the benefits of this positive remote work environment.
So, let us acknowledge the perks that a company will receive after implementing this work culture and answer the question of what is a flexible work environment. It will encourage them to establish a flexible working environment.
What is the importance of a flexible work culture?
The flexible working model comes with various benefits. For instance, it will allow the employees to work without stress, which is imperative for an organization's efficiency. Here are the benefits that this working model has to offer.
Reduce costs
Due to the flexible working space for this culture, the acceptance of remote working is increasing considerably. Here, the employees can work from their homes and deliver the same output. Besides, it allows the companies to increase the headcounts without expanding the office space. Consequently, it helps to lower the operating costs of the company. For instance, companies can avoid paying high electricity bills and office maintenance costs by encouraging their workers to work from home.
Productivity of your employees will increase
Once you incorporate the flexible working model into your office, it will improve productivity. The success of an organization mostly depends on its productivity. The employees will get the freedom to work according to their preferences, and thus, it will inspire them to generate more fruitful results. Their dedication will increase, and they will work harder.
Employees will feel comfortable
A flexible working environment will make your staff more comfortable. You should know that comfort can induce productivity. The hybrid work model allows the employees to decide whether they want to work from home or the office. Consequently, the flexible working model will help your workers to stay away from unnecessary mental stress.
Besides, to improve your employees' comfort, you can use an electric standing desk and office ergonomic chair. These furniture pieces will double the comfort of your employees if they decide to work onsite. It will multiply their output as well.
Hence, try to implement a hybrid workforce model in your office. It will be an excellent decision in the long run.
Boost the creativity of your employees
Happy and motivated employees always show enthusiasm to work. So, a flexible working model is a convenient option to induce happiness and motivation for your workers. They will be grateful for their flexible work timing. For that reason, they will engage more with their organization and will ensure a valuable contribution. Their overall creativity will improve, which will be quite beneficial for the organization. Innovation will be an undeniable part of your office if the employees show enthusiasm while working.
Enhanced well-being
The employees well-being is one of the critical concerns of managers when applying a flexible work environment. If you find out the ways to encourage your employees, they will show passion and dedication. Besides, the morale of your staff will also increase if you show them compassion and care. If your employees are physically and mentally fit, they will contribute a lot to your company's growth. Besides, they will come across various mental benefits. For instance, it will reduce the chances of fatigue, stress, and burnout. As a whole, they will give their best performance.
You will attract talent
Most of the professionals these days look for flexible work hours with flexible working space. It helps them to showcase their talent more precisely. So, your flexible office culture will attract new talents, which will make your job easier. Thus, if you can hire diverse talents, the future growth possibilities of your company will enhance. 
Are there any disadvantages of flexible work culture?
Although flexible work culture is advantageous, there are some potential disadvantages as well.  It is better to check out those disadvantages before developing this flexible work environment.
The most apparent issue is a lack of discipline. If some employees are not disciplined enough and not compatible with this flexible working space culture, it would concern the organization. To be specific, they can become a burden to your office.

Proper planning is the key to implement flexibility in working hours. To achieve that, the organization may have to overcome some hurdles. For instance, it will be a strenuous task to get control over your employees. Lack of control may lead to chaos, and the graph of your organization may go down.

Different employees may have different work habits. It may not always be easy to create the best work culture that matches their habits. Besides, you have to track every employee's contributions, which will be a pretty challenging task in this 

productive work environment. Proper supervision is a vital requirement to make this work culture successful.
Conclusion
So, take note of the points mentioned above of a flexible work environment and try to focus on them meticulously. Plan your process and create your flexible office environment accordingly. If you become successful in implementing the desired work environment, you will enjoy the fruit for a long time. You don't have to look back.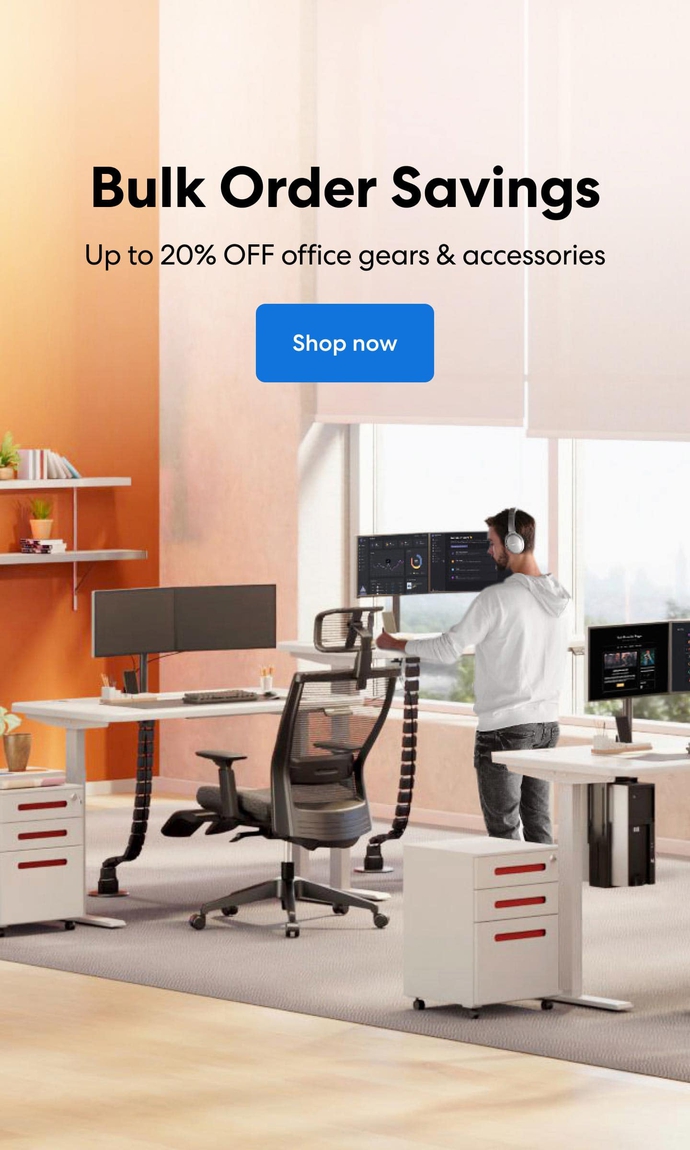 Subcribe newsletter and get $100 OFF.
Receive product updates, special offers, ergo tips, and inspiration form our team.