Smart Products
How to Find the Best Office Furniture Store in Louisville, Kentucky?

Autonomous
|
Nov 14, 2023
663 Views
A well-designed office with high-quality equipment and furniture is better for business. To get your new workspace to the point of optimal functionality, productivity, comfort, and aesthetic appeal, you might want to visit a furniture store in Louisville, Kentucky. 
Offices based in this part of the country could spend weeks hunting for the best furniture store in Louisville, KY- and they may not even know where to start or what to look for. 
If that sounds like you, this helpful guide to assessing and finding the best place to buy furniture for your Louisville office is here to help. It covers the types of stores to consider, the most important factors in picking the right pieces, and three top choices for high-quality office furniture and supplies.  
What Options Are There for Office Supply Stores in Louisville, KY?
Before we look at specific stores, let's discuss the options you have when deciding what type of store to shop at. A lot of this comes down to the types of equipment and furniture you need, how big an order you are looking to place, and what your budget is. 
Here are some possible options to consider. 
A Local Furniture Store
Buying locally in a smaller furniture store in Louisville, Kentucky, is a convenient option for business owners who don't want to wait for delivery and want to support local stores. It is also a decent option for people decorating their private offices and don't need to take advantage of commercial deals on large orders. 
There are a few independent furniture stores and office supply stores in Louisville, KY, but the selection of brands is usually limited. That said, it is a great option for buying something quickly and locally without too many things to compare.
Online Office Supply Retailer
Nowhere else has the same variety of products, price ranges, and inspiration as the internet. Wherever you live, you can find fantastic products at excellent prices by shopping for commercial office furniture online. 
Check first that delivery is available in Louisville, KY, or wherever your office is based to avoid hold-ups or wasted time. From there, you can shop an incredible range of options for kitting out your workspace. 
Shopping for office gear online is often a better option if you plan to place a bulk furniture order. You are more likely to get a bulk-buy deal for office furniture when you shop online.
Second-Hand Office Furniture
If you are looking for cheap furniture stores in Louisville, KY, then it might be worthwhile considering second-hand furniture stores. There are a few ways to get your hands on pre-owned office furniture at a great price, including private sales, office liquidation sales, and stores that resell furniture and equipment from decommissioned offices. 
Large Chain Stores and Showrooms
Some office furniture retailers have store locations and showrooms across the country where you can check out stock in person. This is great for people who need to physically test items to be able to visualize them in their space. 
Depending on the quality furniture brands you are interested in, you can often find multiple office furniture manufacturers in one store. Many large chains support various lines and products, which is handy if you don't already have a make or model in mind. 
Other stores only sell their own lines, which can be good or bad. The lack of variety is a downside, but stores selling their brand of office accessories and furniture are often more affordable.
Things to Consider When Looking for the Best Furniture Store in Louisville, KY
Now that you have some insight into the options, it is time to think about what ones are best suited to you. Is it best to shop online and have items delivered to Louisville, or buy them in a store locally? Should the items you buy be brand new or second-hand? At the end of the day, what matters most? 
Online vs. In-Store
There are pros and cons to both of these options, so it really depends on what your priorities are.  
First, let's look at the benefits of shopping online at a store that delivers to Louisville, Kentucky. 
You have a much wider range of products available to you.
Prices are often lower when you shop for office furniture online.
There are more potential users, which means you can learn more from other people's reviews.
Some online office supply retailers offer excellent deals on wholesale office desks, chairs, and other essentials. 
The only downside of shopping online is that you can't always see or test a product before you buy it. If you don't like it, there is more hassle involved with returns. Just make sure you pick a store that has a reasonable returns policy. 
On the other hand, buying in-store lets you see the products first-hand before you buy them, which is the main reason people shop in person in the first place. That said, you are limited in what you can buy, and unless you live nearby, it can be inconvenient working out deliveries.
New vs. Used
Is it best to buy new furniture for an office or go with pre-owned? There is a case to be made for both, and it depends on where your priorities lie. 
Let's start with the positives. Why is it a good idea to buy used office furniture? 
It is a cheaper option- you can get the same brands at a discounted price if you are lucky.
Buying used furniture from a decommissioned office is a fast way to completely kit out your workspace with minimal effort.
Spending less on used cabinets, cubicles, and general furnishings leaves more to buy ergonomic chair designs, electric standing desks, and other upgraded modern office must-haves.
Older items can be upcycled to save money and reduce waste- something that is especially appealing to businesses and workspaces that want to increase their green efforts. 
What about the downsides of buying second-hand office furniture? Here are some of the less positive things to consider. 
Newer designs are often more ergonomic, durable, and comfortable.
Depending on the furniture, your office could lack the modern, professional-chic vibe that is desirable in workspaces today.
You don't necessarily know how old it is or how much wear you can still get out of it.
Some people prefer to start fresh with brand-new, modern, hand-picked furniture for their workspace. 
It is not for everyone, but buying used office furniture is undeniably a good way to work with a tight budget. There are some excellent used furniture stores in Louisville, KY, and online which save businesses money on high-quality products that have come from offices that have been liquidated, decommissioned, or abandoned.
What Matters the Most?
Whether you buy new or used office furniture online or in a store, the most important thing is to look for high-quality items made from durable materials. Quality matters above all else when it comes to office furniture for several reasons.
People spend many hours in the office, so you need to have furniture and equipment that can cope with regular use.
Poor quality can be felt in the body, especially with chairs. A high-quality ergonomic office chair, for example, helps with posture, back pain, neck pain, and more. A low-quality chair, on the other hand, can make all of those things worse.
This is a professional space. Clients, partners, and other important eyes will see your setup and judge a book by its cover- whether they should or not.
After investing in office furniture, the last thing you want is to have to buy new things after a short period of time. It is worth investing in something that will stand the test of time. 
There is considerable evidence to show that people are generally more focused, productive, and motivated at work when they have a well-designed, high-quality space.  
All these reasons are part of why business owners and office managers must put careful thought and attention into where they buy their furniture from. Even remote workers who are redoing their home office should give proper attention to the quality of the pieces they choose because it all has an impact.
Final Things to Think About When Deciding Where to Buy Office Furniture in Louisville, Kentucky
Plan ahead: How much of each item do you need, and is there anywhere that offers a discount on bulk orders?
Think logistically: Does the store offer delivery to your office address? If so, what is the cost, and how long will it take?
Check the brands: Find out what brands a store carries. Does it have well-known names or only their own lines?
Look into the policies: Does the store accept returns, and what is the policy if you want to take something back? Also, do the products come with a warranty?
Know your budget and priorities: How much do you have to spend overall, and what items are the most important to prioritize more of the budget on?
The Best Stores for Office Furniture in Louisville, Kentucky
All things considered, we have chosen three excellent office furniture stores that are either based in or delivered to Louisville, KY, that could be the ideal solution for your workspace. 
Our three top picks are pretty different from one another to give you a broad spectrum of possibilities. You can compare the types of services out there and pick the one that best suits your needs. 
1. Autonomous
Autonomous is one of the leading online office furniture and accessories companies, serving more than 100 countries but based in the USA. Louisville, KY, is just one of the areas covered. 
Whether you are looking to invest in the very best adjustable height desk for your home office or need a fleet of high-quality office chairs wholesale, Autonomous has you covered. 
The brand is recognized and respected for carrying some of the most versatile, modern, stylish, and ergonomic office furniture designs and brands (including its own line of premium desks and desk chairs at incredible prices). 
On top of that, it also works closely with businesses to provide bulk-buy deals on wholesale orders to help offices get more for their budget. Overall, it has the best balance of quality, cost, availability, and style. 
Concerned about not being able to view products in-store before you buy? Don't be! Autonomous offers a 30-day trial for all purchases- as well as generous warranties on its products.
2. LW Office Furniture
Next, we have LW Office Furniture, which offers the best of both worlds to Louisville buyers with an online store and a stocked warehouse in the city. What we like best about this company is the fact that it sells new and used office furniture, so you have the choice of the two. 
You can browse the inventory of new and used furniture online, complete with photos and prices. Although you can't purchase items online, you can see how many of each are currently in stock in the Louisville warehouse (and the other locations). 
If you are looking for a bargain with the chance of getting some great brands, this is a great place to look, as long as you don't mind it coming from a previous owner. 
Looking to get rid of your old office gear? You can sell it to LW Office Furniture for a reasonable price! 
3. Munson Business Interiors
If you want a high-end, personalized office layout designed just for you, Munson Business Interiors is the place to go. This is not just another furniture store. MBI is a Louisville-based showroom that provides inspiration for what your office space could be. 
What's more, the team at MBI can help you achieve it. The showroom displays furniture- then the design team works with you to create a custom setup for your space. It is a great option for businesses with a higher budget who want flawless style and high-quality pieces without having to do much of the creative thinking themselves. 
Everything from initial concept to installation is covered by a team of experts who can bring your professional workspace vision to life.
Summary
There are many places to buy office furniture in Louisville, Kentucky, but it is important to know what you want and what is your priority before you start shopping. Walking into a warehouse showroom with no plan can be overwhelming, and not everyone needs (or has the budget for) a customized layout.  
The solution is Autonomous. Browse a range of high-quality products at your leisure and learn about all the benefits they could bring to your space. Make the most of excellent prices (even better through the bulk-buying program) and the 30-day trial to find your perfect office furniture to be delivered directly to your Louisville office.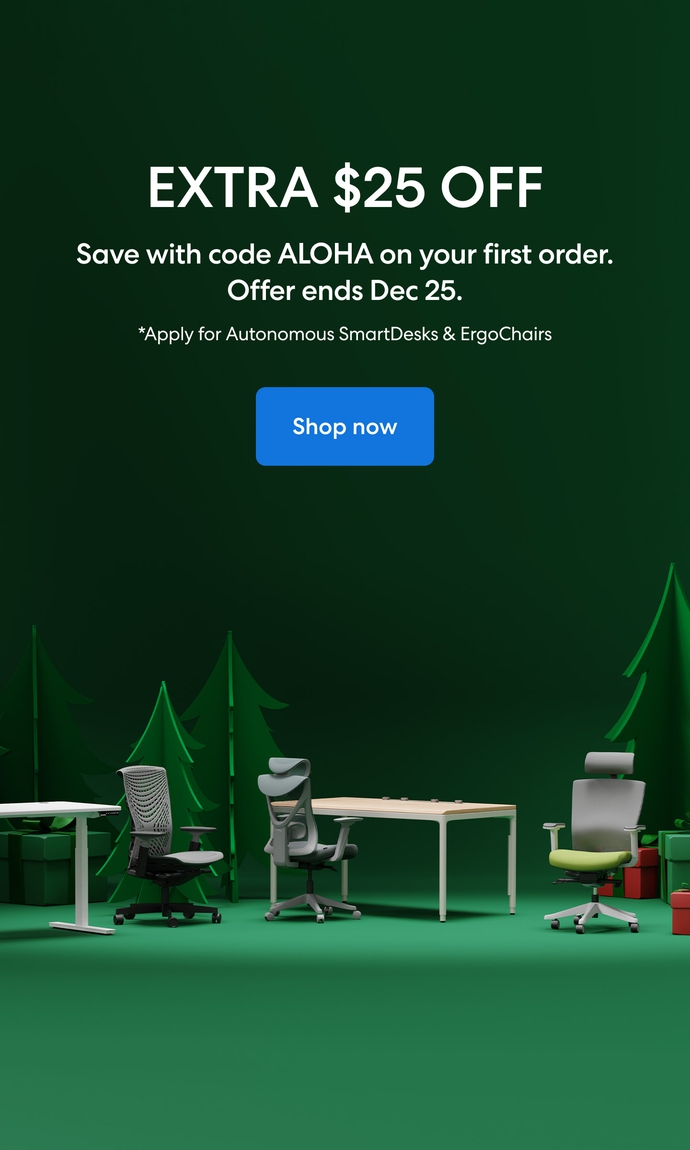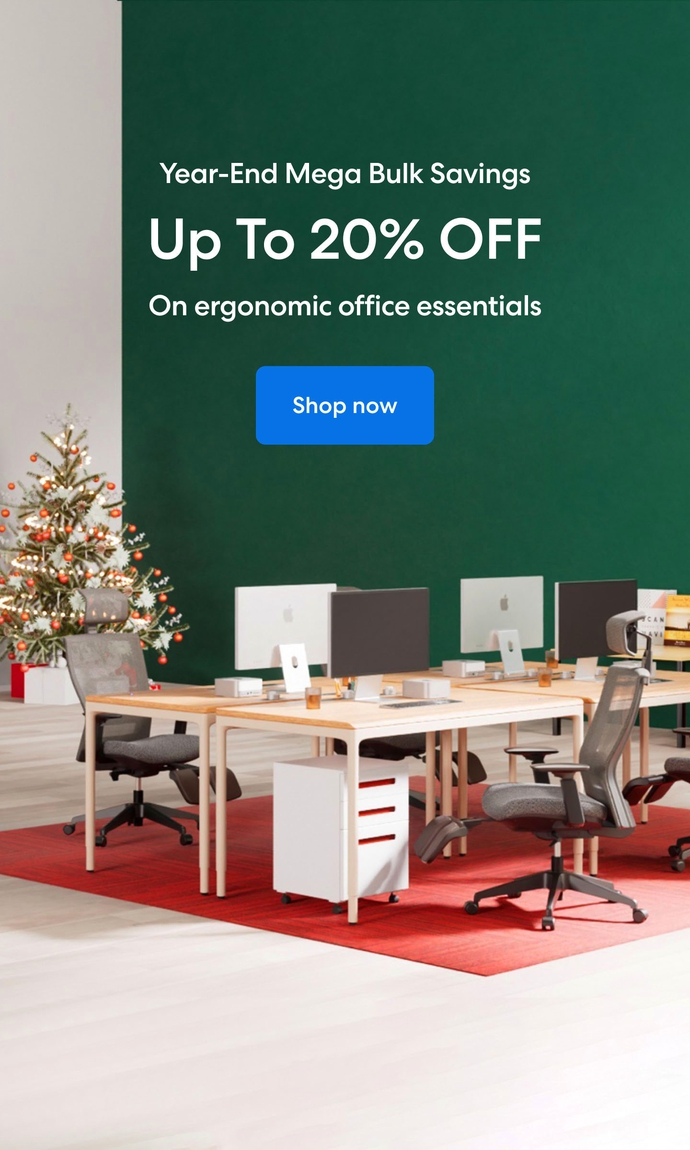 Subcribe newsletter and get $100 OFF.
Receive product updates, special offers, ergo tips, and inspiration form our team.