Smart Products
The Best Rounded Desks for Your Office | Detailed Review [2023]

Laura Turner
|
Nov 11, 2023
842 Views
If you are looking for unique ways to set up your office, you could consider buying a rounded desk instead of a conventional rectangular one. It could even be an adjustable desk that comes with curved edges. This way, you can make sure the desk is both stylish and ergonomic.
To help you make your choice, we tested five awesome options that would be perfect for any modern office. Read this article and find out which rounded office desk is the right choice for you. 
Five Best Rounded Desks for the Office
If you are on the hunt for the perfect rounded office desk, consider any of the following options on your next shopping trip: 
1. Homary 55.1" Modern Off-White Curved Desk 3-Drawer Wooden Home Office Desk
Choosing a round desk for office use is not so difficult when you have top-tier manufacturers to choose from, such as Homary International Limited. Its curved computer desk is a perfect example of what a good office desk looks like. 
Who This Review Is For 
If you want nothing but the highest quality furniture brands for your office, this desk has your name on it. The sleek design tells a lot about the love, care, and attention to detail that went into designing this mid-century-style piece of furniture. 
Features 
When we tested the Modern Off-White Curved Desk from Homary International Limited, we were very impressed by how much storage it had. The desk comes with a huge cabinet for you to store all your documents, files, and accessories. It is available in off-white color, making it easier for you to match it with your existing office décor. 
This desk is made from the highest quality of MDF, which gave us a lot of peace of mind regarding its lifespan and ability to cope with the daily demands of a busy office. 
Although it's not the biggest desk we have ever reviewed, its width of 55.1 inches is more than enough for a computer and a few desk accessories. We had to set up the desk ourselves, but that proved to be an easy task for one or two people.
Homary Modern Off-White Curved Desk
| Pros | Cons |
| --- | --- |
| Great design | Small width |
| Quality material | Not height adjustable |
| Plenty of storage |   |
| Easy to assemble |   |
2. Gilford Sereno Curved Desk
Our search for the perfect desk with rounded edges led us to Willa Arlo™ Interiors, where we were intrigued by the sleek Gilford Sereno curved desk. Its elegant looks were enough for some of our team members to immediately fall in love with it. 
Who This Review Is For
If you are looking for traditional-looking furniture that is different from the modern styles that dominate most furniture outlets, you will love the Gilford Sereno curved desk. 
Features
The best feature of this round desk for office employees is the added storage space. In our office, we generate tons of paperwork as we conduct various reviews. As such, without adequate storage, the workspace can quickly become cluttered. 
When we used the Gilford Sereno curved desk, however, we found its shelf and hidden cabinet to be ideal for keeping all our papers and other accessories out of sight. Its shelf is also open, making it a convenient place to place some items that are regularly needed. 
The Gilford Sereno curved desk comes with a finished back panel, which makes it perfect for placing in the center of the office. Our desk came fully assembled, so all we had to do was unwrap it and decide where to place it.
Its high quality is backed up by an impressive two-year warranty, which is enough to show just how highly the manufacturer rates this sleek and elegant round office desk.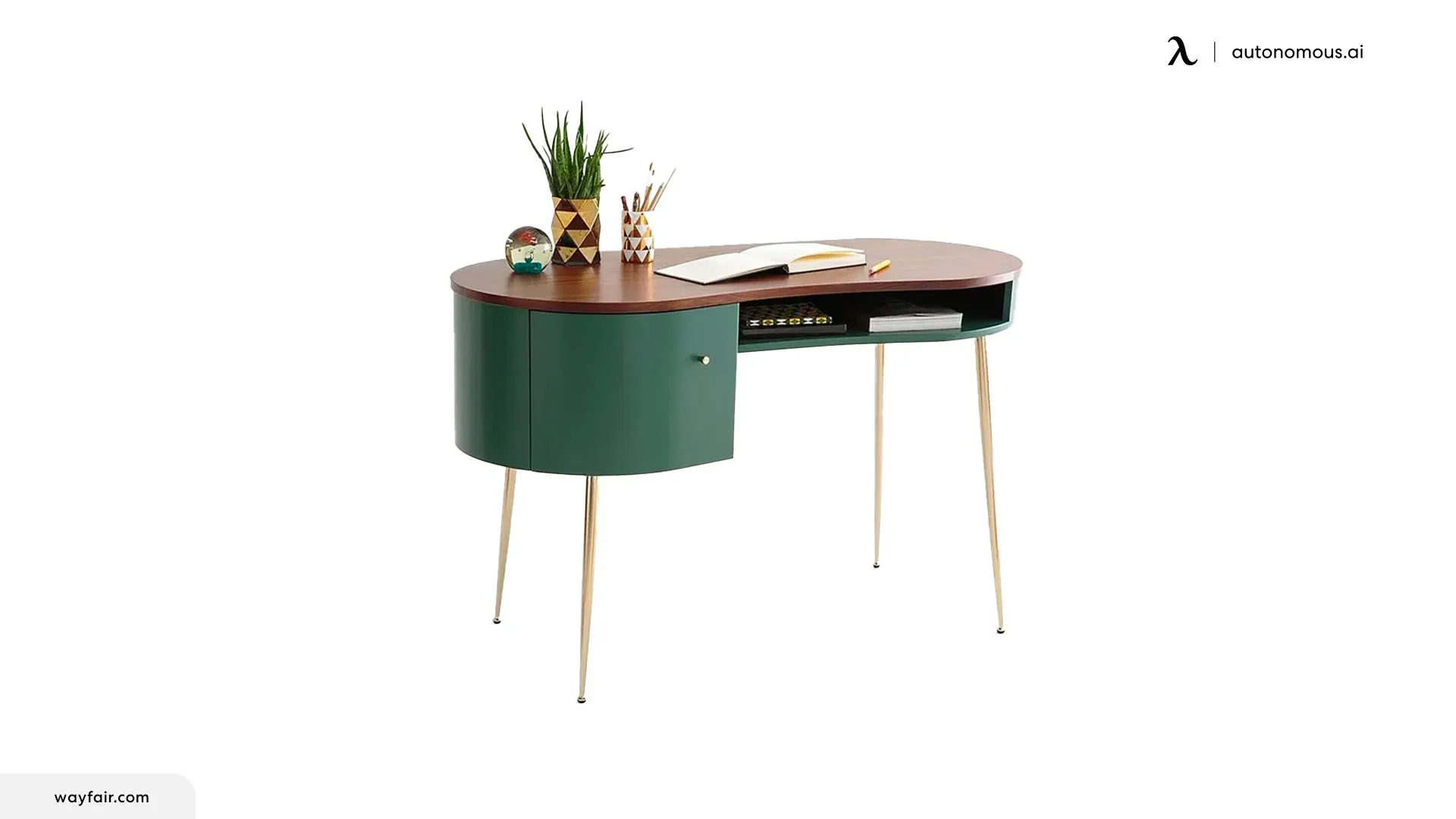 Gilford Sereno Curved Desk
Pros

Cons

Abundant storage
Lacks ergonomic height adjustment
Easy-access open shelf
Sleek design
Great warranty
No assembly required
3. Eureka Ergonomic 70'' Unfinished Desk
The Eureka Ergonomic 70-inch Unfinished rounded desk is the perfect option when you want a desk that will give you the best of both worlds in terms of style and ergonomics. This is because it is a curved desk that is also height-adjustable. 
Who This Review Is For
This review is perfect for anyone looking for a small standing desk that has a curved top. If you are using a relatively small office space, you will find the Eureka Ergonomic 70-inch Unfinished desk to be an excellent choice. 
Features
The stand-out feature of this rounded office desk is its height-adjusting electric motor. This puts it miles ahead of any other model we reviewed in terms of ergonomics. Do you regularly spend many hours seated behind your desk at work? Such a feature is a must-have to help safeguard your health and posture. 
If you share your desk with other employees, you will love the programmable keypad that allows you to store different heights so that this model can be adjusted to the perfect setting with just a touch of a button. 
In terms of material, the Eureka Ergonomic 70-inch Unfinished desk is made of a combination of a high-quality wood top and a robust steel frame. The top is scratch-resistant, so it can handle most ordinary office uses. It comes with a useful cable management system in case you have a few accessories that need to be plugged in.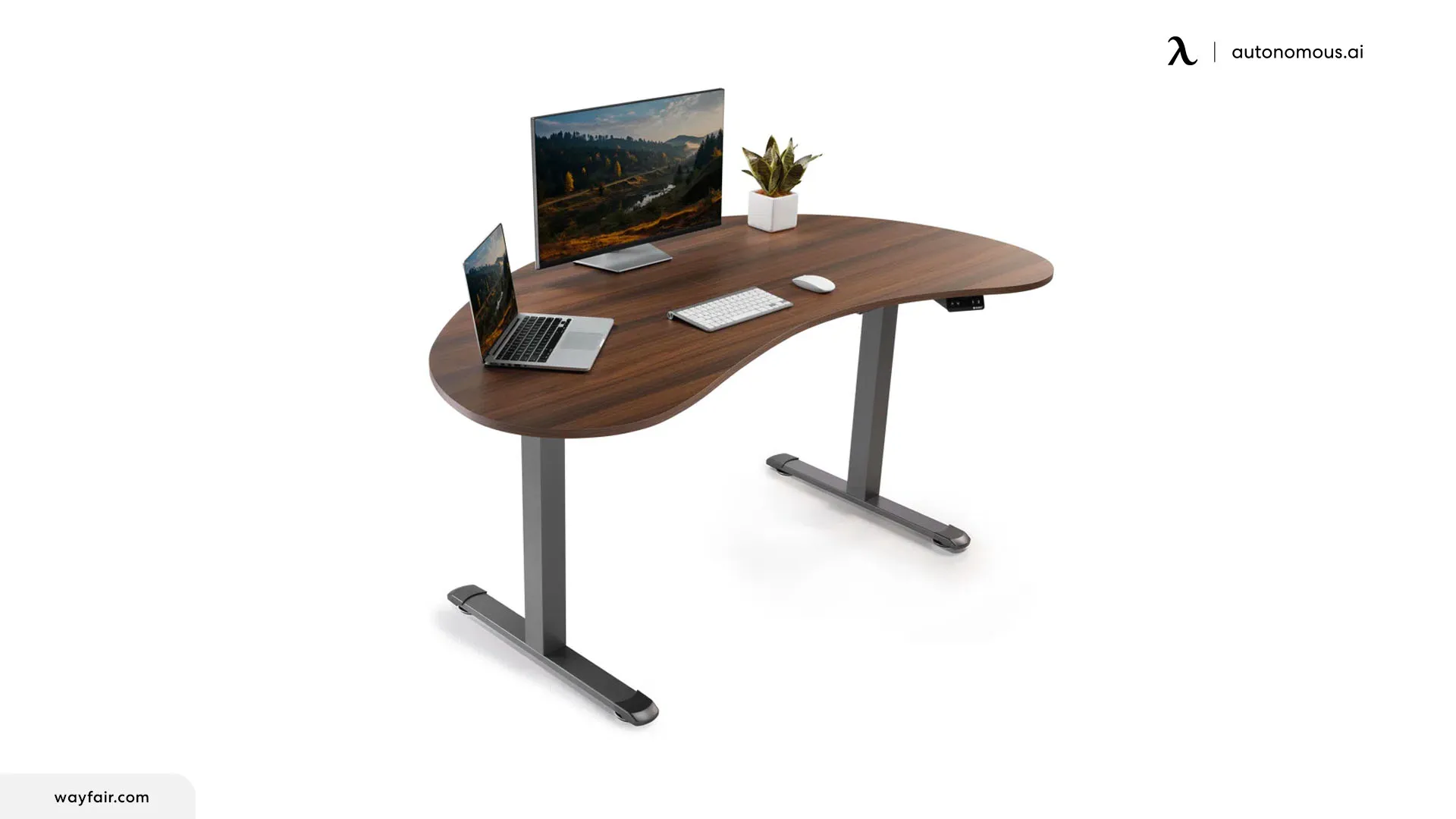 Eureka Ergonomic 70in Unfinished Desk
Pros

Cons

Height adjustable
No added storage
Programmable keypad
Limited warranty
High-quality material
Scratch-resistant top
Cable management system
4. Gowanda Curved Executive Desk
The Gowanda curved executive desk with rounded edges is a perfect addition to any modern office that requires a classic touch in its décor. Its style takes you back to the mid-century and will be an eye-catching piece in your office.
Who This Review Is For
If you love the classic look of traditional solid wood furniture, this desk is a must-see before you make your choice. 
Features 
At first glance, the Gowanda curved executive desk is not what you would expect when looking for a rounded computer desk. It looks like it belongs in a traditional office rather than one that uses computers and other pieces of modern technology. 
However, it is this very feature that we found interesting about this desk. We discovered that when this classic style was placed in a modern setting, the result was quite interesting. The moment you walk into the office, your eyes will be immediately drawn to the only solid wood piece of furniture surrounded by the latest technology. 
The Gowanda curved executive desk is made of a combination of manufactured and solid wood, so a bit of laminate board was used to cover up the plywood. However, it is still quite strong. Its natural wood grain color variation makes it seem like the entire desk is made of solid wood. 
Although the three drawers are not very big, they do provide a little bit of added storage for your papers and accessories. Each drawer uses a wood slide mechanism, and it has a safety stop installed to prevent it from falling out.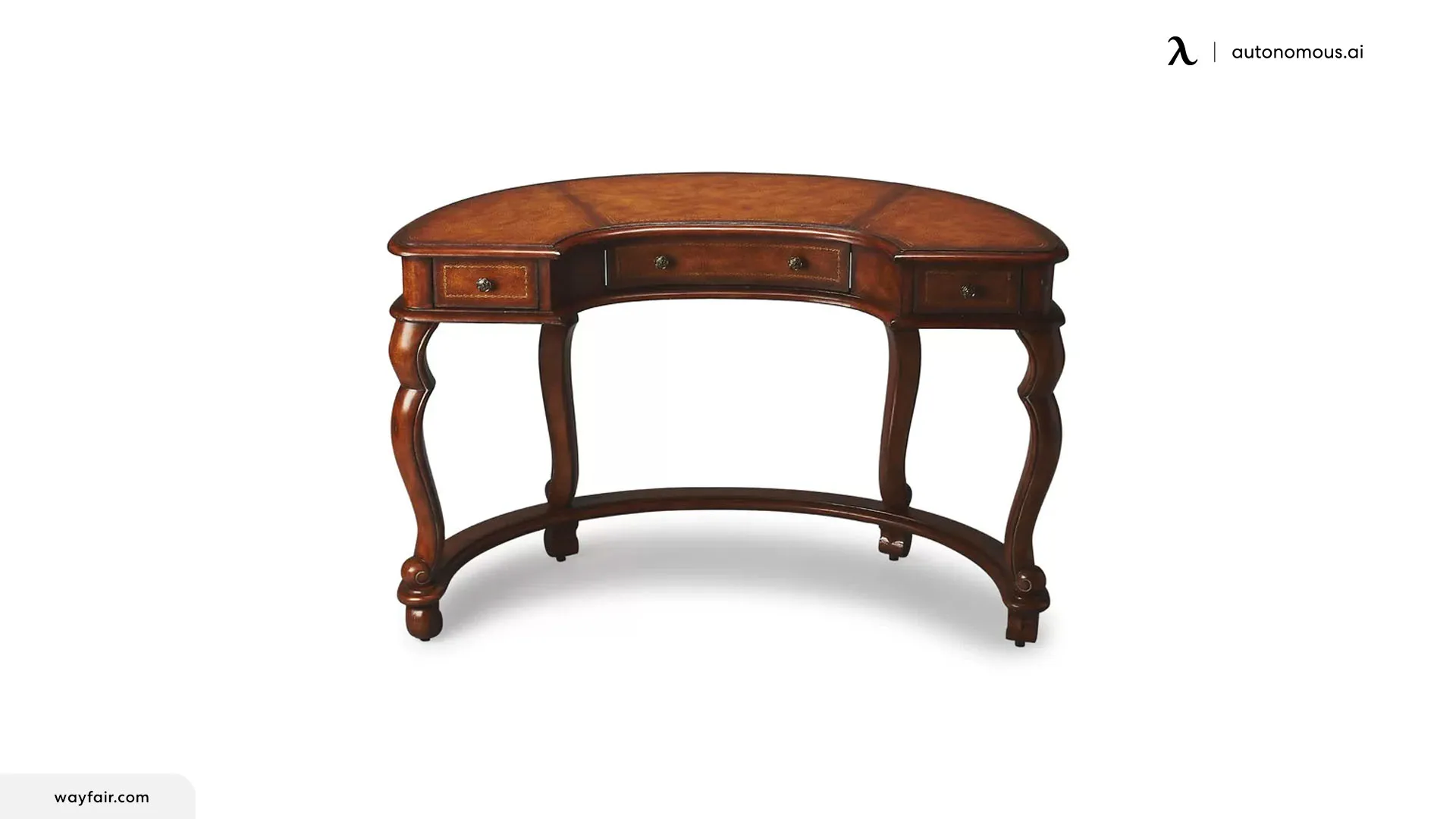 Gowanda Curved Executive Desk
Pros

Cons

Awesome solid-wood appearance
Two-person assembly
Drawers for added storage
Two-person assembly
Robust material
Spacious top
5. Hainault Glass Corner Desk
The last rounded desk we tested was the Hainault glass corner desk. After testing so many wooden top desks, it was a pleasure to get our hands on this awesome glass-top option with elegant curves. 
Who This Review Is For 
Do you need a corner rounded desk that will fit snuggly even in a tiny office? This L-shaped standing desk with curved edges may be just the item you are looking for. 
Features 
The most obvious feature of the Hainault glass corner desk is its top. It is made of black tempered glass that will give your office a unique appearance. If you happen to have access to an open window, you will love how the natural light plays off the glass on this rounded office desk. 
When people consider L-shaped desk layout ideas, it is usually because they are looking for a desk that will go in the corner of the office. 
If this is you, rest assured that the Hainault glass corner desk is perfect for this. The sharp angle of its curve ensures that it will take as little space as possible when pushed into a corner. 
In terms of colors, the Hainault glass corner desk comes in black for both the top and the iron frame. It is strong enough to carry up to 95 pounds, which is more than enough for regular office use. Also, the desk requires assembly, and you will need to have at least two people for the job.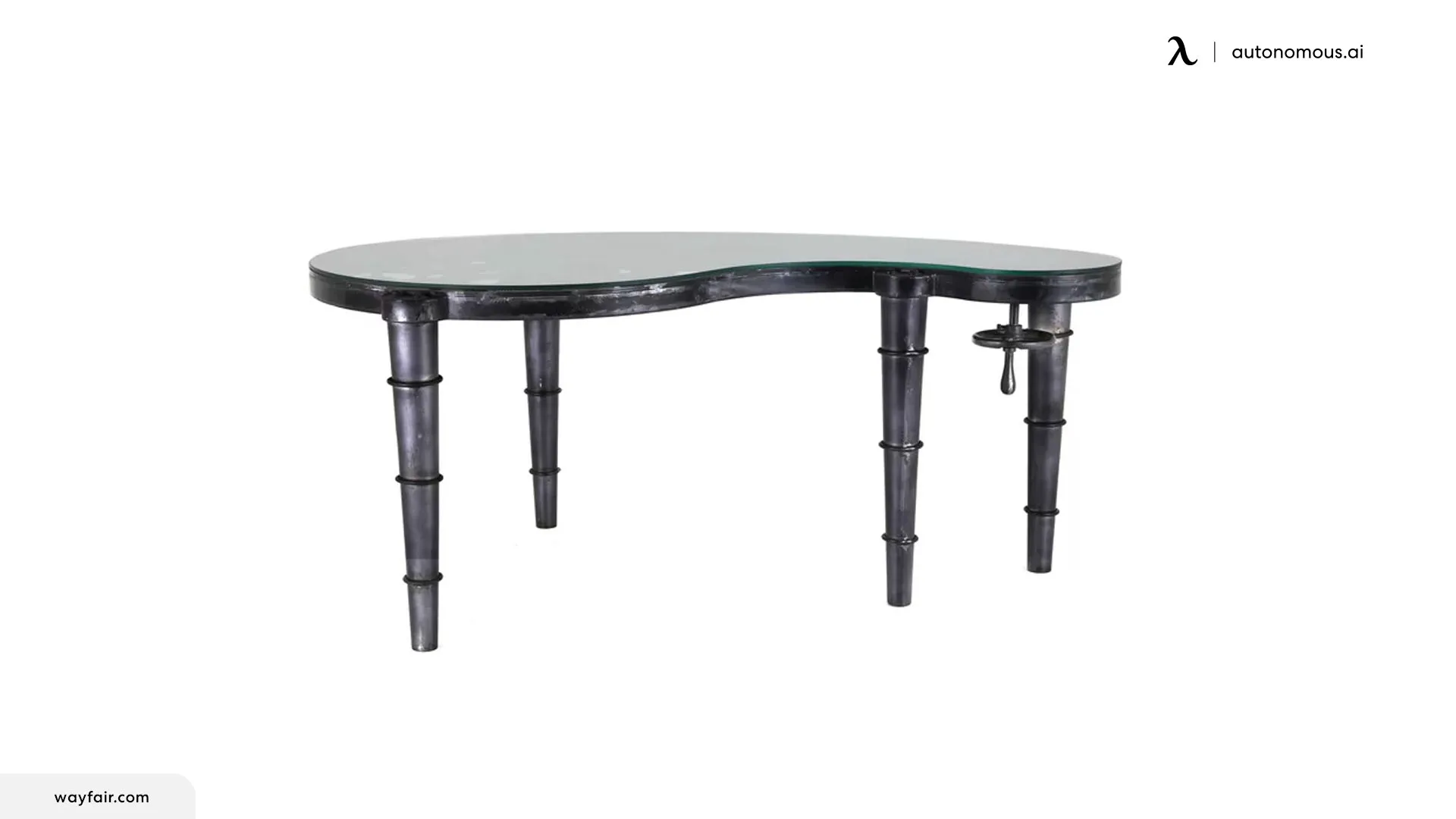 Hainault Glass Corner Desk
Pros

Cons

Elegant curves
Limited color options
Beautiful glass top
Two-person assembly
Strong iron frame
Fits snuggly in corners
90-pound weight capacity
How We Picked and Tested?
When we set out to choose the best corner rounded desk for a modern office, we came across many great options to choose from. To trim down the list and help you make the right choice, we had to focus on a few parameters that are essential in this type of desk. 
Here is how we picked and tested the five rounded desks in this article: 
Our Top Pick
The perfect rounded desk depends on your individual needs. As such, any of these five rounded corner desks will be a great option. 
However, because of its height adjustable features, and modern style, the Eureka 70-inch Unfinished desk is our top pick for 2023. In a time when ergonomics is so important, it delivers all the requirements of a modern rounded office desk.
Tips on How to Select the Best Rounded Desk for Your Needs
Before going further, we need to talk a little bit about office design and how to select the best rounded corner desks for your décor and needs. Although these models may be great additions to your office, if you pick the wrong option, you will not get the desired result in terms of functionality and appearance.
Here are a few tips on choosing the best rounded desk the next time you go shopping: 
Do your research about the best furniture brands and retail outlets before you go shopping
Always consider your budget because round desks come in a wide range of prices
Stick to your plan when shopping so that you do not fall for high-pressure sales tactics
Consider the type of work you do when choosing the right desk for your needs
Make sure the design and color of your desk do not clash with your office décor
Ask about the warranty before you buy the desk 
Ideas to Decorate Workspace With a Rounded Desk
Usually, setting up an office can be a difficult thing for most people to do. A little bit of research is required before you make your choices. If you have a corner rounded desk, here are some ideas for the perfect corner desk setup: 
Choose a spot with some natural lighting
Make sure the colors match the rest of the office décor
Select an ergonomic round office desk
Use some photographs or other unique items to give your desk a personal touch
Keep in mind your needs and requirements
Go for smart storage solutions, such as hidden compartments to store files
Do not clutter your desk with too many accessories
Choose the best office position for your desk according to the size and shape of the room 
With these simple tips and any of the awesome rounded desks reviewed in this article, you will be well on your way to creating the perfect, modern, and functional workspace for your needs.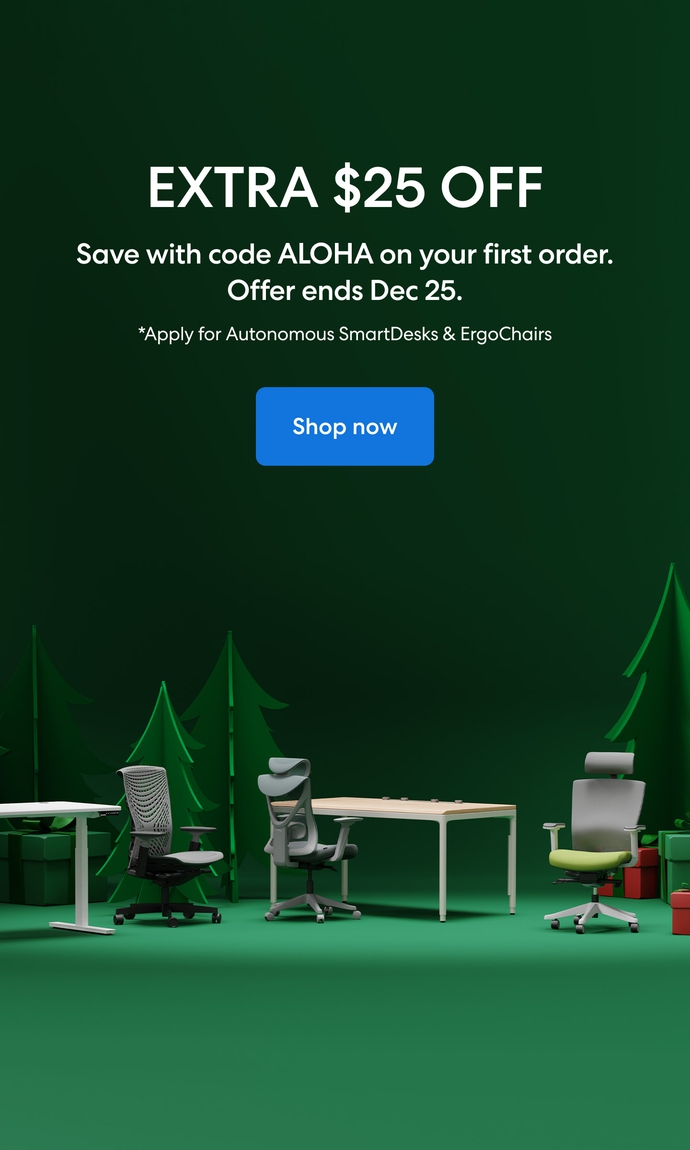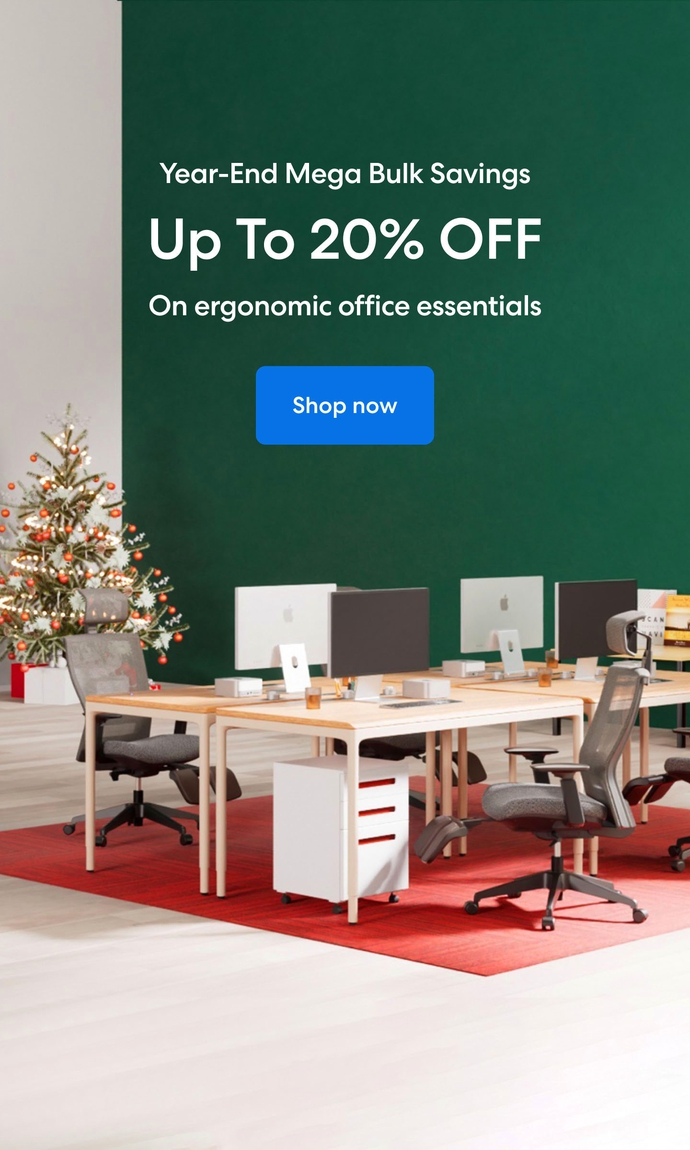 Subcribe newsletter and get $100 OFF.
Receive product updates, special offers, ergo tips, and inspiration form our team.