Productivity
The Complete Onboarding Process Guide: 5 Steps (2023 Updated)

Autonomous
|
Jan 17, 2022
1,602 Views
As part of onboarding, employers provide new hires with information and tools they need to be productive members of the team and integrate them into the company's culture. Traditionally, the onboarding process is defined as: "the process of moving a new hire from applicant to employee status, which includes filing paperwork, enrolling in benefits, and completing orientation.".
Typically, you'll receive a welcome email along with your offer letter, company policies, and new hire paperwork. After completing the onboarding requirements and forms, a phone call is usually conducted to review expectations, set guidelines, and make the employee familiar with the onboarding procedures.
The Importance of Onboarding
You could easily hire employees, and they begin working right away. So, why is onboarding important? By sticking to an onboarding guide for new employees, employees become familiar with their role, their philosophies, and what they can expect from the company.
Additionally, it inspires employees to be committed to the company's success by making them feel like part of the team and helps retain new hires by fostering a sense of belonging.
Poor onboarding experiences have often caused employees to leave a company, while another set of employees said their manager did not play a vital role in their onboarding experience.
The loss of productivity and employee turnover occurs without proper onboarding procedures. Companies lose money every year due to decreased employee engagement after onboarding new employees remotely. It is less likely that employees will leave a company when they are engaged.
Employees will likely stay longer when the onboarding process is good. Onboarding and orientation are two very different processes, and this article will explore how and why onboarding is so important for a company's success.
Steps of the Onboarding Process
Preparing them for new colleagues
An announcement welcoming the new employee to the company, either in person or by email, should be sent to all employees before the employee's first day. In the announcement, you should reveal the new hire's position, a little about their experience and what they plan to do at your company.
You should invite other employees to join in welcoming them. Employees are prepared to assist a new employee on their first day when they know them in advance. They will feel more welcome if they know the new employee in advance.
Prep their brand new workstations
The first impression an employee has of your company is directly related to their "home base.". New employees have little to no incentive to succeed if they don't have the right tools. Providing the new employee with office supplies and setting up their computer, email, and phone number before joining can make them feel valued right away. New employees are thus given the tools they need to succeed.
Provide them access to necessary programs
Prepare the new employee's workstation by getting them access to any programs, software, or electronic files they will need before starting their new job. If you skip this onboarding step, it can harm training, the ability to get to work, and the employee's outlook on your company.
Team get-togethers
What's next in the onboarding process? Plan a lunch meeting or an after-work event for the new employee and their immediate colleagues during the first week. As a result, this will facilitate the employee's introduction to their new colleagues in a relaxed setting. Employees can bring their lunches to the office's conference room. Outside the interview process, learn more about your new employee. It is more likely that an employee will stick around for a long time if they feel valued personally and professionally. 
Provide time of training
Training should focus on the new employee's first week or so with the company. It is impossible to anticipate every difference between companies even if the employee has performed the same job function elsewhere. A training plan must be in place to help new employees get up to speed within an organization. This plan should cover policies, procedures, and expectations within the organization. New employees can measure their comfort in their new roles by clearly describing what is expected of them.
Autonomous EPP & Bulk Order Program
You can upgrade their office furniture by purchasing the items they require through our employee perks program. These unique working from home perks will make the system work better and last longer, although it will be an expensive bulk office furniture investment.
Now you can buy bulk office furniture at several stores for a discount. A typical workplace ergonomic tool purchase includes ergonomic office chairs, height-adjustable standing desks for the home, high-quality lighting options, and other related items. Standing desks promote motivation, health, and productivity while promoting vigor. Healthy backs contribute to healthy bodies in general.
Ergonomic office chairs that combine functionality with aesthetics are a part of our employee perks program. Lumbar, neck, arm, and leg support are excellent options due to their simplicity and timeless appeal. Through our employer purchase program, ergonomic office chairs are comfortable no matter where the user sits.
Purchase Program for Employees
Autonomous Employee Purchase Programs enable you to provide professional teams with a comfortable and productive environment. With employer purchase programs, autonomous products currently have a 10% discount. By providing your employees with the gear they need to fulfill their responsibilities, you show them that you care about them. A smaller company might find this employer purchase program more useful for improving team wellness and productivity and implementing employee perks.
Competitive pricing
After we explain how to use Autonomous EPP, you can save money by taking advantage of the latest products and promotions.
Our services have been enhanced.
Having a longer free trial period and warranty provides you with more peace of mind.
Your company is responsible for paying for it.
You will receive a call from your manager after choosing what you want.
What Do You Get with Our Employee Purchase Program?
Custom-designed self-service online e-stores provide your member's easy access to all the benefits of your organization day or night. Here's how to use Autonomous EPP:
Collaborate with your colleagues
Our users can choose from a variety of standing desks and ergonomic chairs.
Accepting or declining orders
Receipts or reimbursements aren't necessary for direct equipment payments. Our company will be directly involved in every aspect of the customer's experience, from delivery to aftercare.
Video ads for product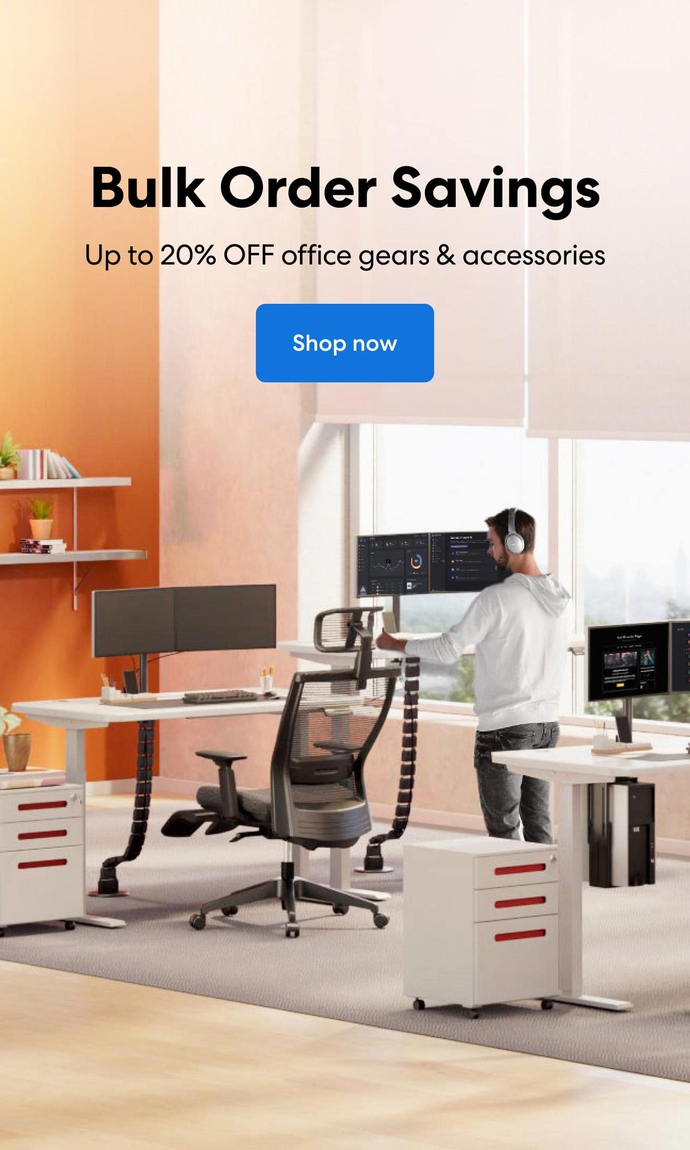 Subcribe newsletter and get $100 OFF.
Receive product updates, special offers, ergo tips, and inspiration form our team.