Before stating the pros and cons of a hybrid workplace, one must know what a hybrid workspace is. Hybrid work means working both from work as well as from home. Previously a very small percentage of people got to work with the hybrid module. But due to this present pandemic situation for the past 1.5years hybrid workplace is becoming the new normal. Here are the pros and cons of a hybrid workplace.
This new normal, though loved by many, has quite a few setbacks too. But before seeing the setbacks, let's have a look at the hybrid workplace advantages.
Pros of The Hybrid Workplace
Ensures safety
The main reason why most companies have switched over to hybrid workspace recently is due to the pandemic. So the most significant advantage of this hybrid workspace is the companies can save their employees from getting affected since this pandemic is all about breaking the human chain. So the fewer people present on the office floor, the more is the chance that they don't get infected. A hybrid workspace allows the office to avoid the crowd and go through the process of sanitizing the entire place repeatedly.
Enhances productivity
Previously, people believed that if an employee works from home, they will not focus on their work properly. In return, that will lead to a drop in productivity. But recently, Microsoft published a letter showing people working from home help increase the company's productivity. The reason being hours that were wasted stuck in traffic jams are now utilized. Also, with flexible working hours, the employees can work according to their convenience without getting stressed. Once working remotely, an employee can focus entirely on their work without getting worried about other stuff.
Low cost
One of the hybrid workplace advantages is the low company cost. A company incurs a lot of expense as it has to pay for the electricity, broadband, cleaning and other amenities. Once a company switches over to the hybrid workplace, it can cut down on such costs. Since a minimal number of workers will be working from the office, it helps the company pay less. So not only for the employees but also for the company, a hybrid workplace is beneficial.
Comfortable employees
This is one of the most vital benefits of a hybrid workplace. If you study correctly, you'll find that employees of the company who are satisfied/happy tend to have high performance. In a hybrid workplace model where most of the employees work from home, they give their best. The reason being they don't have to wear "formals" all the time, even in their baggy Pjs they can work for hours. Secondly, one doesn't have to sit for hours in uncomfortable chairs. The fact that they can do the work and spend time with their loved ones simultaneously allows them to give their best.
Include more employees
When working from the office, sometimes they can't incorporate more employees due to the workplace. But in a hybrid workplace, a company can employ new people and not increase the company's cost too. By hiring more employees, the work is done faster and easier. And in turn, it also increases the chance of unemployed yet eligible people getting the work they deserve.
Everything has a good and a bad side, and so the hybrid work model. Though there are many hybrid workplace advantages, there are some essential setbacks too. Let's have a look at those.
Cons of The Hybrid Workplace
To get detailed ideas about the pros and cons of a hybrid workplace, let's find out the disadvantages of the hybrid workplace.
Overworking
One of the common complaints of people who work in the hybrid remote work model is overworking. Reports have revealed that people who work from homework are twice as much as people working from the office. Even though remote workers tend to work more still, they are paid the same as the office goers. If the management doesn't keep a check on working hours, it might cause the remote workers to be resentful. Unlike office workers, remote workers are always on duty, and the company ends up taking them for granted.
Learning new technologies
One of the disadvantages of hybrid work is that everyone has to learn new technologies. It becomes a headache for people who are not technological geeks! One has to learn how to use new software, applications and implement them in daily work. Unlike being in the office, you can't even ask for help if you don't understand how any particular software/application works. Also, employees need to have a laptop, proper broadband connection, and even a smartphone to work efficiently in a hybrid workplace! Even if you have a broadband connection, sometimes the network problem creates an issue too.
Distractions
Have you seen the videos where the BBC news anchor who's working from home gets disturbed by his little children? Well, it actually happens when you are working remotely. If you don't have a separate place to work, which most people don't have, you'll get disturbed. Since you are working from home, you have to manage both your surroundings and your work. So even if you are not disturbed by your family members, there will be other issues that will hamper your work.
Not for all
A hybrid workplace might be a "new normal" solution, but it's definitely not for everyone. People working in plants or essential service sectors don't have a hybrid working solution. For these kinds of industries, their employees have to be present in the office. This creates a disparity in the hybrid workforce as they see employees of other organizations working remotely.
Technical barriers
We'll know working remotely requires one to have a laptop, broadband connection, and a smartphone. But these can cause problems too! An error in laptop software or issues in the network can hamper your work too.
The article gives you detailed pros and cons of a hybrid workplace/ office hoteling pros and cons, thus helping you to choose whether to go for it or not.
Video ads for product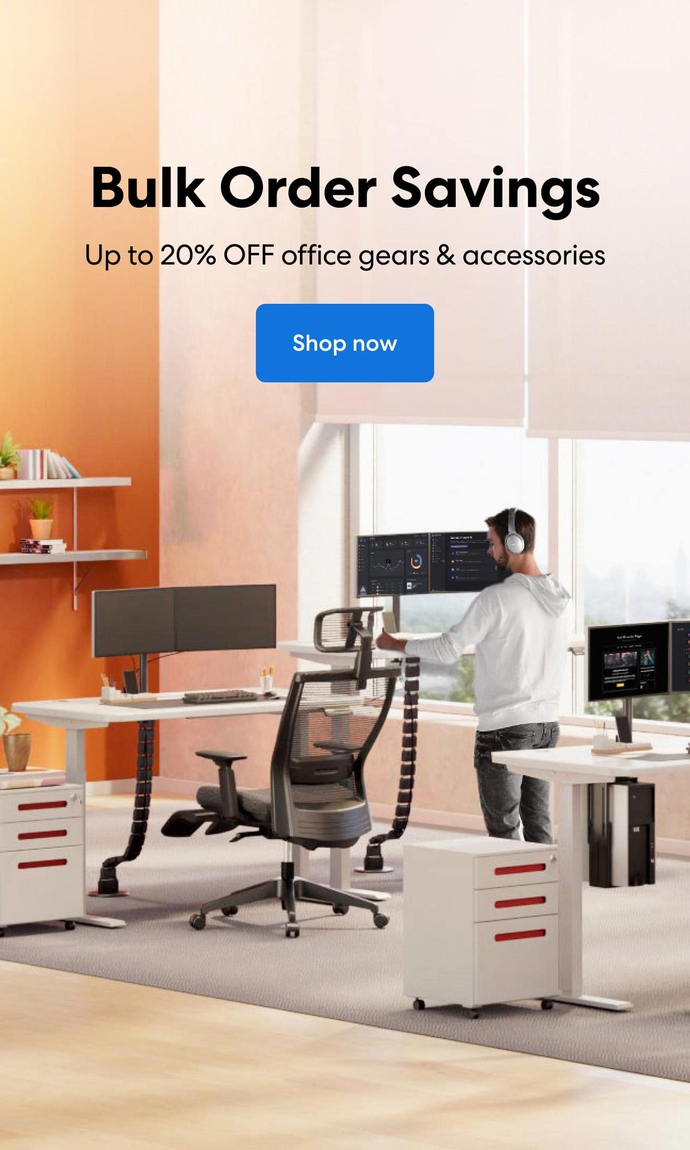 Subcribe newsletter and get $100 OFF.
Receive product updates, special offers, ergo tips, and inspiration form our team.