Smart Products
The Top 10 L-Shaped Electric Standing Desks for 2023

Autonomous
|
Feb 19, 2021
5,713 Views
The L-shaped adjustable desk is making a comeback standing desk this next year besides other types like home office standing desk, with more and more people looking for an L-shaped electric standing desk. While the shape of the desk is unique, it is still just as useful and beneficial for your health and your productivity. There are several different types of L-shaped standing desks out there, so how do you choose the best one?
Thankfully, this article is here to break down the best L-shaped standing desks for your corner adjustable desk ideas going into 2022. You should find one that works for you, and then you can watch your productivity skyrocket!
1. L-Shaped Smart Desk
This L-Shaped standing desk is going to make you happy to come into work every single day. The L-shaped adjustable desk is designed to be versatile and move anywhere with you. Whether you need it in the middle of your office or inside of a corner, it can be there. The space that it offers can allow you to move around and see your work from a whole new perspective, and the height adjustment system is both powerful and quiet.
You also can have some degree of customization with this desk, allowing you to change the color and the finish when you buy it.
Pros:
●  Double the space of a standard desk
●  The motor is capable of holding 330 pounds
2. Bush Furniture Cabot Desk
If you've got the money to spend and you like fancy pieces of woodwork, then this L-shaped desk is right up your alley. The Bush Furniture L-shaped desk is a wooden desk for the fancy and powerful among you. There are several elegant finishes that can make your desk look beautiful, including ebony and cherry.
The desk comes with a lot of storage space, a USB hub, and 60 inches of space on both sides. If you want a perfect home office standing desk, then this is the best one for you.
3. GreenForest L-Shaped Corner Desk
This L-shaped electric standing desk is for people who work and play hard. If you need a corner standing desk for your home office or workspace, the GreenForest L-shaped Corner Desk has got you covered. The desk is easy to assemble and allows you to control the height up to 30 inches.
It comes in three parts, and there is some assembly required. However, there's just no getting away from the beautiful and space saving design. That's why we love it so much, and why it is on our list.
Pros:
●  Easy To Assemble
●  Fits Anywhere
4. Xdesk L-Shaped Desk
This corner electric desk is designed to look good from every single angle, and at some points even looks like a simple wooden desk. The design of the desk is very minimalist, but that just hides all the tricks that are inside. Hiding behind the sleek design is an electric adjustable height motor that allows you to raise and lower the desk to your heart's content.
The movement of the motor is both quiet and smooth, so you can move your desk around without any fear of upsetting your work. You also won't disturb your neighbors either!
Pros:
●  An excellent design with extreme detail
●  Lots of storage space for your items
5. S Stand Up Electric Standing Desk
This L-shaped electric standing desk is all about providing you with the best in comfort and reliability. The desk is 70 inches by 70 inches and comes with a triple motor to help the desk lift to 220 pounds. No matter what, this desk should be able to handle several monitors and different pieces of heavy equipment.
It also comes with three telescoping legs, and this allows it to go lower and reach higher than most traditional desks. If you want an electric standing desk that goes above and beyond for you, this L-shaped motorized standing desk is it.
Pros:
●  A massive surface area
●  Ability to lift 220 pounds comfortably
6. UPLIFT L-Shaped Standing Desk
This L-shaped motorized standing desk was just a corner adjustable desk idea before it grew into the L-shaped standing desk. This desk from UPLIFT can be made from several different materials. These include walnut, bamboo, and rubberwood.
The minimum size is 60 by 60, giving you tons of space for work and projects. It also comes included with a keyboard to control the desk's height, and two grommets to allow your wires to be plugged in unopposed.
Pros:
●  Lots of customization during the setup
●  Loads of additional features
●  60 by 60 desk space
7. 71" Triple Motor Electric L-Shaped Desk
This L-shaped electric standing desk is one of the largest ones on this list, and for good reason. It's extremely easy to assemble and already comes partially pre-built in the box. You just need to attach the feet, the legs, and then the top.
The desk is also adjustable in terms of height, and you can change the height with the press of a button. Once you get used to a certain height, the keypad can save that setting so you can always return to it.
Pros:
●  Partially assembled in the box
●  Remote remembers your favorite settings
8. Xdesk Flex
This corner electric desk is a bit smaller than the other ones we have shown off, only coming in at a width of 30 inches. However, it is battery powered which is something we haven't seen as of yet. It's more of a table than a desk, but it is a fast-moving desk that is battery powered, so you won't need to fiddle with wires.
Pros:
●  Battery powered, no wires
●  Can be used for work and play
Cons:
●  Is very small
9. FEZIBO Dual Motor L-Shaped Standing Desk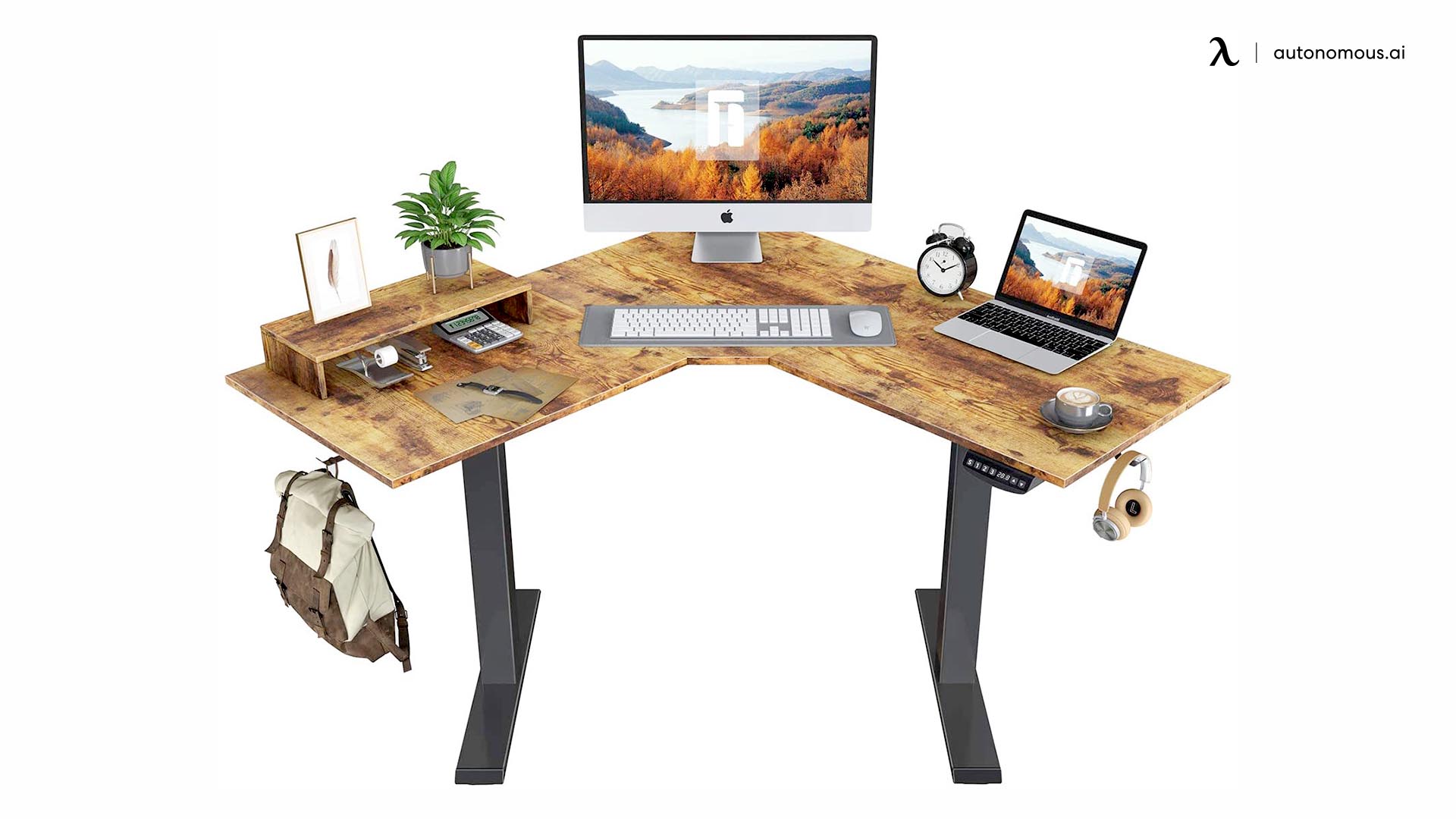 This desk has three preset height settings that take you from 27.6 inches to 47.3 inches. There's 48 inches of L-shaped surface and the steel frame can support 176 pounds. It also comes with various hooks on the side for storage and a wooden stand for a shelf.
Pros:
●  Lots of extra storage space
●  An industrial steel grade frame
10. SHW 55-inch L-Shaped Desk
This L-shaped motorized standing desk has a range of 28 inches to 45 inches in height, and unlike some of the other desks on this list, the legs are telescoping. That's what provides the height and allows a quick and seamless transition from sitting to standing. The electric lift moves quickly and quietly to move the desk to your desired height, and the keypad memorizes your settings.
Pros:
●  Telescopic legs
●  Made from high grade industrial steel.
These are some of the best standing desks in 2022, and hopefully you've found the one that works the best for you. Get whatever desk tickles your fancy, and then get started on working with your standing desk.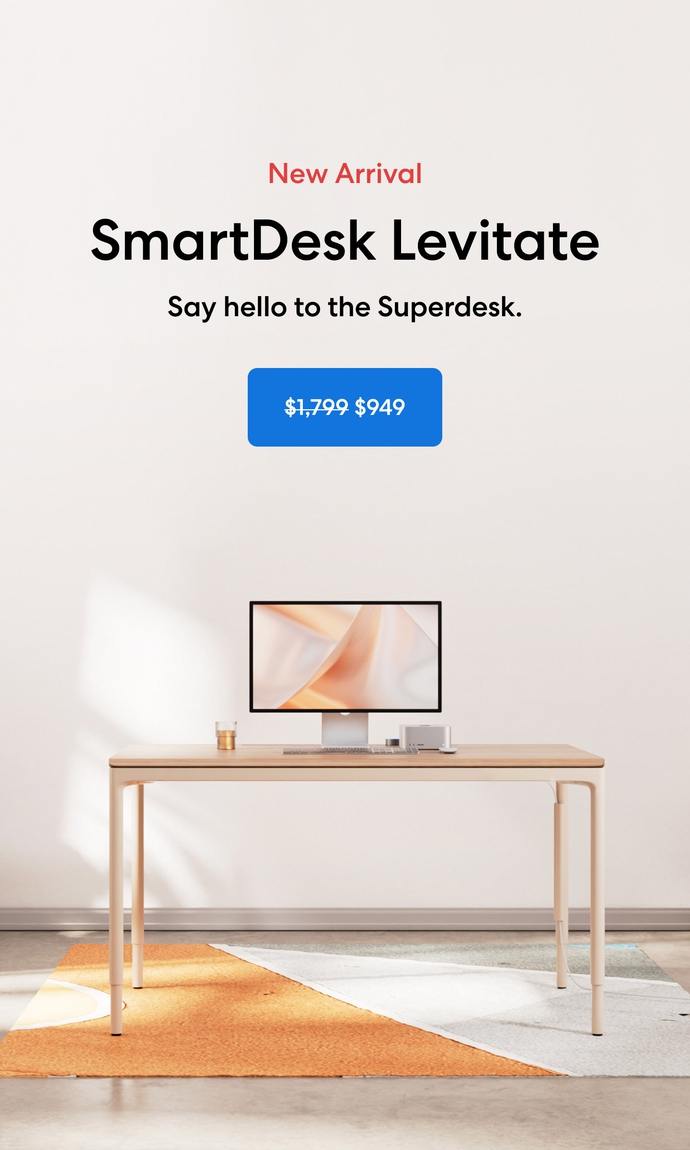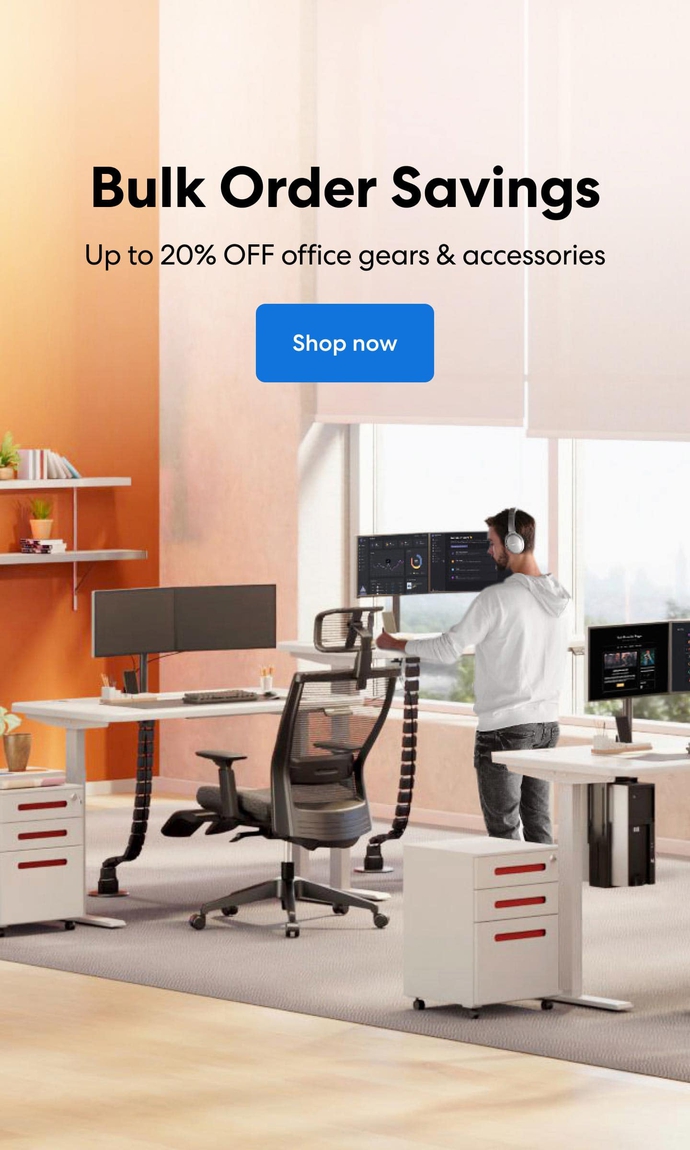 Subcribe newsletter and get $100 OFF.
Receive product updates, special offers, ergo tips, and inspiration form our team.